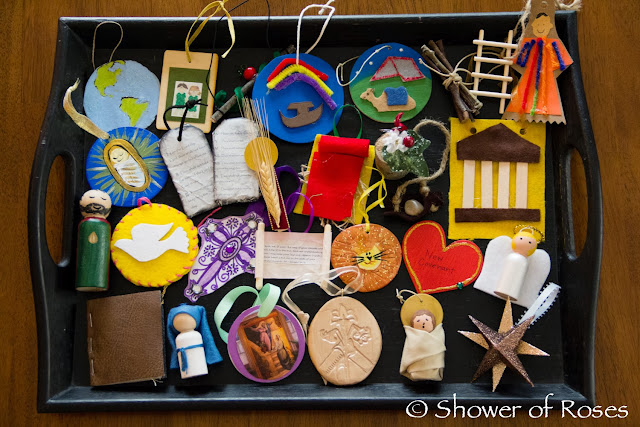 We opened the box on the first day of Advent and the children all enjoyed looking through the box and choosing their favorites! They also commented on how the ornaments were all so different from each other and ultimately they decided, as unique as the ornaments are from the swa
p (as you will see they are made with such a large variety of supplies including: paper, wood, felt, clay, popsicle sticks, foam, etc)
they prefer
our old Jesse Tree
(the one we have been using since they were babies)
and
the set from Jesse Tree Treasures
we added a couple years ago. It made me happy to see how much they love the traditions we have established over the years!
The ornaments and the bible stories for each of the ornaments in this set coordinate with those used in
the Holy Heroes Jesse Tree DVD
. The videos are short so they have left plenty of time for
our usual readings
from the
New Catholic Picture Bible
. Snuggles and Rose have been enjoying coloring the corresponding ornaments provided on the DVD as well and adding these new ornaments to a branch we are using as a "tree" for this set.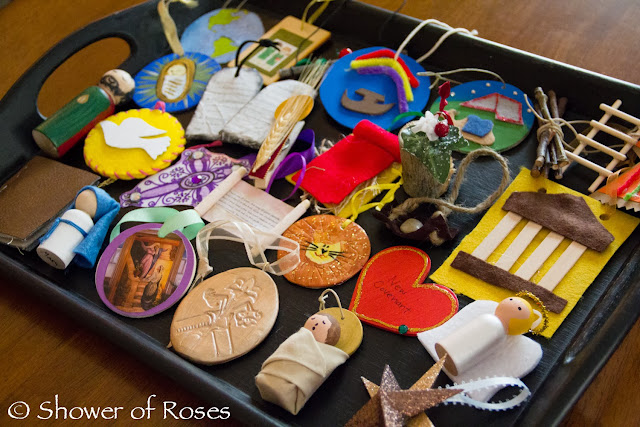 .: Jesse Tree Swap Ornaments :.
Day 1 Creation: Genesis 1:1-23 – Made by
Mary S.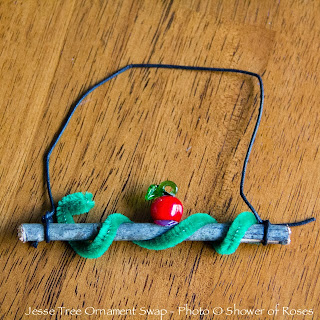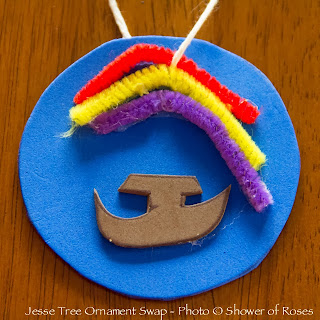 Day 3 Fall of Man: Genesis 3:1-15, 20-23 – Made by
Deb
Day 4 Noah: Genesis 6:5-20, 7:1-23, 8:1-17, 9:1-13 – Made by Sarah M.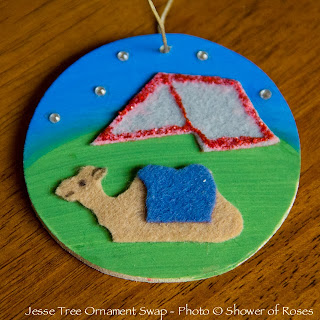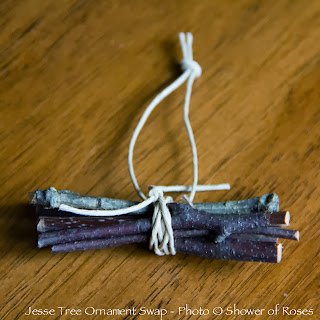 Day 5 Abraham: Genesis 12:1-5, 13:14-16, 18:1-10, 21:1-3 – Made by Sarah
Day 7 Jacob: Genesis 27:41-44, 28:10-17 – Made by
Vicki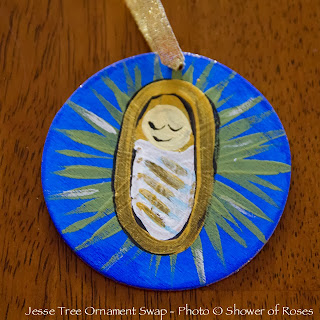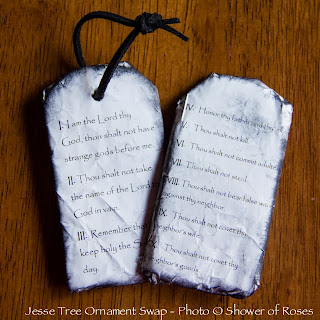 Day 9 Moses: Exodus 2:1-10, 3:1-12 – Made by Kelly K.