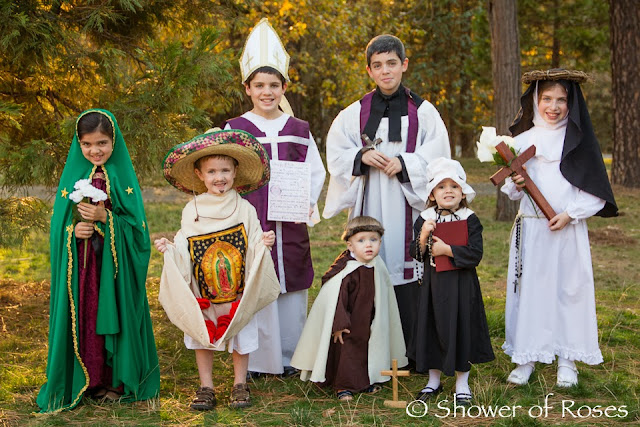 Our Lady of Guadalupe, St. Juan Diego, St. Gregory the Great, St. John of the Cross, St. John Vianney, St. Elizabeth Ann Seton and St. Catherine of Sienna – All Saints in Heaven, Pray for us!
The excitement has been building all week in our home as we prepare to celebrate the feast of All Saints and welcome over sixty guests to our home this evening for our annual All Hallows' Eve Party! (You can find pictures from last year's celebration here.)
I am taking a little break from the final preparations to pop in real quick to say THANK YOU for the outpouring of support and encouragement!!! I wish I could respond personally to each of you and want you all to know how very much every comment/email, along with all the extra prayers, is appreciated. God bless you all!
Also, I wanted to share this year's saint costumes! I took these pictures on our way to our parish's All Saints Costume Contest last Friday night and my children will be wearing them all again this evening. We actually ended up coming home with two prizes! Chiquita won 3rd place in the 0-10 age category and Rascal won 2nd place in the 11-Adult age category! I am so thankful that I wasn't one of the judges… There is no way that I would have been able to choose favorites. I loved them all!