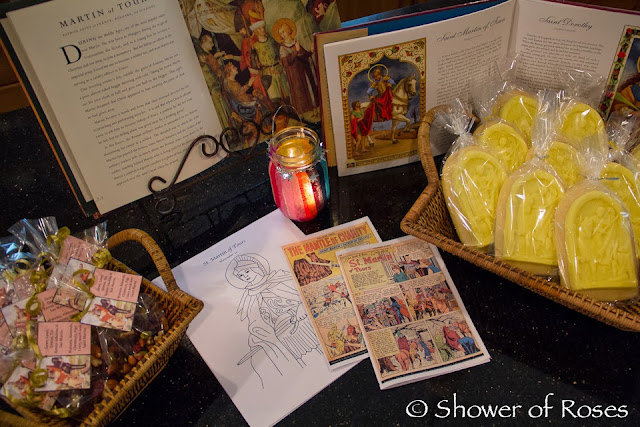 "The most common, and universal, harvest and thanksgiving celebration in medieval times was held on the Feast of St. Martin of Tours (Martinmas) on November 11. It was a holiday in Germany, France, Holland, England, and in central Europe. People first went to Mass and observed the rest of the day with games, dances, parades, and a festive dinner, the main feature of the meal being the traditional roast goose (Martin's goose). . ."
The past few years, with the feast of St. Martin right after our annual All Hallows' Eve/All Saints Party and the busy days that follow, I am usually still recovering and end up keeping the feast of St. Martin extra simple. This year, however, since we
had some friends join us to "Celebrate the Saints"
I went all out for Martinmas! The children all had a wonderful time and learned so much about St. Martin and the various traditions attached to his feast day.
.: CRAFT – MARTINMAS LANTERNS :.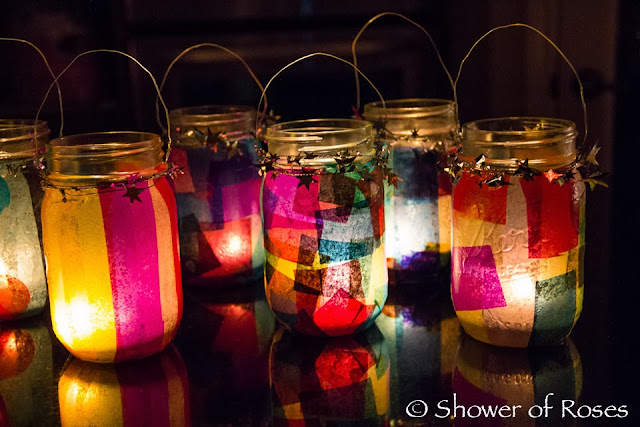 In many countries, including Germany, Martinmas celebrations begin at the eleventh minute of the eleventh hour of this eleventh day of the eleventh month. Bonfires are built, and children carry lanterns in the streets after dark, singing songs for which they are rewarded with candy. (In our case it was cookies and St. Martin bags!)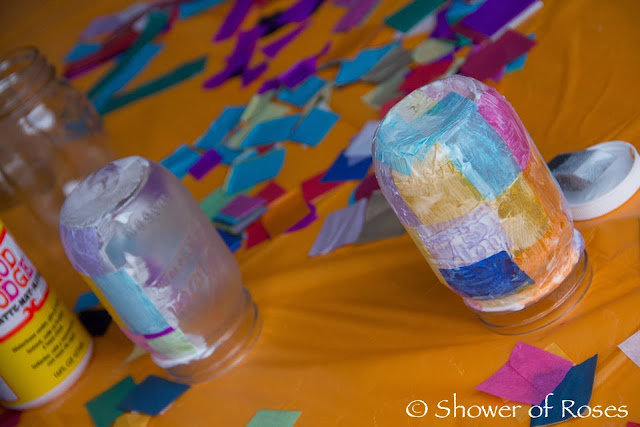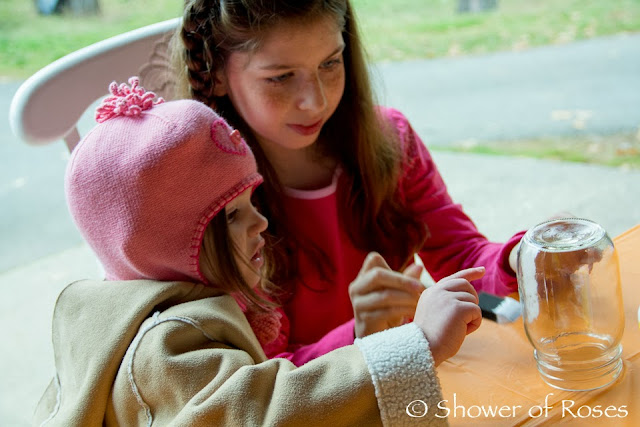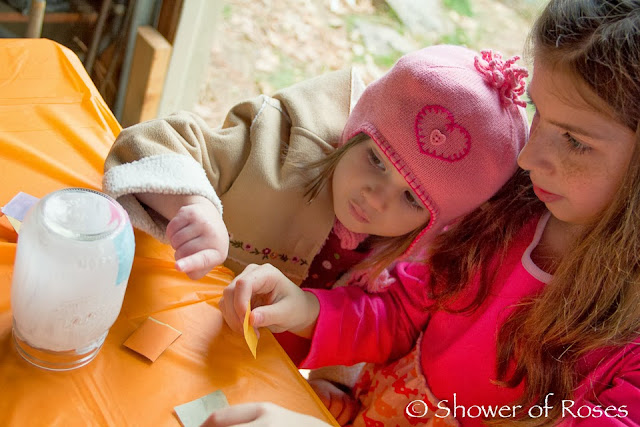 Rose very much enjoyed explaining to her older sisters how it is done! 😉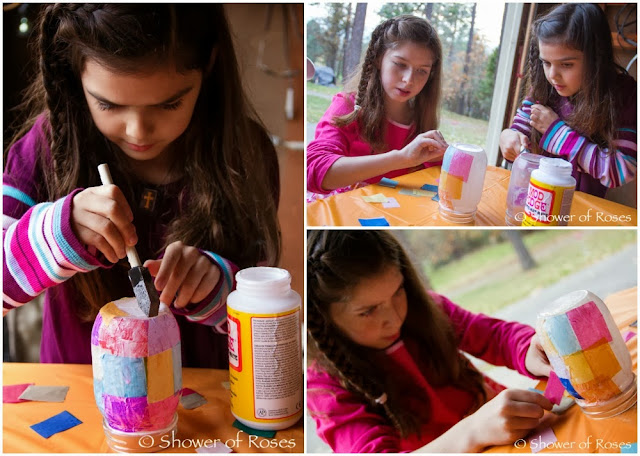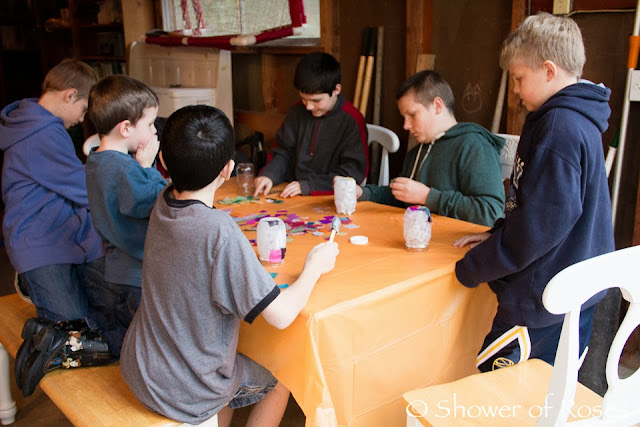 TIP #1 – Be sure to cover the table with a disposable plastic tablecloth.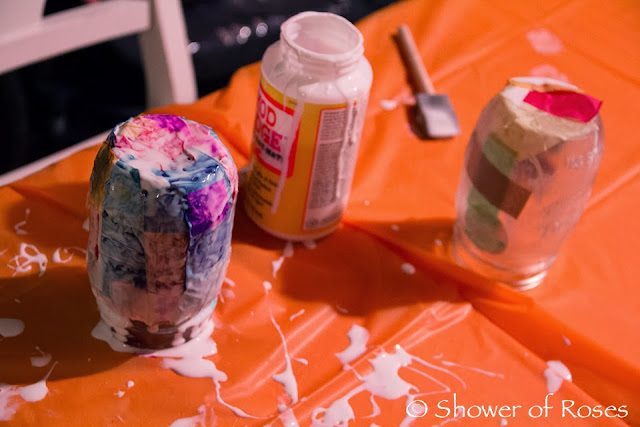 TIP #2 – DO NOT leave a room full of boys unattended with a bottle of Mod Podge!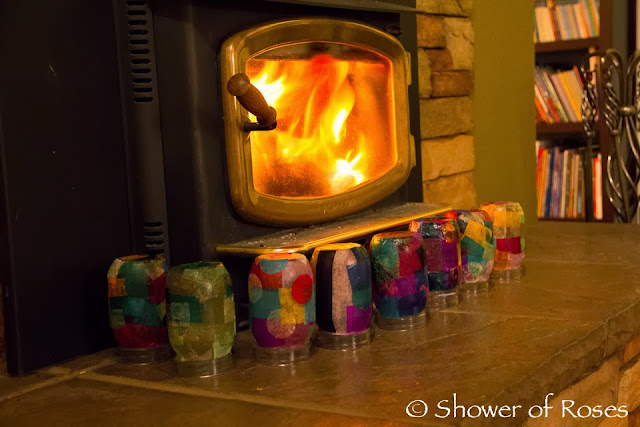 TIP #3 – A blazing wood stove will help speed up the drying process.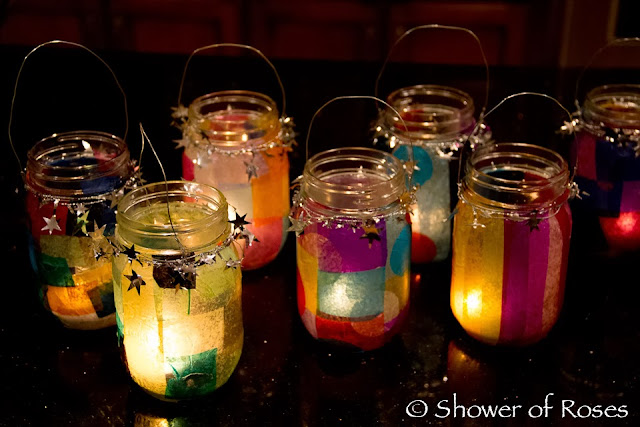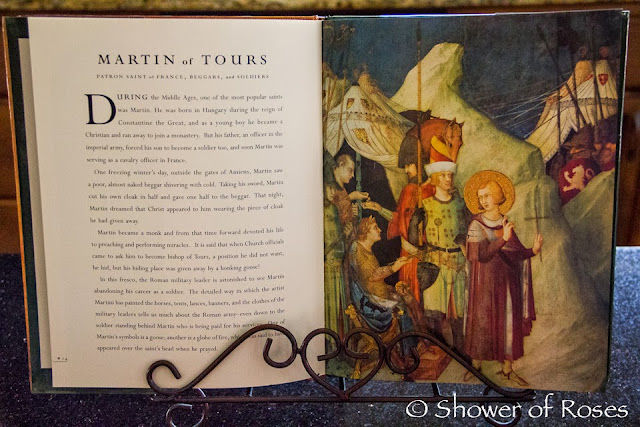 Introduction and Art Appreciation:
by Carole Armstrong
"A lavishly illustrated volume–featuring the famed works of Raphael, Bosch, and Giotto–recounts the dramatic histories of many Christian saints, including John the Baptist, Francis of Assisi, and Joan of Arc."
Art Appreciation: Saint Martin's Renunciation of Arms by Simone Martini
about 1284-1344 S. Francesco, Assisi
Read and Discuss: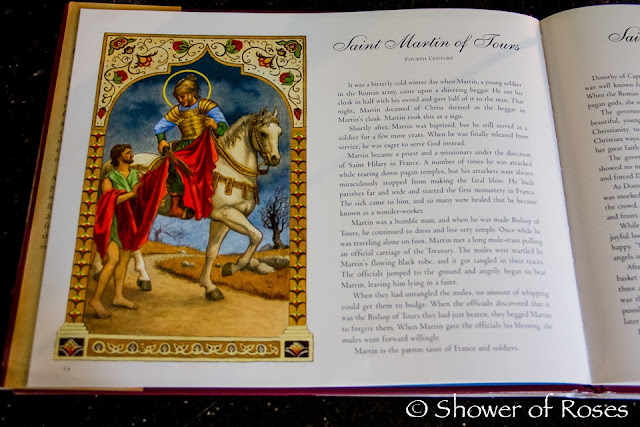 from Saints: Lives and Illuminations by Ruth Sanderson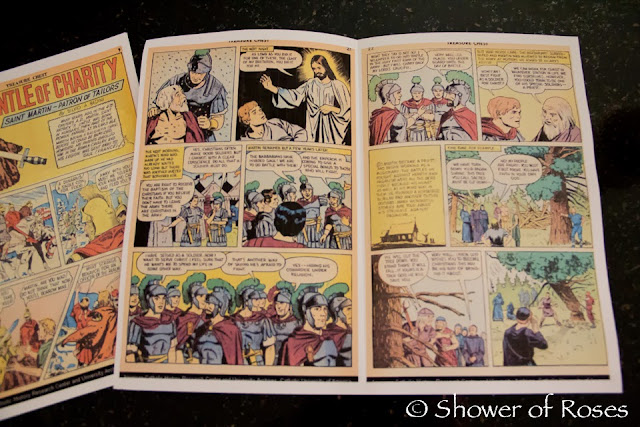 printed from Treasure Chest of Fun & Fact (using the images I created little folded booklets)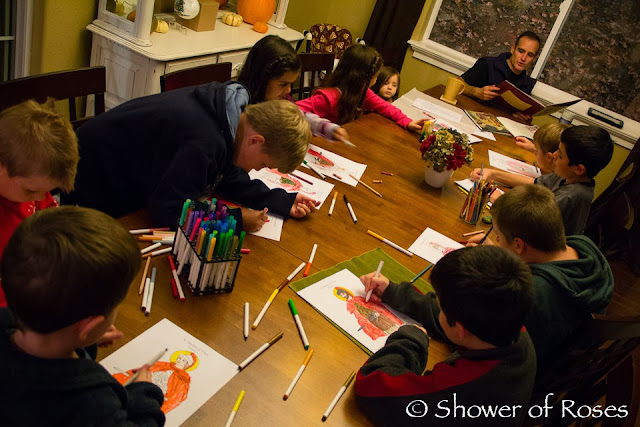 My husband is so awesome! He took over reading and discussing the stories with the children while they colored, giving me a much needed break.
.: ST. MARTIN OF TOURS COLORING PAGE :.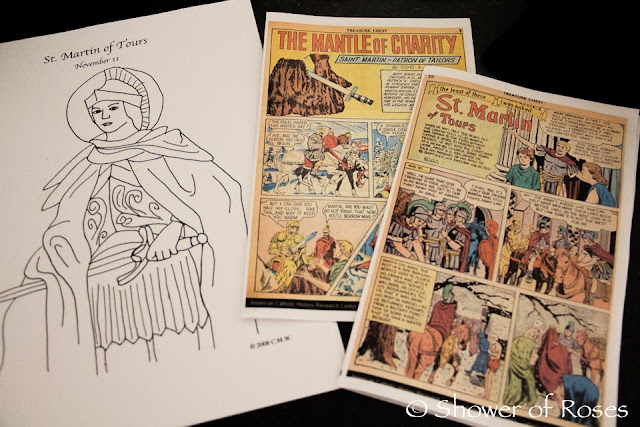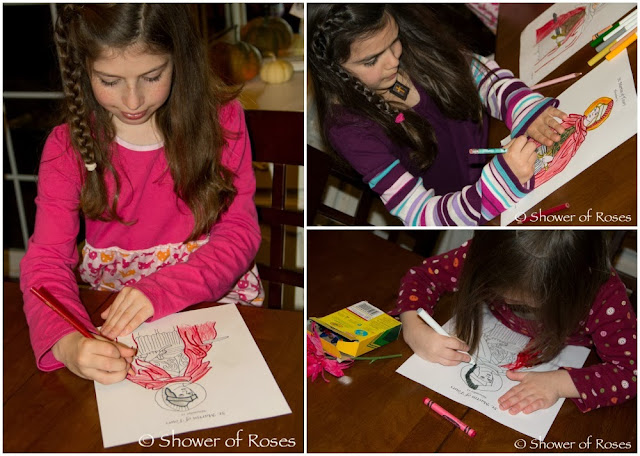 I did hear one of the boys say that he looked "a little girlie…"
… which they then all quickly remedied with some facial hair!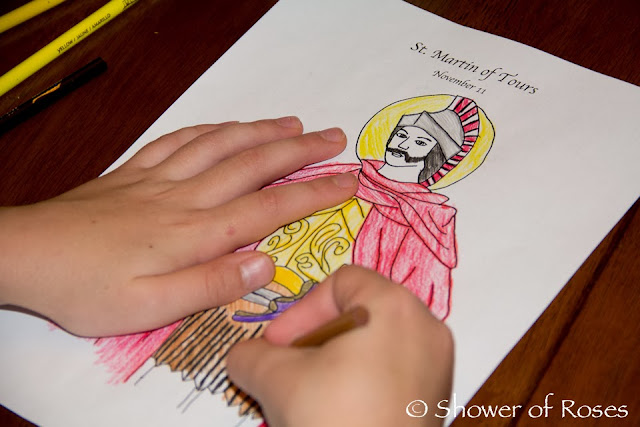 "Hey Mom, look! I gave him a mustache like Dad had when he was younger!"
(Yes, that was before we met!)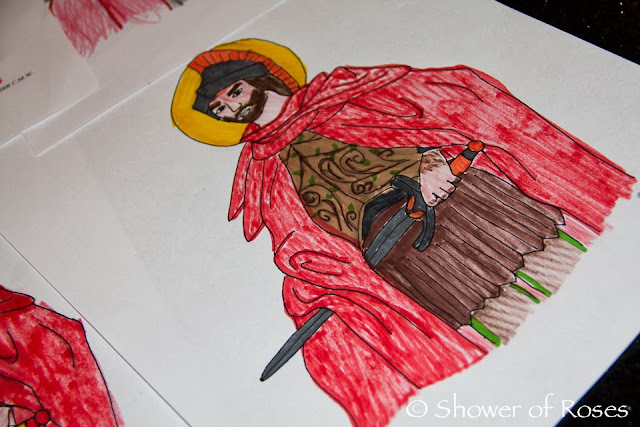 I think the hairy hands was taking it a little too far! 😉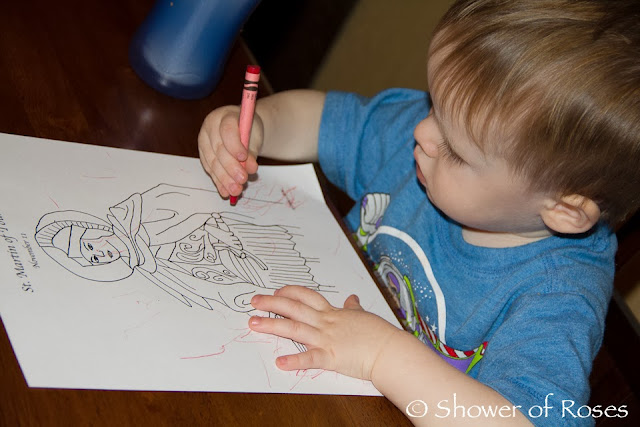 "Bud" really enjoyed his godmother's coloring page too!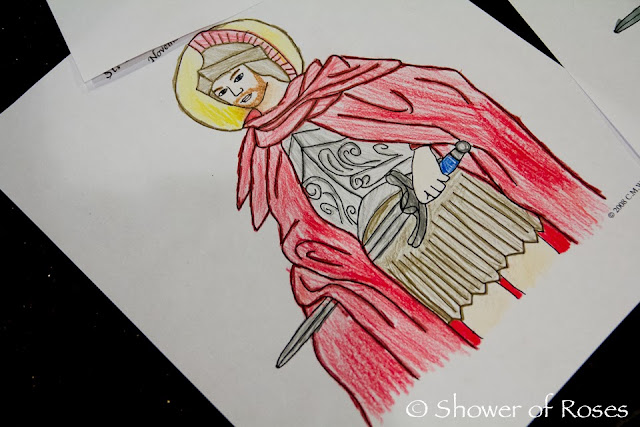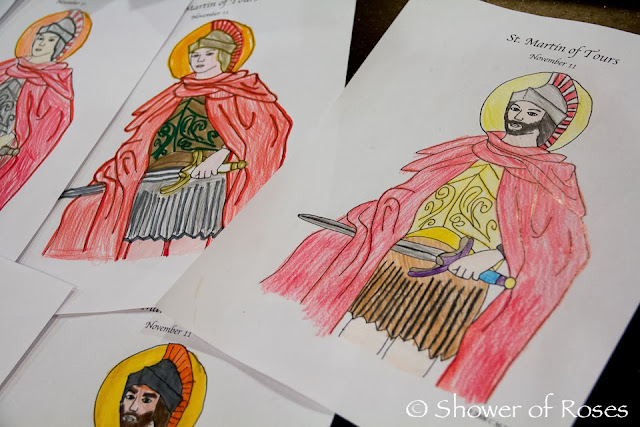 The children (ages 1-13!) all enjoyed coloring and did an excellent job!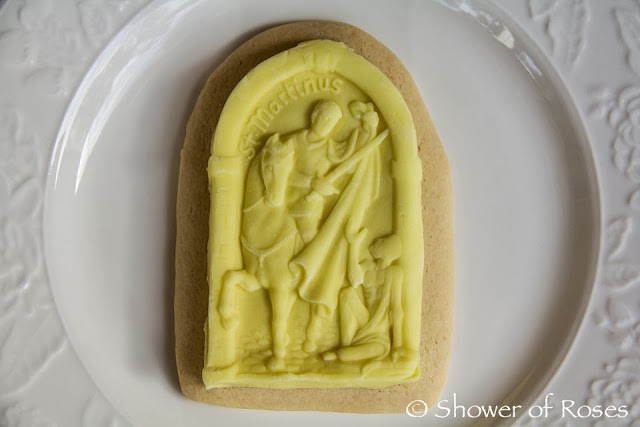 After creating
these St. Martin Cookies
, I am officially in love with Catholic themed cookie molds. I just wish they weren't
so expensive
! We all have our favorite hobbies though, and
creating "Catholic Cuisine"
is one of mine. Thankfully my husband has always been supportive when it comes to purchasing things that help enhance our faith and help teach our children about the saints, so hopefully he will buy me another mold (or two!) for Christmas! I've added quite a few of them to my "wish list!"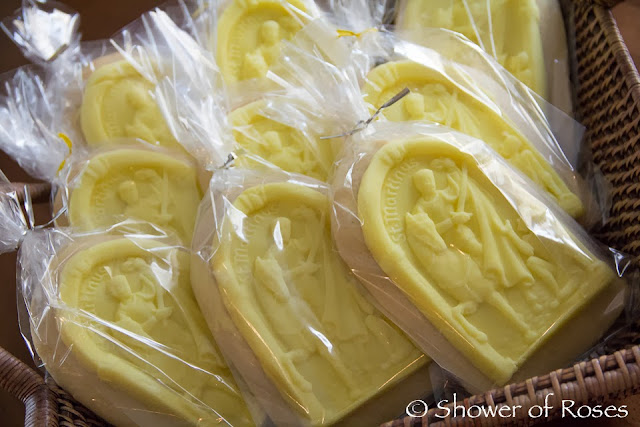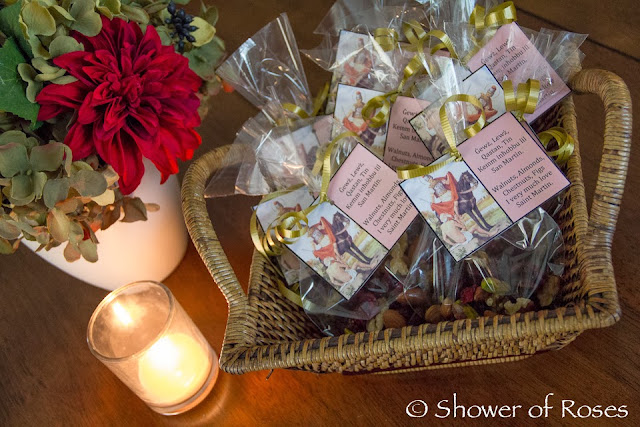 "Il-Borża ta' San Martin, or St. Martin's Bags, are a festive tradition in Malta on the feast of St. Martin of Tours. Children are given these bags full of treats associated with the feast. The cloth bags have drawstrings at the top and are filled with fruits of the harvest."
I quickly created our St. Martin Bag's with Fruit & Nuts from Costco.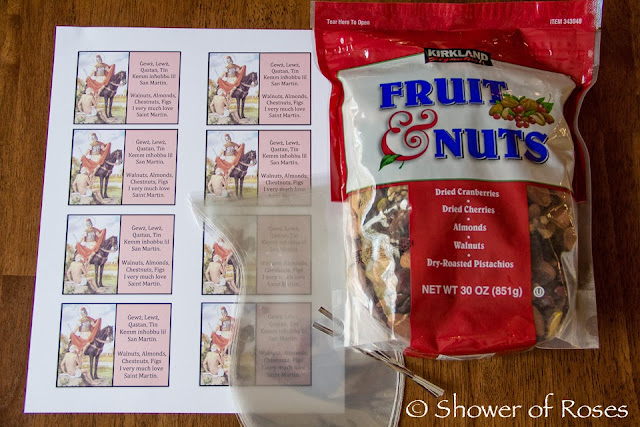 A poem about the bag of treats to recite:
Ġewż, Lewż, Qastan, Tin
Kemm inħobbu lil San Martin.
Walnuts, Almonds, Chestnuts, Figs
I very much love Saint Martin.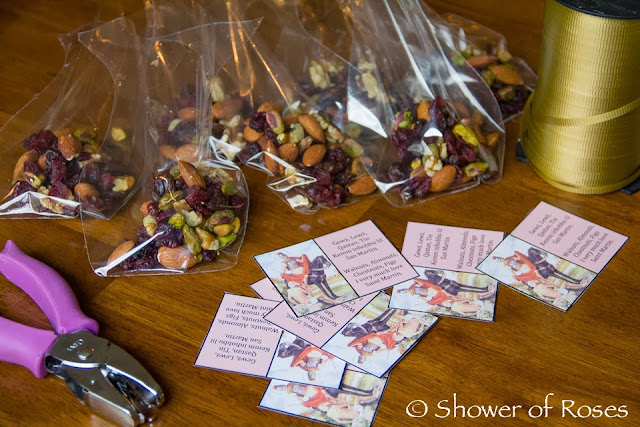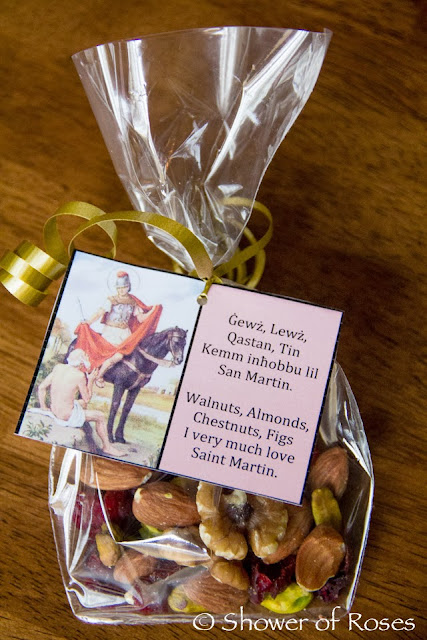 .: MARTINMAS BONFIRE :.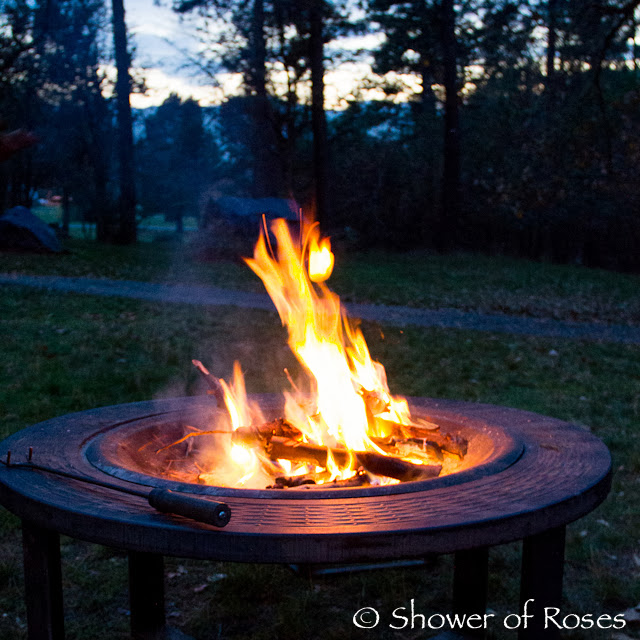 We had a little "Bonfire" in our fire pit and roasted hotdogs (instead of goose) for dinner.
A few of these pictures are pretty blurry, but they were such precious moments! Just look at that little baby of mine… He is growing up way too fast!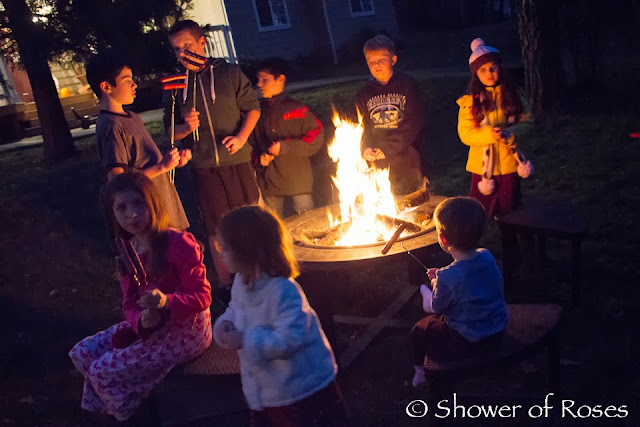 .: PRAYER :.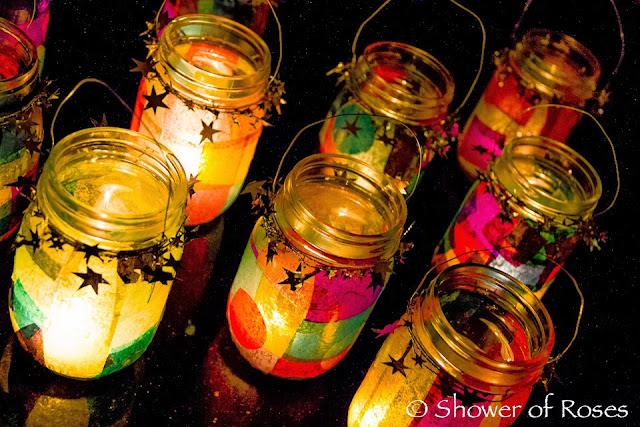 The evening ended with a Martinmas Lantern Walk. My husband read the prayers from the Mass of St. Martin along with the readings and Gospel, as we walked around our property with the lanterns. We also prayed for our Veterans, military, and all those who have died or are suffering due to the recent typhoon in the Philippines…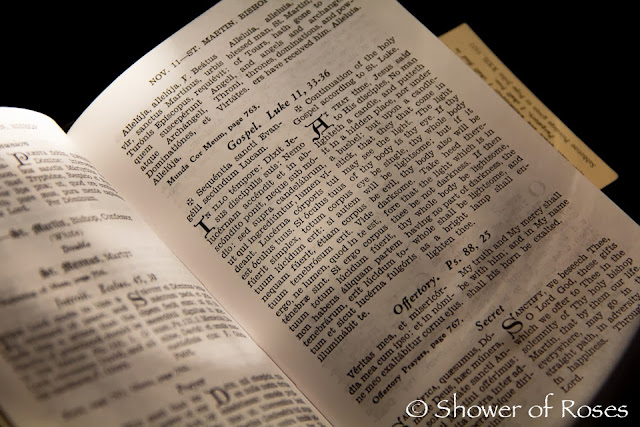 "At that time, Jesus said to His disciples,
No man lighteth a candle, and putteth it in a hidden place,
nor under a bushel: but upon a candlestick,
that they that come in may see the light…"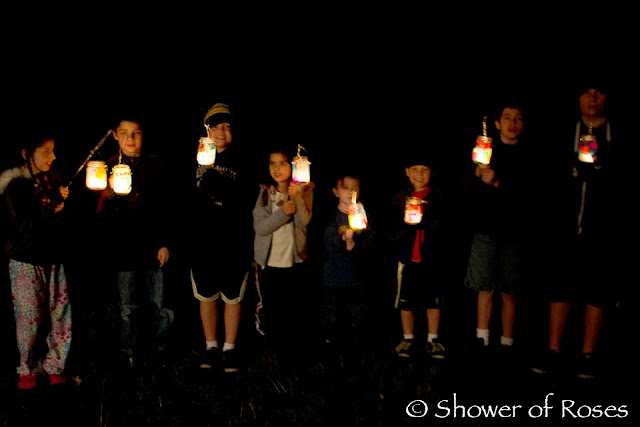 We will be taking a break from "Celebrating the Saints" (with friends anyways… we celebrate the saints with the Church and as a family year round, but this momma needs a little break before she completely burns out!) during December and January and will get together again in February with friends for the feast of St. Modomnoc featuring
The Saint and his Bees
. Speaking of which, the author of
The Saint and His Bees
has a new book out and it's illustrated by Lydia, one of our family's favorite home educated artists! I've already placed my order for a copy of
Saint Felix and the Spider
!
O God, Who seest that we exist by no power of our own, mercifully grant that, by the intercession of blessed Martin, Thy confessor and bishop, we be strengthened against all adversities. Through our Lord.

St. Martin of Tours, Pray for us!