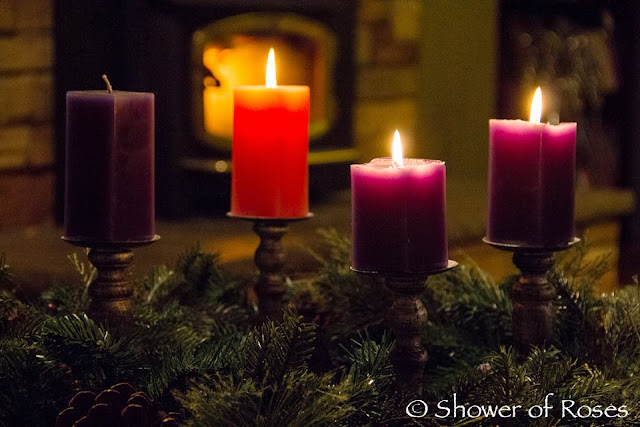 So, how is your Advent going? Ours has been very difficult and challenging… First it was colds and poison oak (the poison oak on our oldest daughter's face is finally healing), followed by a snowstorm that kept us home for days, heartbreaking news from one of our favorite priests who is being treated unjustly and will no longer be offering the Friday masses our boys have been blessed to serve since they were 5 and 6 years old, and then frozen pipes due to abnormally low temperatures for here which resulted in our well pump burning up and no water in the house for a total of 6 days (originally just 1 day and then again for 5 days). I think God might be trying to teach me something this Advent… and my husband says it is time to move!
During these last days before Christmas I am going to try and let go of any unnecessary activities or plans of mine, simplify in all areas, and just focus on prayer (both personal and family), re-creating a peaceful (and clean) home, and catching up the laundry now that we have water again! Deo Gratias!
My computer time has been extremely limited (everything seemed to take 10x's as long to complete when the water had to be hauled from the neighbors and heated on the stove for washing dishes and counters!) and I'm falling further and further behind with emails. (In fact, at this point I have only been able to respond to a handful of urgent emails.) As much as I wish it was possible, I just won't be able to respond to the rest anytime soon, if at all… I will try to address some of the questions I've been recieving here on the blog when time allows. One of the most frequent requests I've been getting this past month has been for a peek at my children's Christmas gift list for this year. I'm spending a little time this evening checking over my list and thought this would be a good time to share it with you all! (Now to make sure I keep the kids off of my blog until after Christmas! It's getting harder and harder to share these sorts of things online as our kids get older!)
Anyways, In last year's "Checking it Twice" post I explained that our children usually receive "three" gifts each on Christmas morning from their Dad and I, recalling the three gifts Christ was given, plus they wake up to discover their stockings filled as well. Depending on the gifts (and our budget), some years I have combined multiple items into "one" gift package (i.e. clothing, shoes, etc, or various toys). You can see some examples in a past Christmas Morning post. You can also find my 2009 list here: Shh! Don't tell them….
This year, as I mentioned a few weeks ago, we are doing something a little different and breaking our children's gifts into three categories: something fun, something faith based, and something to read. (Most of these gifts will be multiple items wrapped together into one themed gift.)
Christmas gifts for seven children (plus Christmas Eve pajamas, plus stockings, plus St. Nicholas Day, plus gifts for relatives and godchildren, etc…) adds up quickly! I have found that I have to be really creative in order to purchase quality gifts. I purchase gifts throughout the year, usually on sale or clearance, and also take advantage of the sales following Thanksgiving. I also will sometimes save samples and review items I have been given to give to the children as well, and my Amazon affiliate commissions help purchase the rest! Once again, thank you to each and every one of you who use my affiliate links! It is truly a blessing!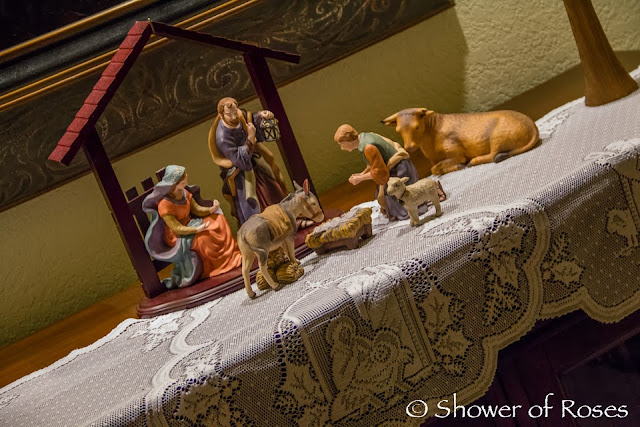 Here is a peek at my list for this year.
I hope it helps some of you who are still searching for ideas!
Something Fun
(These gifts are either something they have been wishing for or something I know they will love.)
Right now "Fun" equals "Legos" for my oldest three boys! This gift will consist of a few lego sets for each of the older boys and a castle for Bud. The girls will all be receiving American Girl doll accessories. (Note: A number of the items have gone up in price due to high demand or limited stock, and a few items have been discontinued and are no longer available.)
Something Faith Based
(This gift is something that we'd like them to have to help enhance our beautiful Catholic Faith.)
Something to Read
(This will be a stack of books wrapped for each child – I collect books year round, some I purchase either used or on sale/clearance, some I've been given to review, and some have even been wonderful finds through Paperback Swap. Note: I'm saving most of the Catholic titles I have from Neumann Press and Tan Books for next year's Easter Baskets.)

(Note: I do want to remind you all that I haven't read most of these books yet. I made my decision to purchase most of them based on recommendations, reviews, publishers, and the past work of some of the authors/illustrators.)
Stocking Stuffers
Boys
Girls
I'm also really excited about a few of Bud's (2nd) birthday gifts, particularly this Tree Finger Puppet Play House! It is SO cute.. So much cuter than the pictures online! I can't wait to give it to him tomorrow, with the cute little deer peeking out. He is going to love it! He will also receive My Wonderful Christmas Tree, Over in the Forest: Come and Take a Peek, a Woodland Wooden Puzzle, a Forest Friends Block Puzzle, and (just to through you all off from figuring out the theme!) a Melissa & Doug Car Carrier! I'll be sure to post pictures after his birthday!
~
*~*~*~*~*~*~
*~*~*~*~*~*~
I know I have been hosting a lot of giveaways this fall and winter, but I do have just one more for you all this year… and one more over at Catholic Cuisine! 🙂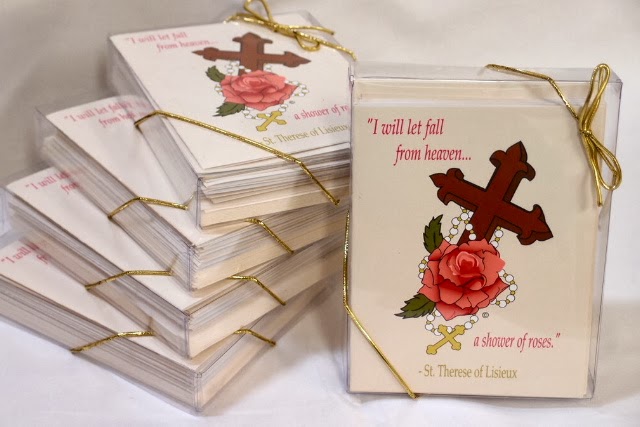 Catholic Embroidery has graciously offered to giveaway a set of their beautiful new St. Therese Notecards to one of my visitors here at Shower of Roses! I have ordered many items from Catholic Embroidery in the past, for myself, my family, and to give as gifts, and everything is so lovely! Be sure to remember them for any last minute Christmas shopping you still have to complete. If you'd like to be entered in the giveaway please use the Rafflecopter box below by December 25th. God bless!