I am so thankful for my husband! I always realize just how much during times like right now, when he is gone for weeks and I have to try and keep up manage without him. He really helps so much around our home. I was so exhausted, and not feeling very well, following Midnight Mass on Christmas that he told me to just rest while he took care of filling all the stockings, setting up the rest of the nativities, laying baby Jesus in the manger, and placing the children's gifts under the tree. We hadn't gotten home until around 2am and he didn't get to bed until nearly 5am, which was when I woke back up nurse the baby and then snap a few pictures.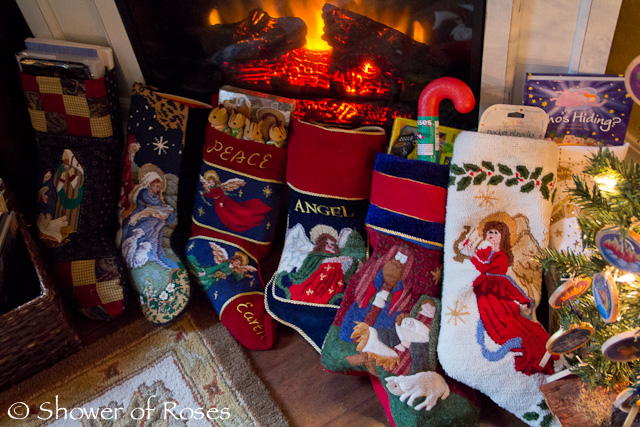 Holy Family Stockings for the Boys and Angels for the Girls
This year I didn't buy much candy for the stockings, but they were all filled with lots of fun little gifts. Actually many of these items would make great Easter Basket fillers as well! (Can you believe that Easter is only 2 1/2 months away? It falls on March 31st this year!) I collect these gifts throughout the year, when I run across good sales, which makes it much easier to fill so many stockings! Here is a peek at what the kids discovered this year…
Bud found another board book, fabric book, socks, and bath Toys.
I'm still working on a system for storing the boy's legos, and am hoping to hang a few more wall shelves in their bedroom soon. Usually the top of their dresser is covered with their creations and others are displayed on their bookcase. The rest are in boxes in the closet. I love Charlotte's Lego Trays, but my boys have under bed drawers, otherwise I would have made some by now!
Eventually I would love to get a second, or even a third…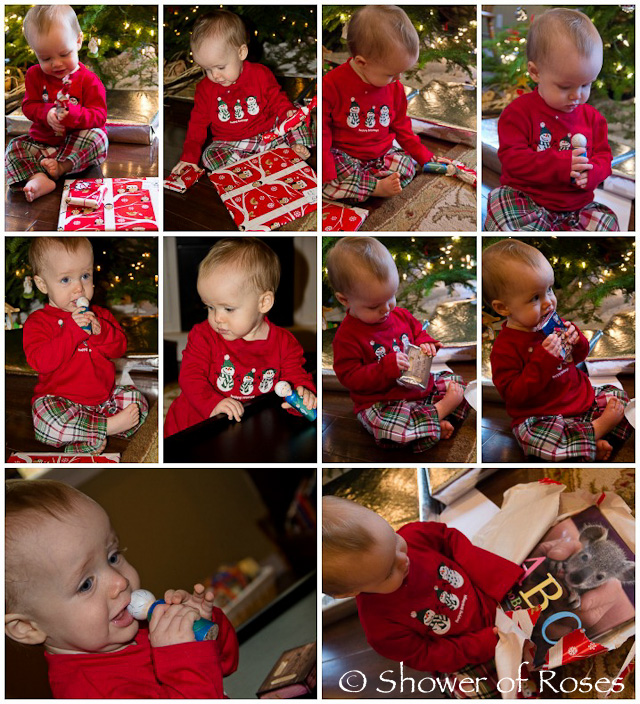 Bud enjoying the gifts from his godparents!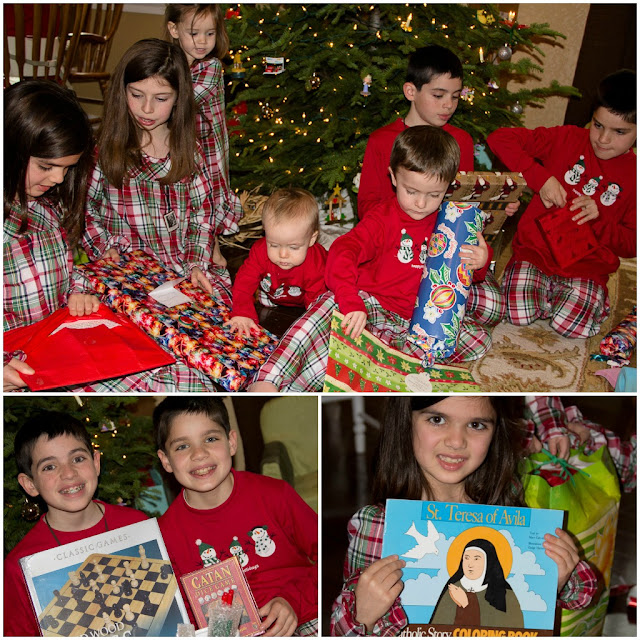 Opening gifts from Grandpa and Grandma
After the children had opened their gifts I put my camera down and didn't pick it up again all day. We enjoyed the day together as a family and, after dinner, we drove out to my parents to deliver gifts and see more of my visiting siblings. It was such a beautiful blessed day, and just the beginning of our celebrations for the Twelve Days of Christmas and the whole Christmas season!