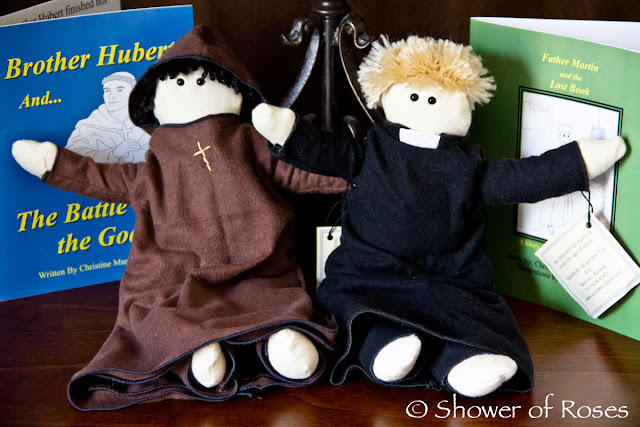 I had been hoping to compile an updated list of Catholic Easter Basket Ideas and Easter Symbol themed gifts, but I haven't had a chance yet and Easter is quickly approaching!
I haven't finished my own Easter shopping quite yet, but I did want to share a precious little rag doll from Jacob's Toy Box that one of my little guys will discover in his Easter Basket this year: Father Martin with his vestments and story.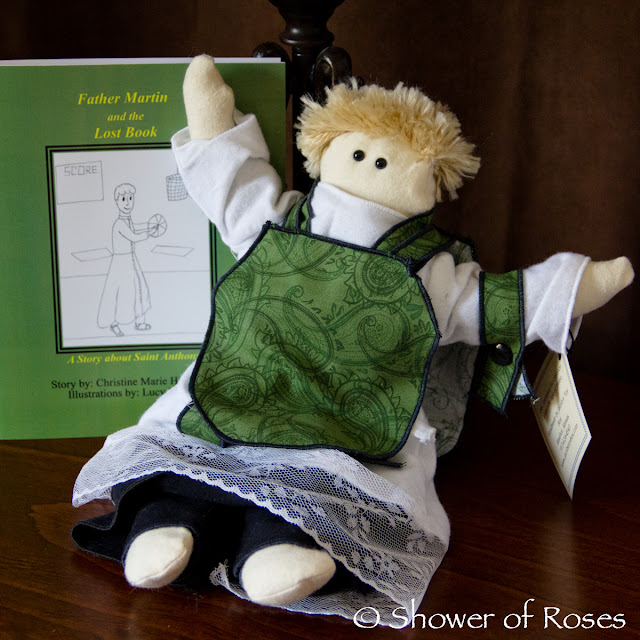 Isn't he great?! Not only is he soft and cuddly (um… can you say that about a priest doll?) – perfect for my little toddler – I love the traditional cassock (over pants) and vestments (including an Alb, Cincture, Maniple, Stole and Chasuble)! Now I can't decide if he is going to end up in Snuggles or Bud's basket this year… And I'm sure Rose would love Sister Marie… But, I did order Hand-painted Bookmarks of their Patron Saints for the 5 oldest, including Snuggles, and plan to complete a set of blocks for Rose (which I still need to get going on), so perhaps he should go to Bud… What do you think?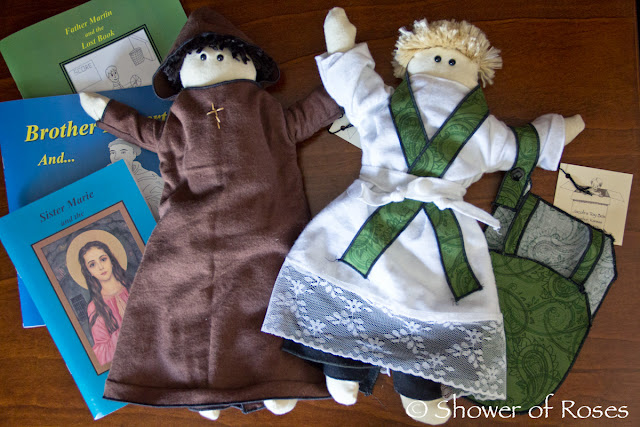 Anyways, I've really enjoyed "meeting" Christine through our email correspondence, and wanted to share with you all, with Christine's permission, the beautiful yet heartbreaking story of how she named her business:
"I started this business last summer–2012. It has been a rough couple of years–In 2010 I was diagnosed with a terminal pregnancy–My daughter had trisomy 18– a fatal chromosome defect. We found this out at 24 weeks, and of course we didn't terminate the pregnancy. She died at 27 weeks. Those were a few tough weeks. Knowing that the baby inside of me wouldn't live. After she died I started a home-based fresh flower business and it did pretty well.

Then, surprise! At the end of 2011 I found out I was pregnant again. We were so excited–but scared. (Back and 2009 I was told by a medical specialist that I would never be able to get pregnant again–I proved him wrong!) The OB doctor watched me like a hawk–everything was going smoothly. Then when I was 32 weeks had a stress test/ultrasound on a Wed.–Jacob, our son, looked fine. On Friday I only noticed a bit of movement in the morning. Called the doctor that night and he said not to worry. Things had looked fine a couple of days ago. Saturday morning I still had not felt him move. The OB had me come into the hospital. Jacob had died. They were unable to determine what caused his death–he looked perfect!

This experience made me want to focus even more on my family and doing flowers I felt was taking too much time away. But, I wanted to be doing something and have enjoyed crafts in the past. My husband, kids, and friends encouraged me to start making and selling these toys.–thus the birth of Jacob's Toy Box. By the way, we are a homeschooling family too. My oldest is a senior and my youngest in kindergarten. My husband and I have been married almost 20 years."
I was very touched by Christine's story, and my heart aches for her as I know all too well what it is like to lose babies… What a special tribute she has created for her little son with Jacob's Toy Box!
She also had a story to share about my husband's brothers:
"Oh–just a funny story about one of your brother-in-laws–When Fr. J. G_____ was at our parish, I went into the confessional to receive the sacrament. The voice of the priest sort of sounded like our priest but not quite. I asked the priest "Are you Fr. G____?" His reply:"I am A Father G____."
Yes, there are a few of those "Father G's" around, which is another reason I am thrilled to have a "Priest" doll for my children! Hmmmm… I might have to see if I can eventually order another with dark hair that we can name "Uncle Father" as our children affectionately call those three dear priests! 😉
I sure do love supporting Catholic businesses and families when we can. Some of my favorite gifts for our children have either been handmade by creative and talented Catholics like Christine! These gifts are treasures for sure, and things you just can't find at those big box stores or websites!
If any of you would like to place an order, you will need to do so no later than March 25th for Easter delivery! These sweet dolls would also make excellent First Communion Gifts, in addition to the other suggestions I posted last year.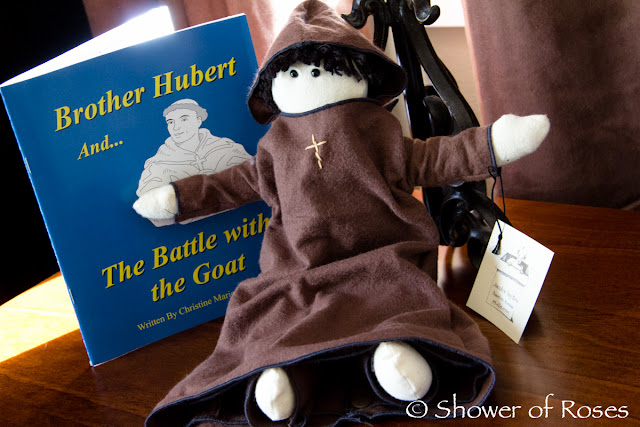 Christine has also generously offered to give a Brother Hubert Rag Doll and Brother Hubert and The Battle with the Goat to one of my visitors here at Shower of Roses!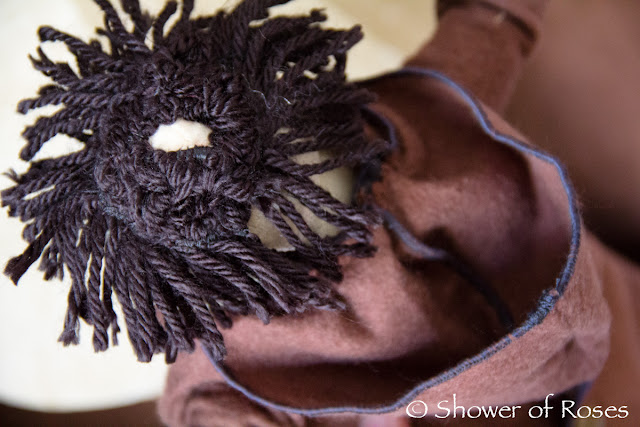 He even has a tonsure! I love it!! He is definitely going on my "wishlist" for one of my little boys!
To enter this give-away:
Click on over to Jacob's Toy Box and check out all the adorable rag dolls created by Christine and then leave a comment on this post, telling me which is your favorite, before Midnight (PST) on Saturday, March 16th. Be sure to leave your email address, or have it linked in your profile, so that I am able to contact the winner. I will update this post with the lucky winner on March 17th, St. Patrick's Day!
BONUS: Share this giveaway on either your own blog or Facebook page and come back and let me know that you did by leaving a second comment for an extra entry! Like Shower of Roses and Jacob's Toy Box on Facebook for a third entry! Be sure to leave a comment for each entry since they will be numbered for use with a random number generator to determine the winner.
And before you go, I wanted to add a little prayer request… Please click over to Kirsten's blog, Sonlight Garden, and let her know you are praying for a miracle for her own beautiful baby.