Queen of the Angels and Queen of the May…
I love the month of May! Summer is right around the corner, our school year is coming to an end, and the whole month is dedicated to the Blessed Virgin Mary! (You can find some of our past feast day celebrations during the month of May in the archives.) I finally made it to town this afternoon for groceries (we have been out of pretty much everything) and picked up a small bouquet of flowers for Our Lady. (My statue isn't included in the giveaway, but you can find it here.) I pulled out my old, but favorite, Handmaiden of the Lord CD (a gift from my husband years ago) to play this month, and I also keep finding myself humming Queen of the May. Mother's Day is coming up and I thought it would be fun to start the month with a giveaway – or five… The following items have been generously provided by Krista and Jesse Tree Treasures in honor of Our Blessed Mother.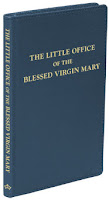 #1 – The Little Office of the Blessed Virgin Mary
sponsored by Krista – Thank you Krista!
"The Little Office of the Blessed Virgin Mary is a shorter form of the Divine Office in honor of the Blessed Virgin Mary. It has long been the Church's daily liturgical prayer to Our Lady, and these hours of praise have been used by Priests, religious and the laity throughout the centuries. Lay people used to flock to the great Cathedrals to publicly recite The Little Office during the Middle Ages, and during the great persecution, when the practice of the Catholic Faith was illegal, the Little Office was highly recommended by the Church."
Read more here…
#3 – "Be a Son-Flower"-Follow the Son
#4 – Chosen
Inspiring Women of FAITH Necklaces
sponsored by Jesse Tree Treasures – Thank you Angie!
"These unique pendant necklaces are a beautiful witness of faith. Each one is named after a woman of the Bible and a quality she possessed or portrays a quality of a woman of faith. The necklaces are set in a silver pendant tray and come with an adjustable clasp chain. They are beautifully packaged in a coordinating organza bag. Each necklace also includes an inserted card that lists the name of the necklace and related scripture verse."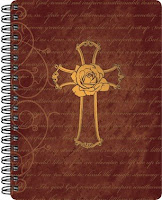 #5 – St. Therese the Little Flower Daily Journal
I purchased one of these for myself and purchased an extra for one of you!
"Many spiritual directors recommend daily spiritual reading, followed by meditation and simple journaling of thoughts and inspirations. Journals become a record of our walk in the spiritual life. This Saint Therese the Little Flower Catholic Journal was designed specifically to guide you in the practice of journaling. This high-quality lay flat wirebound journal provides ample space to write and is filled with illustrations and inspiring quotes from Saint Therese the Little Flower to guide you on her "Little Way". Also included are how-to tips to begin constructive journaling; not simply putting thoughts and feelings on paper, but directing them to help you make truly virtuous choices!"
[Update: I purchased these Journals from Casa Maria Bookstore when ordering the Mananitas CD for Chiquita's birthday. They are also offered at an incredible price from Tan at the moment (You can visit TAN Books via my new Affiliate link here!), even with the shipping charges it is still less expensive than the Amazon price. I'm considering ordering a number of copies to use as prizes for next year's Little Flowers Mother Daughter Tea Party.]
UPDATE: Thank you!
If you would like to be entered in the drawing for a chance to win one of the above items, just leave a comment on this post before Midnight (PST) on Sunday, May 5th. Also, please leave your email address, or have it linked in your profile, so that I am able to contact you should you win. I will update this post with the winners on May 6th.
AND THE WINNERS ARE:
scmom (Barbara) – "What a lovely drawing! All very nice gifts. I post every day in May for Mary…one small thing I can do for love of her."
Joy Beyond the Cross – "I love, love, love all of these beautiful items. Thank you so much for the opportunity to win! God Bless!"
Melody – "I sure would love to win any of these. 🙂 Happy May! Ave Maria!"
montanamama90 – "I would be so happy to win any of these! ~Kaylyn"
Kerry – "How thoughtful of you, Jess. What a lovely giveaway. Please enter me. My email is …"
Congratulations to you all! I'll be emailing you soon for your mailing addresses.
We know very well that the Blessed Virgin is Queen of Heaven
and Earth, but she is more Mother than Queen.
~ St. Therese of the Child Jesus and the Holy Face