Note: I meant to publish this post yesterday and didn't have a chance to finish uploading the photos before going out shopping with my mom all evening (before the snowstorm hit today)! I'll be back with a few pictures from today, but in the meantime – Happy Feast of St. Nicholas!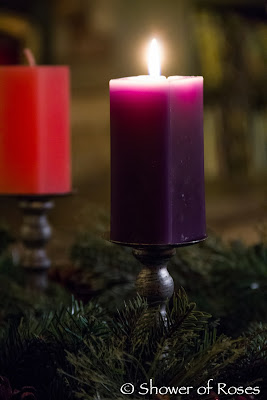 Outside my window… It is COLD! We have a "Winter Storm Watch" with a 100% chance of snow on Friday, the Feast of St. Nicholas! It doesn't snow here very often so the children are all very excited!
I am thinking…
about driving into town to pick up a few things, before the storm hits. Hot Cocoa, whipping cream, cherries, and some Nutter Butters, plus a few other things just in case we lose power.
I am thankful…
for our wood stove fireplace insert! It helps keep the house so warm and cozy.
Learning all the time…
We are back to school this week following our Thanksgiving break… In the past we have tried to take all of Advent off of our formal schoolwork to focus on Advent and preparing our hearts for Christmas, however as the children get older it has gotten harder to take that long of a break during this time of the year. If all goes as planned we will still be able to take a few weeks off beginning with the feast of St. Lucy on December 13th! Now if we can push through the rest of this week and next….
Celebrating the liturgical year…
as we always do during Advent!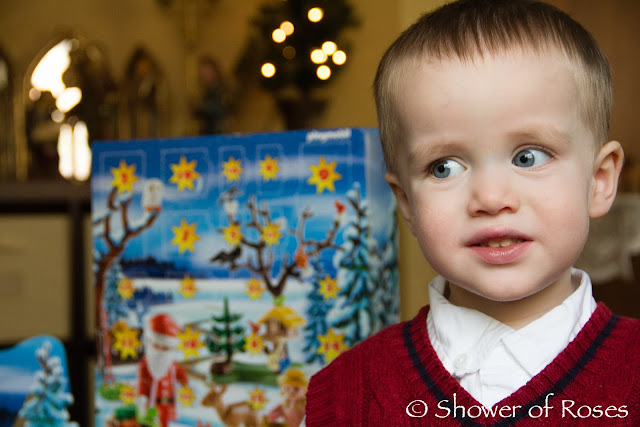 My "baby" is getting so big!
From the kitchen…
I had a little helper making cookie dough the other morning!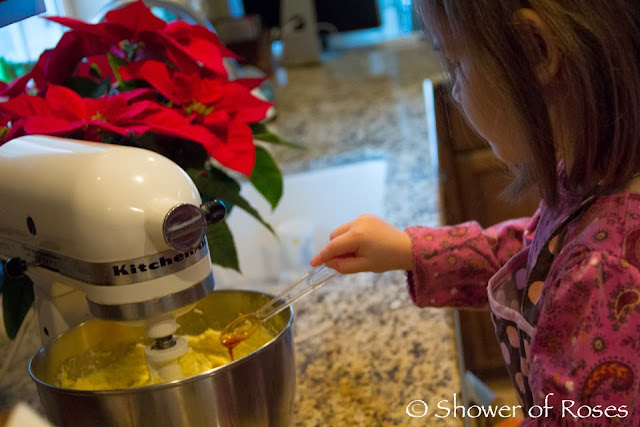 It didn't take long for us to make quite a mess, but isn't my new can of baking powder cute! I couldn't resist the pink and white can, even though I already had some in the cupboard. 😉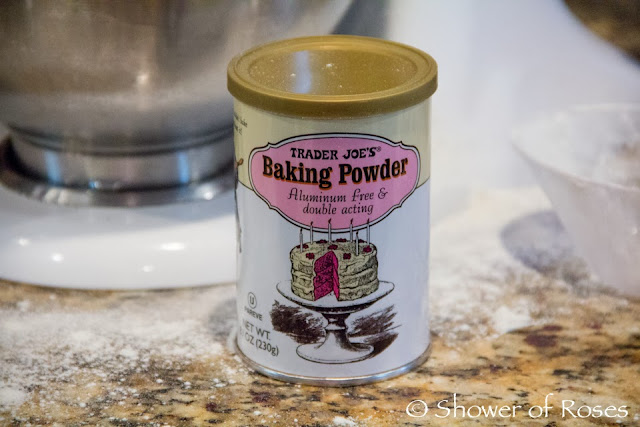 I am working on…
praying for and doing extra special things for my "Christkindl!"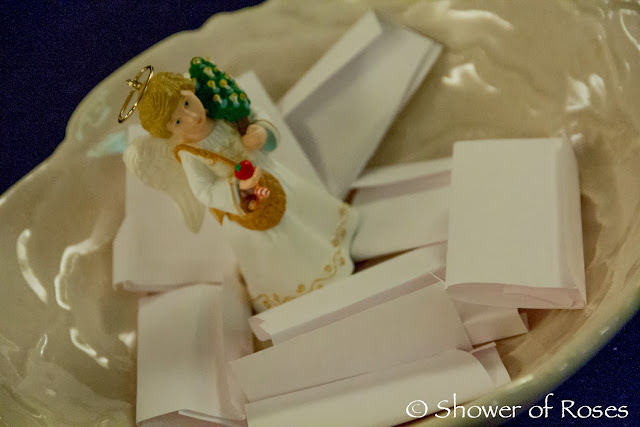 I am creating…
St. Nicholas Coins for the feast. I found the bag of Belgium Chocolate Coins at Costco, printed out the images, and quickly cut them out with a Fiskars Circle Punch!
I am going…
to start wrapping some more Christmas gifts! This and this arrived this week (I had pre-ordered them for the boys) and this* arrived for Bud (*just the figurines – at a great sale price!). I don't know who is more excited about Christmas, me or the kids?!? I can't wait to give them these gifts!
I am hoping…
that I will find a new source for Advent candles that I love as much as the ones I always purchased from the Abbey… How I wish the monk would have been able to continue making these gorgeous candles. My favorites were the round pillars, but this year we are using a set of square pillars I purchased a couple years ago (the very last set available in the gift shop) when I found out they wouldn't be carrying them any longer. How hard is it to learn how to make candles? 😉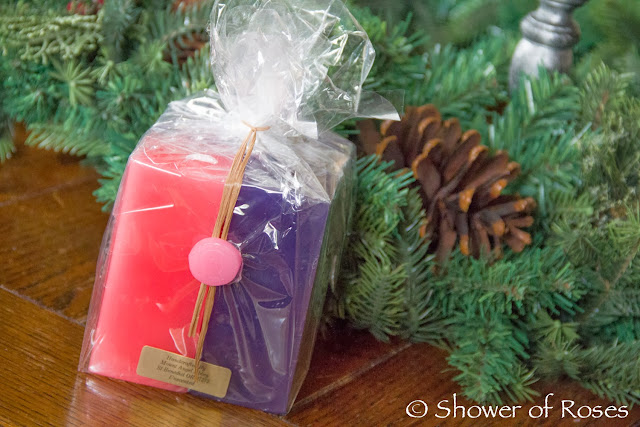 I am praying…
Advent prayers each night with my family. These few pictures were taken just after our wreath was blessed (by my husband, while I lit the first candle) and we prayed our St. Andrew Christmas Novena and Family Rosary on the First Sunday of Advent.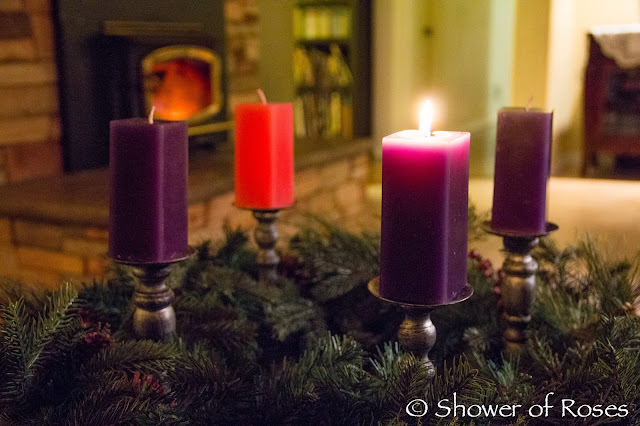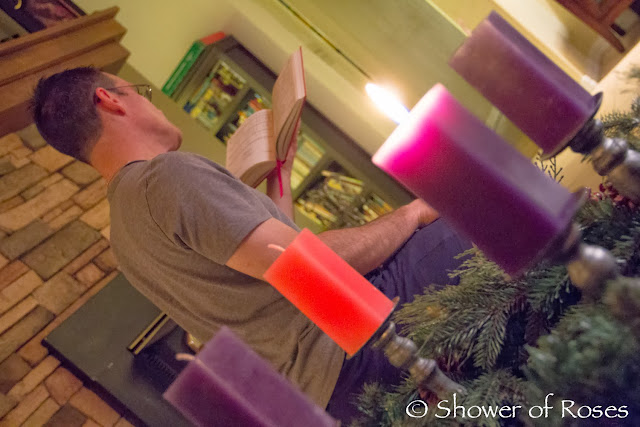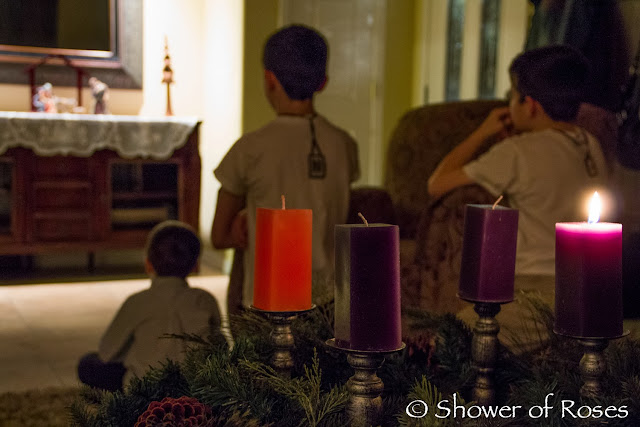 Each week of Advent my husband adds to our Nativity Scene. This week it is very simple with just the stable and manger, Blessed Mother, St. Joseph, donkey, ox and a tree.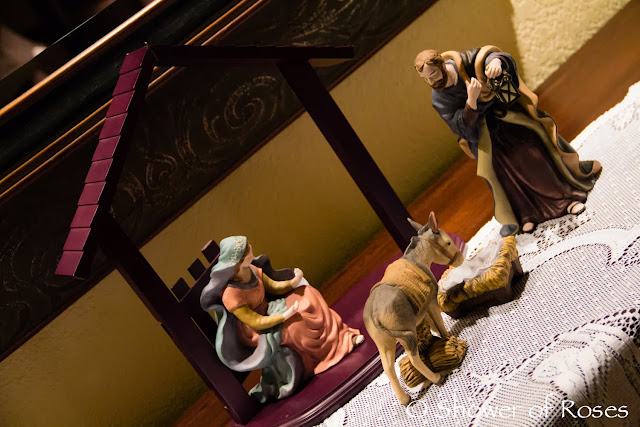 I am reading…
Come, Lord Jesus: Meditations on the Art of Waiting.
Pondering these words…
from Mother Teresa:
The season of Advent is like springtime in nature, when everything is renewed and so is fresh and healthy. Advent is also meant to do this to us–to refresh us and make us healthy, to be able to receive Christ in whatever form He may come to us.
I am listening…
to Advent at Ephesus, Adventus (Tracks 1-5 for the First Week of Advent), and Legends of Nicholas.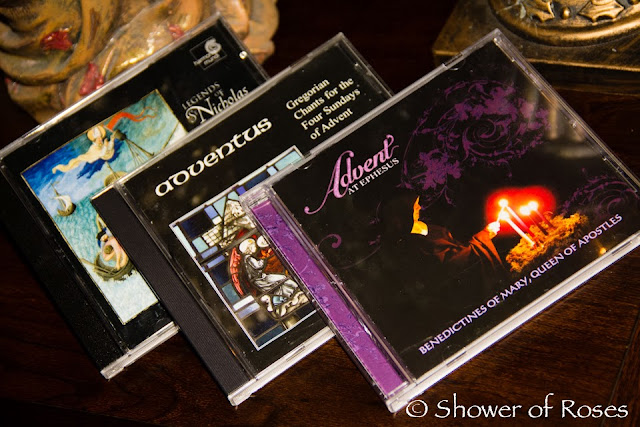 Soon we will start listening to Mater Eucharistiae, The Story of Christmas (First songs including Ave Maria, Angelus, Breath of Heaven, and Magnificat…), the beautiful Mañanitas CD from Sister Servants, and Matins for the Virgin of Guadalupe for the upcoming feasts of the Immaculate Conception and Our Lady of Guadalupe!
I am also considering purchasing a copy of Voice of Joy, after reading Melody's recommendation!
Around the house…
the
Wise Men
have been on the move each night, searching for Baby Jesus! Our oldest two boys have been moving them after everyone else is in bed and having a blast… Here are the places they have been found the past few days.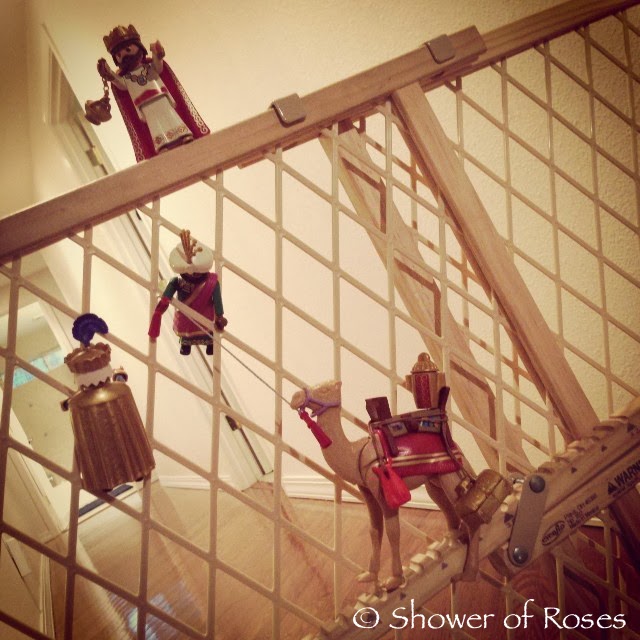 If you are searching for Baby Jesus you might have to scale a wall… or at least a baby gate!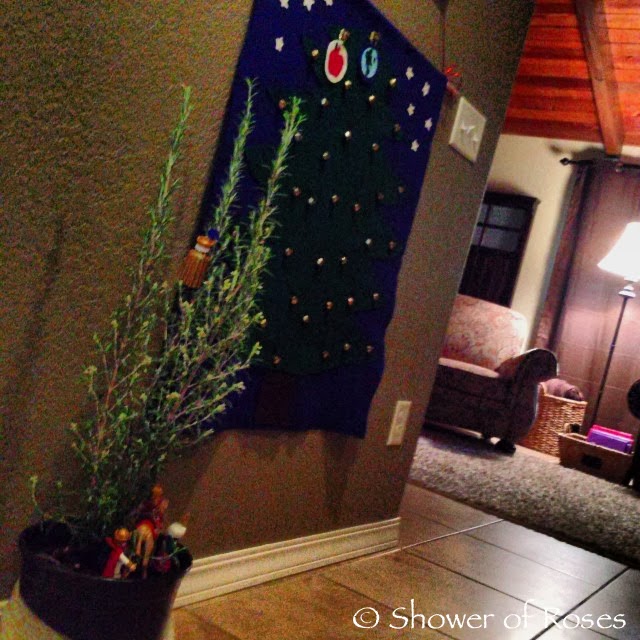 The Wise Men took shelter under the rosemary bush and noticed a beautiful fragrance. (It is said that the rosemary's fragrance arose after Mary hung her linens to dry on its branches!) They also spotted "a star in the East!" and started climbing to get a better view!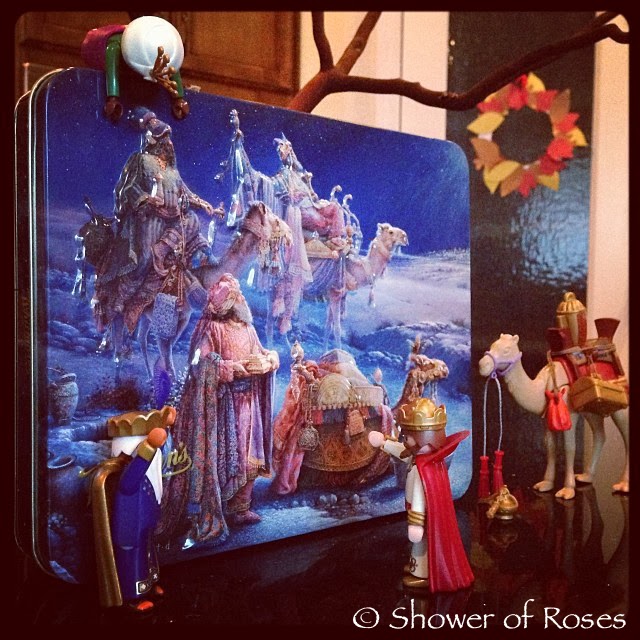 "Okay! Who spilled the beans? It looks like we aren't the only ones searching for Baby Jesus!"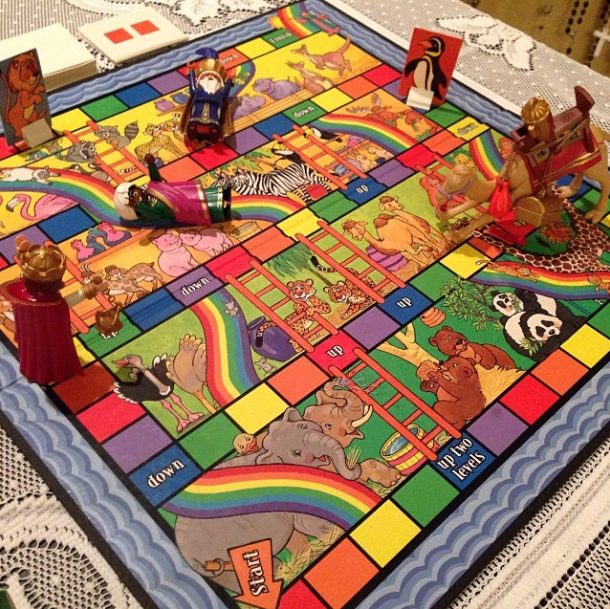 After hearing so much about Noah on the 4th day of Advent, the Wise Men decided to stop by the Ark and say hello… If only they could get to the top without slip-sliding down all the rainbows! As for the camel, he's busy catching up with some old buddies! (You can find Noah's Rainbow Race at Amazon or at Catholic Child.)
One of my favorite things…
watching the little ones take turns unwrapping the books from
our Advent and Christmas Book Basket
each night after our family prayers. Last night it was Snuggles turn and he offered to let Rose help him. I wish I would have videoed Bud unwrapping his book on Sunday night. It is amazing that pulling wrapping paper off a picture book can bring so much joy and excitement to a child… And the fact that their daddy looks forward to reading the stories to them each night makes this tradition even better!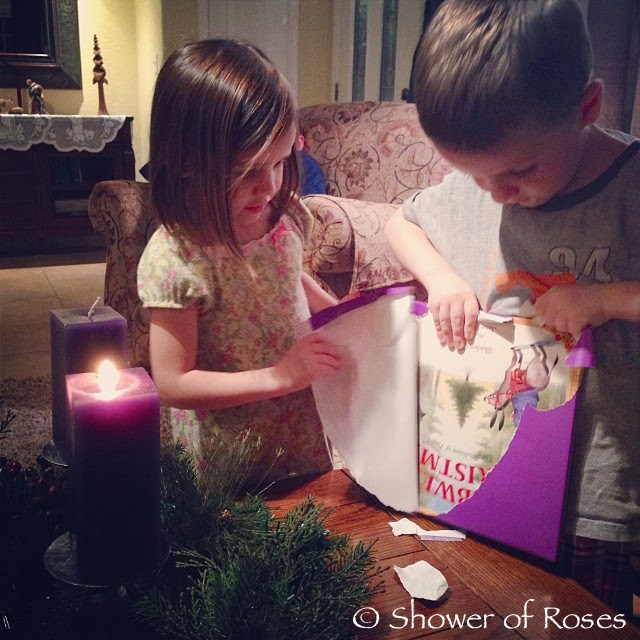 This week's plans…
Mrs. W tutoring on Thursday
Celebrate the feast of St. Nicholas! Unfortunately with the snow storm we won't be able to make the drive for Friday morning Mass…
Spend Saturday at home playing in the snow, assembling puzzles, and enjoying our time together as a family!
Mass for the Second Sunday of Advent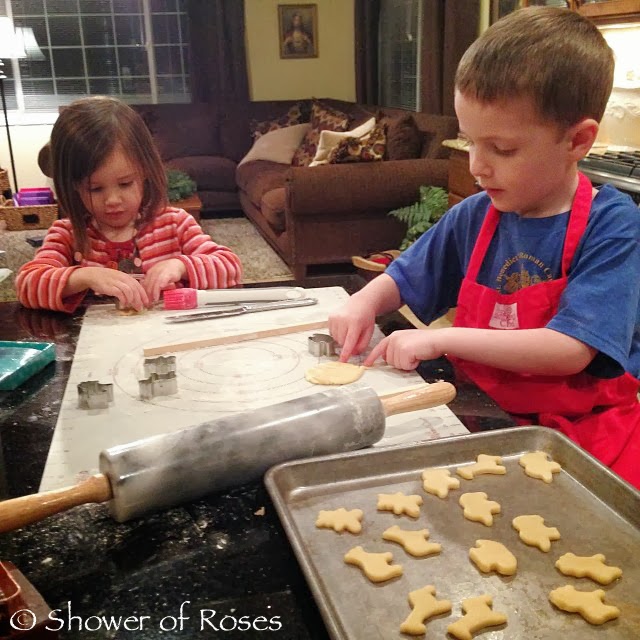 These two were having so much fun with some leftover cookie dough.