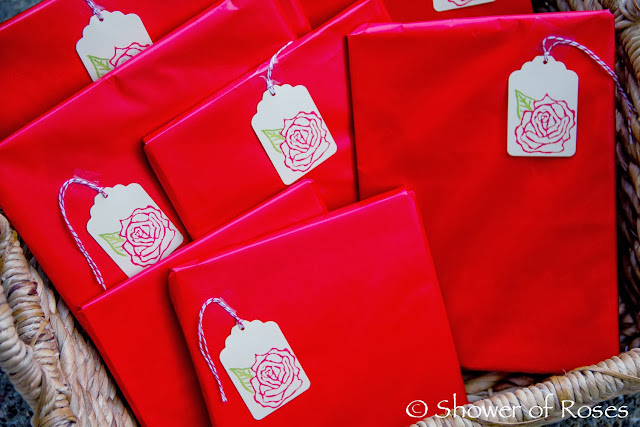 I've been busy finishing my Jesse Tree Swap Ornaments the past few days and finally, after staying up until way too late last night early this morning painting and assembling, got them wrapped and shipped this afternoon, barely making the deadline! It took way longer than I thought it would to make 35 angel ornaments… I'm glad I participated though and we are all excited to see the other ornaments when our box arrives!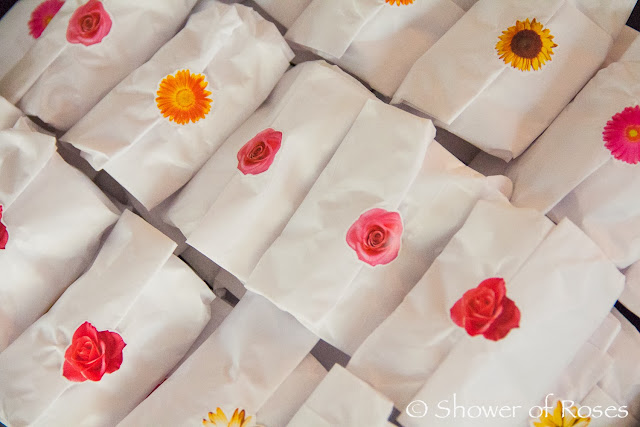 Anyways, every year on December 6th, the feast of St. Nicholas, our children wake up to find their shoes or slippers filled with treats and chocolate gold coins (sometimes they even find new shoes or slippers if they are needed), along with a new Christmas Picture Book to add to our ever growing collection. I just finished wrapping the books for this year with red paper, attaching a rose tag with each child's name. Here's a peek at the books Sean and I choose for this year: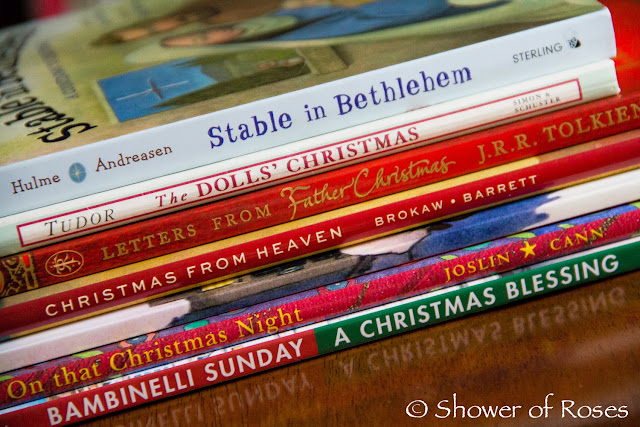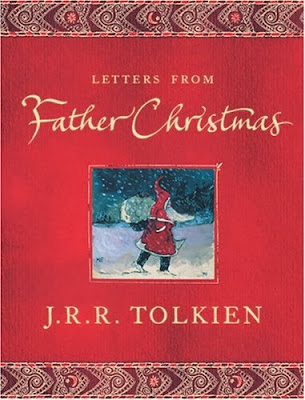 "Every December an envelope bearing a stamp from the North Pole would arrive for J.R.R. Tolkien's children. Inside would be a letter in a strange, spidery handwriting and a beautiful colored drawing or painting. The letters were from Father Christmas. They told wonderful tales of life at the North Pole: how the reindeer got loose and scattered presents all over the place; how the accident-prone North Polar Bear climbed the North Pole and fell through the roof of Father Christmas's house into the dining room; how he broke the Moon into four pieces and made the Man in it fall into the back garden; how there were wars with the troublesome horde of goblins who lived in the caves beneath the house, and many more. No reader, young or old, can fail to be charmed by Tolkien's inventiveness in this classic holiday treat."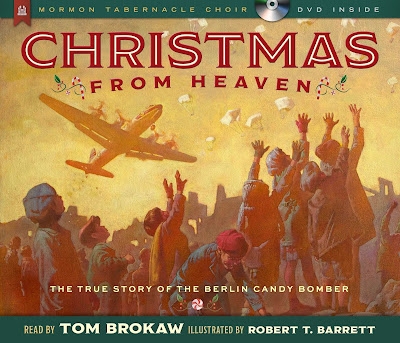 "From little things come big things," Gail Halvorsen remembered his father saying. As a twenty-seven-year-old American pilot, Brother Halvorsen's job was to airdrop much-needed food and supplies to the people of West Berlin in the aftermath of World War II. But it was his simple gift of two sticks of gum that launched an extraordinary humanitarian endeavor and earned him the nickname "The Candy Bomber." Each day as hundreds of small white parachutes delivered treats to the children of West Germany, the wounds of war began to heal. "Operation Little Vittles" captured the imagination of people everywhere, bringing the spirit of Christmas to a world in need of peace and hope. Famed broadcast journalist and author Tom Brokaw brings this remarkable true story to life in a stunning live performance with the Mormon Tabernacle Choir, captured on the accompanying DVD. Also included in the book is a template and directions for creating your own "Candy Bomber" parachutes.."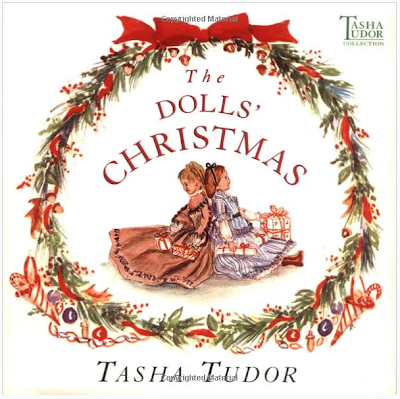 Out of print, but so sweet if you can find a copy for a reasonable price!
"Christmas is a special time at Pumpkin House, where two dolls named Sethany Ann and Nicey Melinda live. Every Christmas they invite their friends to join them for an elegant dinner party and a marionette show. The dolls have fun getting ready for their party: they send out invitations to their guests by Sparrow Post, decorate their very own Christmas tree with silver nutmegs and golden pears, and prepare doll-size cookies and other treats for the party. Then at "candlelight-time" on Christmas Day the guests begin to arrive, and the evening isn't over until the last carol has been sung around the tree. Tasha Tudor's delightful tale captures all the charm and magic of an old-fashioned Christmas shared with your dearest friends. Beautifully illustrated in nostalgic watercolor paintings, this book will be treasured by generations to come."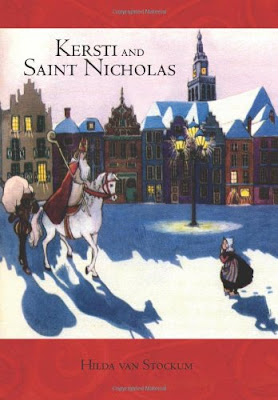 Written by Hilda van Stockum (author of one of my boys' all time
favorite books
) I was so excited to see that this book has been republished!
"A beautifully illustrated book for the Holidays about Kersti, a mischievous little girl who is always misbehaving, much to the dismay of her six older sisters and parents. As St. Nicholas Day approaches, Kersti worries that she won't receive any gifts and sets out on an adventure."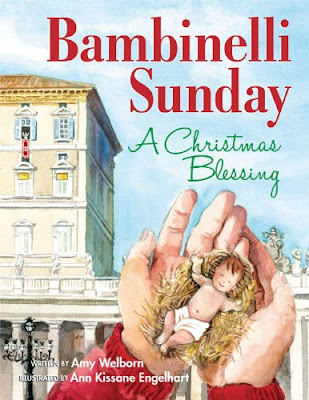 Bambinelli Sunday: A Christmas Blessing
Love, love, love this new book by Amy Welborn. It is going to be perfect for our six year old! Be sure to enter the giveaway below to possibly win a copy!
"Alessandro is staying with his grandparents, who run a small shop that sells figures for the presepe (Nativity scene), while his parents look for work in another country. To help with the boy s loneliness, his grandfather encourages Alessandro to make his own figure of the baby Jesus. They will bring that figure to Rome in two weeks to have it blessed by the Holy Father on Bambinelli Sunday. Through the events that occur in the time leading up to receiving the blessing in St. Peter's Square, Alessandro comes to see his world in a new way, and receives the best surprise of all in the end. This book for children ages 7-10 tells a wonderful story about sharing, comfort, generosity, and forgiveness through the lens of a long-standing Italian tradition. The beautiful illustrations and timeless story make this a treasure Advent and Christmas resource for generations to come."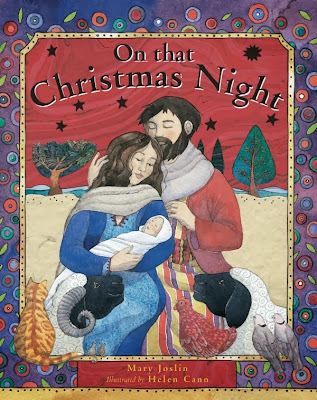 "The traditional Christmas story is retold in gorgeous language which recreates the mystery and awe that filled the holy night when Jesus was born. From Mary and Joseph's search for a place to stay for the night to the arrival of the three travelers from the East bearing rich gifts, this lovely book tells the first Christmas story. With beautiful, jewel-toned illustrations, this exquisite book will be treasured by any child who receives it. The perfect Christmas gift!"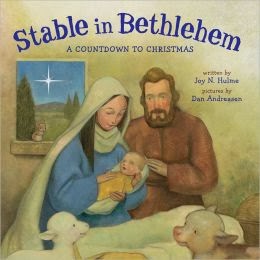 "From 12 drowsy doves to 7 soft sheep to 4 shaggy camels, this lovely board-book edition of Stable in Bethlehem celebrates the wonders of Christmas–with a counting concept built right in. Joy N. Hulme and Dan Andreasen, the team behind the Sterling picture book Easter Babies, perfectly capture the spirit of the season with gentle rhymes and softly hued, charming pictures. The ideal addition to any Christmas stocking!"
For Dad:
OOP – Imprimatur 1955 – I purchased a used copy on Ebay
"The kind of reading Catholic families need at Christmas—and can rarely find anymore. Charming illustrations that capture Christmas for your little ones—and a message for older children and adults on the real meaning of Christmas from one of the 20th century's best speakers: Fulton J. Sheen. Archbishop Fulton Sheen's charming retelling of the Christmas story makes a wonderful read-aloud for the whole family. Illustrated throughout in color. The late Archbishop offers food for thought for the older members of the family—thoughts that can be easily explained to the younger members with the aid of illustrations. (And these aren't the cartoonish illustrations we see in so many children's books these days, even in some Catholic children's books. These are illustrations which elevate and inspire while capturing a child's imagination.) Archbishop Sheen at his best."
For Mom: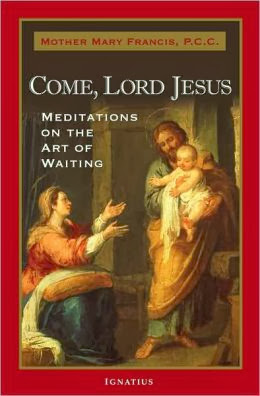 Come, Lord Jesus: Meditations on the Art of Waiting
After seeing a number of recommendations, this will be my reading this Advent.
"These Advent reflections by the abbess of a Poor Clare monastery, an accomplished spiritual writer, focus our attention on the coming of Jesus into our lives. There is a double movement to this coming; both our active preparation to be ready for him and our patient waiting for the Lord to arrive in his own good time. There is also an art to this simultaneous preparation and waiting, and no one knows better than the beloved Mother Mary Francis how to encourage us in our attempts to master this art. Meditating on passages from Scripture about the coming of the Messiah into the world and our hearts, Mother challenges us to persevere in overcoming our faults and keeping our eyes on the Lord who has called us to himself-for it is he, through the gifts of his grace, who will complete in us the work of sanctification which he has begun."
Additional New Book for the Family:
I always love finding books that go along with some of our Christmas baking! Last year we had fun with The Christmas Cookie Sprinkle Snitcher, Cookie Cutters Tell the Story of Christmas, The Baker's Dozen :: A Saint Nicholas Tale and Baking Cookies for the Feast!, The Twelve Days of Christmas and more! This year our plans will include baking "Maggie's Favorite Cranberry Cookies" from the back cover of Cranberry Christmas!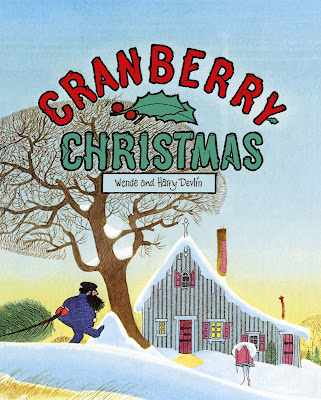 Cranberry Christmas
(… Now back in print along with Cranberry Thanksgiving!)

"Old Cyrus Grape doesn't like children. And he insists that the skating pond is 'his.' Mr. Whiskers knows this isn't true, but since he can't prove it, there'll be no skating…not even on Christmas Day! That is…unless cleaning Mr. Whiskers' house uncovers some important information. This 1976 classic is back for a new generation of Devlin fans to enjoy, with Maggie's favorite cranberry cookie recipe on the back."
I am also curious about
The Message of the Birds
and
Gifts of the Heart
. I tried to preview copies at our local bookstore, but they didn't have them in stock. If any one has seen them I'd love to hear your opinion.
My favorite recently published Christmas themed picture book is definitely Bambinelli Sunday! I would like to give a copy to one of my visitors here at Shower of Roses for Advent!
Enter the giveaway below: