Today is the second day of Christmas and the feast of St. Stephen.
Actually, after the first couple dozen, I got tired of rolling and shaping all those little horseshoes and used the rest of the dough to make one big horseshoe, adding some chopped up apple as well.
We will be having the leftovers, with coffee and cocoa, in the morning. Yum!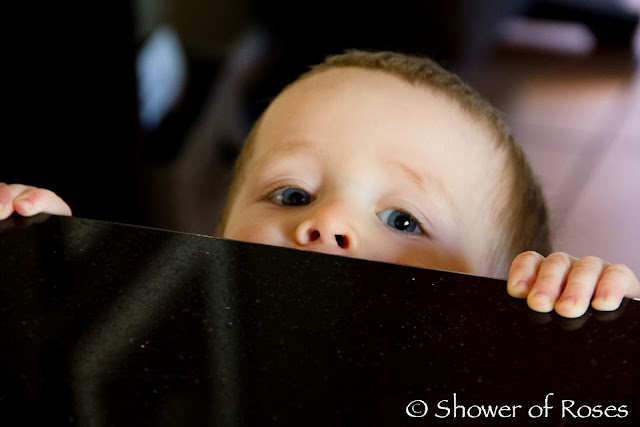 This little cutie kept playing peek-a-boo with me while I was baking…
… and the older boys were all busy, busy, busy, assembling their new lego sets!
Can you spot the
Walkie Talkies
in each of the pictures? These were a last minute decision (when Rose reminded us that Snuggles really wanted a "Laughy Taffy" for Christmas – he was her Christkindl – that is, after I was able to figure out what she meant… Laffy Taffy? You mean candy? "NO! A Lauughyyy Taffyyyy!") and it has been the favorite Christmas gift for all the boys, since they discovered them peeking out of their stockings on Christmas morning. In fact, I don't know why we didn't think that the girls (especially our oldest daughter, who is usually outside with her brothers) would love them just as much…
Thankfully the boys have all been more than willing to share!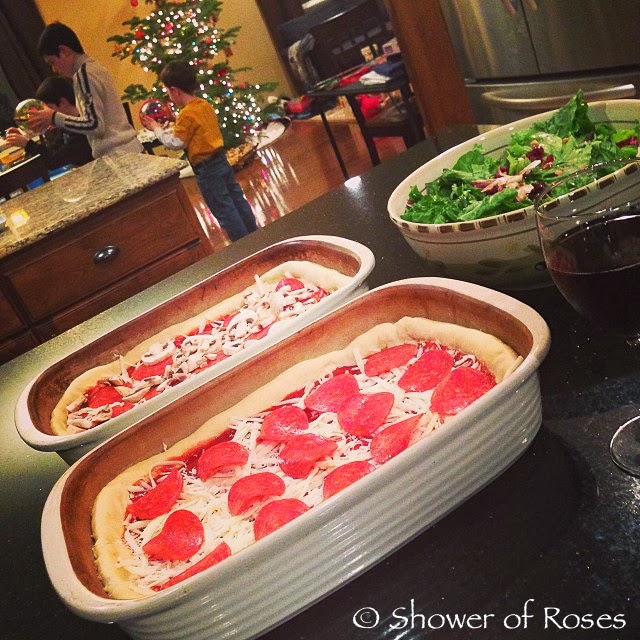 For dinner, inspired by
Miss Charlotte
over on Facebook, we had
Deep Dish Pizza
, Salad and Sparkling Pomegranate juice. You can also spot the boys trying to master the new
Perplexus Balls
in the background. 🙂 We are all very much enjoying our Christmas break!
What kind of pizza does Good King Wenceslas prefer?
Deep pan, crisp and even!
I hope you are all enjoying a peaceful and joyful Christmas too!
I'll be back with more pictures sometime soon…