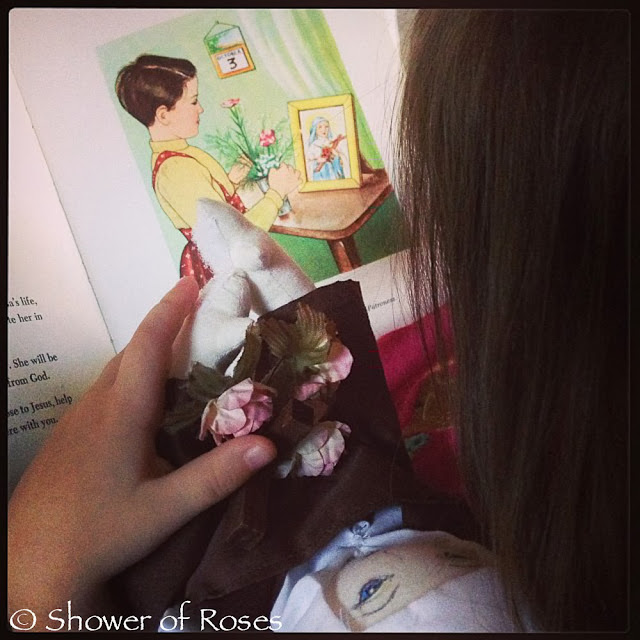 Dear St. Thérèse,
thou wert always good and obedient
and always did the Will of God.
Now thou art a great saint in heaven with God.
Thy loving and tender heart rejoices
to send down roses upon earth.
O give me the sweet flower of a great love of Jesus!
Pray for me that I may have all the graces I need.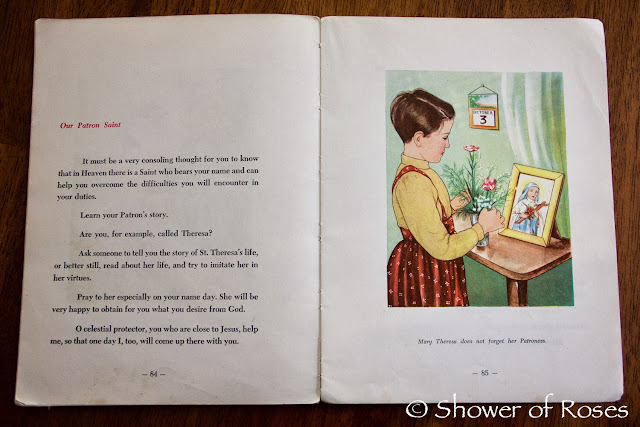 Today I spent some precious moments with my little "Rose" teaching her about "Our Patron Saint" using one of my treasured childhood books. Unfortunately my copy is tattered and missing the cover… I've searched for another copy, but have only found the (awful) revised edition from the 70's with new illustrations and text…. I plan to keep searching!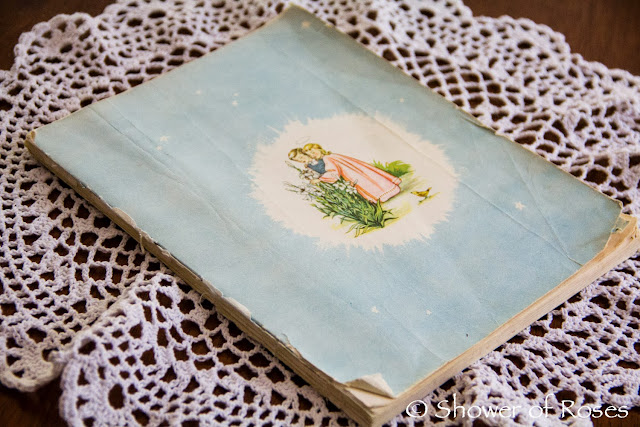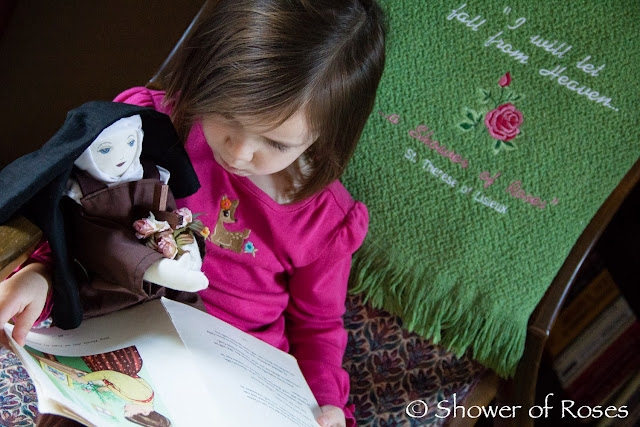 It's been an challenging week in our home, with the government shutdown, and I wasn't able to bake any more special treats for today, but the older girls still celebrated by illustrating (using the same Catholic How to Draw book from yesterday) a couple more pictures! I thought they turned out beautifully!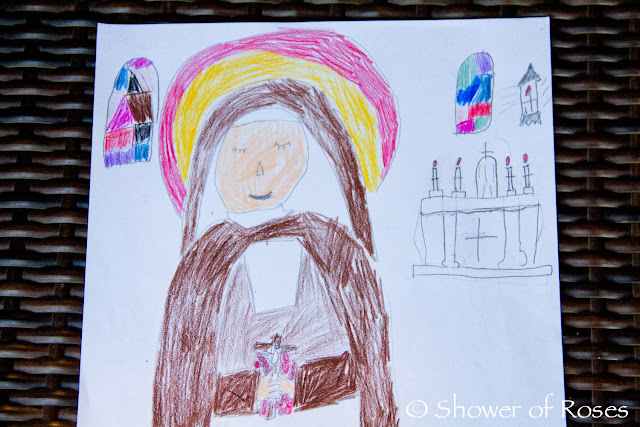 St. Therese by Twinkle Toes (age 10)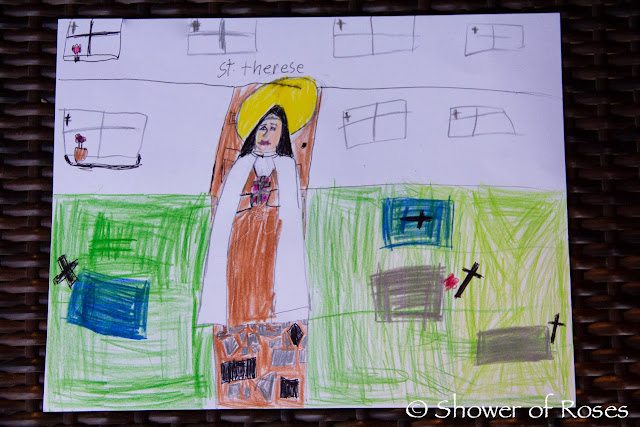 St. Therese by Chiquita (age 8)
Today I have two more giveaways for my dear visitors here at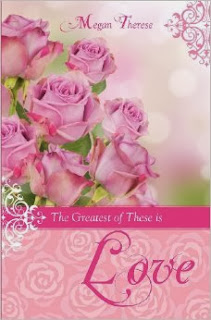 The first giveaway is for a newly released book titled The Greatest of These is Love. This book is generously offered by author Megan Therese Schuelke, a young Catholic from Minnesota!
"Megan Schuelke is a woman beyond her years. Her seemingly perfect world was rocked when she learned at age 17 that her mother had been diagnosed with cancer. In the midst of her desperation and frustration, Megan had a choice to make: She could run away from God, or she could run to Him. Megan chose to take God's hand through the struggles, discovering along the way the beauty in the life He had planned for her. This book is more than just one young woman's journey through life. It is a testament of God's power to turn tears into dancing, to turn darkness into light. Megan's story is one that inspires and gives hope to all young people searching for truth and love in a world filled with sadness."
********************************************
The second giveaway is offered by Mama's Notebooks. Heather Wood has generously offered to send the winner of this giveaway a copy of Mama's Notebook Weekly Planner and Organizer and The Budget Notebook!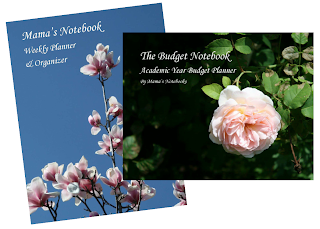 Mama's Notebook Weekly Planner and Organizer:
Mama's Notebook provides you with an easy, flexible, and efficient way to organize your life. In one glance, you can coordinate your meal plan with the whole day's events and tasks, and there's always ample room to take notes on the things that matter to you most! Unlike other planners, you can start up Mama's Notebook on any week of the year, and you can skip weeks as needed. The back section of the planner provides you with easy reference sheets to help you schedule and shop efficiently.



The Budget Notebook:
The Budget Notebook by Mama's Notebooks is designed to help you keep a household budget that is simple, easy, and accurate. It features charts for everything you'll need to get your budget under control, as well as a Notes section at the back with ample room for planning, organizing, writing reminder and to-do lists, and tallying up sums.
********************************************
Note: I have not seen either the book or planners in person, but I am very much looking forward to checking out my review copies! Thank you Megan and Heather!
If you would like to be entered for either of these giveaways, just leave a comment on this post, and make sure your email address is either linked on your profile or included in the comment so that I am able to contact you if you win.
There is still time to enter the other giveaways for a copy of Catholic Mosaic, a copy of St. Therese the Little Flower Daily Journal, and the two children's picture books. I'll be back with one last giveaway sometime tomorrow! The giveaways will all be open through Sunday, October 6th and I will update each post and contact the winners next Monday, October 7th.
UPDATE:
Thank you all for participating!