Note: Our updated Advent & Christmas Picture Book Collection can be found here.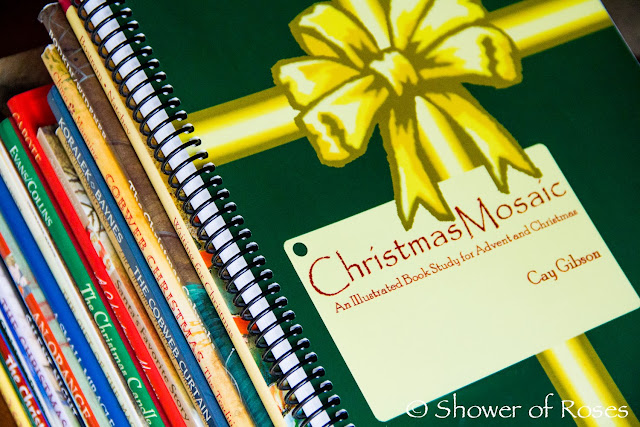 We love books. We love Advent and Christmas. We love books about Advent and Christmas!
We started our Christmas book collection in 2000, following the birth of our oldest son, and we still love adding to it each year. In 2007, following the release of Christmas Mosaic: An Illustrated Book Study for Children, we started reading a picture book as a family each day during Advent, incorporating some of Cay's wonderful study guides and activities. That same year our public libraries were all closed due to a lack of funding (and stayed closed for a few years) so I was very thankful to have her booklists to use as a guide when searching for new books to purchase for my children.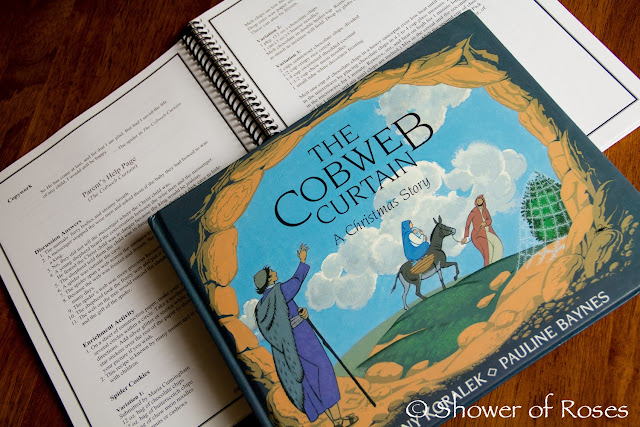 Four years ago I started wrapping our books for Advent with purple and pink wrapping paper, coordinating with the liturgical color for each week. I wondered at first if it would be worth the effort (and all that paper!) but this is now one of my children's favorite Advent traditions. They love taking turns unwrapping the books as well as the special time we spend together reading. (In the past I have also wrapped twelve books in gold for the twelve days of Christmas, but I have decided not to do that this year. The past couple years it has been so busy during those days following Christmas that there isn't much extra time for reading.) Some years I have incorporate books that tie in to the various feast days that will be celebrated and last year I had the children each choose four of their favorites to be wrapped.
With Advent beginning in just two weeks I spent some time this past week sorting through all our Christmas books. I filled a bag with the books to donate (ones we don't care for or no longer want to keep for various reasons), pulled aside all the books we will read this Advent, and filled a couple of additional baskets with the rest of our collection. This year I am going back to the original inspiration for our book a day and wrapping up books from the suggestions in Christmas Mosaic based on the four different themes: Decoration/Preparation, Giving/St. Nicholas, Family and Nativity/Angels/Epiphany.
(Note: I usually purchase rolls of the purple and pink wrapping paper at Target.)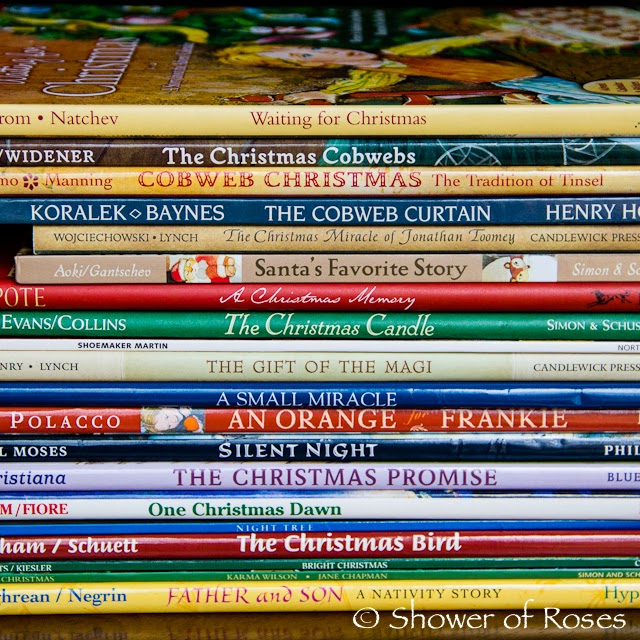 Here is the list of books we will be reading this Advent and Christmas:
Note: This year almost all the books listed for Advent are featured with study guides in Christmas Mosaic: An Illustrated Book Study for Advent and Christmas unless otherwise noted. We will spend a little time each afternoon reading and discussing the books using the study guides and also incorporating extra activities when we have time!
Christmas Mosaic Theme: Decoration and Preparation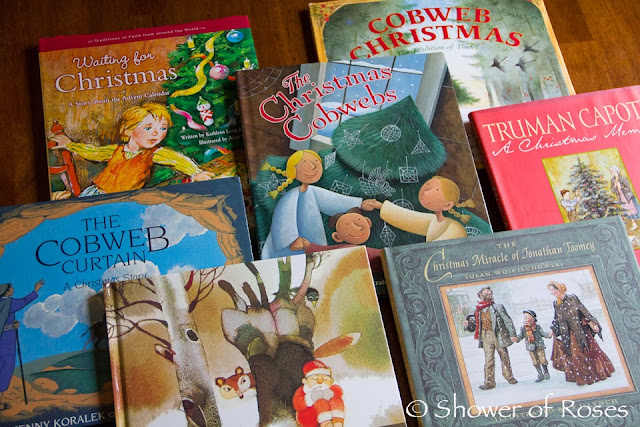 December 1 (First Sunday of Advent) ~ Waiting for Christmas: A Story about the Advent Calendar
We will also decorate for Advent with Advent Calendars, Advent Wreath, Jesse Tree, etc… Set out Manger for Baby Jesus and all of our Christmas Books. Bless the Advent Wreath during nighttime prayers. Choose names for Christkindl! I also plan to surprise the children with the Holy Heroes New Jesse Tree DVD to go along with our new Jesse Tree Swap Ornaments!
December 2 ~ The Christmas Cobwebs
December 3 ~ Cobweb Christmas: The Tradition of Tinsel
*Celebrate the Feast of St. Francis Xavier
December 4 ~ The Cobweb Curtain: A Christmas Story
December 5 ~ The Christmas Miracle of Jonathan Toomey with CD: Gift Edition
*Bake St. Nicholas Cookies
December 6 (Feast of St. Nicholas) ~ Santa's Favorite Story * This is included during week two, but since the feast of St. Nicholas is earlier in Advent this year I moved this book to week one.
*Celebrate the Feast of St. Nicholas
December 7 (Feast of St. Ambrose) ~ A Christmas Memory (*This was a new purchase this year, and we decided not to add this book to our collection.)
*Decorate our Christ Candle for Christmas
Christmas Mosaic Theme: Giving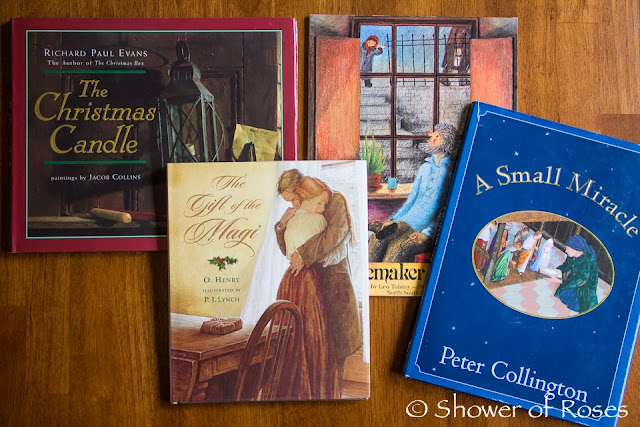 December 8 (Second Sunday of Advent) ~ Gifts from the Heart (Not pictured… New to us and I haven't recieved our copy to pre-read yet. No study guide available. Update: We decided not to keep this book after all.)
*Cut Down Christmas Tree after Mass
December 9 ~ The Christmas Candle
* The Immaculate Conception of the Blessed Virgin – transferred from the 2nd Sunday of Advent; Feast of St. Juan Diego
December 10 (Feast of Our Lady of Loreto) ~ Shoemaker Martin (*using the guide for The Shoemaker's Dream – same story but depicted by a different artist)
December 11 ~ The Christmas Coat (ordered from the library)
December 12 (Feast of Our Lady of Guadalupe) ~ The Gift of the Magi
*Begin Christmas Rose Novena; possibly have our Our Lady of Guadalupe Tea
December 13 (Feast of St. Lucy) ~ The Bear's Christmas Surprise (purchased a used copy on Amazon – it's still on it's way)
*Celebrate the Feast of St. Lucy
December 14 ~ A Small Miracle
Christmas Mosaic Theme: Family (and Birthdays!)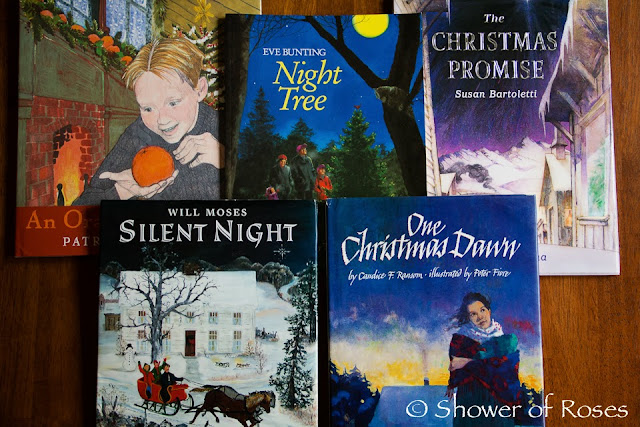 December 15 (Third Sunday of Advent – Rose's Birthday – Gaudete Sunday) ~ Pinkalicious: Merry Pinkmas! **No Study Guide**
* Rose/Pink Themed Birthday Party for Rose's 4th Birthday! We will also read Bambinelli Sunday!
December 16 ~ An Orange for Frankie
December 17 ~ Silent Night
*O Wisdom… (View all our O Antiphon Plans here.)
December 18 ~ The Christmas Promise
*O Adonai, and Ruler of the House…
December 19 (Bud's Birthday) ~ That's Not My Reindeer (also available directly from my Usborne website!) **No Study Guide**
*Deer/Woodland Themed Birthday Party for Bud's 2nd Birthday!
*O Root of Jesse…
December 20 ~ One Christmas Dawn
*Bake Cookies for Christmas to give as gifts
*O Key of David – Key Lime Pie and Sparkling Drinks with Dinner
December 21 ~ Night Tree
*O Dayspring… Hot Cocoa in thermoses and drive around to see Christmas lights after dinner!
Christmas Mosaic Theme: Nativity, Angels and Epiphany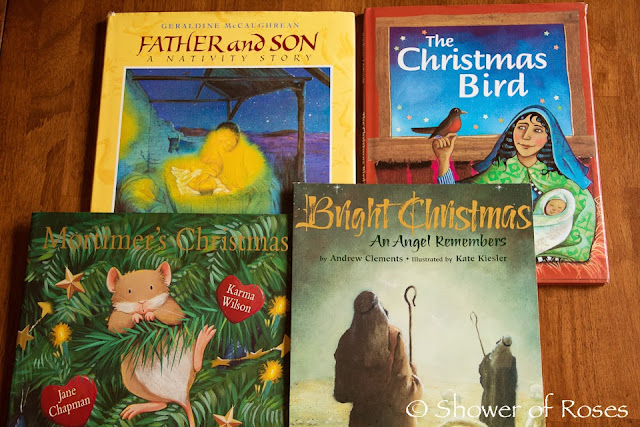 December 22 (Fourth Sunday of Advent) ~ The Christmas Bird by Sallie Ketcham
(we may also read The Christmas Bird by Bernadette Watts)
*Bake and Decorate Cut-out Cookies.
*O King of the Gentiles…
December 23 ~ Father and Son: A Nativity Story
*Bake Starlight Cookies
*O Emmanuel…
December 24 (Christmas Eve) ~ Mortimer's Christmas Manger and Bright Christmas: An Angel Remembers
*Gingerbread House Decorating Party and Midnight Mass
*~*~*~*~*~*~*~*~*~*~*~*~*~*~*~*~*~*~*~*
After sorting through our collection, filling a bag with a number of our old books to donate for various reasons, here is the list of books that will remain on our shelves and in our Advent and Christmas Book Baskets this year:
~ Advent and Christmas Chapter Books ~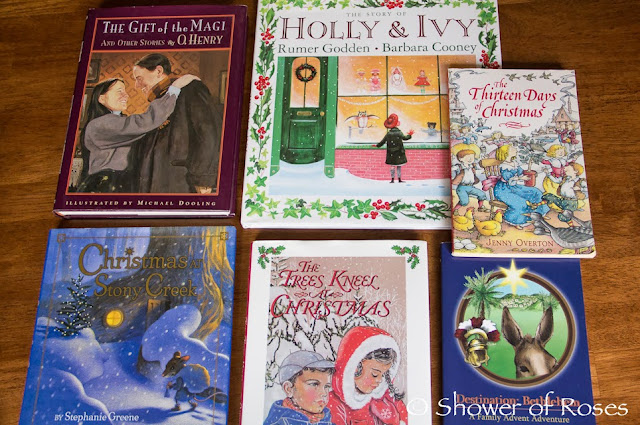 Christmas at Stony Creek
Destination: Bethlehem
Letters from Father Christmas
The Gift of the Magi and Other Stories by O. Henry
The Story of Holly and Ivy
The Thirteen Days of Christmas
The Trees Kneel at Christmas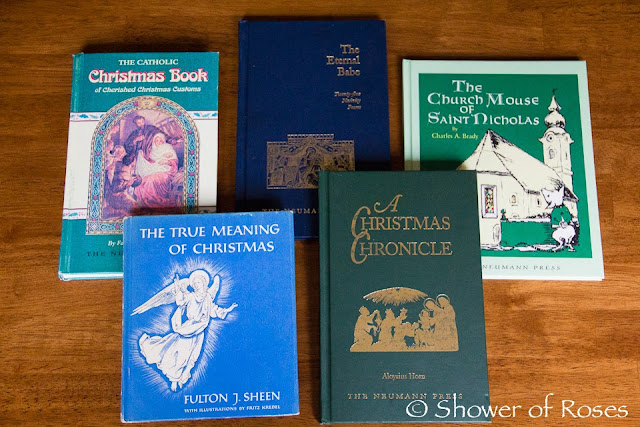 A Christmas Chronicle
The Catholic Christmas Book of Cherished Christmas Customs
The Church Mouse of Saint Nicholas
The Eternal Babe
(poetry)
The True Meaning of Christmas by Fulton Sheen
Advent Storybook: 24 Stories to Share Before Christmas
The Twenty-four Days Before Christmas, An Austin Family Story (more of a chapter book)
Waiting for Noel: An Advent Story
A Time to Keep: The Tasha Tudor Book of Holidays
~ December 6th :: Feast of St. Nicholas ~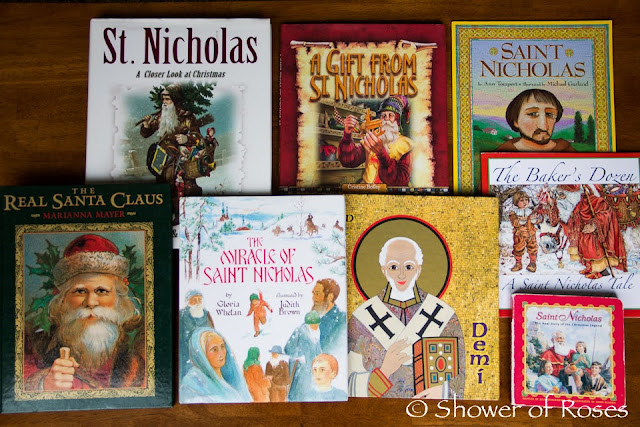 A Gift from St. Nicholas (we don't love the illustrations in this one)
Saint Nicholas
St. Nicholas: A Closer Look at Christmas (coffee table style book)
The Baker's Dozen: A St. Nicholas Tale (our "Baker's Dozen" inspired cookies)
The Legend of Saint Nicholas by Demi (great book, definitely a favorite)
The Miracle of Saint Nicholas (about a church named "Saint Nicholas" – definitely near the top of my list of favorites for Advent and Christmas)
The Real Santa Claus: Legends of Saint Nicholas (another favorite, most appropriate for older children, especially love the illustrations)
Saint Nicholas: The Real Story of the Christmas Legend (board book)
Kersti and Saint Nicholas (chapter book, not pictured)
~ December 9th & 12th :: Feasts of St. Juan Diego and Our Lady of Guadalupe ~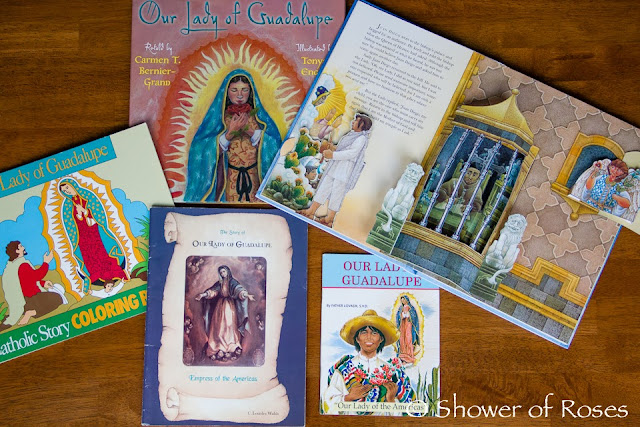 Saint Juan Diego and Our Lady of Guadalupe (not pictured)
Our Lady of Guadalupe by Father Lovasik
Our Lady of Guadalupe(Coloring Book)
Our Lady of Guadalupe by Carmen t. Bernier-Grand
Our Lady of Guadalupe (pop-up)
The Story of Our Lady of Guadalupe Empress of the Americas (*there are still a few copies available here at the old price, plus you can support the sisters with your purchase!)
~ December 13th :: Feast of St. Lucia ~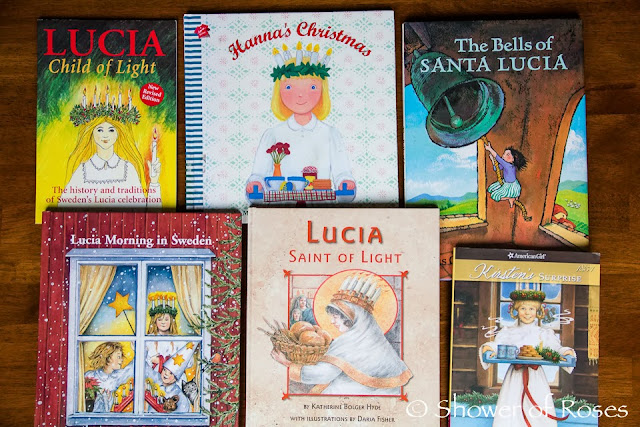 Bells of Santa Lucia
Hanna's Christmas
Kirsten's Surprise: A Christmas Story
Lucia Morning in Sweden
Lucia, Child of Light: The History And Traditions of Sweden's Lucia Celebration

Lucia, Saint of Light
~ Christmas Around the World ~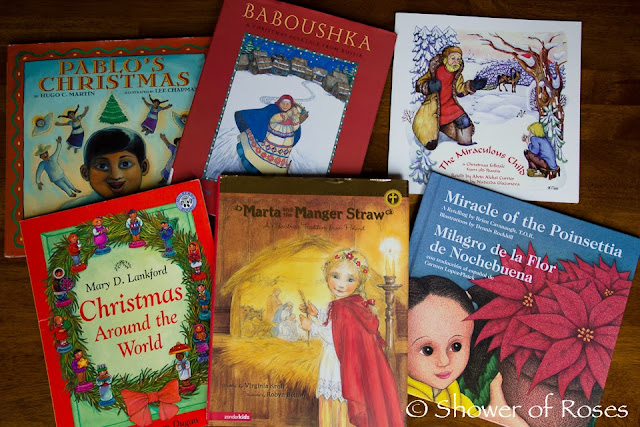 Baboushka: A Christmas Folktale from Russia
Christmas Around the World

Marta and the Manger Straw: A Christmas Tradition form Poland
Miracle of the Poinsettia
Pablo's Christmas
The Miraculous Child: A Christmas Folktale from Old Russia
~ Christmas Books Inspired by Music ~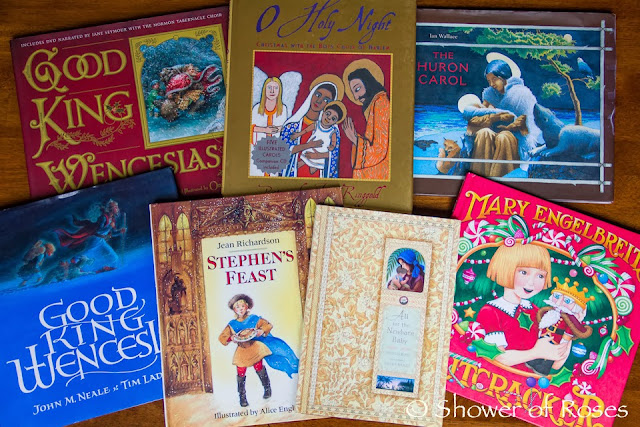 All for the Newborn Baby
Good King Wenceslas
Good King Wenceslas
Mary Engelbreit's Nutcracker
O Holy Night
Stephen's Feast
The Huron Carol
~ Christmas Crafts and Baking ~
~ Historical Christmas Books ~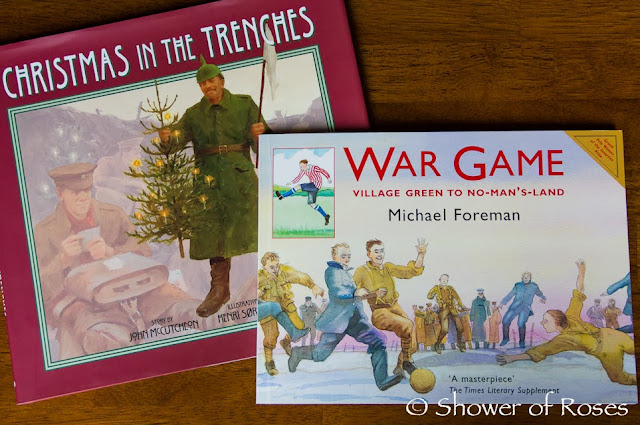 Christmas from Heaven: The True Story of the Berlin Candy Bomber
Christmas in the Trenches
War Game: Village Green to No-Man's Land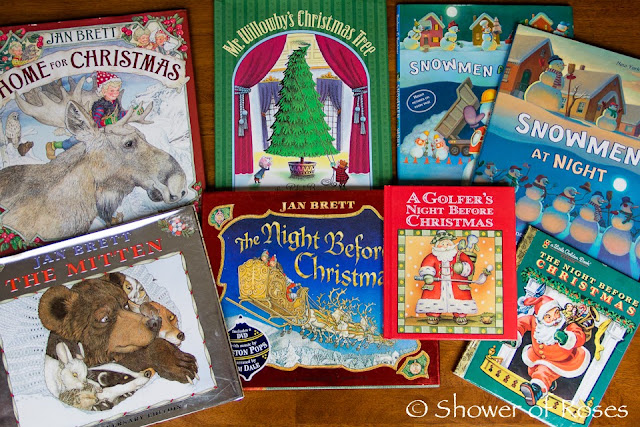 Golfer's Night Before Christmas , A
Home for Christmas
How the Grinch Stole Christmas
Mr. Willowby's Christmas Tree
Snowmen at Night
~ Legends, Inspirational Stories & Other Miscellaneous Books ~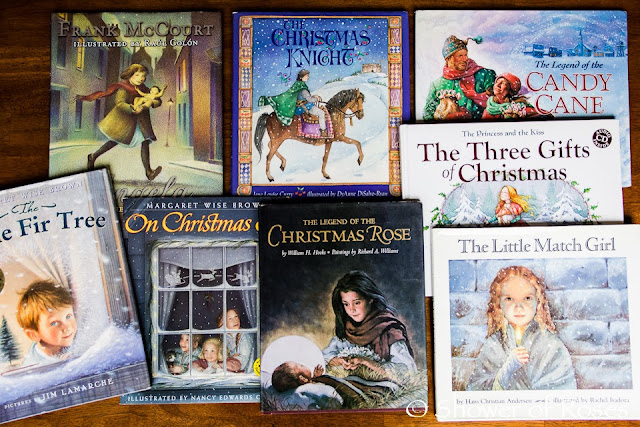 Angela and the Baby Jesus
Bambinelli Sunday: A Christmas Blessing (not pictured)
On Christmas Eve
The Three Gifts of Christmas: Book with Audio CD
~ Christmas ABC's ~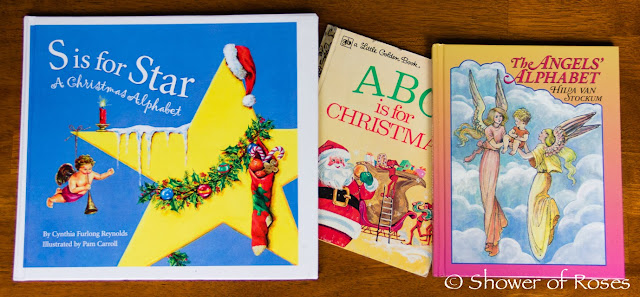 ABC is for Christmas (A Little Golden Book)
S is for Star: A Christmas Alphabet (*also available in paperback for much less)
The Christmas ABC (A Little Golden Book – reprinted this year, not pictured)
The Angels Alphabet by Hilda Van Stockum (OOP – I found our copy on ebay)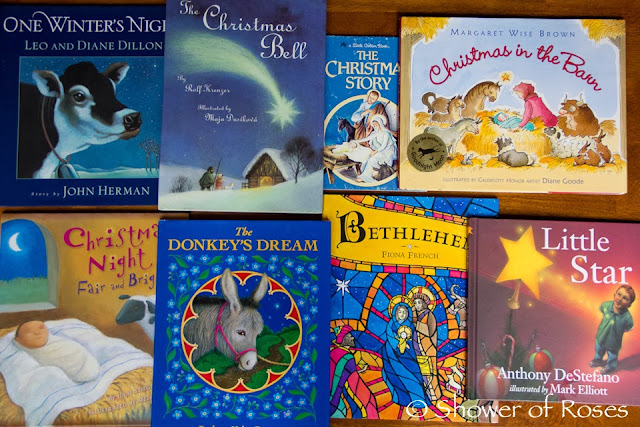 Bethlehem
Christmas in the Barn
Christmas Night Fair and Bright
Little Star
On That Christmas Night (not pictured)
One Winter's Night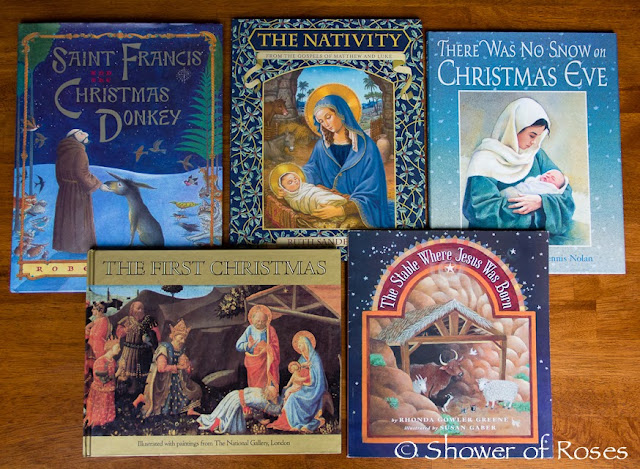 Saint Francis and the Christmas Donkey
The Christmas Bell
The Christmas Story (A Little Golden Book)
The Donkey's Dream
The First Christmas
The Nativity by Ruth Sanderson
The Stable Where Jesus Was Born
The Tale of Three Trees: A Traditional Folktale (not pictured)
There Was No Snow on Christmas Eve
~ The Twelve Days of Christmas ~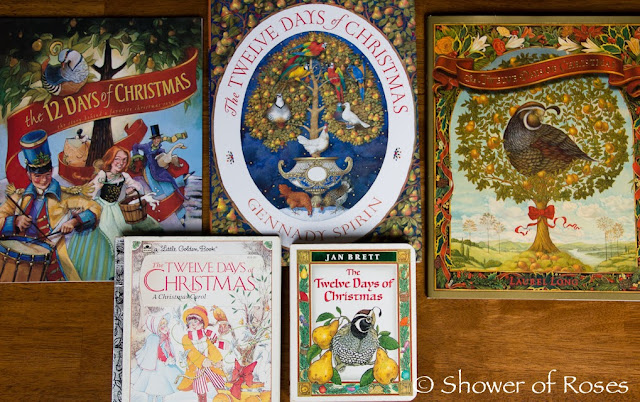 The Twelve Days of Christmas by Jan Brett
The Twelve Days of Christmas by Laurel Long
The Twelve Days of Christmas by Gennady Spirin
The Twelve Days of Christmas: A Christmas Carol (A Little Golden Book)
The Twelve Days of Christmas: The Story Behind a Favorite Christmas Song
Twelve Days of Christmas Stained Glass Coloring Book
~ January 6 :: Feast of Epiphany ~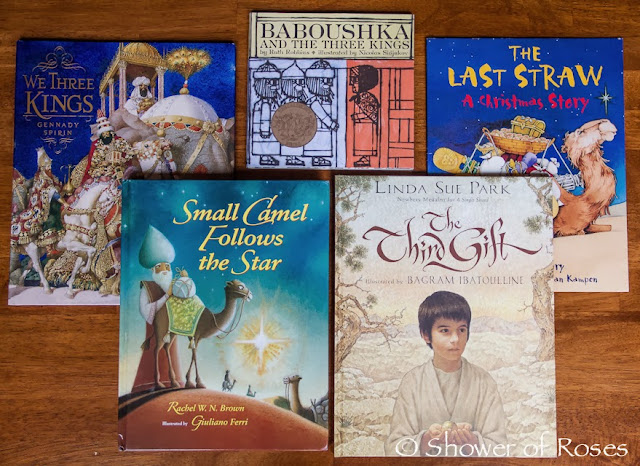 Babushka and the Three Kings
Small Camel Follows the Star
The Last Straw
The Third Gift
We Three Kings
~ Board Books for our Littlest Ones ~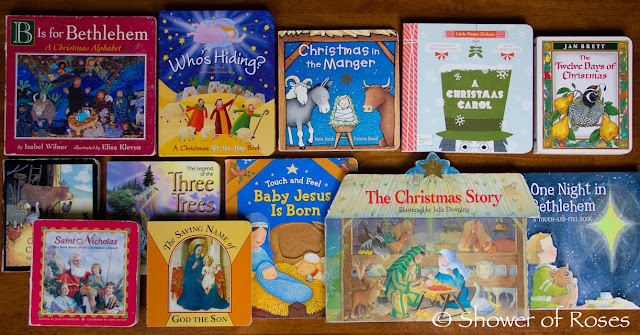 A Christmas Carol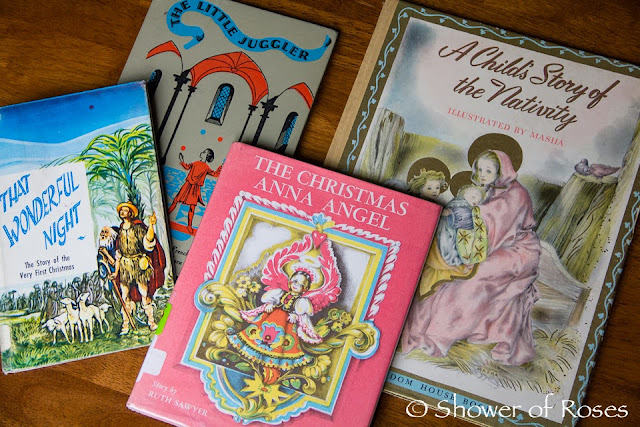 *These will be given to the children on Christmas.
A Child's Story of the Nativity Illustrated by Masha
That Wonderful Night: The Story of the Very First Christmas
The Christmas Anna Angel
The Little Juggler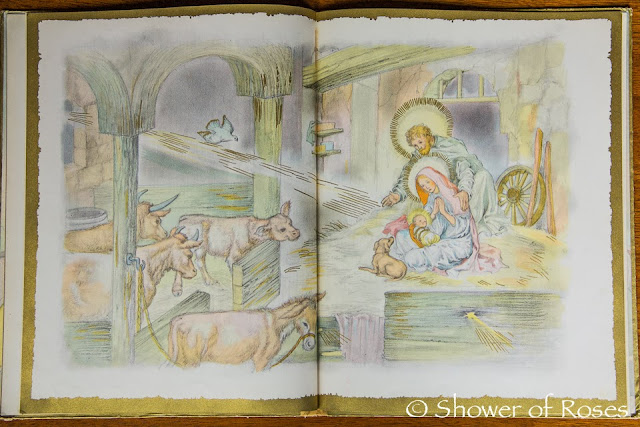 Cay Gibson, author of Catholic Mosaic and Christmas Mosaic, has generously offered to send one of my visitors a signed copy of Christmas Mosaic! If you would like to enter the giveaway please do so below:
Somehow, not only for Christmas but all the long year through,
The joy that you give to others is the joy that comes back to you;
And the more you spend in blessing the poor and lonely and sad,
The more of your heart's possessing returns to make you glad.
– The Joy of Giving, John Greenleaf Whittier