~ Capturing the context of contentment in everyday life. ~
Tuesday night we attended our parish's welcome Mass for our new Archbishop! He has been visiting every parish in the diocese and ours was the last on the list, but also the first that he brought his mother to since he had to show her this incredibly beautiful part of his diocese! It was such a joy to visit with His Excellency and his mother!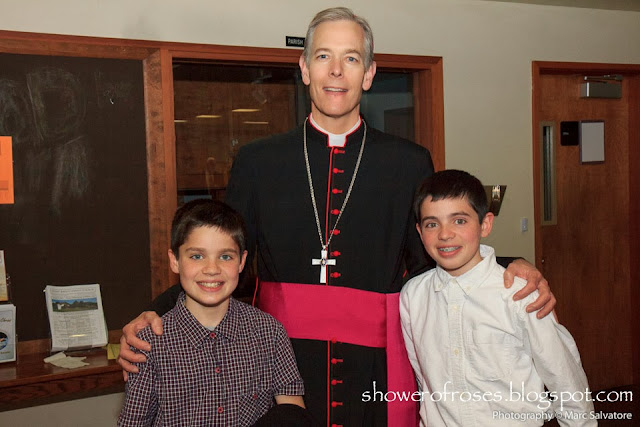 He remembered Captain from summer camp and asked Rascal if he would be attending next year. When Marc was about to take this picture the Archbishop said "A picture with two of my future priests!" I laughed and responded, "Well, you might have to fight the FSSP for them!" He turned to me and said that perhaps we can have both! I shared briefly about our family's connections to the FSSP and how we have prayed to have them in our diocese for many years. The Archbishop told me that he is a friend to the FSSP (he did
their Diaconate Ordinations in 2012
) and would love to have them in his diocese! I left with such great hope for the future and could hardly wait to call my husband, who has been applying for various jobs for the last 14 years trying to relocate to a more traditional diocese. Every time a job would fall through I would say that perhaps God wants us here for some reason… And we would keep praying. Between our quarterly Latin Masses this past year and now our new Archbishop, we have been so incredibly blessed.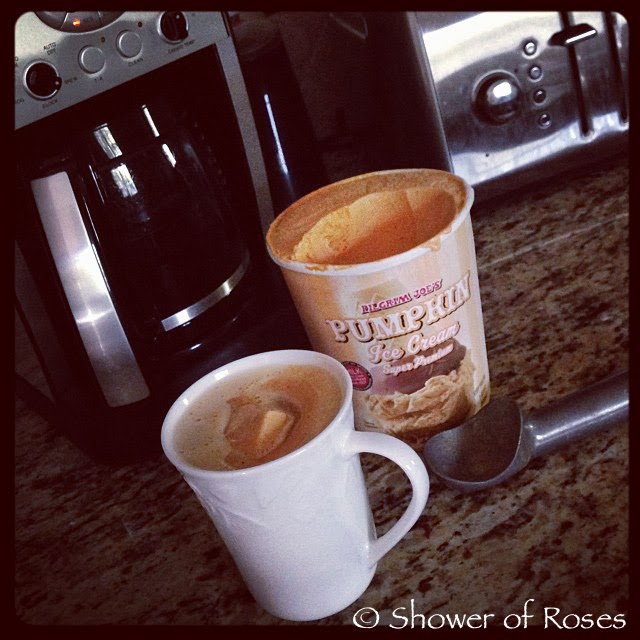 Who needs creamer when there is Pumpkin Ice Cream in the freezer?
(And yes I was conveniently ignoring my dairy intolerance Monday morning!) Yum!
My new favorite dessert? Salted. Caramel. Truffle. Brownies. YUM!
In addition to the brownies I also had everything needed to make some more Peach Sangria, using some frozen peaches this time. After asking just about every local friend (or acquaintance!) I know on Facebook or through email I was able to round up a total of 12 for a Ladies' Bunco Night at my house last night!


I also baked an Apple Cake and had Apple Cider simmering on the stove. Each person brought an appetizer or dessert to share, along with $5 to be used for prizes, and we had a blast! Everyone arrived at 7:00 and we played Bunco until about 9:30 or so. I wasn't the only one who had been needing a fun night with friends… It was after midnight before everyone had headed home!

I had just won the prize ($20!) for most buncos when the phone rang and it was Sean's supervisor letting us know that he will report back to work on Monday, following the remainder of his previously scheduled (but canceled due to the furlough) vacation leave! Deo Gratias!!!!
Sean and the little ones all left his parents today, amidst lots of tears from the older girls and Snuggles who all loved getting to know their grandparents, and arrived safely at their first destination. They still have two more days of driving, but will arrive home on Saturday! The boys and I can hardly wait!!