— 1 —
It was so nice to finally meet my newest godson – and spend time with his mama and siblings this week! Isn't he just adorable?!? Snuggles and Rose kept asking if we can "please have a baby just like this!" Rose would add that she'd prefer "a girl baby like that!" ❤ Bud loved the "BABY!" too. It's so hard to believe that my "baby" will be turning three this year…
Anyways, our friends arrived Monday and they were able to stay until Friday afternoon. We had hoped to join them at the coast for the weekend
exploring the tide pools
, but my husband ended up having an opportunity to work overtime, so we are spending a quiet weekend at home instead. We miss them already! Sure wish they didn't live so far away. . .
Speaking of Braces, Ranger and Chiquita had braces put on their teeth a couple weeks ago, on April 29th! (This is just phase one of two phases for Chiquita.) I never would have thought we'd find a way to put the first two through braces, let alone four children in less than two years time, but it has all worked out. We signed up for dental insurance the year before last and I was so excited to find out at the consultation for these two that our benefits had increased by an extra $1,000 per child! (We still owed $1000 for Captain's braces, so that brought his balance down to $0!!) Between the insurance benefits, family discount, and the pre-tax funds we have been putting into a Medical Flexible Spending Account to go right to the orthodontist each year, we haven't had to come up with any extra monthly payments. Such a blessing!
I am a little nervous about how that front tooth of his is going to hold up through the movement… Praying it stays together!
— 5 —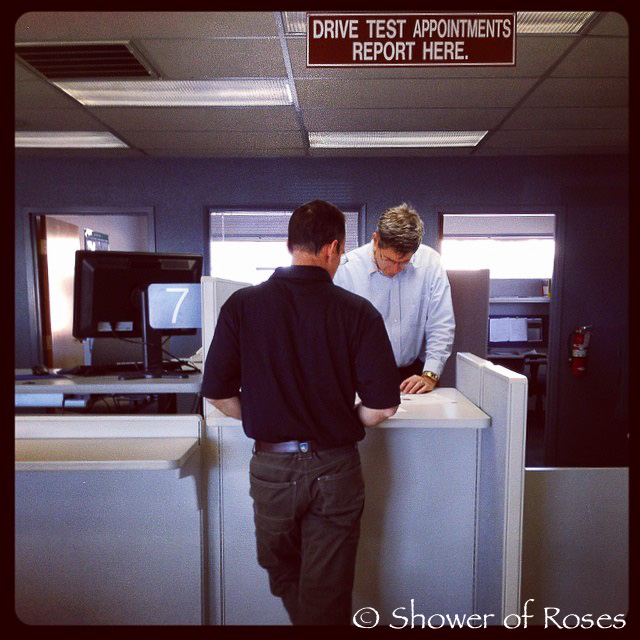 On April 30th we (I) drove to a small DMV a couple hours away so that my husband could
take his driving test
without having to wait for a mid-May appointment at any of the local DMVs.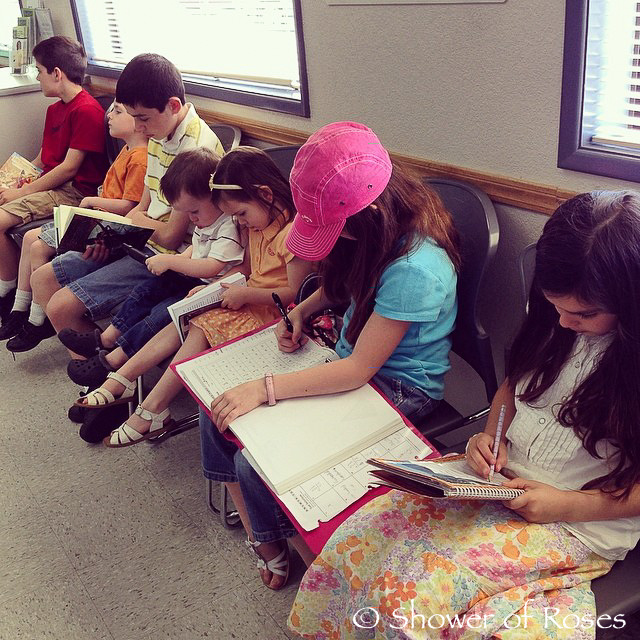 He passed the test and it turned into a nice day-trip for our family, and the perfect opportunity to see my youngest brother at college. We had fun at the park and took him out to dinner before driving home.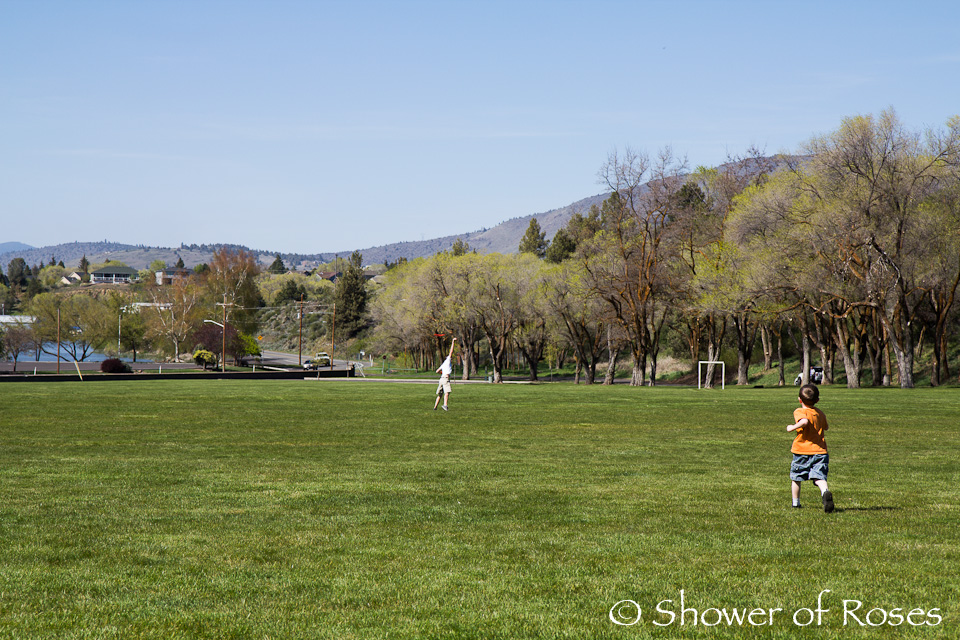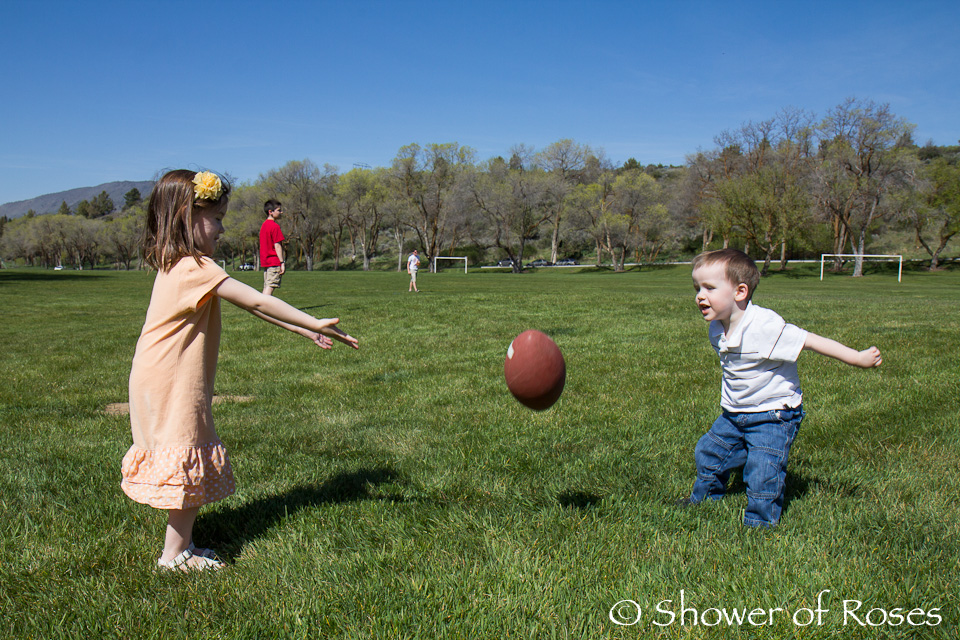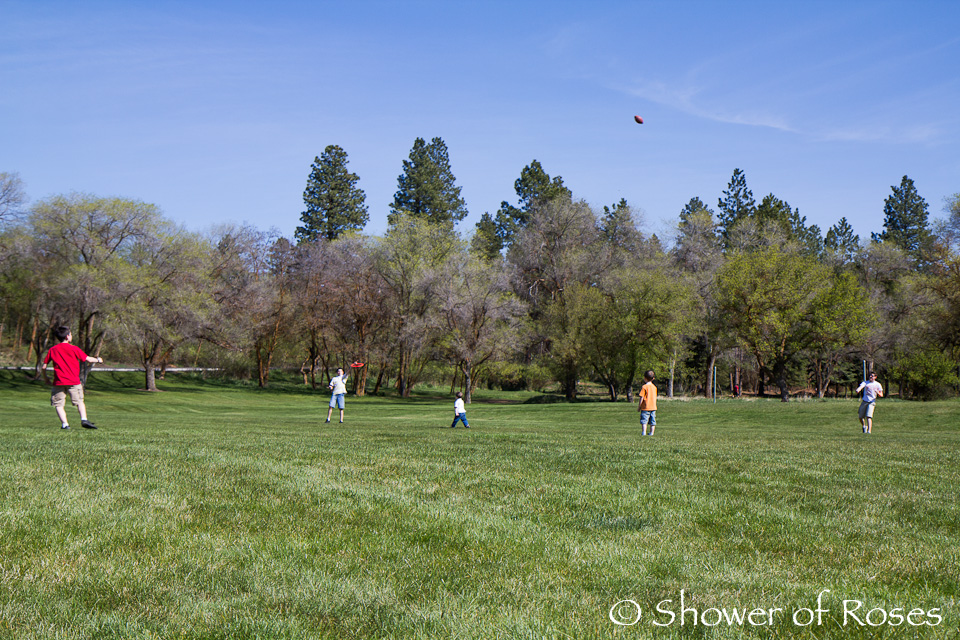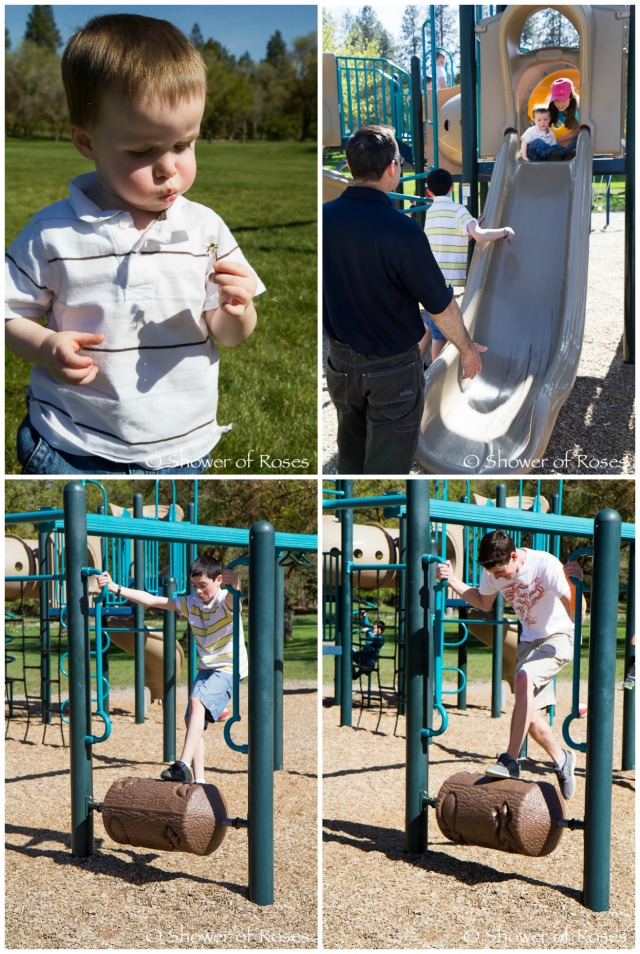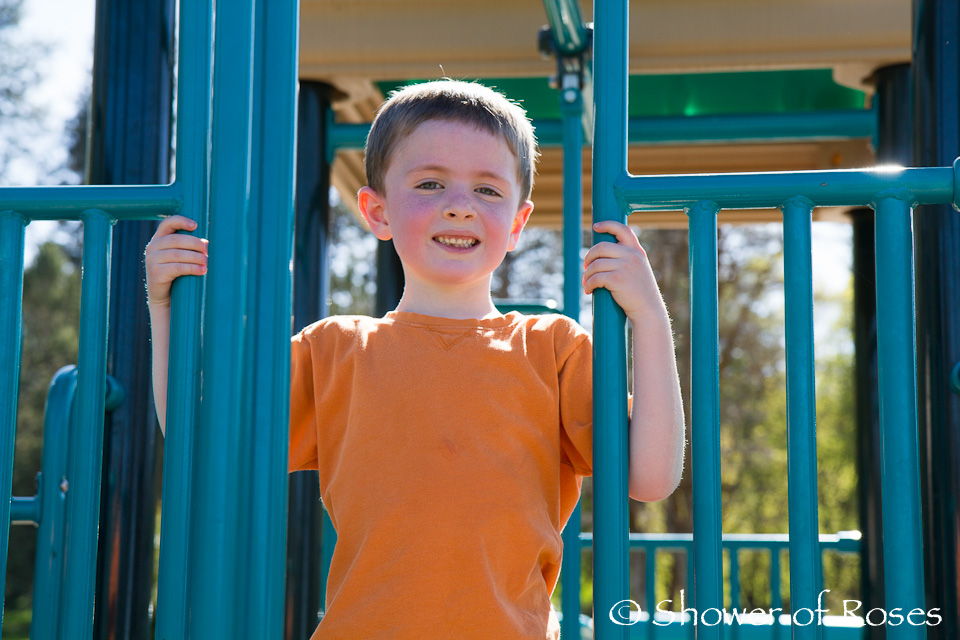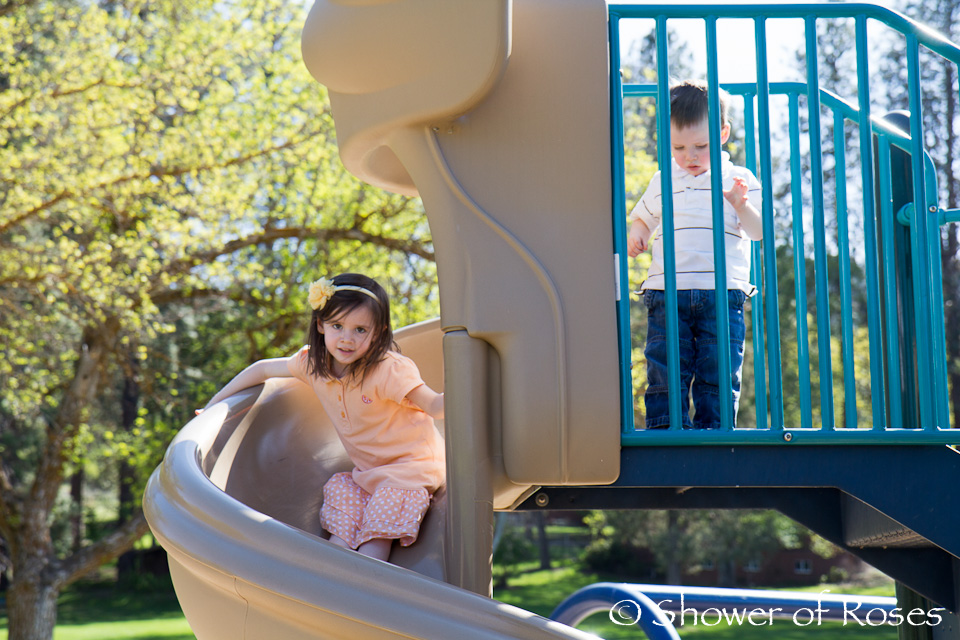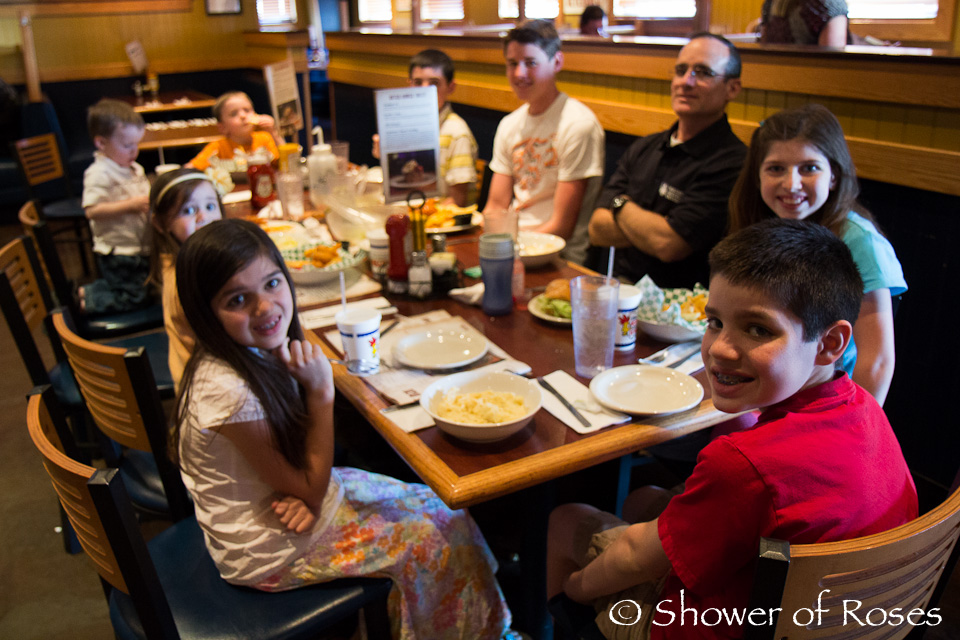 Mashed Potatoes for the two suffering children on Day 2 of Braces…
Even though Sean passed the driver's tests it still took two weeks of us going in circles before he was able to get his license. The problem was he didn't have a copy of his birth certificate, and Vital Check would not send him a copy until he showed valid photo ID – specifically a Driver's license or passport, both of which were expired. His government issues work ID was not acceptable. Another option was to have his signature notarized after completing a special form/oath stating you are who you say you are, that is if you can find a notary who will work with you without valid photo idea… We called quite a few before our bank said they'd accept his debit card. THEN, after faxing that in, we had yet another denial since the notary copied his notary seal expiration date down incorrectly as Apr 4, 2014… Once again expired. He scheduled an appointment to try one more time, and in the meantime asked his parents to see if they could get him a copy. Two birth certificates arrived in the mail on Monday and he finally received his new valid driver's license yesterday!
Moral of the story: Make sure you have a certified copy of your birth certificate and don't let your driver's license expire!
— 6 —
The Sunday before last, looking ahead at our schedule for the week with all the planned excavation/tutors/testing/book sale/doctor appointments/company arriving, I realized there was no way I could put off grocery shopping any longer and decided to go to Costco and Trader Joe's before they closed. As I was trying to hurry and squeeze the last couple bags in the van around 8:30pm, before I was soaked from the rain, I shut the sliding door and was about to open the front door when it beeped. Somehow the van had decided to re-lock itself and I was stuck outside. My purse and phone were sitting inside. A nice older man overheard me saying "Nonononononono!!!!" and asked if I was okay. He kindly let me borrow his phone so I could call home and ask my husband to drive down to town (40 minutes each way) with his temporary license and the spare key! He asked if I was kidding… If only! I'm sure God is trying to teach us something through all of this… Patience, perhaps?
— 7 —
Last Friday night my friend Juliana came for a short overnight visit with her three boys! Many of the best memories from my teenage years include her, MI camps, and my frequent trips to the coast to visit. She lives a few hours away and we don't see her very often. It was so nice to stay up late visiting, and to see our children have so much fun together!
On Saturday they left to attend a First Holy Communion, and I spent the day with my girls! First we met up with many of the women that live on our road for the monthly luncheon, then we headed to the Church for a double baby shower for our Pastor's Assistant and TT's godmother's new sister-in-law who just moved to the area when her husband moved back for a job at the parish. It was nice to meet her and the baby shower was lovely!
For additional Quick Takes visit
Conversion Diary
, author of the newly released book
Something Other than God
! I have my pre-ordered copy sitting on my nightstand along with
The Little Oratory
and I'm hoping to find the time to read them soon… If not, at least I'll still have something to read when our first session of swimming lessons begin on May 27th!