To celebrate the new school year I'm hosting a giveaway each day this week (September 1st-7th) featuring educational products and books! Today's giveaway is sponsored by Holy Heroes!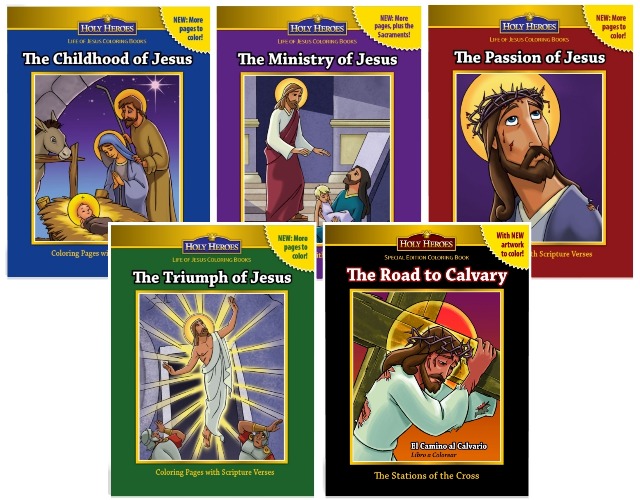 Our family has always loved the inspiring Glory Stories from Holy Heroes, but that is not all they offer! Holy Heroes has also produced many excellent ways to help us parents "bring the joy of the faith to our families" including the Summer Faith, Advent and Lent Adventures.
Holy Heroes is now starting to offer FREE Sunday Mass Prep videos at HolyHeroesFun.Com. Stop by and sign up to be notified when new activities are added. While you are there be sure to check out the free coloring page downloads, crafts ideas, and everything else they have to offer!
Today I have a set of the Life of Jesus Coloring Books plus a copy of Road to Calvary Coloring Book to offer to one of my visitors here at Shower of Roses. These coloring books have scripture verses on each page and also teach the Mysteries of the Rosary along with so much more!
Please enter the giveaway using the Rafflecopter Box below:
Note: You can find Our September Book Basket and Giveaway here and a St. Michael Apron Giveaway over at Catholic Cuisine!