"Holy Learning is a mom-owned, small Catholic company created to help Catholic families and teachers supplement their educational programs. Our products are meant to help parents and educators teach the Catholic faith using hands-on materials and projects. Our primary product is the Faith Folder, which is our version of a lapbook but we also carry Faith Rings, Faith Cards and an Adoration Guidebook. New products are continually being developed. All of the products are available in digital pdf file format. Print materials are only made available by special request and on a limited basis."
Our family really enjoys creating Lap Books. I have been blogging about the "Faith Folders" we have made with the printables from Holy Learning (formerly known as Faith Folders for Catholics) for years including the Advent Lap Book, Lent Lap Book, Year for Priests Lap Book, and the Saint Therese Lap Book (and here). Not to mention all the other great Faith Folders that haven't made it onto Shower of Roses including The Things I See in Church and the Sacrament of Confession Faith Folder.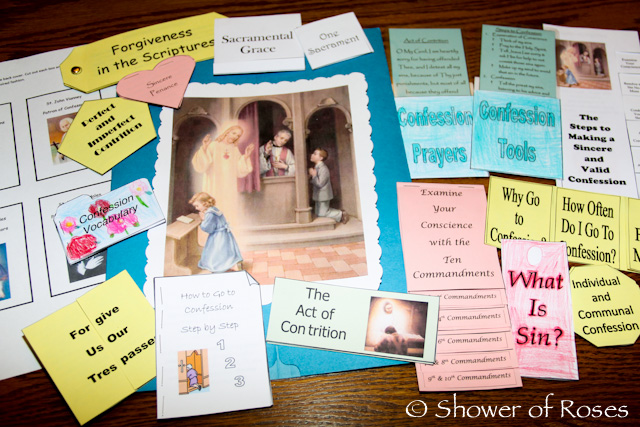 Twinkle Toes' Mini Books for her Sacrament of Confession Faith Folder in 2011-2012
With the feast of Sts. Joachim and Anne coming up later this month, I'm so excited to have the opportunity to review and give away a couple copies of the
Saints Joachim and Anne Faith Folder
from
Holy Learning
! The past year we weren't able to make nearly as many Lap Books as we have in the past, but I'm really hoping to incorporate a few into our school plans, at least with the younger children, this upcoming school year.
As always, Lindy has done a great job putting together a lovely collection of mini-books for this Faith Folder on Saints Joachim and Anne. I'm especially looking forward to teaching the children a little more about their own "Family Tree" and helping them with the "Grandparent Interview" inspired by these "Patrons of Parents and Grandparents!"
One of my favorite features of the Faith Folders from Holy Learning is all the options included for each mini-book. For example, you can print the mini-books in either black and white or in color (I will often print the black and white version onto a color paper of our choice to save on ink), and there is usually the option between pre-typed text or blank lines for the children to fill in the mini-books themselves after researching the topic, making the folder easily adaptable for a variety of ages and grade levels.
Tip: With so many pages and options included, the Faith Folder pdf file can be a little overwhelming, especially if you've never made a lap book. What I always do, while collecting and printing the supplies for our lap books, is start with printing out the content list. I then scroll through the pdf on my computer and take notes on which pages I need to print and on what type of paper (plain, color, or card stock). For this particular Lap Book I ended up printing 18 pages per child, of the 78 included in the pdf, in addition to a coloring page and some photographs to add to the lap book as well. Occasionally I will print out the page of directions for the mini-book (as you can see in the image of the "Grandparent Interview") but I usually just read those on my computer or iPad.
I will share pictures of our Saints Joachim and Anne Faith Folders with you all once they are completed, but in the meantime I have a couple Faith Folders to give away and a coupon code to share! I hope you all have a great weekend!
Please enter the giveaway using the Rafflecopter box below: