I started working on this post months ago and finally had a chance to get back to it last Friday, converting it into another "Seven Quick Takes" post. Of course I ran out of time to finish it then, but am wrapping it up this morning or else it will
never
get published… I hope it answers some of your questions on how
our curriculum choices for the 2013-2014 school year
have been working out for us this year.
(Note: This post contains affiliate links.)
THEY PASSED!!!! THEY PASSED!!!! THEY PASSED!!!!
ALL four of our older children PASSED (and some even EXCEEDED!!!!) ALL the required state tests they took last Thursday and Friday. Deo Gratias!!! And thank you for the prayers!
This was a big accomplishment, especially for our oldest son who has struggled with Auditory Processing Challenges in the past and had not yet (ever!) passed one of these yearly required tests. (You can read more about
our situation and last year's tests in under #2 here
.) Not only did he pass the reading test, he was only one point away from
exceeding
. He is also one of the
only two
students to actually pass this year's Math test for 7th grade in our charter school!
We celebrated! In fact I had pre-purchased prizes for all four of them.
I knew they could pass. I'm so proud of all their hard work this year!
I am so thankful that we switched back to Saxon Math following last year's state tests. It is a demanding program, but WOW has it been effective for our children. Surprisingly we are all really enjoying Saxon this time, and the extra help from tutors on most Tuesday and Thursday afternoons this year has been such a blessing.
Captain and Ranger just completed Saxon Math 7/6, Twinkle Toes completed Saxon Math 5/4, Chiquita only has 10 more lessons left of Saxon Math Intermediate 3, and Snuggles is down to just 4 more lessons of Saxon 1!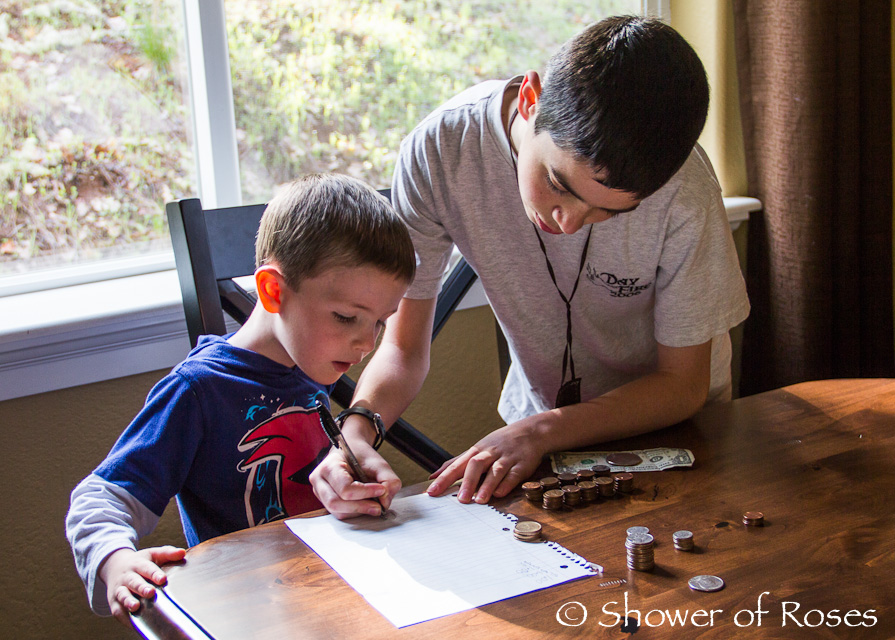 I love it when I find the older boys explaining "Math Concepts" to their little brother!
My plan for the summer is to have the children continue Math lessons 2-3 days per week, except for the weeks we will be attending summer camps, with the help of the Teacher CDs, to give us a jump start for this upcoming school year and allow some breaks throughout the year when needed.
We are still loving the Institute for Excellence in Writing courses. This year the oldest three moved on from the Student Writing Intensive, Level A to the Student Writing Intensive Continuation Course: A. It has options for completing the course in one or two years and we have opted for the two year plan. Our third grader has been working through Student Writing Intensive, Level A and she should complete it by summer or early fall.
At the beginning of last year I thought I would incorporate some of the Themed Writing Courses as well, but the children just love the DVD classes given by Mr. Pudewa, and I love that it is easy to modify the writing assignments based on what they are studying. For now my plan is to just stick with the Continuation Courses, moving on to the next level once this level has been completed.
Speaking of IEW, another favorite has been Primary Arts of Language: Writing and Reading. Earlier this year I was still not sure I wanted to stick with this program and considered switching to All About Reading (right now we are supplementing with just the readers) but now, at the end of 1st grade, Snuggles is pulling books off the bookshelves and reading independently after just one year of using this program an average of three hours per week. It has been very effective!
He has completed about 40 of the 80 reading lessons and has moved on to Part II in writing. He will continue PAL next year and should complete the program by the end of second grade.
I love All About Spelling just as much as ever and am currently using it with my first grader, as suggested in PAL. (I actually wish I had the time to continue All About Spelling with a couple of the older children, but Phonetic Zoo has been a great alternative.)
We've been supplementing with lots of great literature, both independently and during our afternoon family read-alouds.
Latin is probably my least favorite, but the children don't seem to mind and have been completing it without any complaints. The older three are almost finished with Latina Christiana 1 (next year they will most likely move on to First Form) and Chiquita has been studying Prima Latina.
.: 4 – History and Geography :.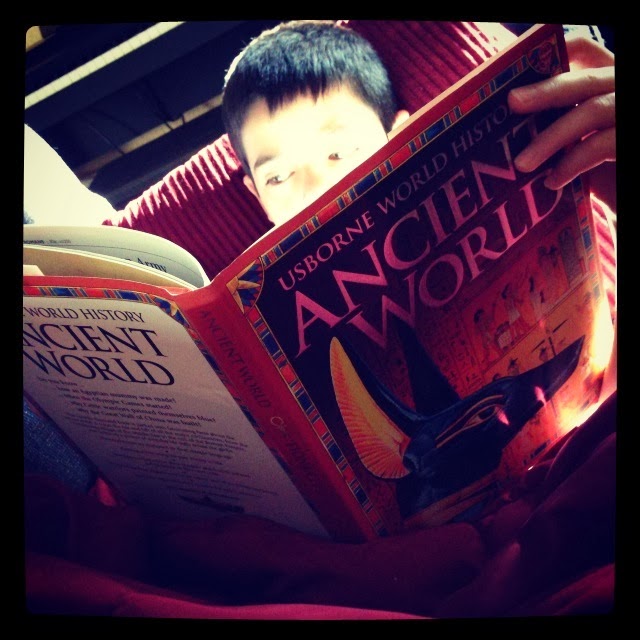 This year we have spent the majority of our formal school time focusing on Math and Language Arts, which hasn't left that much time for extra History and Geography projects. We have been reading through some of the suggested books listed in Connecting with History Volume 1: A Guide to Salvation History, completed the various Maps, Charts, and Graphs workbooks, and studied a few more of the States in our State-by-State Study, but that is about it for this year.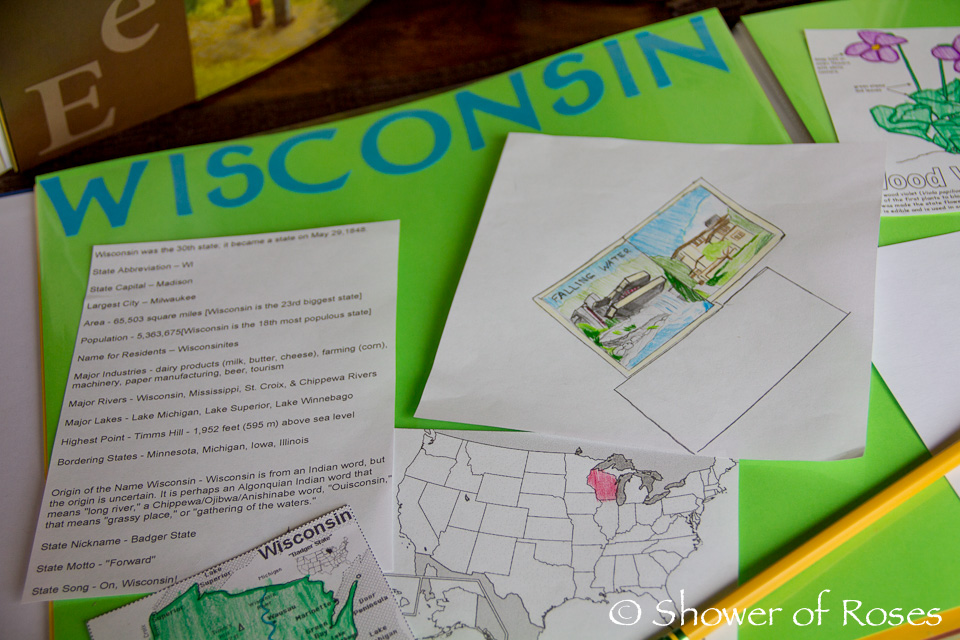 The children have mentioned that they miss creating the coordinating Lap Books like we've done in the past, but we just haven't had the extra time this year. I also only got through the first couple weeks of Classically Catholic Memory: Alpha but I haven't given up on it completely yet – just for this year!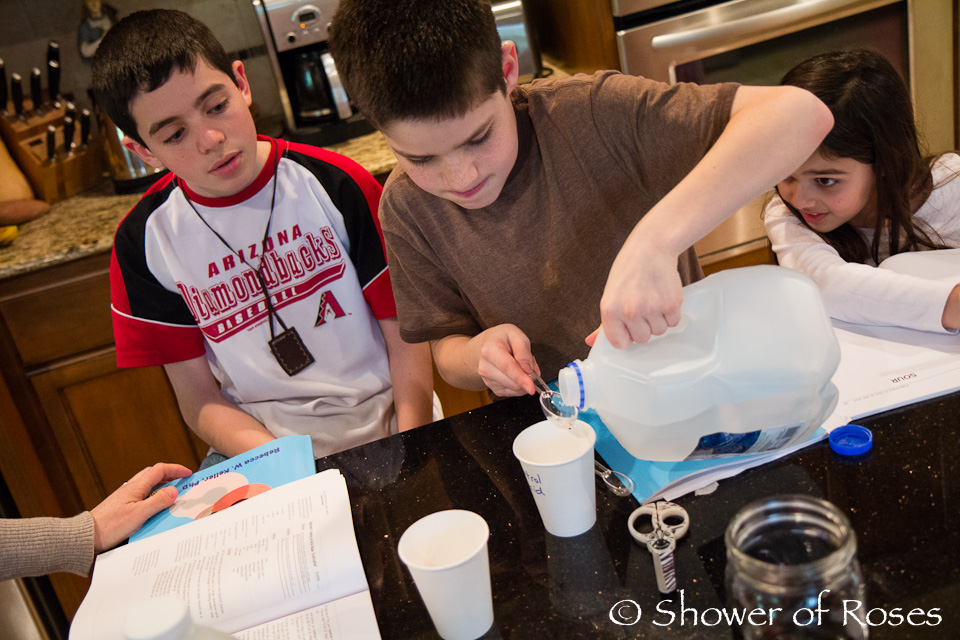 The older boys completed Concepts and Challenges in Science Book 1 (the sections on Physics and Earth Science) and rather than have them move on to the first half of Concepts and Challenges in Science Book 2 I decided to have them join the younger children and we are all studying Chemistry together.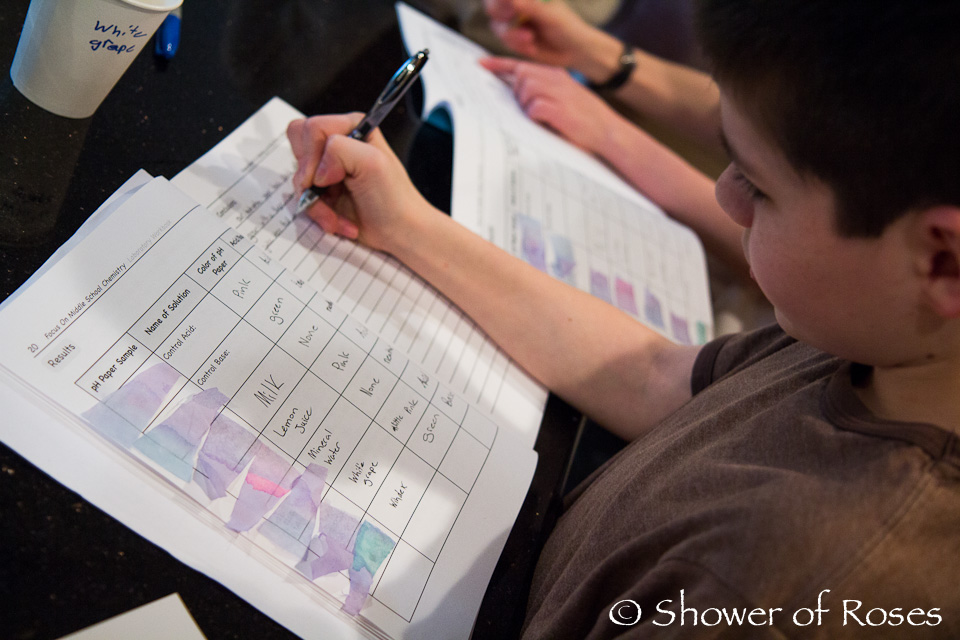 Captain and Ranger are using Focus on Middle School Chemistry with Laboratory Workbook and Teacher's Manual.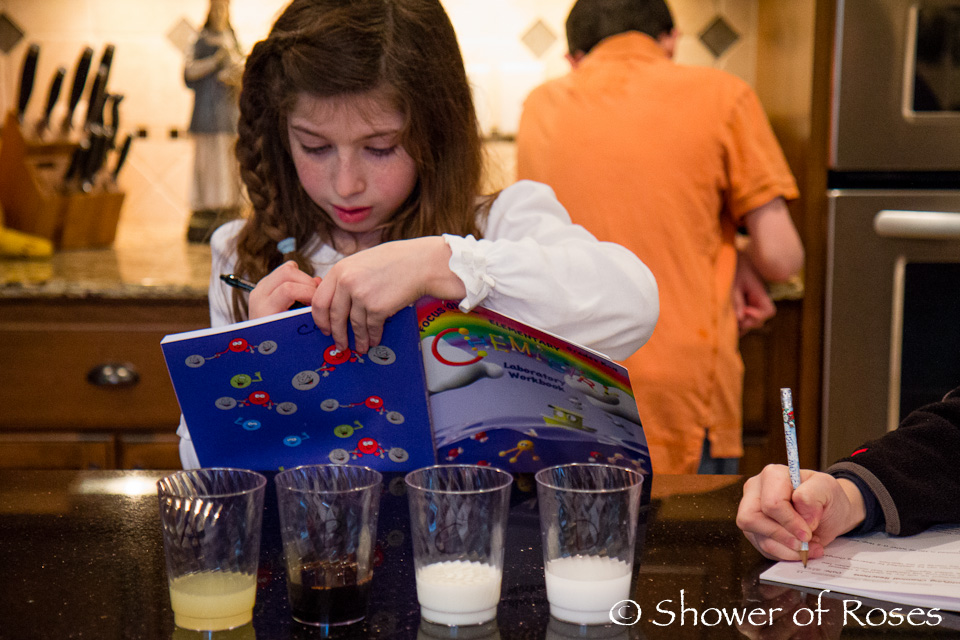 Even though they haven't all been as yummy as
making marshmallow molecules
, we have all really enjoyed the corresponding Labratory experiments.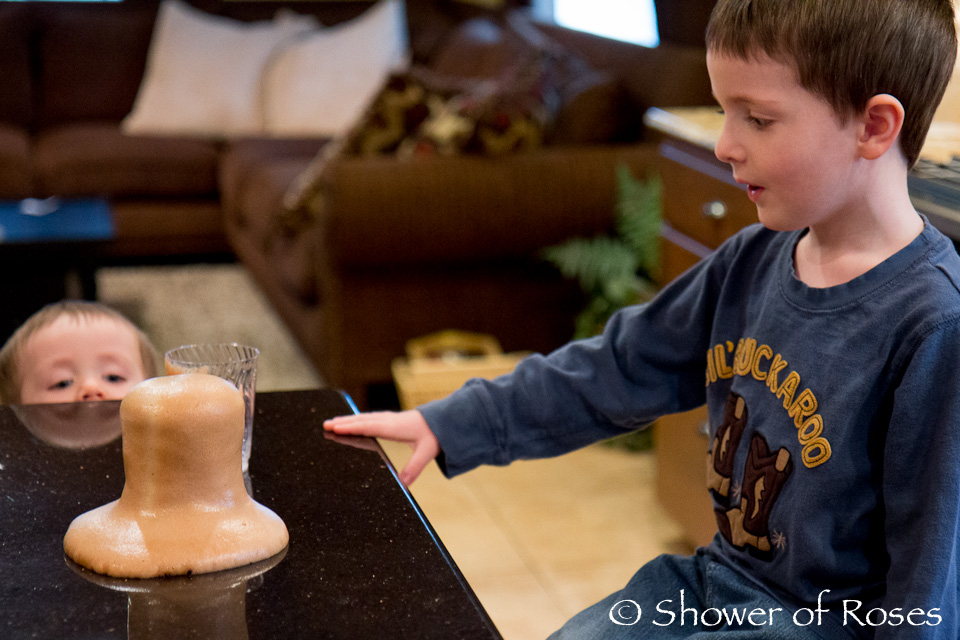 Originally I thought we would complete two books this year – Focus on Elementary Chemistry followed by Focus on Elementary Biology – but we'll be sticking with just Chemistry this year and moving on to a second topic next year.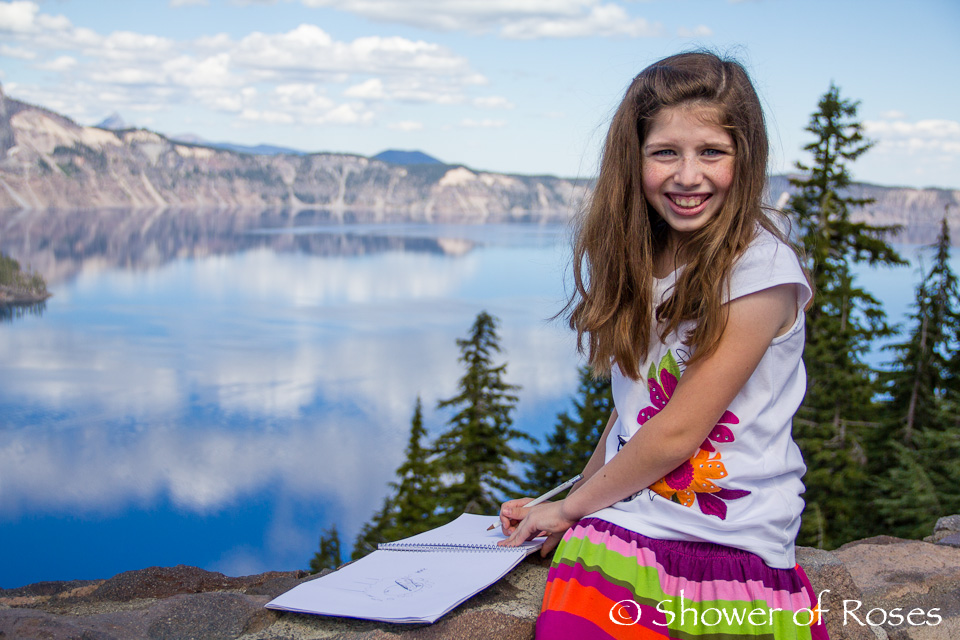 With all our other studies and activities one course was all I could manage this school year and still be able to leave plenty of time for outdoor play, exploration, and nature sketching!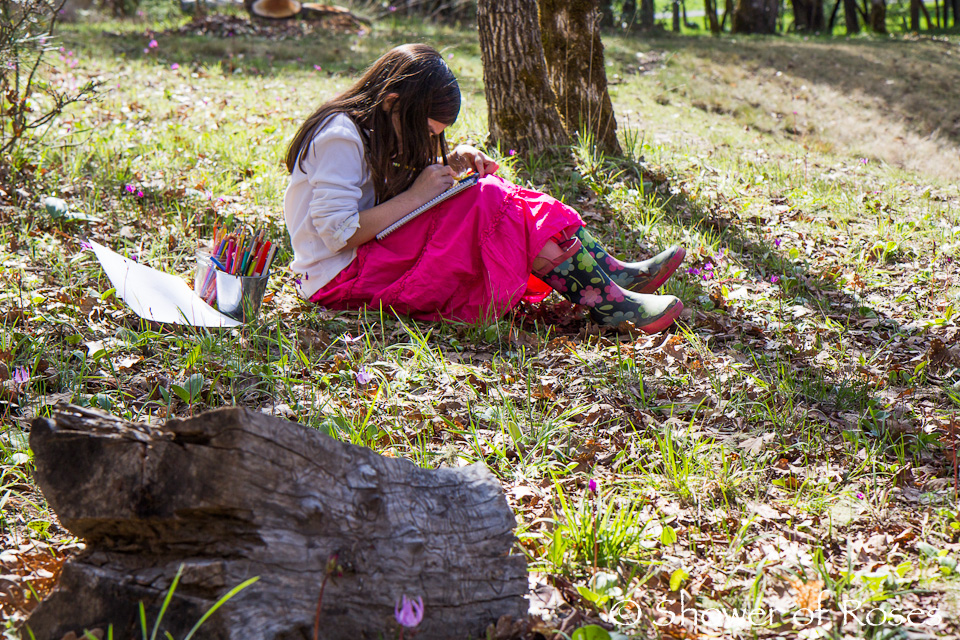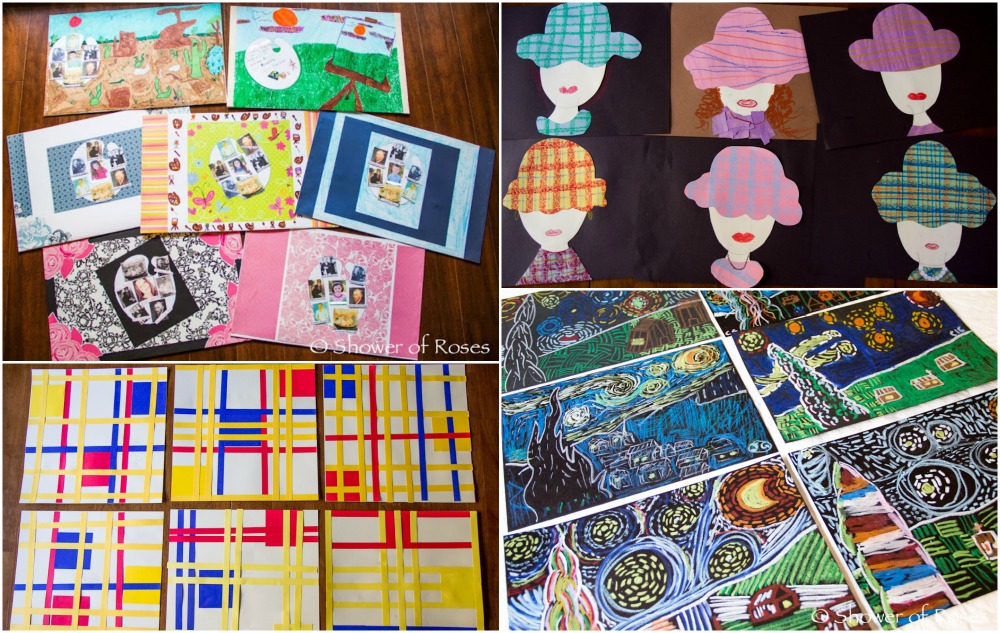 So far we have completed four of our six units from Meet the Masters Track A. (You can scroll through all our completed lessons here.) This program has been such a hit with all the children and we are looking forward to completing our final two units for this school year on Pablo Picaso and Claude Monet. I'm sure we will be continuing this program next year, especially since we already have the rest of the tracks (for three more years) and all the art supplies!
I've had to let go of my hopes to continue
Along the Alphabet Path
with my little ones for now. It just not possible during this season of our family. Of course we are still incorporating lots of fun field trips, feast day celebrations, and more! Even if I haven't gotten to everything I had initially planned or hoped, I'd say it is turning out to be another productive and successful school year!
I don't like to think our beautiful Catholic Faith as a "school subject" to be checked off this list, but I can't leave it out either. My husband continues to teach our children on Sunday afternoons using various levels of the Baltimore Catechism. We supplement with lots of great books and do our best to incorporate the Catholic faith in our home – the "Domestic Church."
We had hoped to be given permission to take our older children to one of Sean's brother's parishes this summer to receive the sacrament of Confirmation in the Extraordinary Form, but that request was denied. At this point they will need to go through the local parish program once they are in high school… For now we will continue praying, preparing them at home, and preparing Snuggles for his First Holy Communion next year!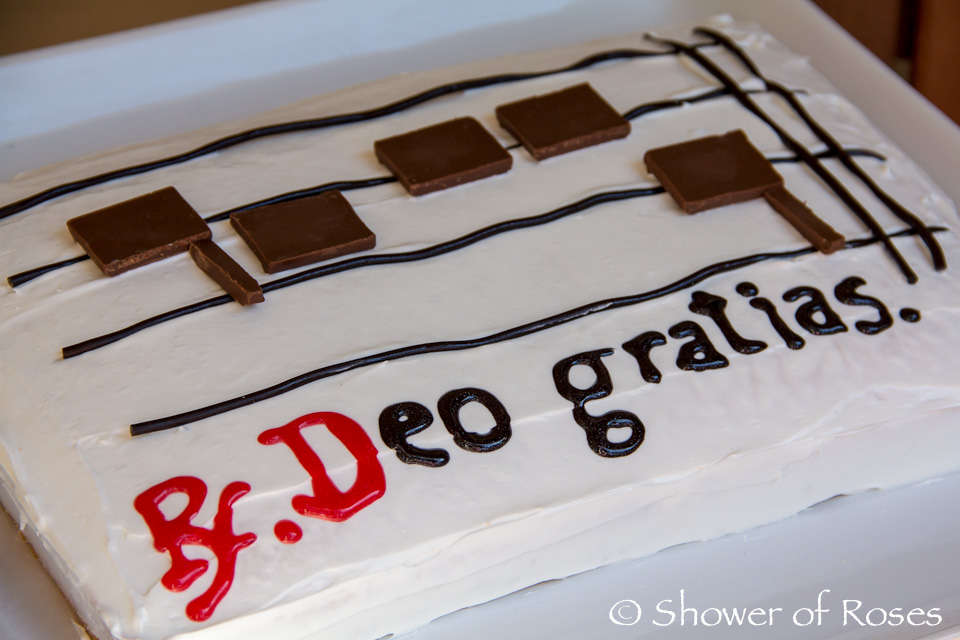 I think that pretty much sums up our school year so far. I have once again fallen way behind in answering emails, so if you have any questions for me please leave them in the comment box below and I will do my best to respond. I hope you all have a great week! Summer is almost here!! 🙂