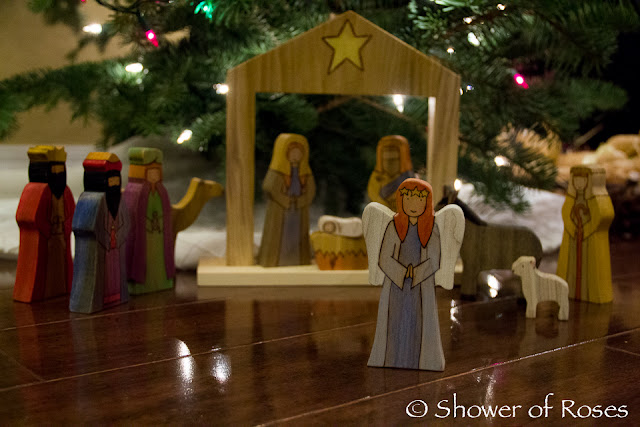 Jesus! Jesus! Jesus!
This like some sweet refrain
In childhood lisped at mother's knee
Through all the happy years to be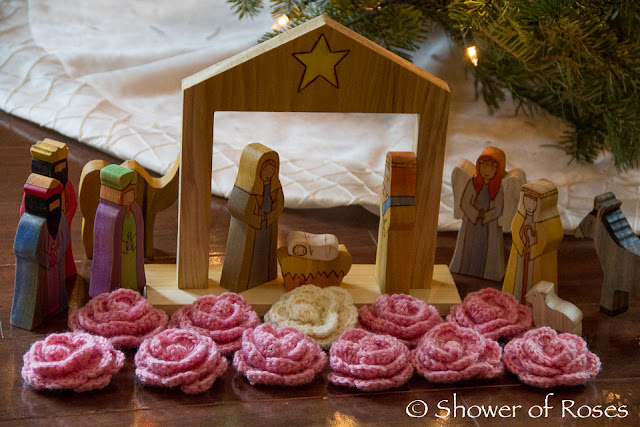 Rose loves lining up her new pink Rosary Roses five times for Baby Jesus during our family rosaries!
Jesus! Jesus! Jesus!
My heart-cry Thy sweet Name.
Today is the Feast of the Most Holy Name of Jesus on the new calendar and it is celebrated on January 5th on the traditional calendar. We will be reading The Saving Name of God the Son and coloring pictures from the Holy Name of Jesus Coloring Book.
It is also the historical feast of St. Genevieve! You can find short stories about St. Genevieve in Saints: Lives and Illuminations, Once Upon a Time Saints, and Saints for Girls: A First Book for Little Catholic Girls (also available from TAN/Neumann Press – I'm dying to read this one to Rose, but I'm still saving it for her Easter Basket this year!). I've been busy organizing bookshelves and hope to share a complete list of books for January soon.
I hope your new year is off to a blessed beginning!