— 1 —
What a week! I'm so glad it is finally Friday! I have so much I had been hoping and planning to blog about – last week's baby shower, a State-by-State post that keeps getting postponed, an update on how our curriculum choices have been working out this year along with the few changes we've made, an updated "schedule", and a few other topics – but our days have been filling up quickly leaving me very little computer time. Wednesday we were in town all day for the required State testing all morning, four orthodontist appointments in the afternoon, and then a couple additional errands.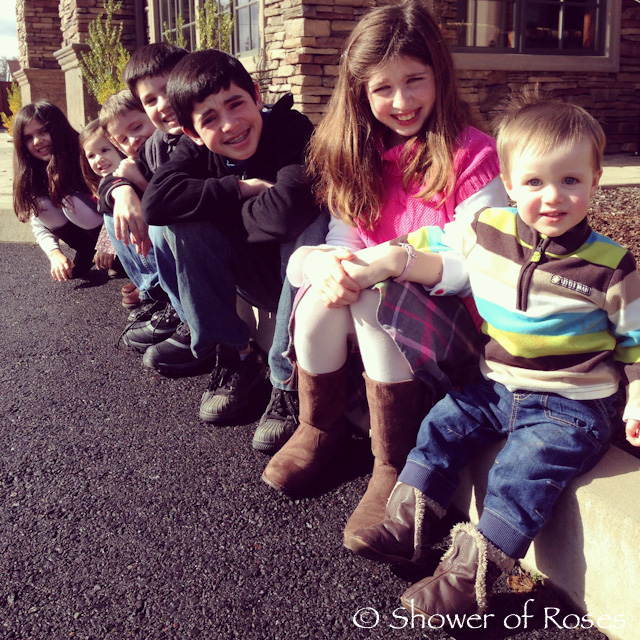 Snuggles had helped Bud get dressed and I didn't realize until I was buckling him in his car seat that he was wearing a pair of his sister's size 3 capris. Whoops! Our girls don't wear pants very often and someone must have put them in his drawer. Oh well. I don't think anyone noticed, though they were really short!
Captain is ahead of schedule and should be getting his braces off sometime this summer. Two more of the children will need to start braces sometime within the next six months. I guess they all inherited my teeth… Ranger will need full braces and Chiquita will need to start the first of (possibly) two phases. So thankful for dental insurance this year to help offset the cost!

— 2 —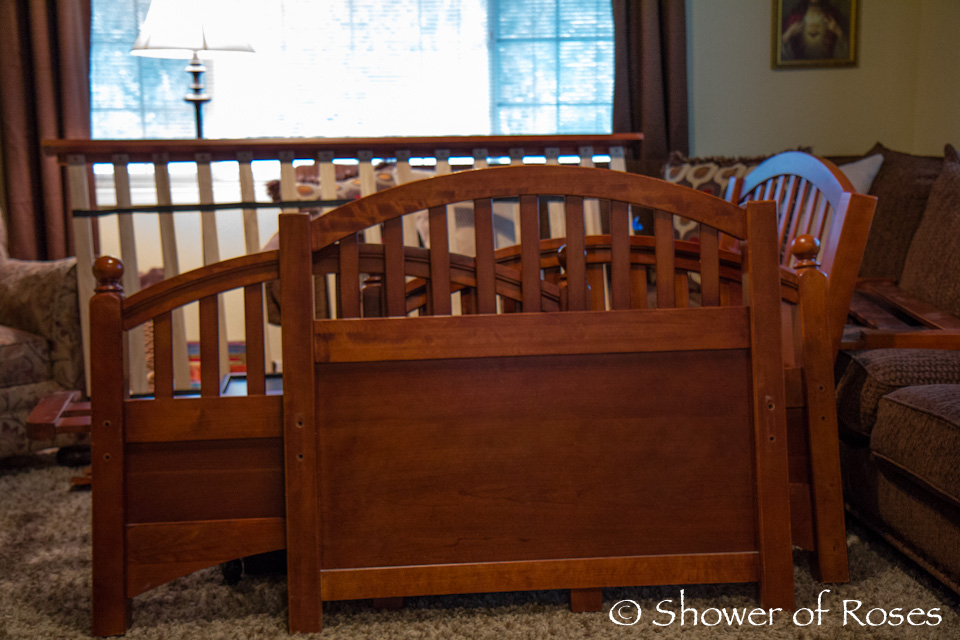 *Note: This post contains affiliate links.
We've been talking about getting a bunk bed for the little boys for awhile. In fact when I had that smoke scare a couple weeks ago I had my brother take down the light fixture so I could rearrange the bookshelves to make room for the bed when "someday" arrived. I told Snuggles that afternoon that I would work on selling some books we no longer need and save that money to buy him a bed. That was on Monday. On Tuesday I had a notice from Paypal that I had received an affiliate payment of $129.42 from All About Learning! (All About Reading and All About Spelling are such excellent programs! THANK YOU to all who purchased from my links! Snuggles thanks you too!) On Wednesday I had a phone call from a friend of my mom's asking if we by any chance were looking for a bunk bed. She was having lunch with a friend who had one to sell. She was only asking $125 for the bunk bed (originally from Costco) and a like new Sealy twin mattress! The bed was only used occasionally by her grandchildren and she had recently converted the guest room into an office. What a blessing! They even delivered it that afternoon!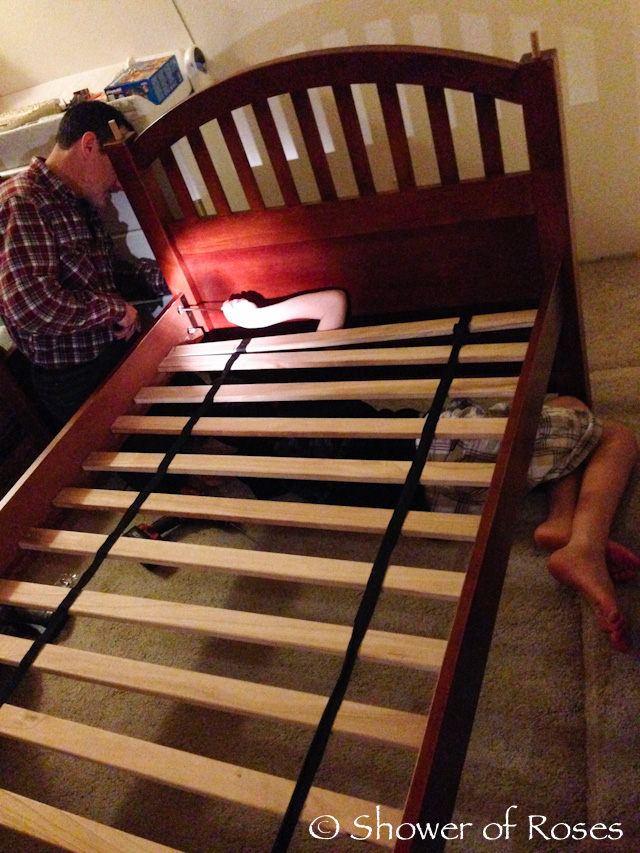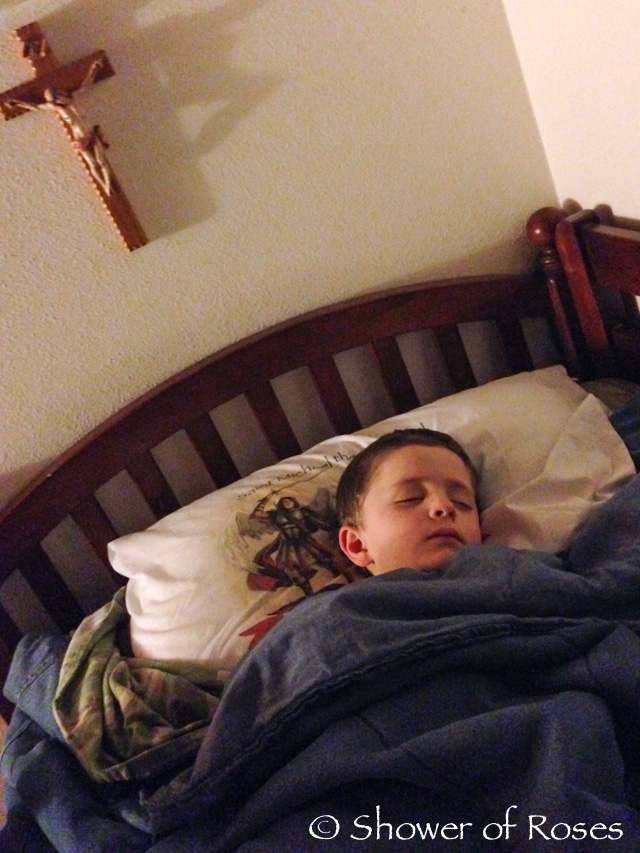 — 3 —
As Sean and the boys were assembling the bunk bed we realized we needed a little hardware, so Sean and I turned the quick trip to town into a little date for the two of us. After stopping at the hardware store and then JoAnn's for a few
birthday party
supplies, we headed to a local Mexican restaurant and shared steak fajitas. Yum!!
We've been trying to spend a little time together, just the two of us, each week and on St. Valentine's Day a friend kept all the children after
the party and skating
while we went out to our favorite Asian restaurant. We split a delicious order of Bulgogi (chopped steak sautéed with veggies and mushrooms, which came with tempura vegetables and rice) and a sushi roll of some sort, though I did have to fight the hockey game for Sean's attention. 😉 (Hockey at the Sushi Bar on Valentine's Day?) Even though we split the meal, we still had leftovers for the boys!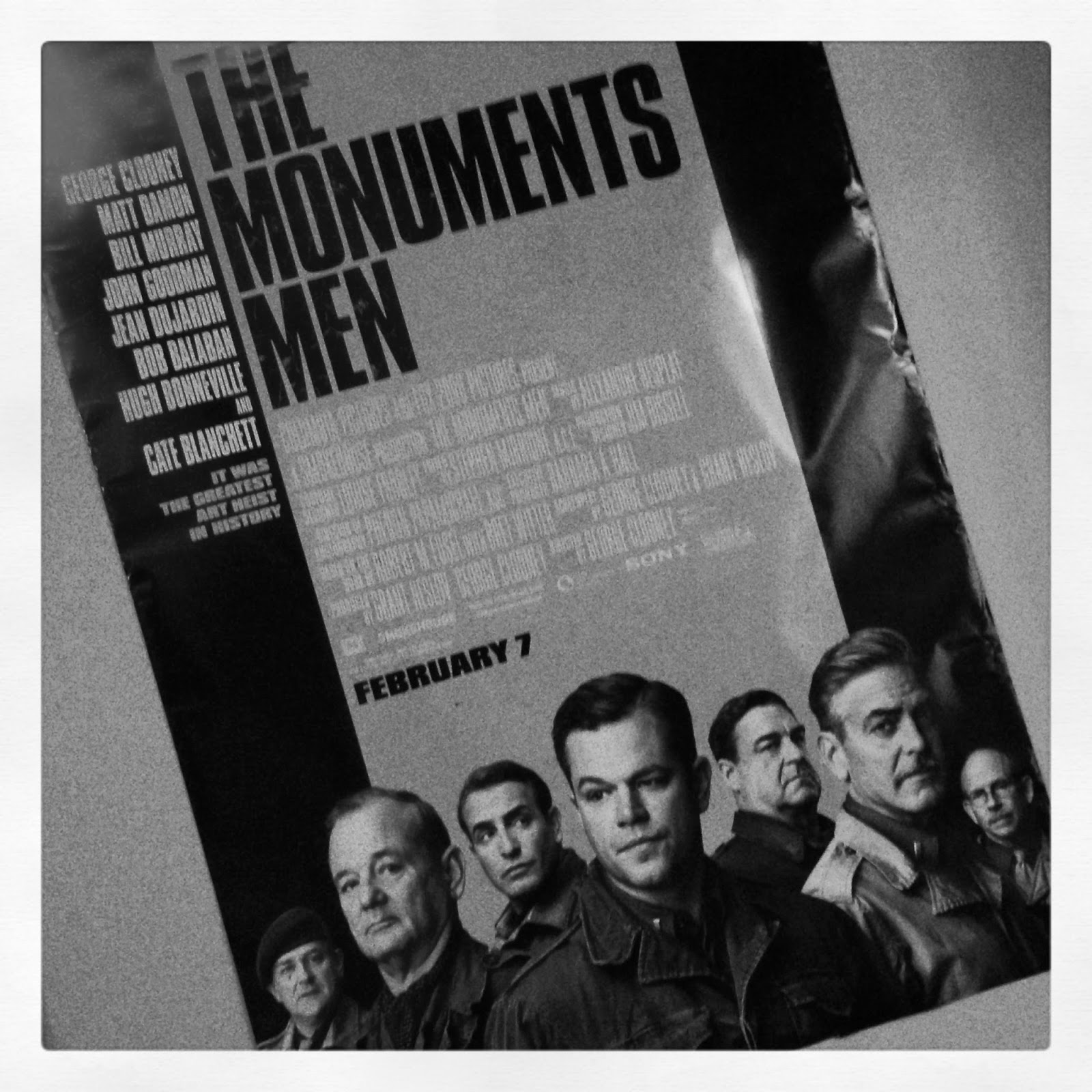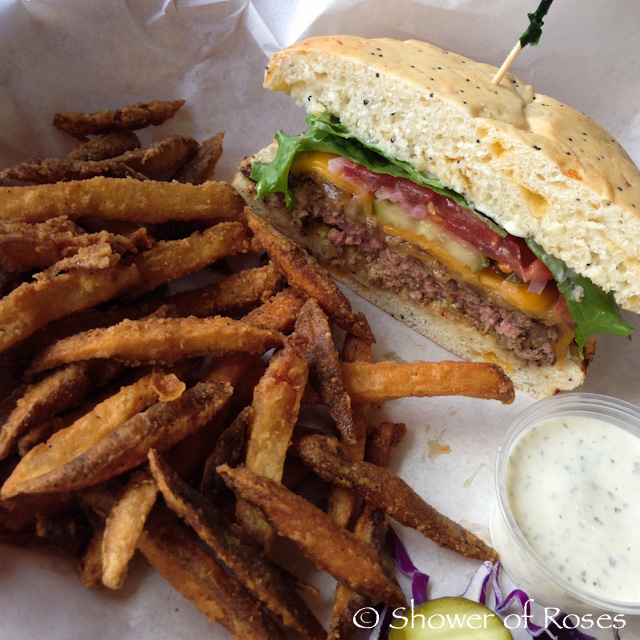 Last Monday, on President's Day we went to see the matinee showing of
The Monuments Men
(using $13 of a $25 Christmas gift card!)
and then split an "Imperial Stout Burger with Pub Fries" on our way home. We've found that splitting meals and just ordering water to drink makes these little dates much more affordable, which allows us to go out more often than in the past and not feel guilty for overspending. It is usually still plenty of food and has been such a treat!
— 4 —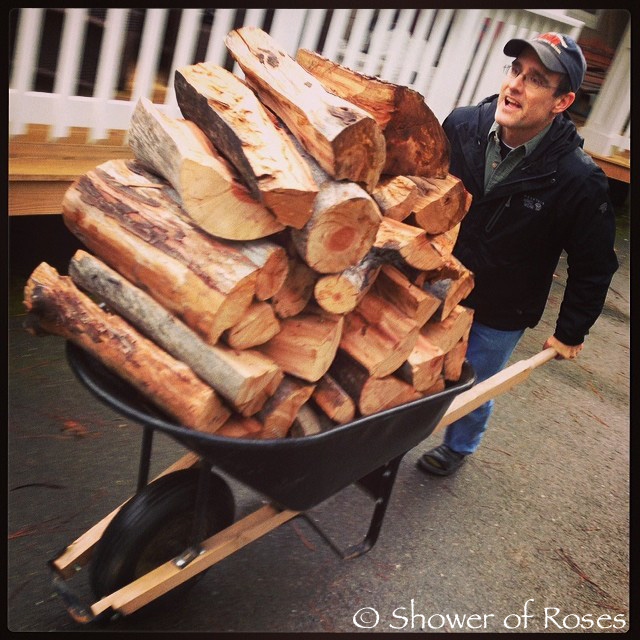 Hauling wood from the wood pile to the house.
He does the same thing when he is washing dishes and stacking them in the drain board…
— 5 —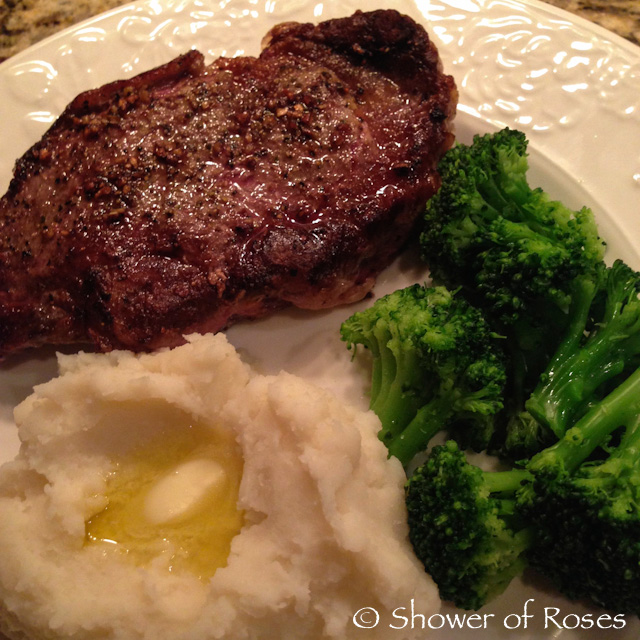 We've been having lots of steak, potatoes, and veggies lately! We purchased a 1/2 beef in Nov 2012 and I finally ran out of ground beef this past November. Since then I have been forcing myself to learn how to cook all the random packages of steak and roasts that had been hiding in the back of the freezer, before picking up this year's order.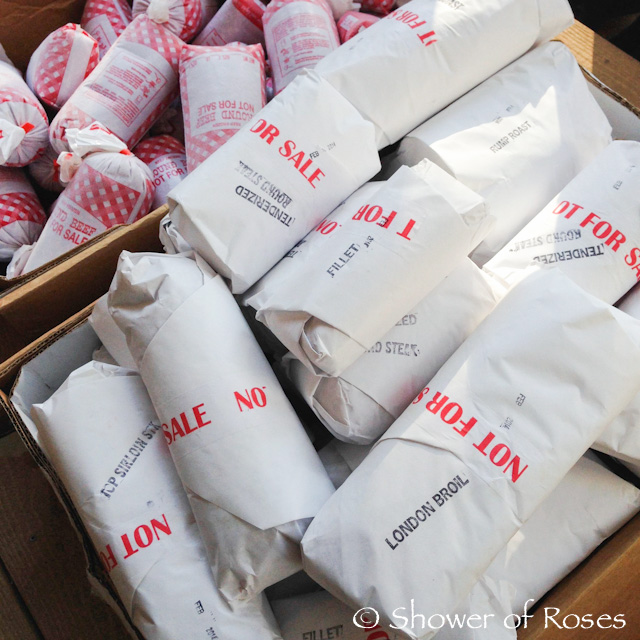 Snuggles was so excited when I mentioned that I had "bought 1/2 of a cow" and very disappointed when he found out that our 1/2 was not going to be alive. It took the older boys a little while to convince him that cow=hamburger, though there was no denying it when we picked it up from the butcher on Wednesday afternoon.
— 6 —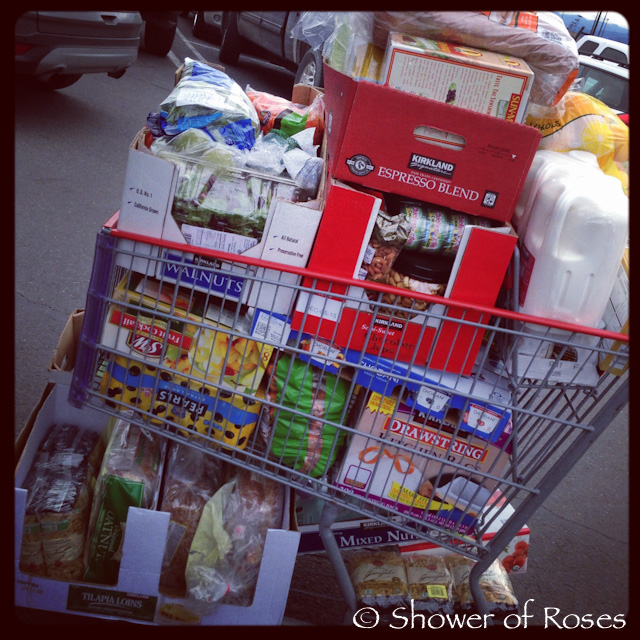 After spending most of this month's grocery budget on the cow and restocking the freezer, our Costco rebate checks came at a perfect time. My total at Costco yesterday afternoon, after this year's rebates, was only $40.27! As I said on Instagram, gone are the days of buying something fun with those checks, especially with teen/preteen boys in the house!
And, apparently, I stack groceries like Sean stacks wood! 😉
(I had already removed another box and 5 dozen eggs before letting go to snap the picture.)
— 7 —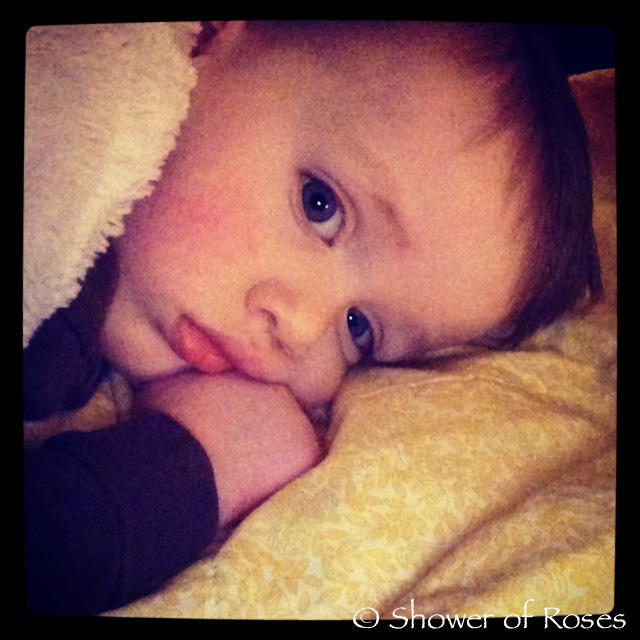 We were up at 4:30 this morning, bathing a sick little boy and keeping a bucket nearby. Poor baby!
I think this is the first time he has had a stomach virus (other than the usual infant spitting up, etc) and he just doesn't understand what is going on.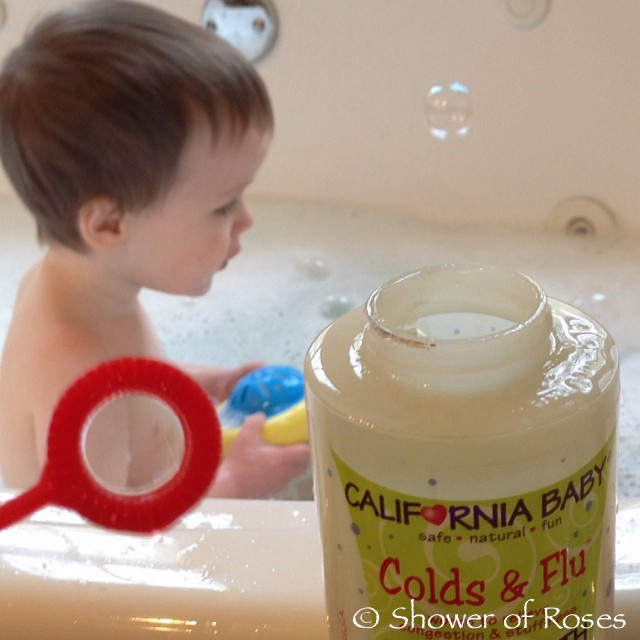 This afternoon it was time for yet another bath and another load of laundry… So thankful for the
Cold and Flu Aromatherapy Bubble Bath
(LOVE this stuff) that finally put a smile back on his face, and that so far he is the only one that is sick.
Rascal's Godmother is due next month and we had a baby shower for her last weekend! I helped with a few of the decorations, a couple games, and one of the appetizers. Thankfully I had some help sorting all those M&M's! It all turned out so cute and colorful!