Today I have the pleasure of introducing you to all of my new (and returning!) sponsors here at Shower of Roses. The new school year is right around the corner and many of my sponsors are offering some great back to school specials! You can find the links and coupon codes listed below.
Please welcome my new sponsors by visiting their websites: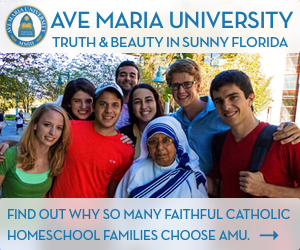 Ave Maria University
About one-third of students at Ave Maria University were homeschooled all the way through high school. In fact, many of our most successful students come from a home education background. Homeschool students love Ave Maria because they find the rigor of academics challenging, engaging, and truly useful. Parents appreciate that the moral climate on our campus respects and supports the values which they have instilled at home. Our pro-family culture is welcoming, and it's not uncommon for siblings to attend university side by side or one after another. We are proudly Catholic, rooted in our faith, and open to engagement with the world. We believe very strongly that students must grow virtue in freedom and our job is to create an environment that encourages the flourishing of faith and a spiritual, emotional and social maturity that will last a lifetime.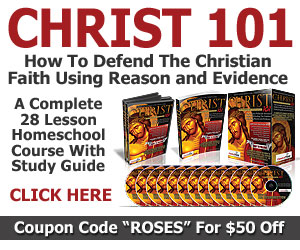 Christ 101
The Christ 101 program is the first complete, full-blown, semester long, multimedia course specifically made to address the problem of using reason and evidence to establish the truth of Christianity. Made by a homeschooler with other homeschoolers in mind, Christ 101 helps teens and adults intelligently articulate a reasonable defense of Christianity in opposition to skeptics and atheists. The course comes with 28 video lessons and a manual, and teaches students things like why religion is important, what faith really is, how there can be a true religion, why the Gospels should be taken as historically reliable, why there are good reasons to think Jesus was in fact the divine being he claimed to be, and why an act of Christian faith is, at the end of the day, more rational than to not believe. Combining entertaining video lessons and helpful graphics with academically solid information, Christ 101 is the perfect choice for parents who want to make sure the faith of their children is as solid as it can be.
The Christ 101 course is taught by Scott M. Sullivan PhD with contributions from other top scholars such as Peter Kreeft PhD, Scott Hahn PhD, Gary Habermas PhD, Michael Licona PhD, Craig Evans PhD and a host of others.
Save $50 with coupon code "ROSES"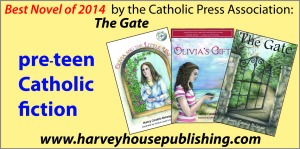 Harvey House Publishing
The mission of Harvey House Publishing is to provide exceptional reading for children that celebrates the Catholic Faith, modesty, the gift of life, and a wholesome childhood. All reading material is faithful to the teachings of the Catholic Church.The pre-teen/early teen novel, The Gate, won first place for Best Novel at the Catholic Press Association Book Awards in June. The Gate is Nancy Carabio Belanger's latest and third award-winning novel for Catholic 'tweens. The Gate tells the story of a struggling thirteen-year-old boy who discovers God's calling for him and his life as a young Catholic. The novel also celebrates the dignity of the priesthood. The Gate has been endorsed by Fr. Brett Brannen of the Archdiocese of Savannah, GA, author of To Save a Thousand Souls: A Guide to Discerning a Vocation to Diocesan Priesthood.
Nancy is also the author of Olivia and the Little Way and its pro-life sequel, Olivia's Gift. Since 2008, she has been visiting Catholic schools, homeschooling groups, and book clubs to talk about writing, the lives of the saints, and to encourage children not only to live their Catholic faith to the fullest, but to love and cherish it, too. Free discussion guides are available for all three books.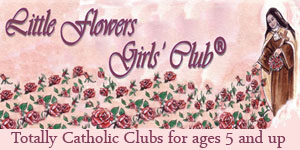 Behold Publications, LLC
Behold Publications, LLC is more than just a publisher! Family owned and operated since its founding in 1999, we have developed great Catholic clubs like the Little Flowers Girls' Club and Blue Knights Catholic Boys' Clubs for Catholic girls and boys ages 5 and up. What makes these clubs unique is that they are at their core faithfully Catholic. We don't "tack on" Catholic identity as other clubs might, but begin and end with a Catholic world view. We also believe that local clubs best operate the way they see fit, so there is no national organization, policies, registration or dues. Groups can easily adjust the program to fit their local needs. Behold Publications also produce a line of historical fiction based on American history and American saints for ages 7-15.
Behold Publications will be hosting a Mary's Garden Party retreat/camp for Little Flowers August 22-24, 2014 at Sandy Cove in North East, MD! You can find more information here.
Discounts are not given during the busy fall season, but if you order TODAY (July 31, 2014) you can receive FREE SHIPPING and 10% OFF with coupon code JULYEARLY.
Please visit my returning sponsors:
Holy Heroes offers great back-to-school resources, such as our Life of Jesus (Rosary) Coloring books, Glory Stories, and DIY VBS!
Prayer Pillowcases offers such beautiful products! Our children love all their Prayer Pillowcases and you can see our teenage son heading home from summer camp with his here.
Catholic Embroidery is now offering a new line of rosaries handmade by a Benedictine Monk! They are pleased to carry three styles and are offering them as sets too, with our embroidered rosary cases including the beautiful Divine Mercy Rosary/Chaplet with the matching Divine Mercy Tapestry Pouch. Coupon Code: MONK in the checkout coupon box will give FREE SHIPPING to all orders $25 or more until August 2nd.
Mama's Notebooks is offering 10% OFF ALL PRODUCTS for the Month of August!
Jesse Tree Treasures creates beautiful handcrafted gifts for the liturgical seasons. Now is a perfect time to order a Custom Set of Jesse Tree Ornaments to use with your family this upcoming Advent!
Gail Giron Designs is currently away at a trade show until August 3rd, but she'll be open again soon and will be listing many lovely new items in her shop!
Catholic Child is the perfect place to find inspiring gifts for Catholic youth – from toddlers to teens!
Holy Heroes is currently offering a free copy of Glory Stories CD vol 1: The Story of Blessed Imelda Lambertini & The Story of St. Juan Diego. You can order the FREE CD here.
Sacred Heart Books & Gifts is offering one more round of FREE SHIPPING before the school year starts! All orders totaling $40.00 or more placed between Friday, August 1st, and Monday, August 4th, will not be charged a shipping fee with coupon code JMJ595.
Holy Learning knows that August and the back to school time is costly for most families. For the month of August Lindy is offering 50% off all orders with the code "backtoschool". All products qualify. This is the perfect opportunity to stock up on curriculum supplements or try just one item if you've never created a lapbook before!
Sew Sweet by Shannon offers a wide variety of handmade accessories and clothing for children.
Saints 365
is a Catholic blog by Debbie Gaudino, a happily married, homeschooling Mom of 2 children who is currently studying theology at Franciscan University of Steubenville. The subtitle of the blog is "Striving for the heights of holiness in the trenches of everyday life". Visit Saints 365 for down-to-earth reflections which draw from the scriptures, the wisdom of the saints and church teachings and join us as we all strive together to live out the "universal call to holiness".
Bridgie & Green
is founded on the belief that everyone can incorporate a little bit of their Catholic heritage into their everyday accessories. A homemaker and homeschooling mother to six, she handcrafts affordably priced gorgeous little things for like-minded people who want to show the world who their friends are while standing out from the Catholic crowd. She also, life allowing, knits and crochets adorable items for babies and kids.
Give her a try with coupon code "SHOWER10" for 10% off your first order.
Catholic Cuisine offers beautiful embroidered aprons for sale, shipped directly from Catholic Embroidery. You can find all the Catholic Aprons available here, including my favorite "Living the Little Way" apron in honor of St. Therese!
Our family is very grateful for the support of both my sponsors and visitors!
If you are interested in advertising at Shower of Roses,
The Annual August Online Curriculum Sale link up will be posted tomorrow!
(For details you can find the May 5-15, 2014 link up here.)