"Buttercream is a soft yellow with just enough pink to give it a rosy glow without turning peach. It is a mental, intellectual color promoting creativity, logic and organization. Reminiscent of sunshine, it also encourages hope and optimism."
The girls dresser is one that I was given. I had it painted and the knobs replaced by the same lady who painted my dining room hutch. The "Thank Heaven for Little Girls" sign reminds me of my Grandmother, who would always sing that song to me as a child, and was purchased from a local boutique when the girls were younger.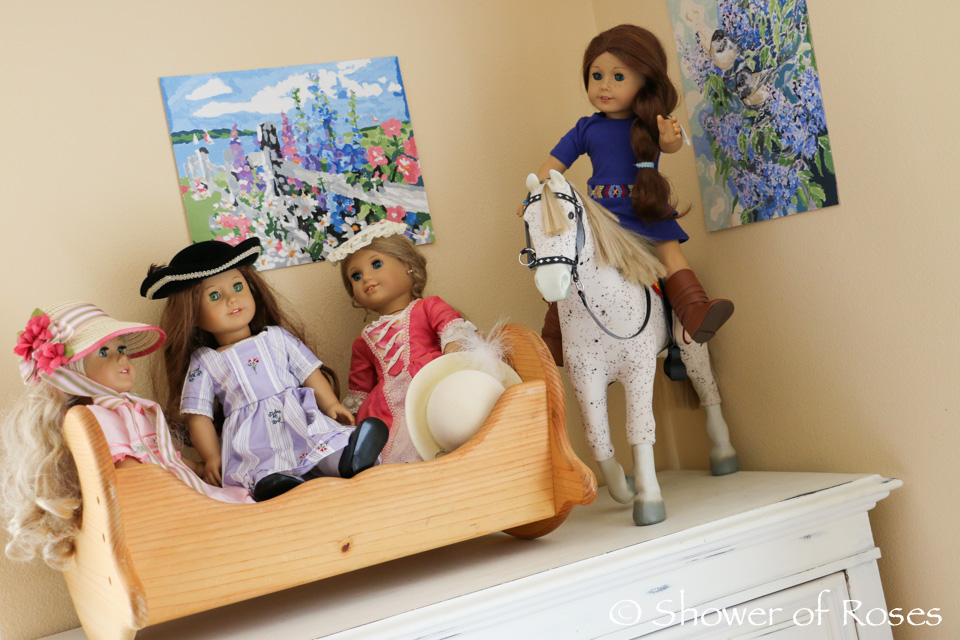 Twinkle Toes keeps her American Girl Dolls on top of the dresser along with her doll cradle.
Chiquita keeps her dolls, along with Kaya's Animals and Josefina's bed, on top of the short bookcase in between the foot of their bunk bed and the bedroom door.
When I had to give up our little school room to the younger boys last summer (sniff, sniff . . . I'm still recovering from the loss and struggling to find new homes for everything), I moved two of the newer white bookcases to the big girls' bedroom. The taller bookshelf is filled with quite a few books from my childhood, as well as some of the girls own favorites. The bottom shelf has Magazine Files for all of their Lap Books (both completed and in-progress) as well as three-ring binders that contain their individual Holy Card Collections.
We usually hang a crucifix above each bed, but the girls' crucifixes are still hanging above the beds in their old room. Using a couple holes that were already in the wall, I "temporarily" hung a crucifix and our Our Lady of Mount Carmel picture (also from the school room) last summer.
The smaller bookshelf was transformed into their American Girl Clothes Closet and Bookshelf!
We lowered the shelf and placed a tension rod near the top which gave us a perfect place to hang all the pretty dresses and nightgowns for their dolls.
Last year I ordered some tiny wooden hangers at the suggestion of a friend (Thank you, Aimee!) and they are just darling!
I ordered a mix of the standard Doll Clothes Hangers and some Doll Clothes Hangers with Clips.
The girls line up all the dolls coordinating shoes against the back of the bookcase behind the dresses.
Underneath the bunk bed we have three storage boxes: one for all of their dress-up clothes, one for hand-me-downs that are still too big, and one for their shoes/winter boots.
Anyways, I hope you enjoyed this little tour of their bedroom. Now I have proof that it was actually clean for a couple days! Time to move on and see if we can tackle another room or two in this house before our school year begins. . .