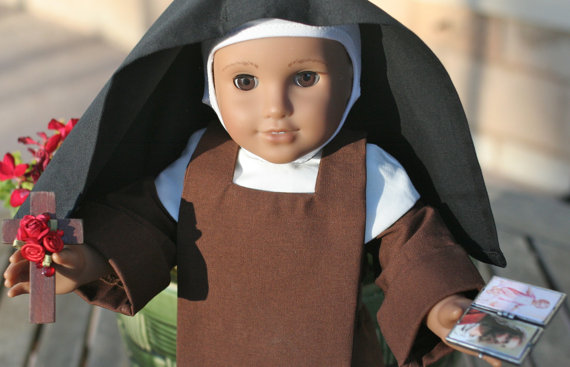 The Little Habit is an Etsy shop which was recently opened by Summer Dubay, a creative and talented Catholic wife and mother of eight from Southern California. Some of you may recognize Summer from her gluten free guest submissions over at Catholic Cuisine! You can read more about Summer and The Little Habit here.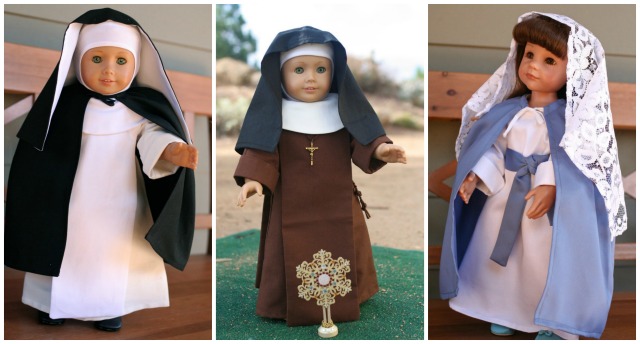 I fell in love with all the darling habits the moment I discovered Summer's new shop! They are absolutely precious.
Like last Christmas, I'm hoping to give each of our children at least one faith-based gift and this year the girls will be receiving some of these sweet habits to add to their American Girl Doll Collection. I haven't shown the pictures to my girls yet, but I know they will fall in love with them too when they discover them under the tree on Christmas morning!
It's hard to choose a favorite, but I especially love the sweet Carmelite Nun Habit with the coordinating cross and picture frame. Of course this one will be for our little "Rose."
Chiquita will be receiving the beautiful Poor Clare Nun Habit with Monstrance, and Twinkle Toes will receive the lovely Dominican Nun Habit with the St. Rose of Lima Pink Wreath.
I also ordered the Gentle Mary White Dress and Blue Cape and will either give it to Rose on her birthday in December or save it for her Easter Basket next year.
Summer's latest creation is the gorgeous LIMITED EDITION Guardian Angel Dress. She stated in the description that she only has six sets of wings available and once they are sold they will be gone for good. I think I am going to have to take advantage of the free shipping code below to order this one as well while it's still available! (Update: I just placed my order and now there are only four left! If you are interested in this dress don't wait to place your order!)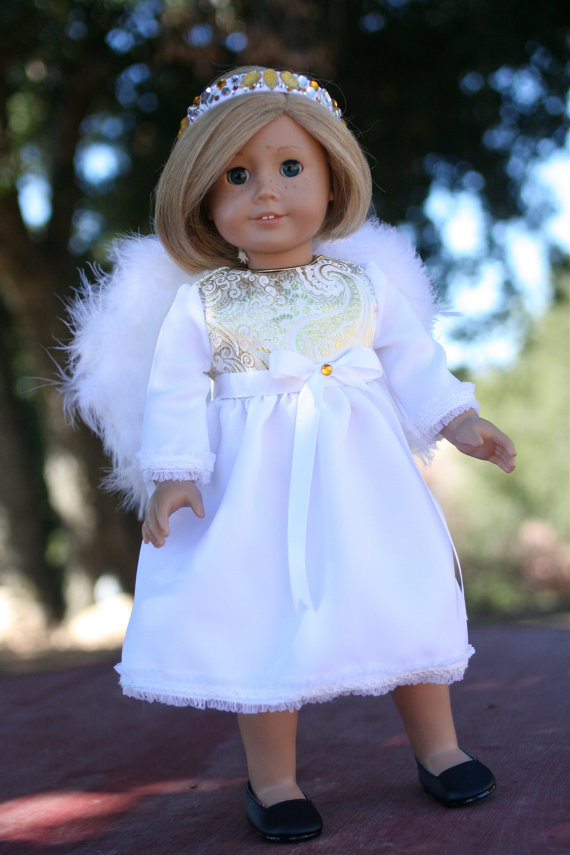 The Little Habit is currently offering all my visitors here at Shower of Roses FREE SHIPPING with coupon code ROSESFREESHIP. The free shipping is good with a minimum $35 purchase and will expire on St. Nicholas day, December 6, 2014.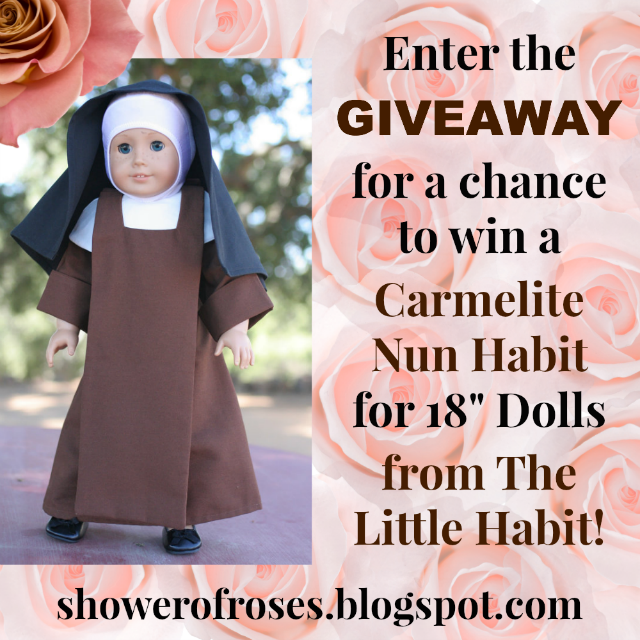 As Shower of Roses and The Little Habit are both dedicated to St. Therese, the winner of this giveaway will receive one Carmelite Habit! The Carmelite Habit includes: 1 veil, 1 lycra coif, 1 guimpe, 1 scapular, 1 habit, 1 ribbon belt, and 1 cape.
Please enter the giveaway using the Rafflecopter box below:
Update: The Little Habit will be taking final orders for Christmas on December 10th. The shop will then close for the rest of Advent and the Christmas season. It will reopen on January 7, 2014 with new surprises! Thank you for your amazing support! God bless, Summer.