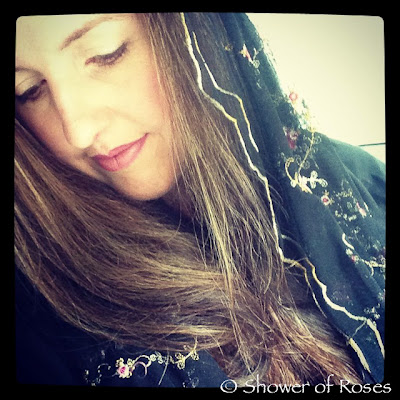 Ten years ago, in the spring of 2004, I decided to start wearing veils as a lenten sacrifice.
It was something I had felt called to do for a couple years, but my vanity and pride had prevented me from taking the first step.
Our family was going to be traveling that May to the ordination of my husband's oldest brother, the first of his three brothers to be ordained to the Holy Priesthood with the Fraternity of St. Peter. I had never attended a Mass in the Extraordinary Form, at least not that I could remember, but I knew that most of the women in attendance would be wearing a veil. I didn't want to stand out for not veiling, but I also didn't want to wear a veil just for the sake of blending in with the crowd.
If I was going to wear a veil I wanted to make sure I was doing it for Christ alone.
The year before, during Lent of 2003, I had started wearing skirts on a daily basis, offering it up for a special intention. By the end of Lent it was no longer a sacrifice, but something I had grown to love. The same happened for me with veiling. After lots of reading and many discussions with my husband's brothers on the symbolism and reasons for veiling I decided it was time and that this act of devotion was something God was asking me to do for Him.
It wasn't easy at first.
I remember walking into Mass on Ash Wednesday and slipping into the back pew with my three little ones, ages 3, 2 and 6 months. It was definitely going to be an adjustment and take some practice
(and lots of bobby pins!)
to find a way to keep that veil on my head while juggling all those babies! There were a few other dear older women at Mass wearing veils, so I wasn't the only one, but it was still hard. The next day was the same, and the next…
I was so afraid of what people were thinking of me. I didn't want others to think I was wearing a veil to "try and look holy" or to draw extra attention to myself. I didn't want to be an additional distraction during Mass.
I still remember the afternoon of that first Friday during Lent. I pulled
Sermons of the Curé of Ars
(affiliate link)
off the shelf and opened it up to read St. John Vianney's sermon for the First Sunday of Lent. The sermon was titled
Temptations
and was exactly what I needed to read at that moment. Here is a particular quote from the sermon which I found particularly inspiring and which has stuck with me all these years:
The first temptation, my brethren, which the devil prepares for those who have begun to be more zealous in the service of God, is the fear of man. They are afraid to show themselves. They shun those persons whose society they formerly frequented. If they are told that they have changed very much, they are ashamed! The question, "What will be said of me?" haunts them so, that they have no more courage to do good before the world.
The next day it was so much easier to push aside my fears, and blame them on temptations from the devil. I said a little prayer and slipped on my veil, before entering the Church. Despite what others might be thinking, God knows my personal intentions for veiling, and that is all that matters. With God's grace I was able to persevere and it continued to get easier. Even with the constant distractions of little ones, wearing a veil has always helped me remain more focused on what is taking place at Mass and to treasure this precious time with my Lord.
I have grown to love wearing a veil for Mass, and whenever I am in the presence of the Blessed Sacrament. The veil has such inspiring symbolism and is a beautiful way to give glory to God. I pray that all women who feel drawn to begin veiling are given the courage and graces they need to do so.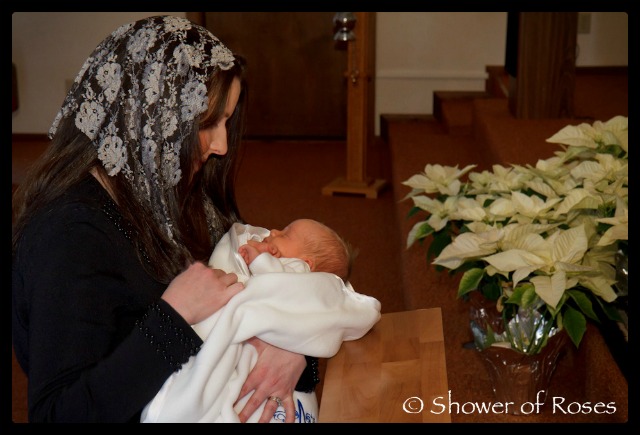 Note: Currently my favorite veils are my rose covered veil (pictured at the top of this post and purchased from the limited quantities offered by Michele Quigley), my silver and black mantilla (pictured above, purchased from… oh, I can't remember at the moment!), and my black Soft Tulle Veil ordered from Catholic Embroidery and made by Veils by Lily. Lily has an excellent page on her website with answers to Frequently Asked Questions about veiling.