Hello! Wow, has it really been two weeks?!
I didn't intend to take a break from blogging here at Shower of Roses, but between hosting the giveaways (thank you all for participating and congratulations to all 30 winners!), a special diet I've been on for the last three weeks (I'll share the details later), friends visiting from the Midwest (a family of 7, including one of my Godsons!), three months worth of "Quiet Moments" due for the summer edition of Catholic Digest, and then coming down with a cold/flu which has knocked me off my feet, I just haven't had the time or energy… I've missed blogging and really hope that I can start fitting it back in again soon!
In the meantime, just in case I didn't share enough Easter Basket Stuffer Ideas in my last post, I wanted to pop in real quick to let you all know that once again Amazon has some great discounts on LEGO sets!
Last year we gave each of our boys a small LEGO set in their baskets. They didn't see them at first, but got so excited when they realized that the bottom of their baskets were filled with LEGO bricks and the directions to build a set. I had taken them all out of the boxes and used them as filler. 🙂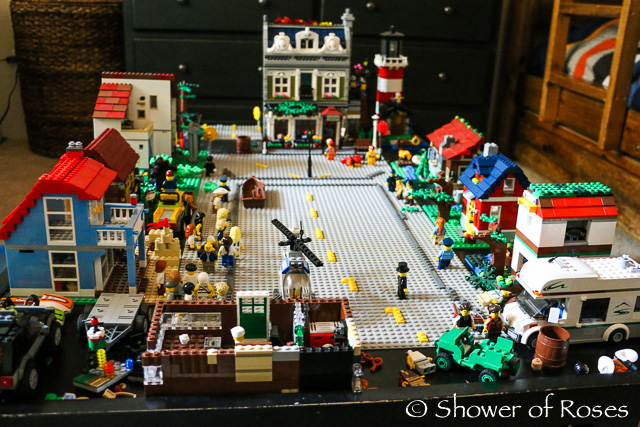 Photo taken last November of the boys' LEGO town
Our boys all really love the Great Vehicles in the City collection and right now many of them are 20% off which drops the price to just $15.99 each. These are also great to have on hand to give as birthday party gifts for friends! Here are the links to some of the sets that are currently on sale:
LEGO City Great Vehicles Camper Van
LEGO City Great Vehicles Dune Buggy Trailer
LEGO City Great Vehicles Pickup Tow Truck
LEGO City Great Vehicles Snowplow Truck
LEGO City Great Vehicles Racing Bike Transporter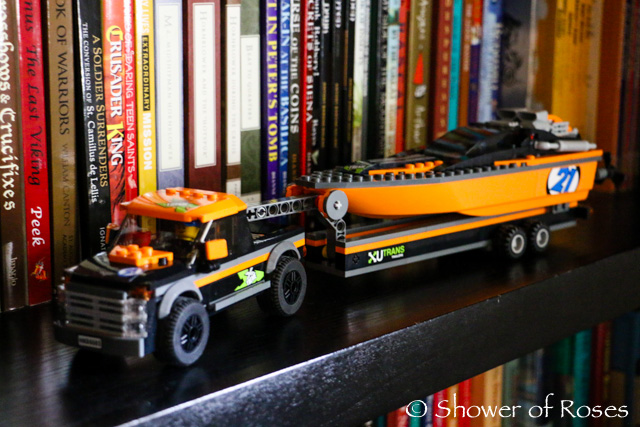 The following sets are priced a little higher but are also currently 20% off:
LEGO City Great Vehicles 4×4 with Powerboat (pictured above)
LEGO City Great Vehicles Auto Transporter
LEGO Creator Vehicle Transporter
LEGO City Service Truck (pictured below)
My boys also really love the Creator sets and the Mountain Hut (definitely a favorite!) is currently 25% off: Lego Creator Mountain Hut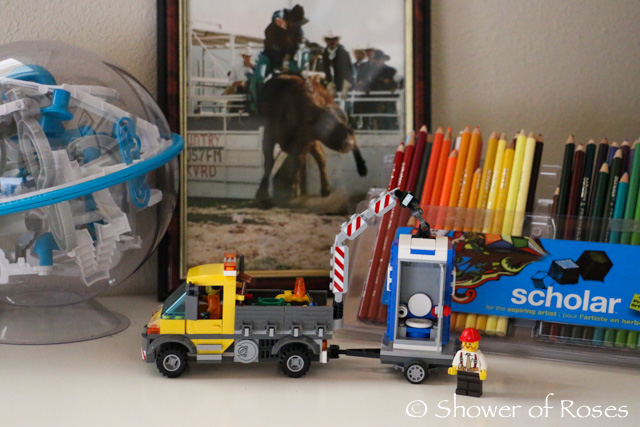 The boys all think the new Service Truck is awesome and purchased it with their savings. Apparently they needed a porta potty for their city… Oh! And that old photo of the Bull Rider is the background? That's my husband. 🙂