The following review of BENEDICTA: Marian Chant from Norcia by the Monks of Norcia (De Montfort Music, 2015) was written by my husband. Thank you, Sean!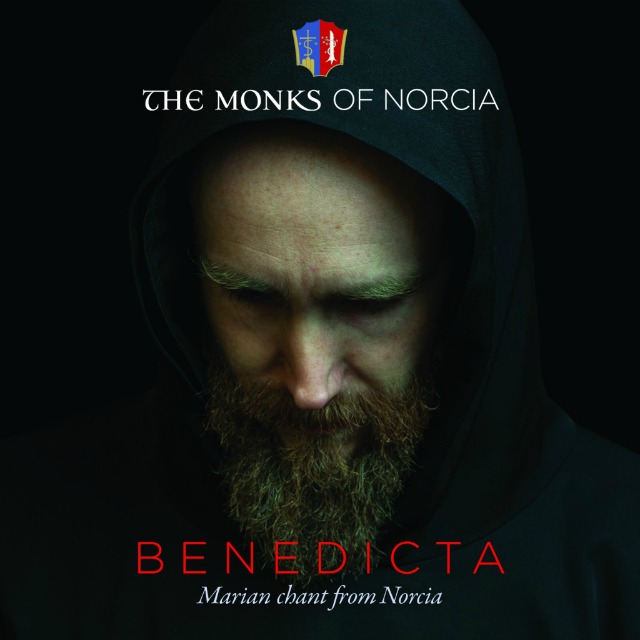 "Seven times a day will I sing your praises." – The Rule of St. Benedict
The simple beauty of Gregorian chant – the eternal beauty of chant is prayerful, rich, and necessary in our age. BENEDICTA is the Monks of Norcia's first ever international recording. The Monks of Norcia, in the sincerity of their prayer are able to draw the listener into the mind and heart of the Church's expression of faith. The mysticism of the chant, the serenity and timeless beauty of its ancient tradition, the meditative and celestial qualities of the recording transport the listener to a spiritual light. We are reminded that our eternal destination lies beyond the earthly allure. As the listener enters into the contemplative mystery of prayer they are reminded of the spiritual land that indeed awaits those who hope in the Lord. These are the transcendent thoughts that the official music of the Church inspires.
Pope Benedict XVI wrote: "The chanting of the Office continues to sustain the whole Church around the world."
This album is particularly unique in that the music is not part of any mass settings as many other chant CD's from monks have done in the past. As the title reveals, the chants recorded in this album are dedicated to the Marian Feast Days found in the divine office and devotional hymns outside of the mass. From De Montfort Music:
"Inspiring, beautiful music of Chant at it's very best – from Italy by The Monks of Norcia. BENEDICTA: Marian Chant from Norcia is the title for this new recording of 33 tracks of Gregorian chant, including favorite Marian antiphons such as "Regina Caeli" and "Ave Regina Caelorum" but also previously unrecorded chant versions of responsories and a piece originally composed by the monks ("Nos Qui Christi Iugum,") Some pieces are sung by the entire group, some by smaller ensembles of monks and others by soloists, imbuing 'BENEDICTA' with a variety of sound. Recorded on location at the monastery in Norcia, Italy, the album was produced by 11-time Grammy Award-winning producer Christopher Alder and engineered by Grammy-Award winning engineer Jonathan Stokes."
"Late have I loved you, Beauty so ancient and so new, late have I loved you!" – St. Augustine
+ + +
Today I have the privilege of being able to offer my visitors here at Shower of Roses a chance to WIN one of three copies of BENEDICTA before you can buy it! The giveaway will remain open through Monday, May 25th and the winners will be announced in this post and contacted by email on Tuesday, May 26th. De Montfort Music will mail the CDs directly to the winners so that they can arrive just before the album is released!
Please help spread the word about this beautiful and unique new album, and be sure to enter the giveaway using the Rafflecopter box below: