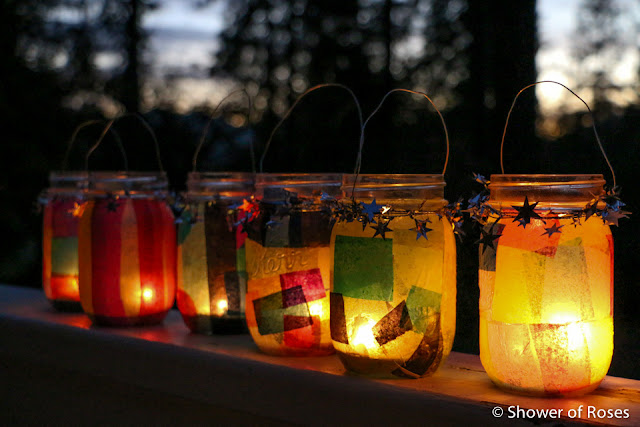 Earlier today I shared a link over on Facebook to the Martinmas Lanterns we made a couple years ago. Shortly afterwards I received a comment that made me stop and wonder how many others feel this way when they visit my blog(s), although I'm sure that long time visitors here at Shower of Roses (and over at Catholic Cuisine too) have observed that our family has had various seasons of activity when it comes to celebrating the feasts and seasons of the liturgical year. You can read my response below.
"I have the same questions as anonymous above. I was actually thinking right before I read their comment that I may have to stop reading this blog because it makes me feel so inadequate. I'm a Catholic homeschooling mom that can barely keep up with laundry let alone celebrate nearly every Saints' feast day with special food and a craft. I suppose my children know the Hail Mary. I'll have to be content with that for now."
If it makes you feel any better, my dryer (and a number of other things) broke last week due to a power surge and we have clothing piling up and hang drying all over the house (shower rods, door jams, near the fireplace, and anywhere else I can find) as I try to keep up with the necessities while we wait for the repair man to fit us in… Combined with our daughter having a bad poison oak outbreak all over her face/neck/arms, it's been a really hard week around here…
In the past I have joked with a friend that sometimes I will look through my archives here and also think "How does she do it?!" 😉
This year, with two highschoolers, a kindergartner, and three other children in between to home educate (plus an eager pre-schooler!), not to mention hockey season and high school robotics, it's definitely turning into one of the (much!) harder seasons for fitting in the "extras" while trying to maintain my health at the same time. There is so much more I need to keep up with now and I just don't have the same amount of extra time or energy that I had in the past.
Our family definitely goes through different seasons – sometimes we place more emphasis on doing extra little things to celebrate the saints and seasons, and other times it just isn't possible. Other than pulling out these lanterns (since they are already made) from a couple years ago (and donating the extra winter clothes I've been sorting) I don't have big plans for Martinmas this year. If it's not raining we might light another fire outside before bedtime (we live out of town and have a fire pit) to use up some of the leftover marshmallows from our All Hallows' Eve party.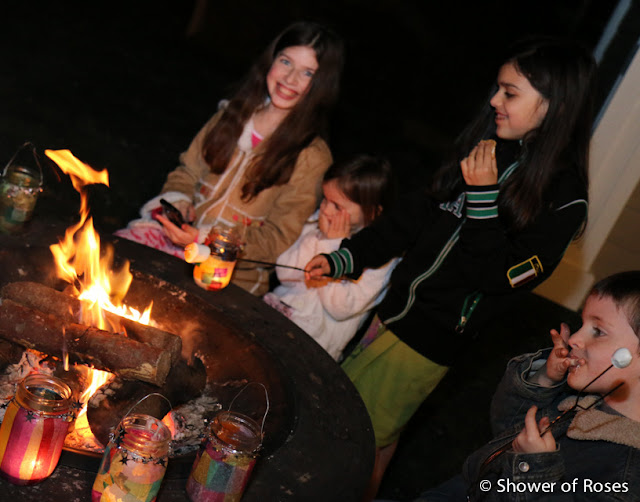 Martinmas Bonfire 2014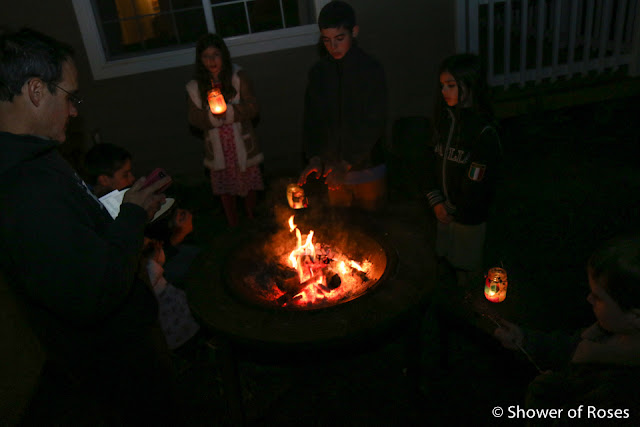 Focusing on the sacraments and teaching our children to pray is the most important. Celebrating the feasts with food and crafts is fun (and something that I really enjoy), but it is not at all necessary for our salvation.
The year we made these lanterns and invited friends over to celebrate with us I was "trading" math tutoring for teaching my friend's children about the saints… I was spending extra time on feast day celebrations that year, but I had extra help with math. I blogged a little about that here. (Of course knowing I had them coming encouraged me to do more than I probably would have done otherwise.)
There are certain feast days that we do try to celebrate every year (Michaelmas, St. Patrick's Day, Santa Lucia Day, etc), espeically those of our children's patron saints. Sometimes it is something very simple (at least it seems simple to me since I've been doing it for so many years – like baking a boxed cake mix in a heart shape pan for the feast of St. Catherine of Alexandria) and other times it will end up being much more elaborate (like for the canonization of St. Therese's parents – something I was very excited to watch and celebrate and only happens once).
We started these little family traditions very small and one at a time. They have grown over the years along with our family. Incorporating the saints feast days into our family life/meals is something that now comes pretty naturally for me. Please don't feel inadequate if it is something that you just can't do with your own family. I really hope that my visitors here at Shower of Roses can look at my posts as just possibilities and ideas, and not feel like these are things you should be doing with your own families.
Hang in there and may God bless you and your family!
"You know well enough that Our Lord does not look so much at the greatness of our actions, nor even at their difficulty, but at the love with which we do them." ~ St. Therese