I usually only share a sponsor update once every three months. However, I have some great new advertisers that arrived just a little too late to be included in February's post. I've decided to introduce them to you now rather than wait until May.
Please welcome my new sponsors by visiting their websites:


Culture of Life Studies
I'm so excited about the brand new Life Is Precious Culture of Life Unit Study for Elementary Students from American Life League! I was sent a review copy, along with a set that I'll be giving away here at Shower of Roses, but you can currently purchase this Unit Study at an awesome discount for a limited time! The program, which will help parents and teachers instill a solid pro-life foundation in their students, uses picture books to explore age-appropraite culture of life themes such as life as a preborn child, being uniquely created by God, the need to protect the innocent, and defending firmly held beliefs in the face of adversity."
This brand new Etsy shop, consecrated to the Virgin Mary and Sacred Heart of Jesus, features beautiful religious art prints, cards and handcrafted wood prints designed by Sandra Lubreto Dettori! Custom orders are welcome. All items can be personalized for gifts like First Holy Communion, Confirmation, Anniversaries, etc.
10% of all sales will be donated to help Aid to the Church in Need!
Save 10% on any order with coupon code Discount10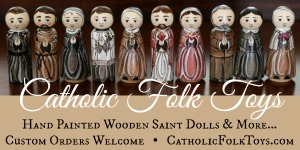 Catholic Folk Toys
As I mentioned in my last post, Tammy's dolls were the very first hand-painted saint dolls available (at least that I knew of at the time) and were the ones that inspired me to paint my own set to use Along the Alphabet Path back in 2008. She has once again re-opened her shop and offering hand painted saint dolls and more. Custom orders are welcome!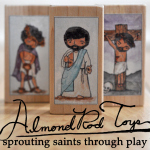 Almond Rod Toys
Remember the darling Blessing Blocks I ordered for my children for St. Nicholas day? Almond Rod Toys has re-opened with even more saints and new sets for Easter as well! These inspirational wooden blocks for kids and tots encourage prayerful play throughout the liturgical year. Play out bible scenes or befriend a saint. AlmondRod Toys are designed and made by a Catholic mother of 5 to help you raise up your own little saints. The shop periodically closes so be sure to buy gifts ahead of time while open.
"JMJ – I am Carrie, a Catholic home educating mother of 7. I have always liked holy cards and have quite a collection. A friend of mine had some lovely cards personalized for her daughter's First Holy Communion many years ago and I remember thinking how lovely and unique they were. I wanted to have the same for my own children. All these years later and with the help of some friends, it became a hobby of mine to personalize these special Keepsakes and offer them to you. If there is an image you are looking for but don't see it here in my Etsy shop, please contact me. Oftentimes I have them in-stock but haven't listed them yet. I will happily do bulk orders. Please contact me for pricing. I look forward to creating a unique, lovely, long-lasting Keepsake for your special occasion."