Every year on December 6th, the feast of St. Nicholas, our children wake up to find new slippers (or sometimes as new pair of shoes for winter) filled with treats and chocolate gold coins (last year the bags from Trader Joe's worked perfectly so I picked up seven more bags last week), along with a new Christmas picture book to add to our ever growing collection.
This year, while I was creating the labels for our Advent Book Basket, I made some little Saint Nicholas labels as well. You can download them from my Dropbox (Black Text or Green Text) if you'd like to use them too.
Here is the list of books my husband and I choose to give our children this year, in addition to Saint Nicholas & the Nine Gold Coins which is in this year's Advent Book Basket:
*"T'ank Gods" – children
I know that our all-things-Irish loving oldest son will get a kick out of this book! I found myself laughing as well. 😉
The book ends with the message:
Originally I had planned to give her Katy's Christmas Gift, until I realized we already had it under the old title of The Christmas Bird. I don't like this one as much, but it's a simple, sweet story that any little bird lovers will enjoy. Bird Bingo is a favorite game around here, so I think my little ones will especially enjoy the illustrations of all the different birds in this book.
With a forester for a daddy, I think our little Bud with love this new addition to his Little Blue Truck collection.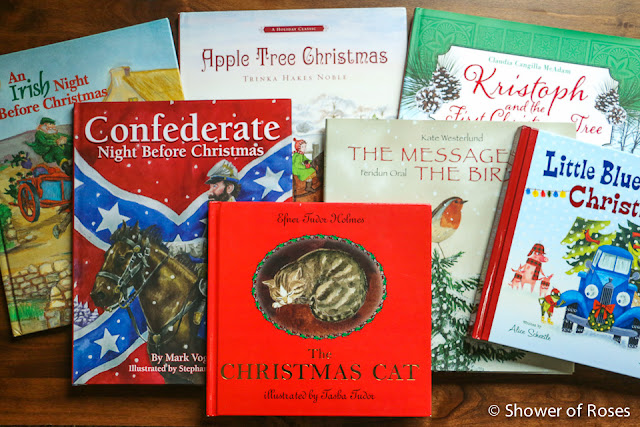 This year I have a copy of the hardcover edition of The Twelve Days of Christmas to give away to one of my visitors!
Please enter the giveaway using the Rafflecopter box below:
For additional Christmas book suggestions you can find some of our lists in the archives: