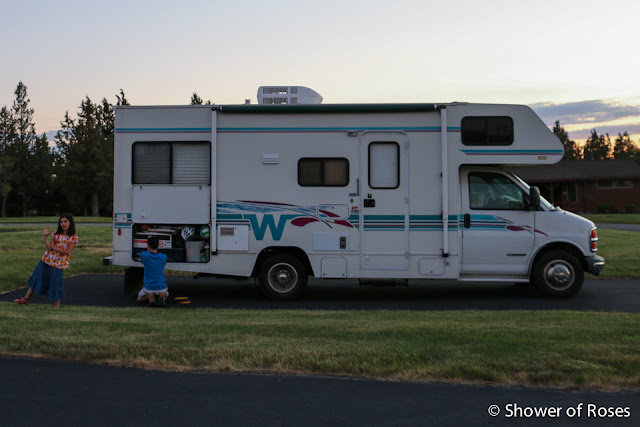 Earlier this summer I was asked if I could give a little tour of our RV and go through the logistics of where everyone sleeps. This is our first RV and we've had it for a little over a year now. Up until last month all of our trips had been just 3-4 nights long at most, and not very far from home. I was a little nervous trying to prepare for the 3 1/2 week and 3,500 mile road trip we took this past month, but everything came together and we had an amazing time! I took a few pictures as I was packing the RV, and during our trip, to share along with our packing list.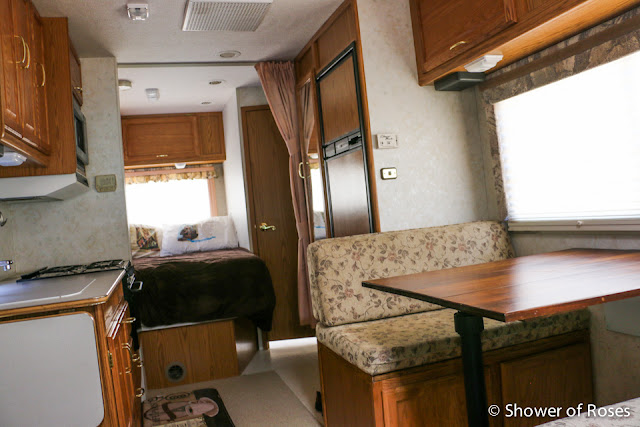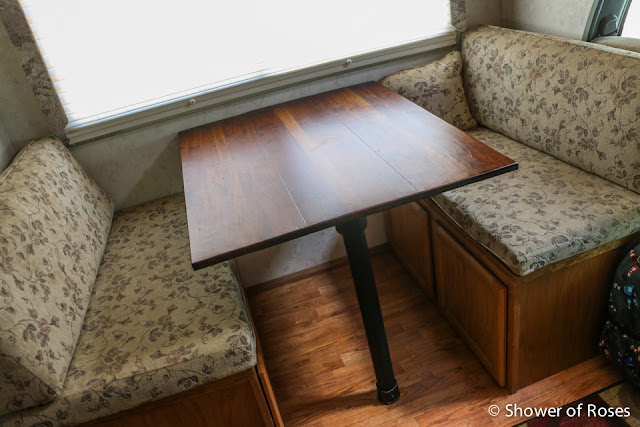 When my Dad purchased the RV (used) a few years ago, it did not have a table, just a couch under the window. My Dad took out the couch, cut it in half and then re-installed it as seats for a table. My mom was out of town at the time and she came home to find that one of the leaves to my great-grandmother's old antique table had been turned into a table for the RV… Whoops! Anyway, it looks beautiful and he set it up so that it can also be turned into a bed.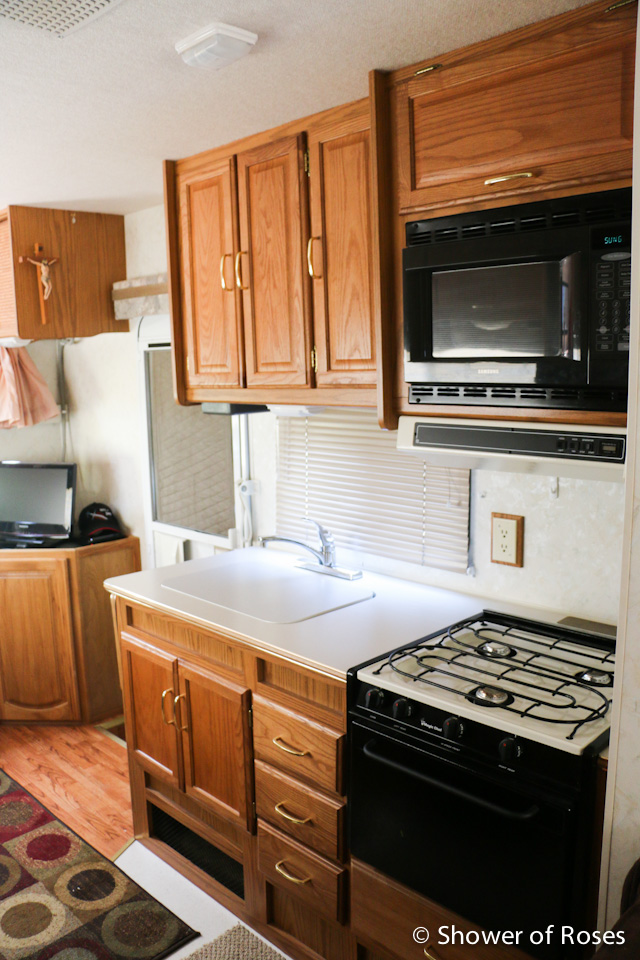 We bring along a Crucifix as well to hang in the RV when we are parked. Oh, and holy water for blessing campsites!
The RV is really small for our family and someday we would love to get a larger Class C Motorhome, maybe one with a table and a couch for extra seating and beds, but we are making this work for now and creating so many wonderful family memories!
Kitchen & Dining Essentials
Pack the cabinets in the kitchen very tightly so that when the RV is in motion, the items won't fall all over the place. Avoid glass articles if at all possible.
Paper/Plastic Cups and Black Sharpie for writing names
Styrofoam Cups
Coffee Mugs
Paper Plates, Trays, Bowls (large and small)
Napkins
Paper Towels
Plastic Utensils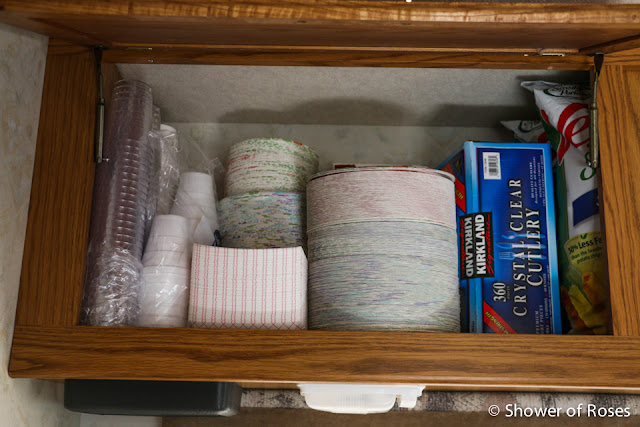 I stock up on paper goods at Costco.
Trash Bags
Ziplock Bags (snack, sandwich, gallon)
Aluminum Foil
Saran Wrap
Crock Pot Bags (if bringing crock pot)
Clorox Wipes
Counter Spray
Dish soap
Glass Spray
Hand Soap

(I love the Mrs. Meyer's Counter Spray and Hand Soap.)
Potholders
Apron
Kitchen Towels/Dishcloths/Sponges
Small Broom/Dustpan
Tablecloth (outdoor)
Placemats (indoor)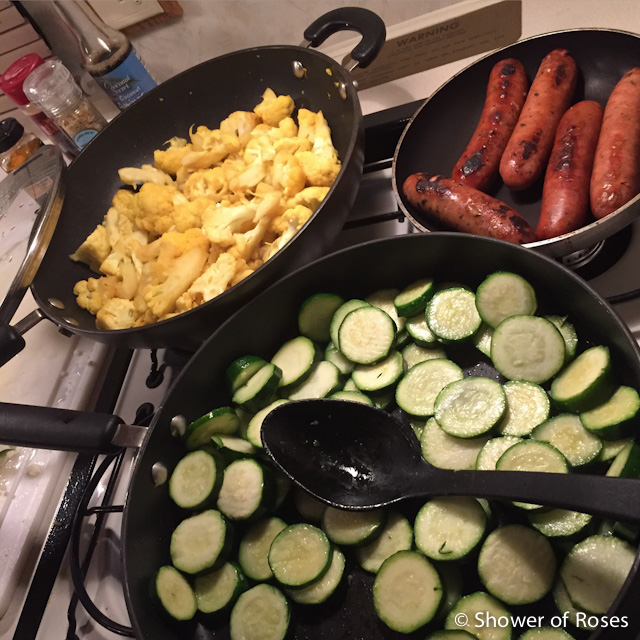 The RV stove is not quite big enough for a family of nine, or my pots and pans… Cooking in batches!
Utensils
Spatula
Cooking Spoon
Slotted Spoon
Peeler
Salad Tongs
Ice Cream Scoop
Whisk
Cheese Grater
Bag Clips
Skewers
Paring Knife
Knives
Kitchen Shears
Matches and/or lighters
Tupperware
Bottle opener
Can opener
Corkscrew
Mixing bowls and spoons
Pots – large and small
Strainer
Frying pan
Griddle
Wok
Cutting Board (large and small)
Water Bottles
Disposable Aluminum Baking Dishes
Coffee Maker (We bought a Mini Keurig for the RV and it's perfect!)
Crock Pot
Electric Kettle (This is the one we have. So nice for quickly boiling water when we have hook-ups.)
Toaster (We don't have one for the RV yet, but it would have come in handy.)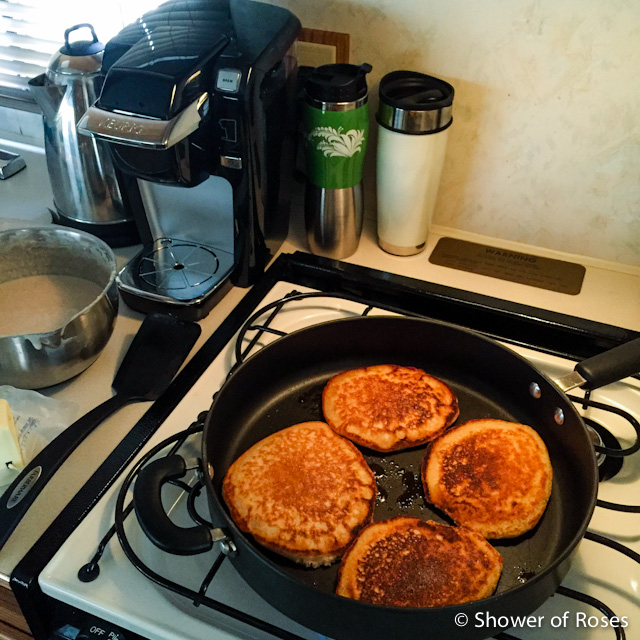 Additional Campsite Essentials:
Propane Stove (not necessary with RV stove, but definitely helpful at times with a large family!)
BBQ Grill (we also have the Go-Anywhere Charcoal Grill as another option for camping trips)
Fuel for Stove/Grill
Roasting Sticks for Marshmallows
Extra Bin for washing dishes
Lanterns
Fire Wood
Cooler
Ice
Food (separate Food Checklist)
Water Bottles/Drinks
(We always buy a couple cases of Water Bottles at Costco, in addition to some gallon sized jugs that can be refilled, and store them in the bottom of the closet.)
Bathroom/Medicine Cabinet
Soap
Shampoo and conditioner
Baby Wash
Toothbrush and toothpaste
Mouth Rinse
Flossers (and Retainers!)
Shaving Cream
Deodorant
Bath Towels
Hand towels
Washcloths
RV Toilet paper
Brushes
Combs
Hair Dryer
Curling Iron
Mom's Makeup Bag
Dad's Toiletry Bag
Kids' Toiletry Bags
Hair Accessories
Nail Clippers
Sunscreen
Insect Repellant
Allergy Medication (Zyrtec, Benadryl)
Fever Reducer (Tylenol)
Arnica
Zanfel, Tecnu, Calagel (for Poison Oak)
Emergen-C
Additional Vitamins and Meds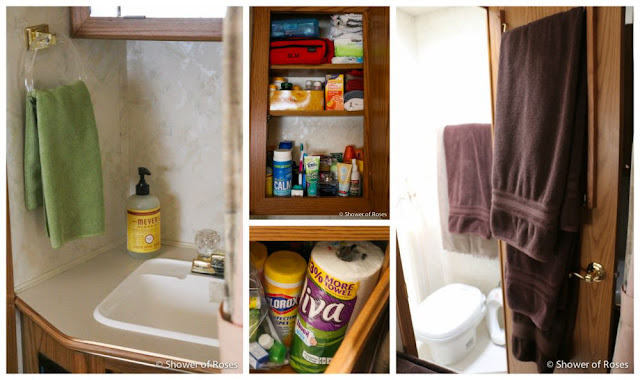 I'd love to find some nice containers to help keep things organized inside the Medicine Cabinet… We also packed along the potty chair since our 3 year old decided he was ready to potty train (or at least start) the day before we left! Thankfully we had the RV for the trip.
Sleeping
Sheets for all the beds
Pillows and pillowcases
Extra blankets and/or sleeping bags
Mat for on the floor
Tents, poles, stakes
Tent footprint (ground cover for under tent)
Extra tarp or canopy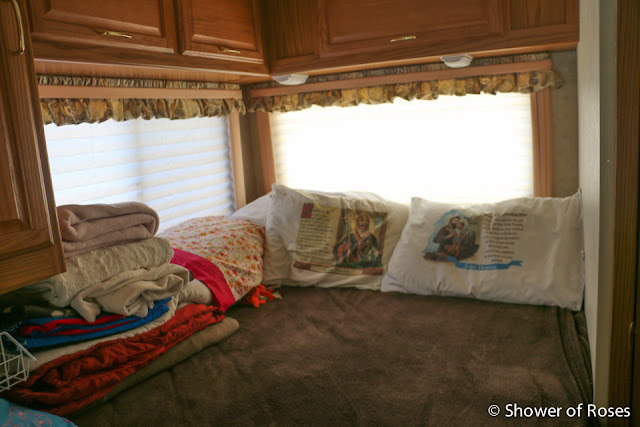 Extra blankets and pillows get piled on the bed in the back of the RV.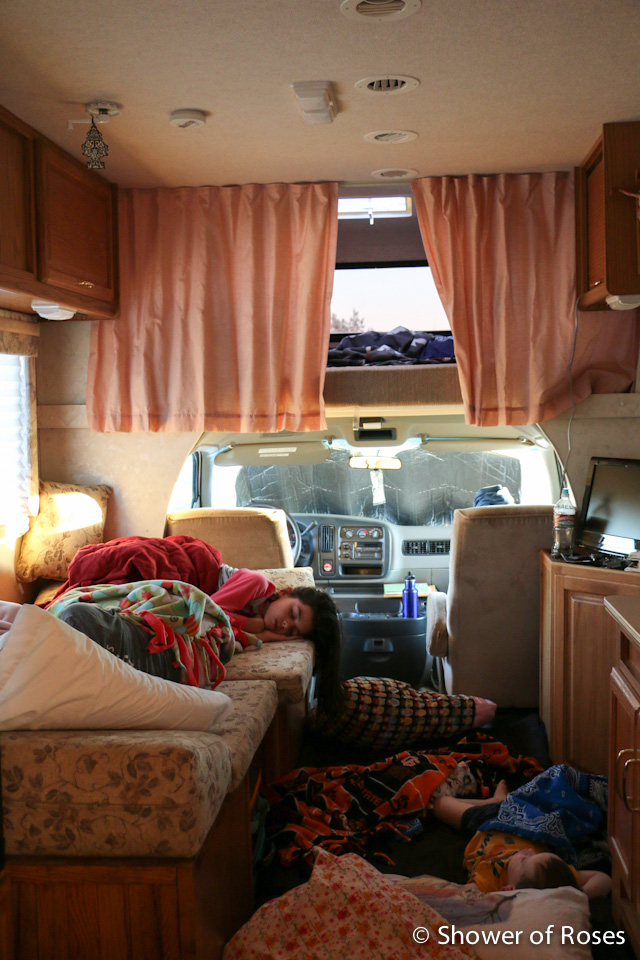 Where do we all sleep? Usually, when we are camping locally, we pitch tents for the older boys and then there is plenty of room. However, on this last trip, everyone slept inside while we were at Grand Teton and Yellowstone. Sean & I (and sometimes our 3 year old) had the bed in the back, our two teenage boys had the bunk over the cab, the three girls had the table bed, and the two youngest boys were on a mat on the floor. It doesn't leave much (any!) room for walking around. 🙂
Relaxing & Playing Outside
Lounge chairs
Books
Cards and Games
Pens and Paper
Journals
Coloring books and crayons
Sunglasses
Hat or visor
First Aid Kit
Backpacks
Bikes and Scooters (we have this bike rack)
Helmets
Frisbee
Football, Soccer Ball, Volleyball
Lawn Games
Binoculars
Fishing Poles
Beach Towels
Life Jackets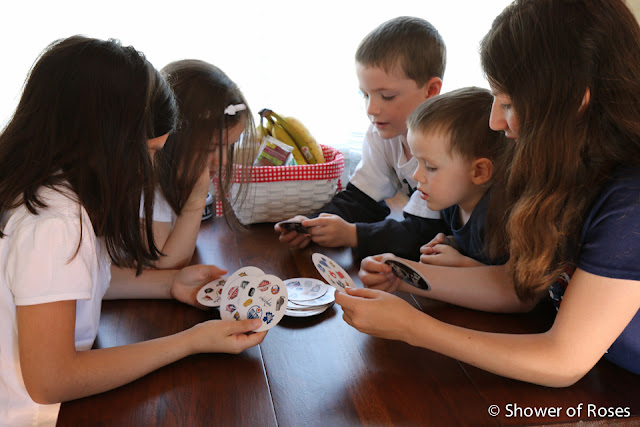 Beach towels & sleeping bags are stored in the cabinets under the table.
RV Essentials
Flashlights
Batteries
Scissors
Fire extinguisher – Rechargeable
Ropes
Shovel
Water hose
Tool kit (hammer, screwdrivers, wrenches, pliers, etc)
Road Flares
Trash and recycling cans and/or bags
Leveling blocks
Outdoor Rug
Extra Washers
Propane
Duct Tape
Gloves
Jumper cables
Tire pressure gauge
Light bulbs
Extension cord
Tarp
Oil for your RV, a gas can, rags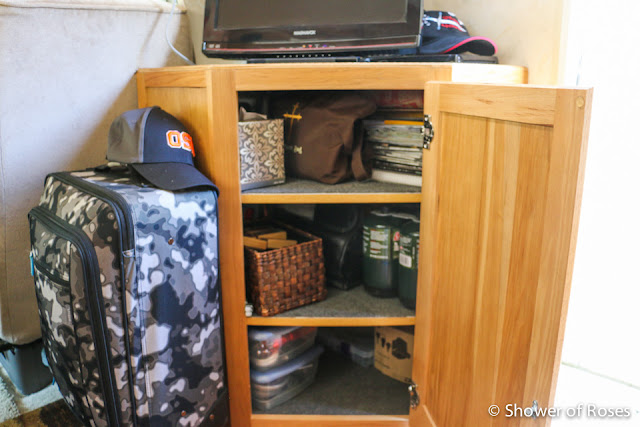 Plastic Containers are great for organizing batteries, flashlights, and other small items.
Electronics
Camera, Extra Lens, Battery Charger
Laptop, Charger, External Hard Drive
iPad, charger
iPhone, charger
Walkie Talkies
Audio Books
DVDs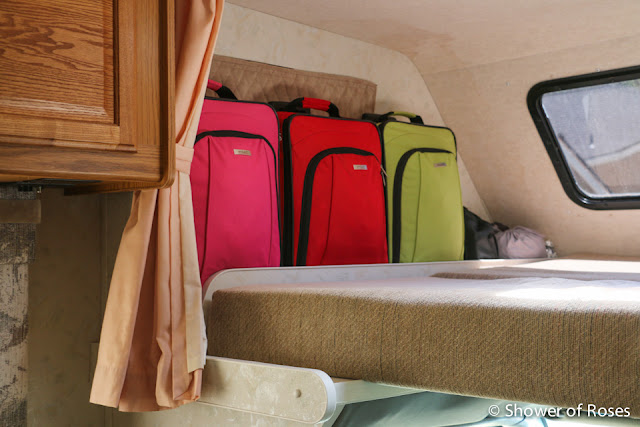 Each of our children has always had their own little suitcase. On this particular trip they used those for all their clothing, except for their Mass clothes which was hung in the RV closets. The older children also pack a backpack as well with some of their other personal items. The suitcases are stored up above the cab and in various other places in the RV.
Clothing
For this particular trip we were on the road for twenty-five days, from July 1st through July 25th. The first 10 days of our road trip were spent in National Parks and the remaining two weeks our children attended summer camps. I wasn't sure how often I would have access to laundry facilities so we packed enough clothing for 10 days. I ended up doing three loads of laundry before leaving Grand Teton (Day 6), two loads of the older boys laundry just before their summer camp began (Day 12), four loads at an RV park in Idaho in preparation for the girls camp, and then another 4 or 5 loads at the same RV park sometime after the boys camp ended. It all worked out and seemed to be just the right amount of clothes.
For the Girls:
2 Mass outfits
1 Chapel Veil
6 skirts and tops or play dresses
1 nightgown
1 pajama/sweats
1 sweatshirt
1 jacket
1 swimsuit
10 pairs of underwear
4 camisoles
4-6 pairs of socks
3 pairs shoes (Mass, sandals, hiking)
1 pair flip-flops (for camp showers)
For the Boys:
2 Mass outfits (collared dress shirts, dress pants, belt, tie)
7 bottoms (5 shorts, 2 jeans)
1 belt (older boys)
10 tops (8 short sleeve, 2 long sleeve)
2 pajamas/sweats
1 sweatshirt
1 jacket
1 swimsuit
10 pairs of underwear
8 pairs of socks
3 pairs shoes (Mass, sandals, hiking)
1 pair flip-flops (for camp showers)
Dad's Clothes/Shoes
Mom's Clothes/Shoes
Laundry Soap
Laundry Hamper and/or Basket (I didn't have this and it's on the list of things to bring next time!)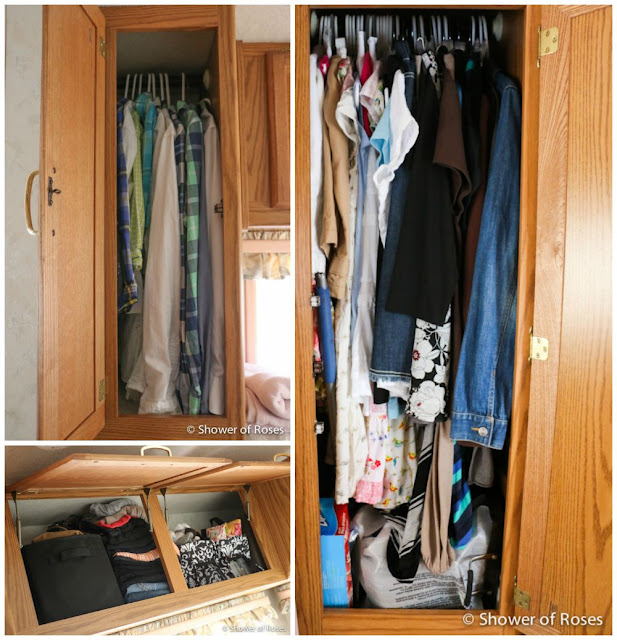 My husband and I use the cabinets above the bed in the back for our clothing and for storing some extra blankets, baby diapers, etc. This last trip we hung all the boys/men Mass clothing (and our 8 year old's First Holy Communion outfit!) in the smaller of the two closets. All of my tops and skirts, along with the girls' Mass outfits, went in the larger of the two closets along with the water bottles and other kitchen supplies.
Baby/Toddler
Diaper Bag (Diapers, Wipes, Plastic Bags, Hand Sanitizer, Extra Sunscreen)
Potty Chair
Other: Toys, Pack-n-Play, Baby Carrier, Stroller, and Sippy Cups (We only brought a few toys… My baby isn't such a baby anymore!)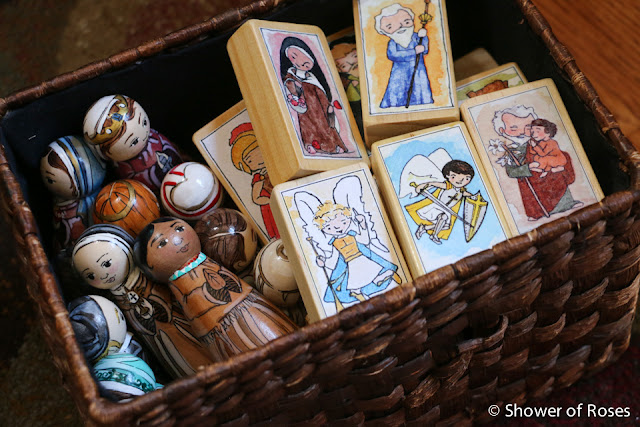 Before we leave:
Schedule someone to feed cat/check house, water plants
Stop Mail
Cancel Trash P/U
Pay bills/set up online bill pay
Turn down water heater and a/c
Lock the house
Don't Forget:
Purse/Wallet
Daily Planner, Mama's Notebook
Mass Bag – packed with veils, missals, etc
Rosaries
Maps, area information
Campsite reservation confirmation #
Campsite phone numbers
Helpful Information/Apps:
Avenza PDF Mobile Maps (PDF Maps of Parks, this is so awesome!)
GasBuddy.Com (Check for cheapest gas, download the App here)
SaniDumps.Com (RV dump locations, download the App here)