It's time for another quarterly update on my awesome sponsors here at Shower of Roses!
I have a quite a few new sponsors to introduce you to this quarter including My Catholic Faith Catechism, Shining Light Dolls (who I've mentioned many times in the past!), and some lovely Etsy shops specializing in beautiful Catholic toys, dolls, and jewelry!
De Montfort Music is back again this quarter with Christmas in Harvard Square and St. Augustine Academy Press is also back with a number of new additions to their catalog!
A huge thank you to all my returning sponsors. Be sure to check below for updates and specials from all these great businesses and keep them in mind for your Christmas gift giving!
Please welcome my new sponsors: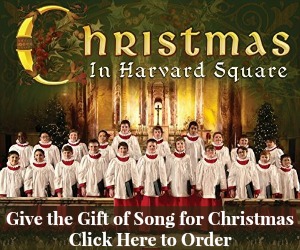 Christmas in Harvard Square: The Boys of St. Paul's Choir School
"Prepare to be captivated by the angelic sounds of The Boys of St. Paul's Choir School. A timeless collection of 19 gorgeous songs for Christmas."
I posted about this CD last year when it was first released. It is beautiful! Click here to order.
Special Offer:
Right now Amazon is offering a FREE MP3 version of the album when you place an order for the Audio CD!
"Originally written by Bishop Louis LaRavoire Morrow in 1949, the book My Catholic Faith: A Catechism in Pictures is a treasure trove of fundamental Catholic Teaching and Theology. It is now available for you to listen to for the very first time!"
My Catholic Faith Audio is currently available as an Instant Download. They are also actively pursuing ways to make it available on CD as well! Be sure to follow My Catholic Faith over at Facebook for updates.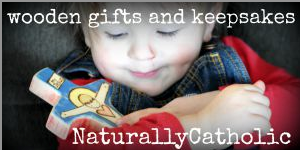 Naturally Catholic
Authentically Catholic…Naturally Beautiful
"This started out as a homeschooling project. I made some gifts for family and friends, took some pictures, and launched my shop. Then orders started pouring in!
Our whole family is involved. We all come up with the designs (usually during dinner conversations!). I do the sawing, painting, and woodburning, my brother helps sand, my sister sews the bags, my Mom is the artist, my little brother and sisters test the toys, and Dad is "quality control"!" Read more here…

I first discovered Naturally Catholic while searching for ideas for Commemorating the Canonization of Junípero Serra in September and then also shared one of my favorites over on Facebook Page. I can't wait to give the Pope and Swiss Guard Scene to our youngest next month for his birthday or Christmas. I also ordered a few more items for the upcoming feasts of St. Nicholas, St. Lucy, and Christmas. I love that each items comes with a card that says that a Divine Mercy Chaplet was prayed for the recipient of the set. The child's name and date of the prayer is included on the card.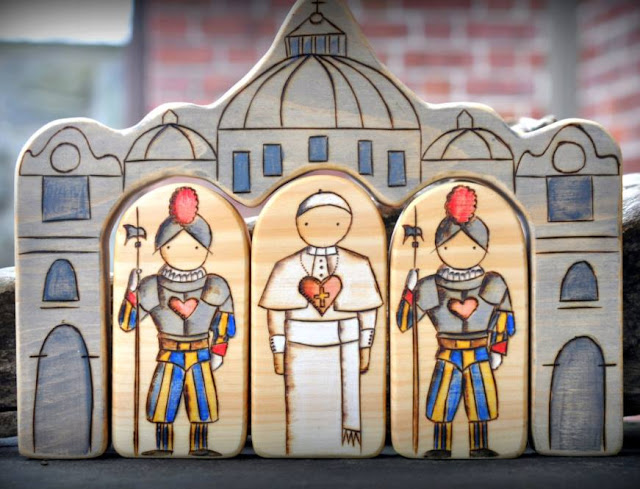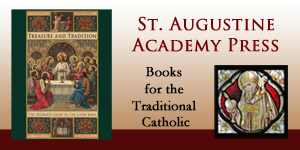 St. Augustine Academy Press
We are a small family apostolate located in the Chicago area, dedicated to finding and republishing classics of Catholic literature that are out of print and in the public domain. Our special focus is the work of Mother Mary Loyola, but we also feature the work of the well-beloved Father Lasance, of William Canton, and many others. Though we started out by offering photograhic reprints of these older books, most of our titles have now been completely retypeset.

Here are a few updates from Lisa Bergman:
–New copies of The Little Children's Prayer Book are now available! We greatly improved the black and white artwork and replaced the cover illustration (which everybody loved but was very girl-specific) with a more unisex image of Christ with a child…and gorgeous endpapers which I modeled after an early 19th-century breviary. And yet it will be much more affordable now! It will be $18.75 now and I may be able to put it on sale for Christmas too.
–I just finished the sequel to The Cave by the Beech Fork, called The Sheriff by the Beech Fork and have added it to my website. I will be rolling out an entire series of books by Father Spalding over the next couple years, which are absolutely outstanding Catholic adventure books for boys. Like Father Finn, but historical fiction/adventure.
—The Voyage of the Pax was a great tip from a homeschool mom I met this summer…it's another allegory very similar to King of the Golden City and anyone who loved that one will love this one too…especially because at heart, it's all about the life of a religious vocation…
Some of these books will definitely be ending up in my children's Stacks of Books on Christmas morning this year!
Art Angel jewelry designs are born of a love for art and faith. Owner and designer Raphael Fitzgerald holds an M.A. in Art History and specializes in vintage holy card jewelry.
Visit Art Angel Gallery at Etsy, Facebook and Instagram!
Save 10% with Coupon Code ARTANGEL10
(Coupon Code Valid though December 31, 2015)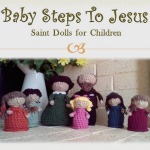 Baby Steps To Jesus
"Hi, I'm Sarah! I love crocheting, I love dolls, and I love my faith! Learning about the Saints is like reading an action/adventure/love story all in one… They truly are our heroes. I want children to learn and love the Saints as much as I do. That's why I've started this shop! I'm a full-time stay at home mommy. I fall in love with my husband more every day and our children are our greatest treasures. Crocheting is my biggest hobby and I love watching children light up when they receive one of my dolls! I've sold over 100 dolls before I even got started on Etsy. I hope you find the perfect doll for your little one while you're here! God love you!"

Sarah's dolls are darling and I plan to tuck a couple of them into my children's stockings this upcoming Christmas! You can find Baby Steps To Jesus at Etsy and over at Facebook.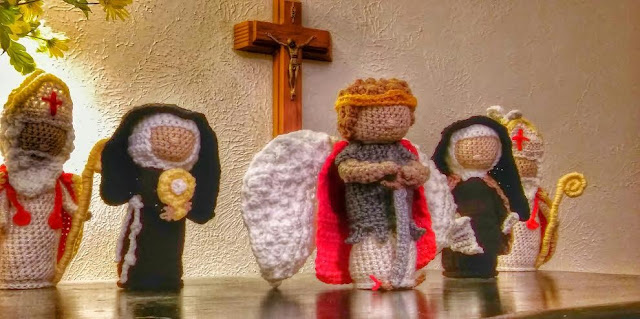 Right now you can save 10% on all dolls throughout the month of November until December 5th with coupon code: GET10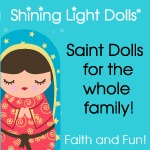 Shining Light Dolls

Saints are an amazing part of the Catholic faith; they show us what it means to live the life of Christ no matter who you are, what time in history it is, or where in the world you live. They are our role models!
Shining Light Dolls recently added four more dolls to the collection! All these dolls make excellent gifts for young children for St. Nicholas Day, Christmas, Birthdays, Baptisms, and more!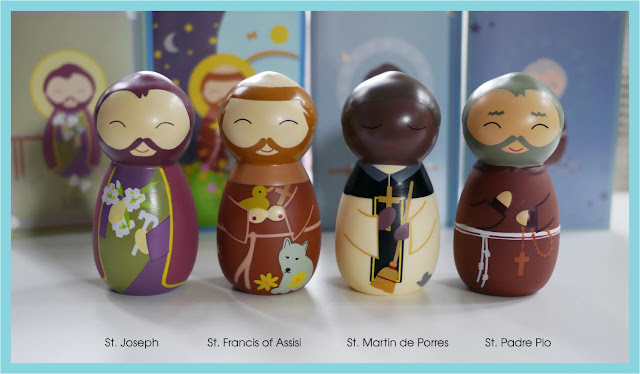 You can find the new dolls here:
A special thank you to all my returning sponsors!
Prayer Pillowcases
Prayer Pillowcases are more than just a pretty place to lay your head! They're a unique way to bring Catholic art and prayer into your home. And a practical way to share the Faith with your family and friends. Our distinctive line combines original art and favorite Catholic prayers that appeal to all ages and transform pillows from the ordinary to the divine! Honor a special occasion or make any occasion special with the gift of a joyful, lasting (and personalizable) Prayer Pillowcase. We're always working on new designs and hope you'll visit again soon to see even more ways to help your loved ones begin and each day with a prayerful heart.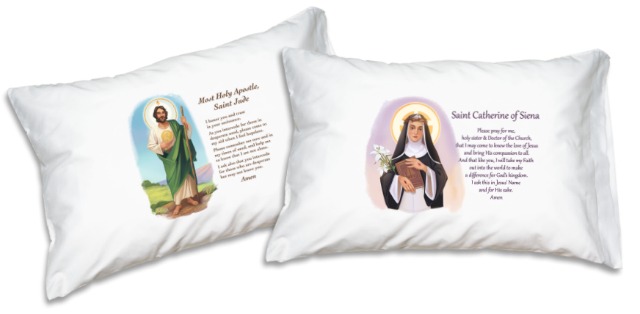 Prayer Pillowcases is now offering seven new designs including a new St. Catherine of Siena pillowcase, two styles for St. Jude, and four styles for the Holy Spirit!
Catholic Child
Last year I shared a list of my Advent & Christmas Favorites from Catholic Child. My absolute favorite is still the Infant Jesus in Manger! They also have lots of Catholic toys, Crafts, and more that would be great Christmas gifts or Stocking Stuffers.
SAVE 10% on your order with coupon code: CmasRose
(valid for the month of November 2015, one-time use)
Culture of Life Studies
Culture of Life Studies has recently released a brand new Pro-Life Coloring Book!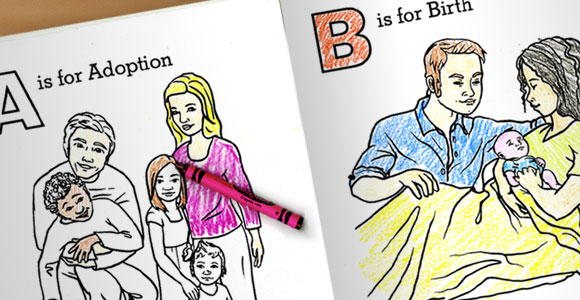 During the month of November, if you order 2 or more copies of the Miracle of Life Coloring Book, you will receive 1 additional copy absolutely FREE!
Jesse Tree Treasures
Advent is almost here so now is the time to order a set of Jesse Tree Ornaments. Jesse Tree Treasures has also created a couple lovely new products for this year, a sacrament set (similar to the Parable Pouch), and a Christmas Carol set!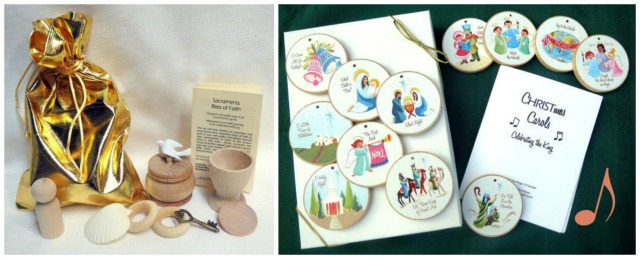 Save 10% on all Jesse Tree sets
valid through Dec. 17, 2015 with code: advent10
(Note: This code takes $4.50 off an order of $43.95 or more.)
Gail Giron Designs
Gail has recently launched a beautiful new website filled with so many gorgeous creations!
"Behold Publications, LLC is more than just a publisher! Family owned and operated since its founding in 1999, we have developed great Catholic clubs like the Little Flowers Girls' Club and Blue Knights Catholic Boys' Clubs for Catholic girls and boys ages 5 and up. What makes these clubs unique is that they are at their core faithfully Catholic. We don't "tack on" Catholic identity as other clubs might, but begin and end with a Catholic world view. We also believe that local clubs best operate the way they see fit, so there is no national organization, policies, registration or dues. Groups can easily adjust the program to fit their local needs. Behold Publications also produce a line of historical fiction based on American history and American saints for ages 7-15."
Lots of new releases over at Behold Publications, including my revised and updated Little Flowers Crafting Pages!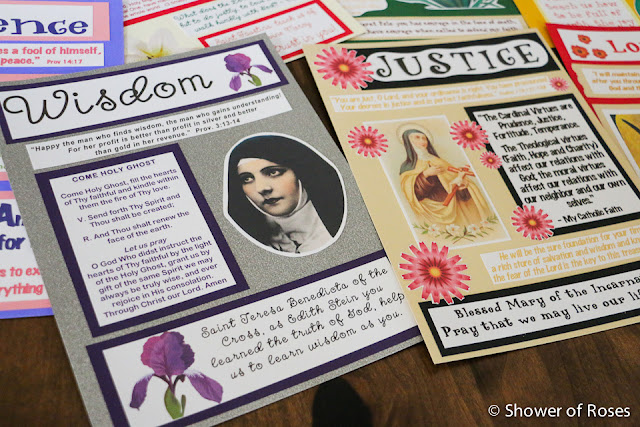 Audrey Eclectic
"A unique collection of American folk art created in the heart of the Oklahoma prairie. My inspiration comes from literary classics, spooky tales from the past, the pioneering spirit, my home town, Scandinavia and other lands far away." You can also find Audrey Eclectic on Facebook and Instagram!
Catholic Folk Toys
Visit Catholic Folk Toys for beautiful hand painted wooden saint dolls and more! Custom orders are welcome!
In addition to the hand painted wooden dolls and jewelry, Tammy is also making silver rosaries, rosary bracelets, and painting wedding and baptismal gowns. Custom paintings are available and also prints and cards of paintings. They make lovely "save the date" cards, thank you notes or invitations. Please contact for availability and details.
Regina Martyrum Productions
Lots of new additions over at Regina Martyrum Productions! I recently downloaded and listened to Blessed Margaret Castello – The Poor Outcast and all I have to do is think about her and it stops me from complaining about any of my little daily challenges. I'm really looking forward to listening to St. Jude – Apostle of the Master and the upcoming St. Catherine Laboure – Recourse to Thee.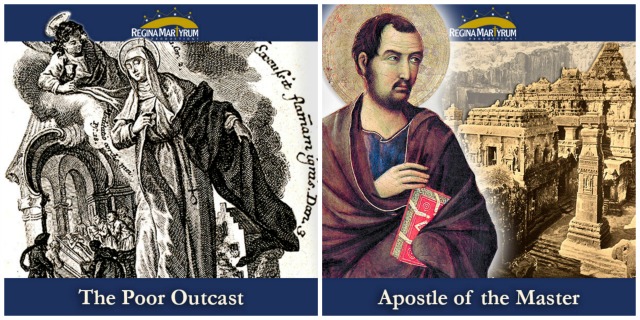 We love Tiny Saints! I first purchased some for our two oldest boys last Easter and they are the new craze in our family. All the children love them and have been attaching them to their backpacks and purses. Our oldest received a few more for his birthday, some were found in this year's Back-to-School Schultütes, and the Pope showed up while visiting the United States along with Junipero Serra and a few other heavenly friends! I have some more stashed away for the feast of St. Nicholas. Shhhh!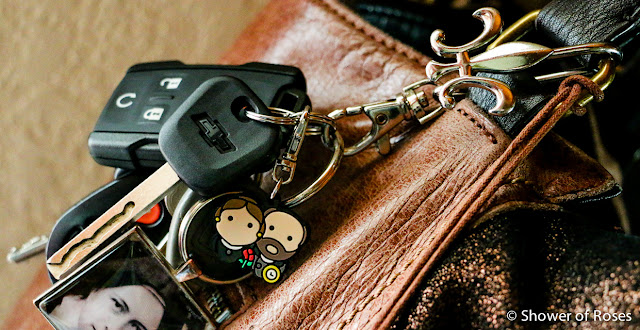 "I've got some big news… The bank finally came through… and I'm holding the keys to a brand new Chevrolet!"
I've been singing Mud On The Tires ever since driving our new Chevy home on August 20th!
We feel SO very blessed and grateful to finally (after nearly four years!) have a car that fits our WHOLE family!
And doesn't the new little Saint Zelie and Saint Martin Tiny Saints look so cute on my (not-so-tiny) key chain?!
SAVE 20% on all Tiny Saints with coupon code ROSES20
Free Shipping on Orders $10 or More!
Robin Nest Lane
Are you looking for a new veil? Robin creates such lovely veils for ladies, girls, and even dolls!

Almond Rod Toys
Almond Rod Toys makes Saint Blocks that are just the right size for little hands and can be used for imaginative play, building, stacking or collecting. The front has a print of original watercolor artwork. The back has a quote or a prayer chosen to inspire little ones and the one that cleans up behind them. The saint's name, feast day and patronage are also listed; just enough to be a reminder and an inspiration for further learning. Visit Almond Roy Toys at Etsy and follow the Facebook page!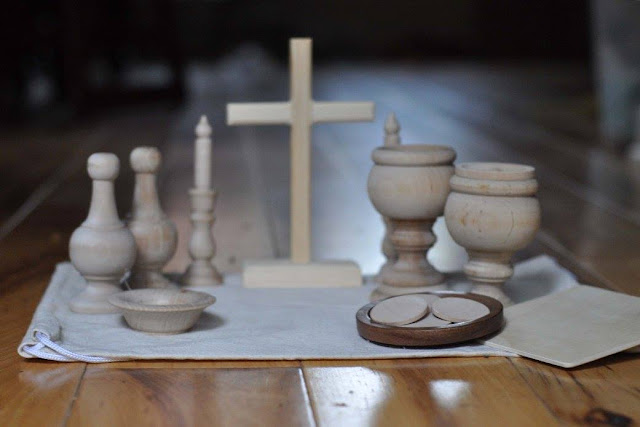 Have you seen the brand new Wooden Catholic Mass Kit from Almond Rod Toys?! I'll be receiving a review set soon and can't wait to see it in person! Up until now I've stuck with just the brass Mass sets that my older boys grew up playing with all the time, but I love wooden toys and this looks like a set I wouldn't mind adding to our collection! My children are still playing with the Saint Blessing Blocks and Nativity Set they received as gifts last Christmas!
The Little Habit
My girls love their collection of beautiful little habits, saints and accessories from The Little Habit.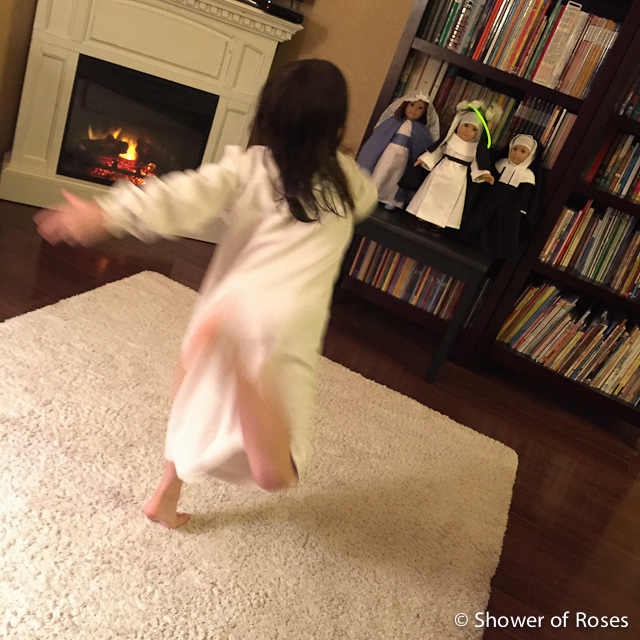 From Instagram in October: For the past few years my girls have been dressing up their dolls for the feast of All Saints and they have already started getting them ready for this year! I'm working on the games for our annual party and asked them to bring me a few of their dolls to test for this year's halo toss. It's already a hit!
The Guardian Angel Dress is once again available in limited quantities! We also have the Our Lady of Guadalupe Dress and Crown which is gorgeous and perfect for her upcoming feast.
Get FREE SHIPPING (domestic only) with NO MINIMUM PURCHASE for the next week (through November 11, 2015) with coupon code: ROSESFREESHIP2
I have shared pictures of our religious dolls and books from Jacob's Toy Box, but I've never posted a picture of one of her darling Child of God Dolls! Next month I plan to give my little Rose the Amanda Rag Doll for either her birthday or Christmas. I snuck into her room this afternoon to take a picture of it inside her little bedside doll basket. I think she is going to love it!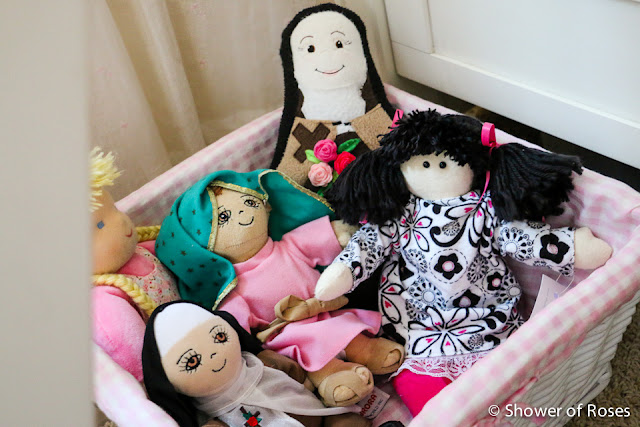 Jacob's Toy Box and Books has recently lowered their prices on all dolls – the Child of God Dolls have been reduced from $35 to $25 and the Religious Dolls from $35 to $30!
Waltzing Matilda Makes
Charlotte's Saints 'N Stitches are so sweet and cuddly. Right now there are only a couple pre-made pillow dolls available, but you can purchase Embroidery Kits (my girls love these!) or the brand new printable designs to create your own (I hear some of her boy saints will be added in the next few days).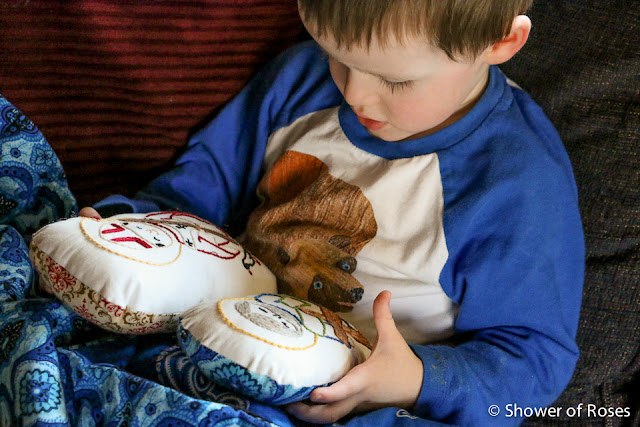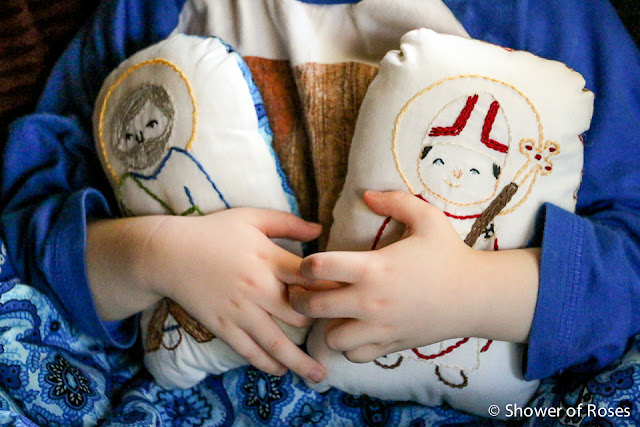 + + +
Have you ordered you Advent Candles yet?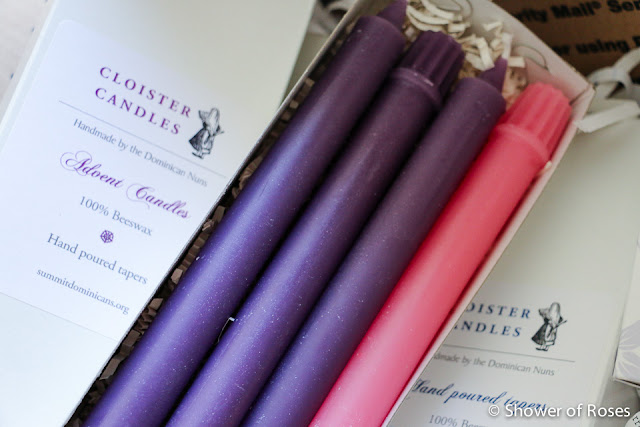 If you missed ordering a set of 100% Beeswax Advent Candles when I shared a linked to them last month, now's your chance! The Dominican Nuns just finished making more and they are available again in limited quantities over at The Cloister Shoppe!
Update: It looks like the 100% Beeswax Advent Candles might be sold out again, in just one day after sharing the link over on Facebook. Another option, if you are not able to get the beautiful candles from the nuns, might be this set of candles. I haven't seen them in person and they are more expensive than the Cloister Candles, but they are are also handmade and look like good quality. You and your children can also roll your own, though these burn really quickly.
Be sure to watch for a huge Christmas Giveaway later this month featuring items from many of my sponsors!
In the meantime, leave a comment on this post (by Sunday, November 8, 2015) and one visitor/commenter will be randomly chosen to receive a little gift from me, a Saint Louis and Saint Zelie Martin Tiny Saint. I bought two, one for my keychain and one to give away!
Update: Congratulations Jessica!
Please send me your address and I will mail you your new Tiny Saints sometime this week.

Thank you, from the bottom of my heart, to all of my sponsors and visitors for your support! May God bless you all!