I had planned to share our curriculum plans this week, but over the weekend Blogger ate the post I had slowly been working on all summer… I've started to recreate it to share with you all, but it's going to take a little while and I need to focus on getting our school year off to a good start. In the meantime, here is a little something from my drafts folder for the rest of you, who are most likely more organized than I, and like to prepare well in advance! 😉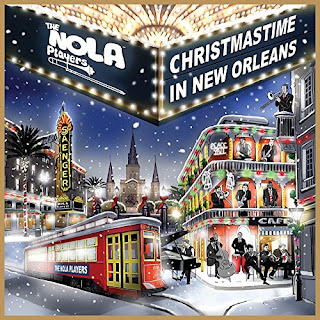 This is a sneak peek of a brand new Christmas CD from AimHigher Recordings (the same producers of Christmas In Harvard Square) which is destined to be a classic (think 'A Charlie Brown Christmas' CD). It will be accompanied by a one-hour broadcast special which will highlight the unusual culture of New Orleans, which lives out the liturgical calendar year round- from The Epiphany (King's Cake-King's Day), Mardi Gras, St. Joseph's feast, to naming their football team The Saints- the Catholicism from French, Spanish, Creole influences (to name a few), permeates the cuisine, the history, the music and yes all united under the quiet Catholicism that is the foundation of it all. This project highlights the season of Christmas with Christmastime in New Orleans. More information to come on the special & DVD- in the meantime, the compendium to this special is a CD.
Here is a brief description of the music: A big band jazz orchestra composed of 18 of New Orleans' finest jazz and classical musicians, The NOLA Players came together to honor their beloved city through this musical Christmas card, Christmastime in New Orleans. The latest offering from Verve/AimHigher Recordings and The NOLA Players' first collaboration, this gorgeous and merry recording contains 14 tracks of brand new original arrangements of Christmas favorites and is sure to be a classic for this season and many to come.
It will be released this week, on September 9th, and is available to order now!
I have three copies of the CD to giveaway this week! Enter the giveaway using the Rafflecopter box below. Giveaway has ended – Congratulations Jo, Christine and Aleesa!
(Note: While you're over there, if your children love LEGO as much as mine, you might want to order one of
this year's LEGO Advent calendars
. They usually sell out well before Advent begins!)