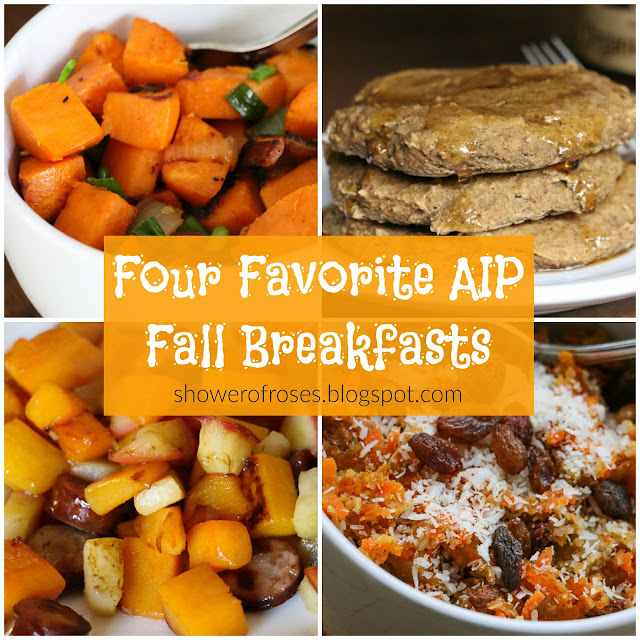 I haven't posted an update on The Autoimmune Protocol :: My Journey Towards Better Health & Weight Loss with the AIP Diet in a long time… It was a rough summer! I started seeing a new doctor last spring and let him convince me to try a couple medications… I was frustrated that I hadn't been able to add much back into my diet and my energy levels had plummeted again. Six months later, after watching my reactions to the different medications, everything from extreme nauseousness with one to a quick spike in weight with another, not to mention the medical bills from all the testing he ordered which basically just confirmed that I still have very low cortisol levels (extreme adrenal fatigue) and nearly non-existent progesterone, he took me off everything (back to just my usual supplements) to see if that would help… sigh… I won't be going back.
I've pulled out all the books I read when I first started this diet and have recommitted to improving my health on my own. I'll be honest with you, it is not easy. Some days I just want to give up and pour myself a bowl of cereal or order a pizza. It's hard not being able to go out to dinner with my husband without fighting tears as I try and find something (anything!) on the menu that I can actually eat without dealing with bad side effects for weeks afterwards. I keep praying for perseverance and am very grateful that our girls love spending time in the kitchen and surprising me every once in awhile with treats I can eat!
I have found some breakfast recipes that I absolutely love, especially this time of year. Three of these recipes are from my current favorite cookbook: The Healing Kitchen: 175+ Quick & Easy Paleo Recipes to Help You Thrive. Seriously, this cookbook has been a lifesaver. It's worth the investment if you are on the autoimmune protocol or even just the paleo diet.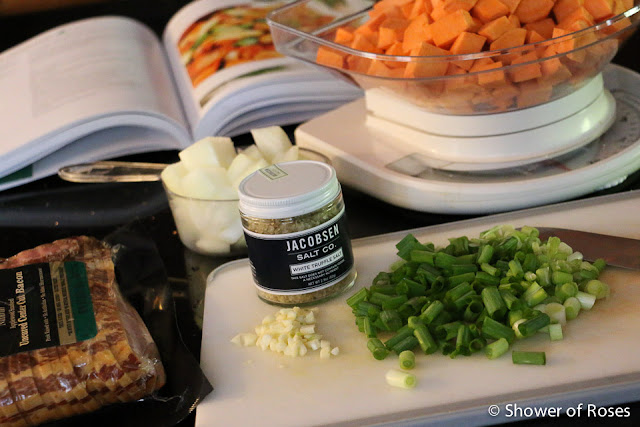 I posted the picture above over at Instagram on Sunday:
Sunrise Hash for brunch on this stormy Sunday afternoon!
#autoimmunepaleo #thehealingkitchen #whitetrufflesalt #jacobsensaltco
I've made the "Ollie's DIY Sunrise Hash" from
The Healing Kitchen
a few times now and it is sooooo good! I actually had leftovers for breakfast again this morning.
Ingredients:
8 slices bacon, chopped
1 cup chopped yellow onion
1 1/2 pounds orange sweet potatoes, peeled and chopped
3 cloves garlic, minced
1 bunch green onions, sliced
1/4 tsp fine sea salt or truffle salt
I picked up the White Truffle Salt from
Jacobsen Salt Co
. when I was up in Portland last month along with a few other flavors as well. They are all excellent!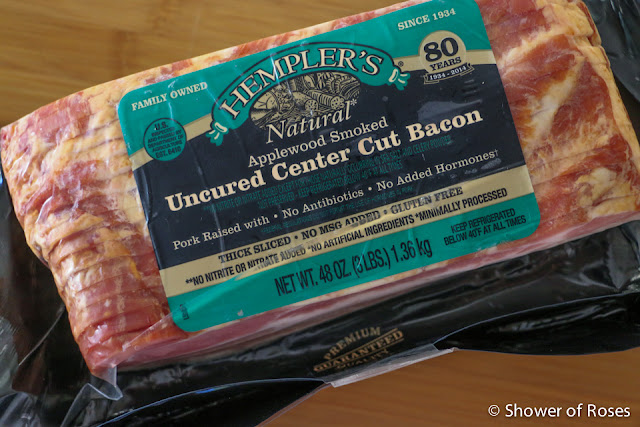 Helper's Natural Applewood Uncured Center Cut Bacon
from Costco
Ingredients: Natural Pork, Water, Sea Salt, Organic Honey, Celery Powder.
I found this AIP compliant package of bacon at Costco last year and it's been a staple in my kitchen ever since. Lately I've been mainly using it for Sunrise Hash.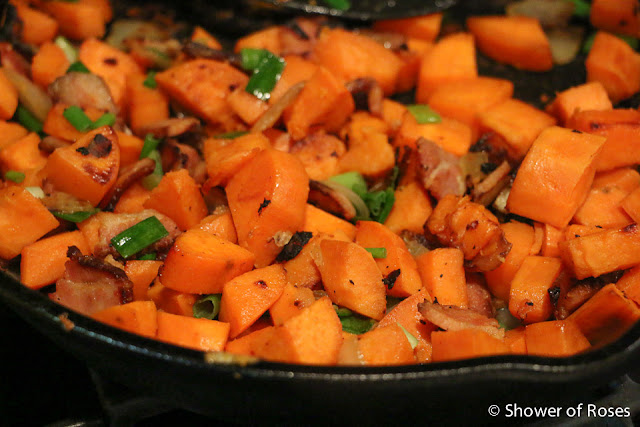 Directions:
1. In a large, deep skillet over medium heat, cook the bacon and onion until the fat has rendered and the bacon has begun to crisp up, 3 to 5 minutes
2. Add the sweet potatoes and garlic to the pan and increase the heat to medium-high. Cook without disturbing for 4 to 5 minutes, until the bottoms of the sweet potatoes are lightly browned. Toss and continue to cook in the same manner, tossing every few minutes, until the potatoes are crispy and cooked through.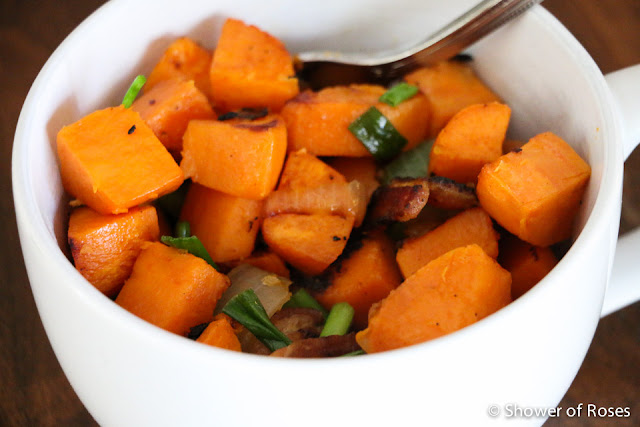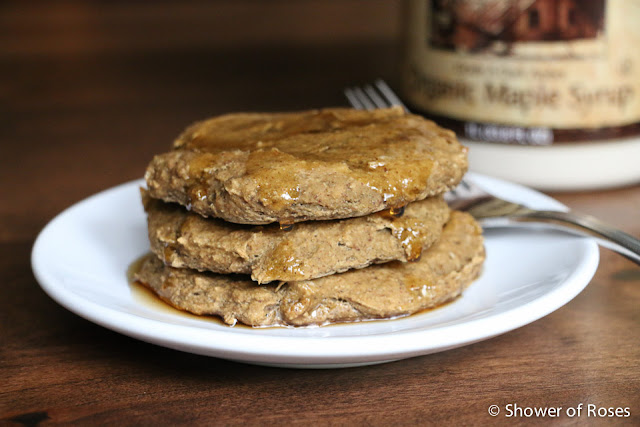 This recipe, from
The Healing Kitchen
, doesn't make very many, only seven 3-inch pancakes, and I didn't think I'd like them, but they are delicious. My little ones love them too! I usually double the batch, eat a few, save a few for the next day, and let the kids eat the rest for a little snack.
These are made with:
3 green bananas
1/4 cup coconut flour
2 tablespoons coconut oil, melted
1 tablespoon honey
1 teaspoon arrowroot starch
1 teaspoon ground cinnamon
1 teaspoon vanilla extract
3/4 teaspoon baking soda
1/2 teaspoon apple cider vinegar
1/4 teaspoon fine sea salt
maple syrup
Puree all ingredients in a blender until smooth. (Our
Vitamix
is over 10 years old and still going strong!) Line a cookie sheet with parchment paper and scoop a scant 1/4 cup of batter onto the parchment paper. Repeat seven times, leaving 2″ between each pancake. Using the back of a spoon, smooth each pancake into a 3″ circle about 1/3″ thick. Bake at 350 for 23 to 25 minutes, or until lightly browned and cooked through. Let rest for 5 minutes before serving. Drizzle with maple syrup.
— Apple and Butternut Squash with Sausage Hash —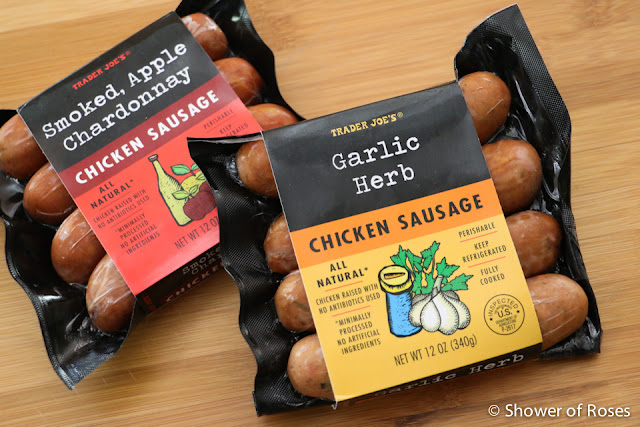 I had an email today asking about the sausages I have mentioned in the past. They are from Trader Joe's, pictured above. I didn't include these in my diet until I had been on the autoimmune protocol for over six months, but now they are staple for busy days when I don't have much time to spend in the kitchen. The Smoked Apple Chardonnay is my favorite, however the Garlic Herb is more AIP compliant…
Garlic Herb Chicken Sausage
from Trader Joe's
Ingredients: Chicken, contains less than 2% of salt, parsley, basil, roasted onions, roasted garlic, celery juice powder, marjoram, oregano, black pepper, white pepper, in a natural pork casing.
Note:
You need to be cautious with White Pepper and Black Pepper on the Autoimmune Protocol… I eliminated them completely for my first six months, but then added them back without any reactions. For more info see
Spices on the Autoimmune Protocol
from The Paleo Mom.
Smoked, Apple Chardonnay Chicken Sausage
Ingredients: Chicken, dehydrated apple, contains less than 2% of salt, roasted onion, celery juice powder, white pepper, nutmeg, thyme, ginger, chardonnay, rosemary, in a natural pork casing.
These are not 100% AIP, mainly due to the tiny bit of nutmeg. It's one of my "cheats"… These also include some chardonnay. However, according to The Paleo Mom, "Cooking with alcohol is also probably okay for most people, even if you don't tolerate an actual drink."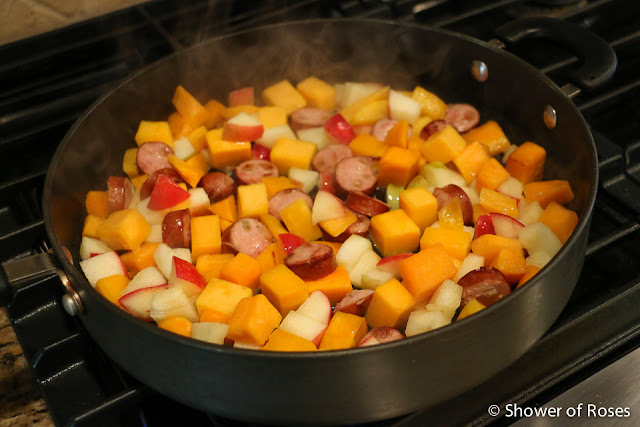 One of my favorite fall breakfasts is the Smoked, Apple Chardonnay Chicken Sausage combined with cubed butternut squash and apple (I leave the skin on and use red or green, whatever I have on hand), and then sauté it all in coconut oil. Mmmmm!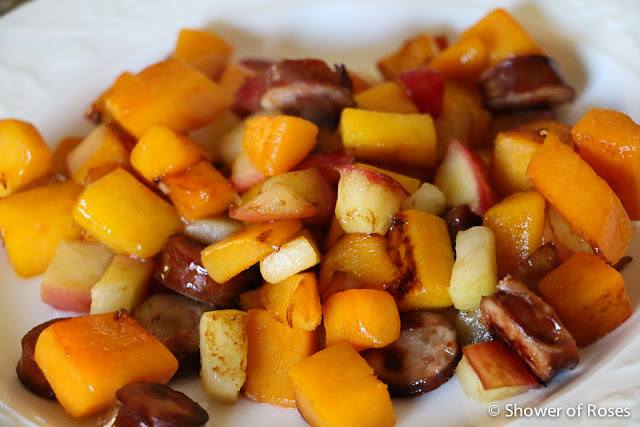 — Baked Carrot-Banana Bread N'Oatmeal
—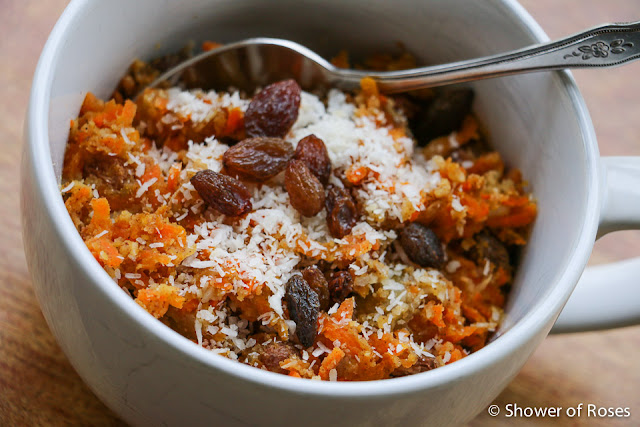 This was another recipe, from
The Healing Kitchen
, that I wasn't sure if I'd like, but it's really good and I love that I can make a batch on the weekend, divide it up into my
glass containers
, and have quick and easy breakfasts available for the rest of the week. It takes less than 10 minutes to get in the oven and smells amazing while it's baking!
Ingredients:
2 (10-ounce) bags shredded carrots (I'll usually just shred my own with
my SaladShooter
.)
1 cup mashed medium-yellow bananas (about 3 medium)
3/4 cup unsweetened shredded coconut, plus more for garnish if desired
1/2 cup raisins, plus more for garnish if desired
2 tablespoons, honey, liquid
2 teaspoons ground cinnamon
1 teaspoon fine sea salt
1/2 teaspoon baking soda
Directions:
Mix all the ingredients together until the shredded carrots are well coated everything is evenly mixed. Spoon the mixture into a 9×13″glass casserole (I use my
Pampered Chef Rectangular Baker
) and press down firmly. Cover with foil and bake at 350 degrees for 55 minutes or until the carrots are tender and the n'oatmeal is still moist. Let cool for 5 minutes before serving.
For more inspiration pick up a copy of:
You can read more about The Autoimmune Protocol here: