Happy 3rd Sunday of Lent! It's hard to believe that Lent is nearly half over… And it is already time to start filling our book basket with books for March! I have a few new additions to our family's ever growing collection to share with you today. You can also find last year's New Additions for March in the archives. Be sure to scroll to the bottom and leave a comment to enter this week's giveaway!
In addition to our Lenten devotions, I plan to begin reading the following book aloud each day beginning on the "Eve of the First Day" and continuing through the "Thirty-First Day" of March and praying the Nine Day Novena to St. Joseph and the Thirty Days' Prayer to St. Joseph, found in the back of the book, for special intentions. The section for each day is only a few pages long and includes a short reflection followed by a prayer for the day and resolutions. I haven't read it yet, but it looks excellent.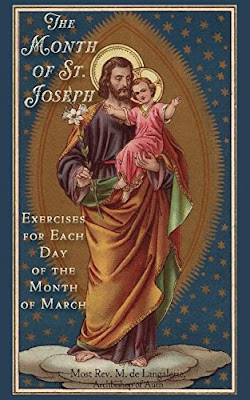 The Month of St. Joseph: Exercises for Each Day of the Month of March
(Also available directly from St. Augustine Academy Press)

St. Teresa of Avila tells us, "I took for my advocate and lord the glorious Saint Joseph and commended myself earnestly to him…he gave me greater blessings than I could ask of him. I do not remember even now that I have ever asked anything of him which he has failed to grant."

This hidden saint, the blessed foster-father of our Lord and protector of the Blessed Virgin Mary, is a powerful intercessor for us, as well as a model of perfect virtue. The bible records not a single word of his, yet we know that in the holy house at Nazareth, the young Jesus-the Word made Flesh-was subject to him. Through this series of daily meditations for the month of March, we may increase our devotion to this great saint while also making a fruitful use of the days of Lent. As patron not only of fathers and of the worker, but of the universal church, all of us-men and women, old and young-would do well to look to him in our every need.


+ + +
I am slowly working on building up our collection of books from the In the Footsteps of the Saints Series. Here are our new additions for the feasts of St. Patrick, St. Benedict, and St. Perpetua.
(Also available directly from Sacred Heart Books and Gifts)
(Also available directly from Sacred Heart Books and Gifts)
(Also available directly from Sacred Heart Books and Gifts)
+ + +
I just ordered a copy of this book so I haven't seen it in person yet, but I think it's going to be a fun addition to our collection. I plan to give it to the kids on St. Patrick's Day along with a couple other little treats. (Note: You can "Look Inside" on the Amazon page for the Kindle Edition.)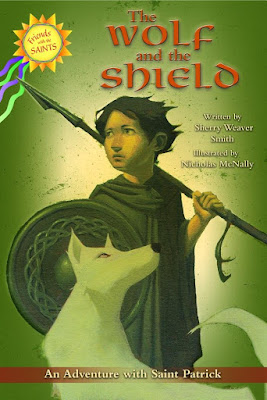 The Wolf and the Shield: An Adventure with Saint Patrick
(Published by Pauline Books and Media)
Kieran is braver and stronger than most eleven-year-old boys. And ever since his father's death, he's been doing his best to take care of his mother and little brother. In fifth-century Ireland, though, there aren't many options. When Kieran rescues a wolf pup and meets Saint Patrick, his choices become even more difficult. Should he leave home to join Carrick's warriors? Will someone discover the wolf he's been hiding and kill it? But the hardest question for Kieran to answer is the one Patrick had asked him on a moonlit night: What does your heart hunt for? Join Kieran as he cares for an orphaned wolf pup and searches for a shield strong enough to protect everything-and everyone-he loves. Filled with well-researched facts about the people, animals, and customs of fifth-century Ireland, The Wolf and the Shield is historical fiction for children ages 7-10. Exciting and fast-paced, this adventure novel explores what friendship with a saint might be like, showing Saint Patrick as approachable and understanding of the challenges of a young boy. The Wolf and the Shield: An Adventure with Saint Patrick will stimulate young imaginations to realize that the saints are holy but also human and approachable, and they are always good friends.
+ + +
There is a good chance that we will be spending St. Patrick's day on the road this year and I'm going to fill up a memory card with audio stories for the drive including Torch of Fire – St. Patrick from Regina Martyrum Productions!
This is the story of an apostle, chosen by Jesus Christ himself, who picked up the fiery torch of truth and bravely carried it into a land of utter darkness 400 years after Our Lord had risen from the dead. It was the land of Ireland and this magnificent man not only converted that whole country, but also kindled the fire so brightly that we still feel its warmth around the world today. This is a story of St. Patrick
Before I go I have a little gift to send one of my visitors for the upcoming feast of St. Patrick! Simply leave a comment on this post by next Saturday, March 6, 2016 and one commenter will be randomly chosen to receive Patrick: Brave Shepherd of the Emerald Isle (DVD) and St. Patrick (Tiny Saints). I'll announce the winner in this post and also contact them by email next Sunday.

Update: Thank you all for participating in this week's giveaway! Congratulations, Carrie!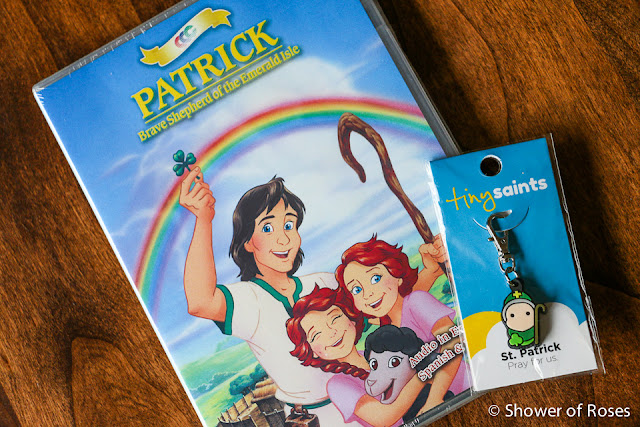 I'm still working on the list of books for this year's Easter Baskets, in addition to another basket of books to give away! In the meantime, you can find our complete list of books for the month of March here: