Happy Feast of All Saints! We just got home from Mass and I finished filling Our November Book Basket along with another basket with more fall/Thanksgiving themed picture books. Later today we'll fill out our November calendars with the names of all the departed souls we will pray for this month. (You can find the printable here: Ora Pro Nobis Candy Boxes.) Oh, and Advent is coming up at the end of this month! Have you ordered your Advent candles yet?
I have some awesome giveaways planned for the next four weekends, in preparation for Christmas next month, but first I want to share another quarterly update on all my sponsors here at Shower of Roses, along with quite a few coupon codes! Be sure to scroll to the bottom for a chance to win one of two sets of beautiful and saintly coloring books from Peanut Butter & Grace and St. Augustine Academy Press!
Please welcome my new (and returning!) sponsors: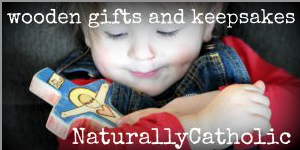 Naturally Catholic
Authentically Catholic…Naturally Beautiful
"This started out as a homeschooling project. I made some gifts for family and friends, took some pictures, and launched my shop. Then orders started pouring in!
Our whole family is involved. We all come up with the designs (usually during dinner conversations!). I do the sawing, painting, and woodburning, my brother helps sand, my sister sews the bags, my Mom is the artist, my little brother and sisters test the toys, and Dad is "quality control"!" Read more here…
+ + +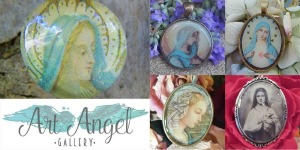 Art Angel Gallery
Art Angel jewelry designs are born of a love for art and faith. Owner and designer Raphael Fitzgerald holds an M.A. in Art History and specializes in vintage holy card jewelry.
Visit Art Angel Gallery at Etsy, Facebook and Instagram!
Right now you can save 10% off any purchase
with coupon code: SAVE10
+ + +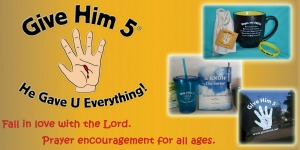 Give Him 5
"Give Him 5 Ministries is about falling in love with Jesus! Just as Jesus Christ is the center of our Catholic faith, He is also meant to be the center of our daily lives. Give Him 5 provides people with the encouragement and tools they need to ignite their prayer life and to fall deeply in love with the Lord. Give Him 5 Prayer bags make wonderful gifts."
Use the code "Roses" to receive 10% off all orders.
Larger discounts for DRE's and bulk orders are available on the website. Check out the website for free prayer audios and other items to encourage prayer.
Prayer Pillowcases
… more than just a pretty place to lay your head! They're a unique way to bring Catholic art and prayer into your home. And a practical way to share the Faith with your family and friends. Our distinctive line combines original art and favorite Catholic prayers that appeal to all ages and transform pillows from the ordinary to the divine! Honor a special occasion or make any occasion special with the gift of a joyful, lasting (and personalizable) Prayer Pillowcase. We're always working on new designs and hope you'll visit again soon to see even more ways to help your loved ones begin and each day with a prayerful heart.


+ + +
"Our goal is to help you find the finest resources to help you nurture the faith of your Catholic child and strengthen him or her for the challenges of the journey ahead. Each one of the hundreds of items you find here has been chosen by us with care, reviewed for faith and quality, and has been child and parent approved. When you buy from Catholic Child Catalog you are supporting an independently owned, personally run business that remains committed to searching out products to guide, inspire and delight the young Catholics in your life."
+ + +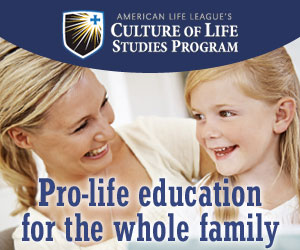 American Life League's Culture of Life Studies Program (CLSP)
We help parents and teachers weave the beauty of the pro-life message throughout all areas of study. Our program is comprehensive, easy to teach and brings the expertise of pro-life leaders from around the world right into your classroom. Covering a range of subjects that includes foreign language, religion, history, science and more, we have something to help your students embrace the dignity of all human beings from the moment of creation onward. This fall we released an engaging lesson for elementary students on the life and works of St. Teresa of Calcutta focused on her dedication to the preborn. For middle schoolers, we released a study on the beauty of the developing human person, and another on the fascinating life and pro-life contributions of Dr. Jerome Lejeune. High school students now have the opportunity to learn the truth about Margaret Sanger through our multimedia unit study uncovering the impact of her legacy on this generation and beyond. And just in time for the election, we released a lesson on pro-life citizenship which views the election process through a Catholic lens. Endorsed by Cardinal Burke, the Culture of Life Studies Program is helping parents, teachers and students build a culture of life.
+ + +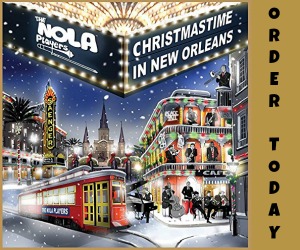 Christmastime in New Orleans

A big band jazz orchestra composed of 18 of New Orleans finest jazz and classical musicians, The NOLA Players came together to honor their beloved city through this musical Christmas card, Christmastime in New Orleans. The latest offering from AimHigher Recordings/Verve and The NOLA Players' first collaboration, this gorgeous and merry recording contains 14 tracks of brand new original arrangements of holiday favorites and is sure to be a Christmas classic for this season and many to come.
+ + +
Gail's Designs has been creating unique, elegant jewelry and cherished rosaries since 2009. Gail has been an artist for most of her life and is grateful for her faith and being able to make elegant jewelry and cherished rosaries for people of the Catholic faith.
+ + +
Behold Publications, LLC
"Behold Publications, LLC is more than just a publisher! Family owned and operated since its founding in 1999, we have developed great Catholic clubs like the Little Flowers Girls' Club and Blue Knights Catholic Boys' Clubs for Catholic girls and boys ages 5 and up. What makes these clubs unique is that they are at their core faithfully Catholic. We don't "tack on" Catholic identity as other clubs might, but begin and end with a Catholic world view. We also believe that local clubs best operate the way they see fit, so there is no national organization, policies, registration or dues. Groups can easily adjust the program to fit their local needs. Behold Publications also produce a line of historical fiction based on American history and American saints for ages 7-15."
+ + +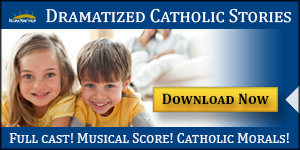 Regina Martyrum Productions
"Regina Martyrum Productions produces the finest works of Catholic audio theatre. With emphasis on the lives of the Saints, these products are edifying, and entertaining."
Be sure to subscribe for emails or follow on Facebook, Twitter, YouTube, Google+, and Instagram for sales and updates.
+ + +
"The mission of Peanut Butter & Grace is to help Catholic parents raise children who know and love Christ and his Church. We do this by providing digital and print resources that assist parents in forming their children in the faith within the daily life of their family. All of our products are made for Catholic parents—either to use themselves (think of 77 Ways to Pray with Your Kids), or to hand to their kids (think of the Illuminated Rosary prayer books). Our primary audience is "middle pew Catholics"—parents who attend Mass regularly and want to do more to integrate the faith into their family life, but don't know where to begin. They might even say, "I can't teach my children about the faith because I don't know how." These parents are probably both working to support their family, living the crazy-busy lifestyle of the typical working- and middle-class American family."
+ + +
"Shining Light Dolls is dedicated to bringing high quality religious dolls to children of all ages! At Shining Light Dolls, we believe children deserve to have beautiful toys with a contemporary aesthetic and meaningful message."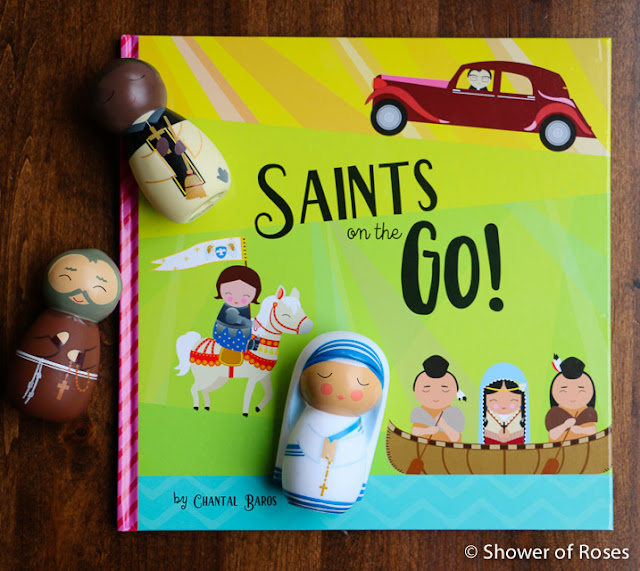 + + +
+ + +

"Our shop provides families ornaments and tools to share the traditions of the different seasons of the church year, like the Jesse Tree, O Antiphons, Advent, Lent, Easter and other aspects inspired by Jesus. We create ornaments that would help others share their faith with their children and last for years to come."
+ + +
Visit Catholic Folk Toys for beautiful hand painted wooden saint dolls and more! Custom orders are welcome! In addition to the hand painted wooden dolls and jewelry, Tammy is also making silver rosaries, rosary bracelets, and painting wedding and baptismal gowns. Custom paintings are available and also prints and cards of paintings. They make lovely "save the date" cards, thank you notes or invitations. Please contact for availability and details.


+ + +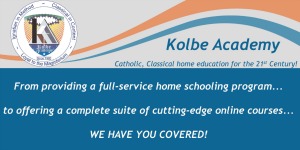 Kolbe Academy
"Kolbe Academy was founded in 1980 by three families who experienced first-hand the rapid decline of the public school system and who were looking for a wholesome, academically challenging educational environment. The founders anticipated the need to form young Catholic citizens who could effectively defend their Faith through a thorough understanding of doctrine and regular reception of the Sacraments. They also foresaw the growing need for better, more individualized and intensive instruction in basic education. Kolbe Academy Home School became an outgrowth of the day school in 1993 when parents who lived too far away to commute asked for our help with home schooling their children. Recently Kolbe Academy merged with Trinity Grammar and Prep to become Kolbe Academy/Trinity Prep, which educates students from Pre K through high school. With a focus on providing an education that is Ignatian in Method, Classical in Content and Loyal to the Magisterium in a small-class size environment or at home, Kolbe Academy continues to thrive."
+ + +
+ + +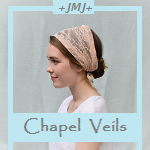 Robin Nest Lane
Robin Nest Lane has recently released a new line of convertible head coverings! This collection of modest coverings, available in an array of colors, is well suited for those seeking an inconspicuous veiling option and is perfect for those who are newer to veiling!
+ + +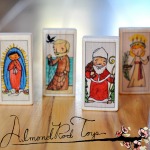 Almond Rod Toys

Almond Rod Toys makes Saint Blocks that are just the right size for little hands and can be used for imaginative play, building, stacking or collecting. The front has a print of original watercolor artwork. The back has a quote or a prayer chosen to inspire little ones and the one that cleans up behind them. The saint's name, feast day and patronage are also listed; just enough to be a reminder and an inspiration for further learning.
Visit Almond Roy Toys at Etsy and follow the Facebook page!
+ + +
"Et Corde means "open heart". I create rosaries, bracelets and necklaces using the hand wire wrap technique with beautiful antique reproduction medals. I hope that my pieces can be an heirloom that can be passed down in your family."
+ + +
So many darling little habits and accessories to choose from… Be sure to check out the new Missionaries of Charity habit. My girls love it!