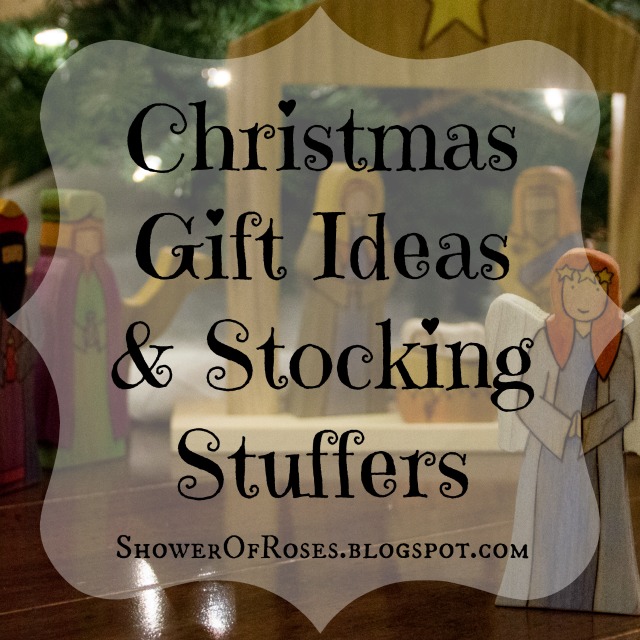 It's time for this year's list of "Christmas Gift Ideas" and another "Sleighful of Giveaways" from my amazing and generous sponsors! (You can the lists from the last two years here and here, as well as even more Catholic gift ideas listed in my past Easter posts as well: 100+ Easter Basket Stuffers & Catholic Gift Ideas and Easter Symbols: Catholic Gift Ideas.)

In last year's Christmas Gift post I shared with you all that we were expecting a surprise baby! It's been a long hard year – between Hyperemesis Gravidarum (just thinking about it makes my stomach churn… you know it's bad when your children's letters on the Eve of St. Nick say "I want you to help mommy stop throwing up… because I know how it feels to throw up!"), debilitating back issues (which I'm still struggling with but are slowly improving), and adjusting to a challenging newborn – but we somehow survived and are all so very grateful for our little "Grace!" She is as cute as can be, but doesn't like to be put down much so once again I've asked our children to help me with this year's gift guide! Like last year, I had them each list nine of their past favorite gifts for me to share with you all. You'll find each of their picks below along with other favorites for Advent and Christmas. Even with their help this post has taken pretty much every free moment for the past couple weeks to finish the post and finalize the giveaway, but I'm SO EXCITED to share it with you and send so many of my visitors here at Shower of Roses gifts this upcoming Advent!
Note: As an Amazon Associate I earn from qualifying purchases.
This Peanuts fan of ours jokingly started his list of picks by quoting Charlie Brown Christmas: "Please note the size and color of each item, and send as many as possible. If it seems too complicated, make it easy on yourself: just send money. How about tens and twenties?" – He won't be getting "cold, hard cash!" but gift cards for activities are always a great pick for teens… lift tickets for skiing, bowling, paint ball, ice skating, etc.
Favorite Sports Team Clothing (He loves the beanie his Dad picked out for him last year – similar to this one or these. He'd love this Hooded Sweatshirt, but the price would have to drop… a lot!) and/or Sports Gear (ski mask, gloves, socks — last year he got these Captain America Golf Balls)
FOOD (Beef Jerky, Coffee and Restaurant Gift Cards, Gas Gift Cards – I'm considering some Subway, Red Robin, and Cold Stone Gift Cards for this year for our teens.)
T-Shirts (He got this Coffee T-Shirt in his Back-to-School Schultute this year. He also has this Chemistry themed tee along with some great Catholic T-shirts including St. Benedict Medal, The Lord Be With You T-Shirt, and St. Patrick.) New This Year: Get Holy or Die Tryin'
The Brotherband Chronicles and Ranger's Apprentice Books (He doesn't know about the brand new release of The Caldera coming out this month… I have already pre-ordered a copy. Shhhh!)
Music CDs (Keith Harkin and Celtic Thunder are a couple favorites)
Wish List: MacBook (He'll probably just end up getting a Flash Drive… though we do need to help the boys get laptops sometime in the next year and a half… before they head to college!)
Sacred Passion of Jesus Rosary from Loreto Rosaries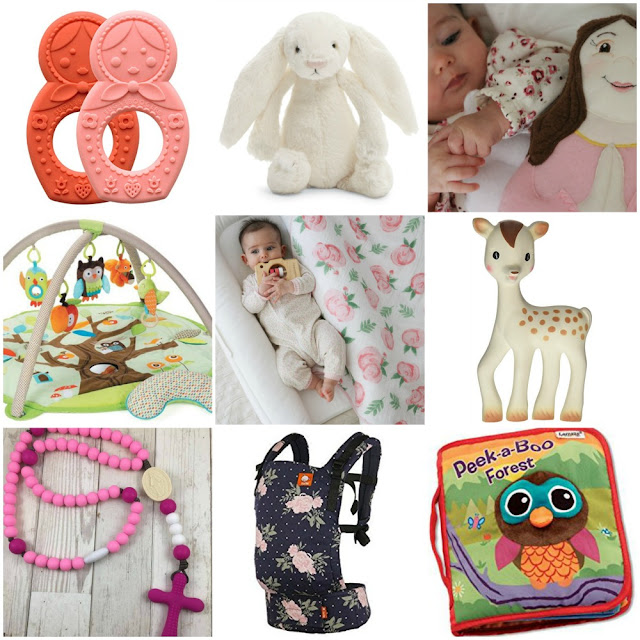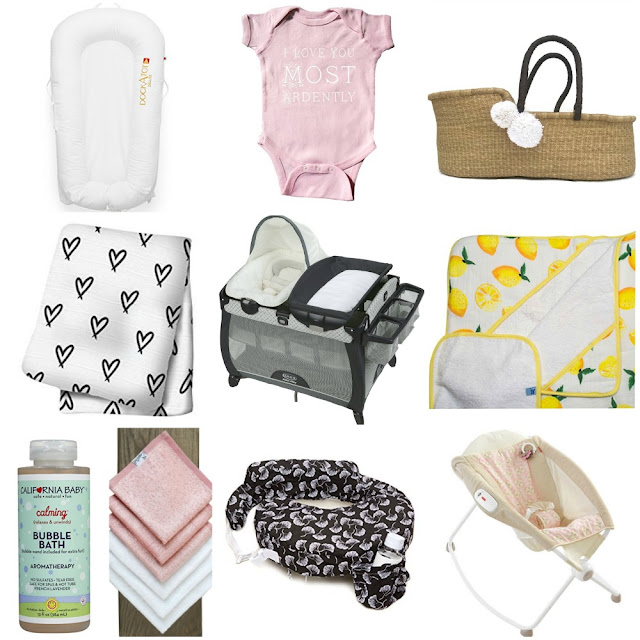 After getting rid of nearly all our baby gear, here are a few of the things that have made their way into our home since Grace was born. Wish I would have had a few of these with the last seven!
.: Scapulars, Veils, Rosaries and More :.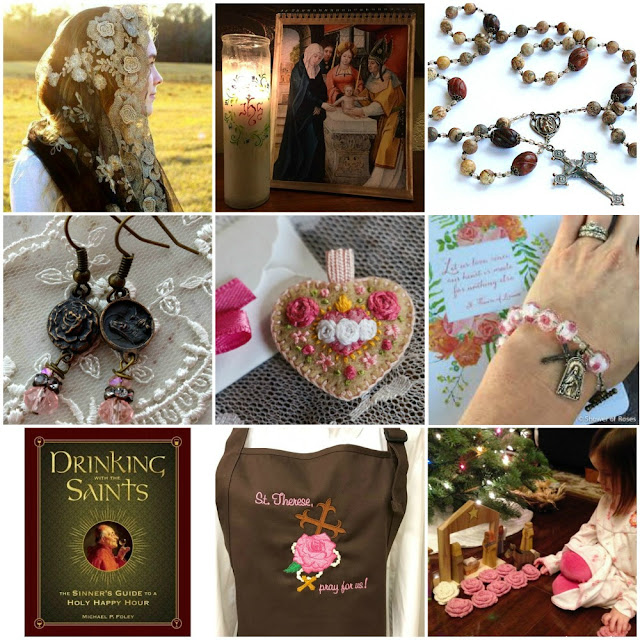 .: A Sleighful of Giveaways :.
GRAND PRIZE – Over $200.00 Retail Value!
The COMPLETE SET of the recently republished beautiful and inspiring Highway to Heaven series in the durable Hardcover Editions
sponsored by St. Augustine Academy Press
Congratulations, Angela!
"So many nice gift options all in one place"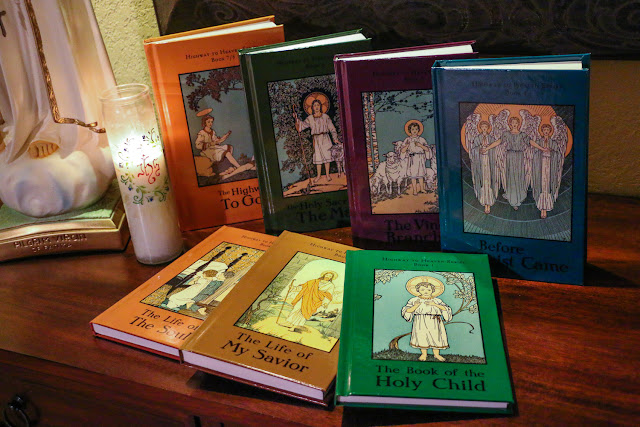 I recently purchased the whole set for our family. The winner will receive a set direct from St. Augustine Academy Press. Includes the following books:
Book 1: The Book of the Holy Child
Book 2: The Life of My Savior
Book 3: The Life of the Soul
Book 4: Before Christ Came
Book 5: The Vine and the Branches
Book 6: The Holy Sacrifice of the Mass
Book 7/8: The Highway to God
There will be one winner for each of the following 28 PRIZES from many of my generous sponsors here at Shower of Roses with a COMBINED VALUE OF OVER $2,300!!!
Prize #1 – Saints on the Go! and The Virgin Mary Around the World! A Pilgrimage of Faith PLUS a set of the TEN newest Shining Light Dolls: St. Hildegard of Bingen, St. Cecilia, St. Rose of Lima, St. Catherine of Siena, St. Kateri Tekakwitha, St. Pope John Paul II, St. Michael the Archangel, St. Raphael the Archangel, St. Gabriel the Archangel, Our Lady of Vailankanni sponsored by Shining Light Dolls (value $159.84)
20% off ALL dolls SALE coming up soon!
From Black Friday through Cyber Monday (11/24-11/27)
Mark your calendars, this sale happens only once a year! While supplies last.
Discount reflected during the checkout at Amazon.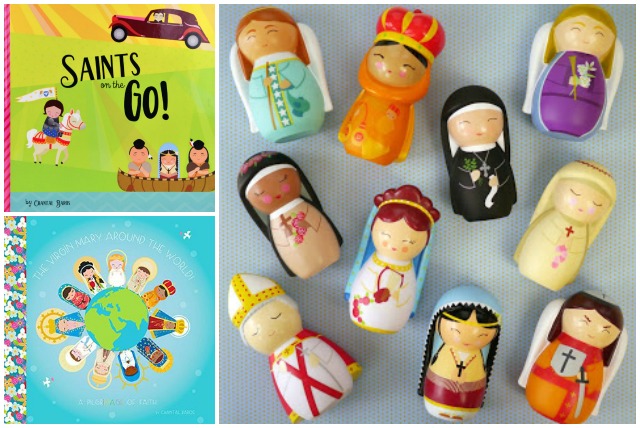 Congratulations, Marie G!
"That's almost not fair having to choose. 😉 There are SO many wonderful prizes. Your sponsors are so generous!! If I had to choose, for the kids it would be 1. Shining light dolls 2. The "I am…" Books, 3. Our Lady of Guadalupe book and bows 4. Playmobil sets 5.$50 to Regina Martyrum 6. Prayer Pillowcase and 7. The Flutter Sleeve dress. For myself, hehe, it would be 1. Choice of apron from Catholic Cuisine 2. Jesse Tree Ornaments 3. Lilla Rose 4. $50 to missal covers and 5. Prize #12. Thanks again for this great opportunity and all the time you spent print this great post together"
+ + +
Prize #2 – Family pack of American Life League's brand new pro-life t-shirt (for up to 10 people from the same family – winner chooses the sizes ranging from youth XS to adult 2XL) sponsored by Culture of Life Studies Program (value $150.00)
Shower of Roses readers can always save 20% off their entire order using the code: ROSES20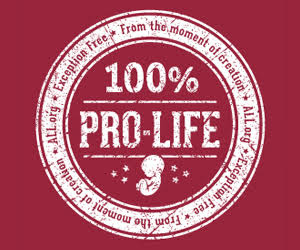 "great blog"
+ + +
Prize #3 – The Catholic Family Book of Prayers Ovenbird Bindery hand-bound edition, plus four softcover copies sponsored by Peanut Butter & Grace (value $137.00)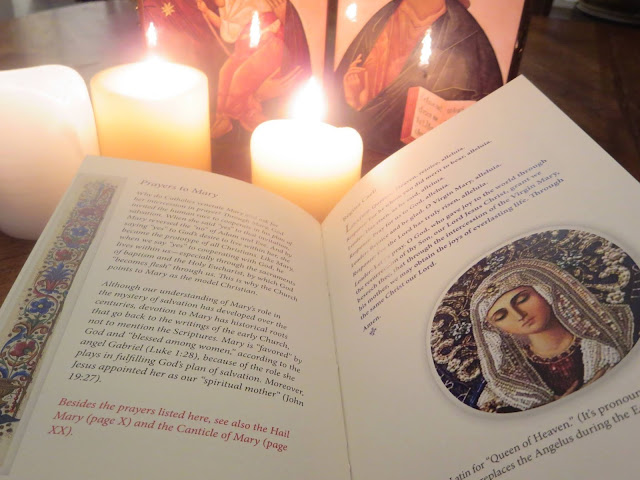 Congratulations, Natalie!
"I love your posts like this, they give me so many good ideas! My favorites are 3, 12, 16, 19 and 22!"
+ + +
Prize #4 – $50 Gift Certificate for Essential Oils or $50 credit towards an essential oils Kit, consultation to select the best oils for your needs, and a hand-crafted aromaROSARY that holds and diffuses essential oils sponsored by Lena @ JOYfilledWELLNESS.com (value $119.00)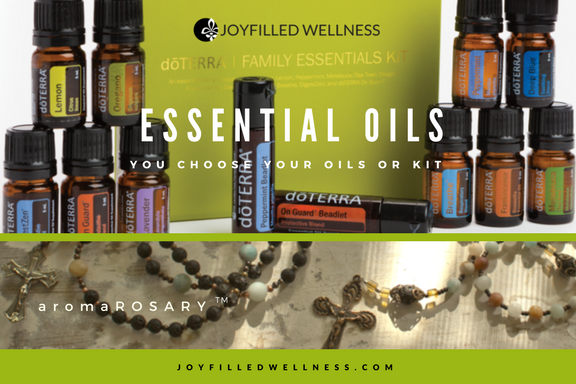 Congratulations, Christine Coots!
"I loved reading your kids' favorite gifts! I got so many wonderful ideas for my children and godchildren! 🙂 THEY ARE ALL WONDERFUL, BUT MY FAVORITES WOULD HAVE TO BE #1, 4, 13, 14, 18, 22, AND 27!"
+ + +
Prize #5 –
Swarovski pearls and Swarovski crystals in a hand wired Double Rosary Bracelet with solid bronze Crucifix and Miraculous Medal sponsored by Gail's Designs
(value $115.00)
FREE SHIPPING on all orders over $20 with coupon code: NATIVITY17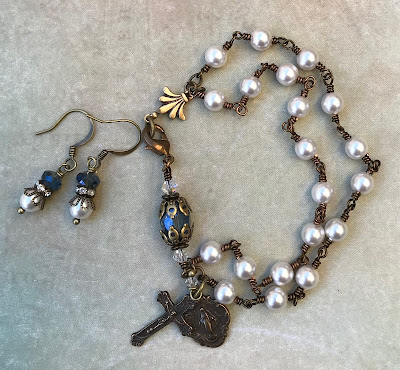 "Beautiful things! I would love any of the aprons, Gail's Designs, scapular necklace, Jesse tree ornaments, or for my nieces the Playmobile or any little girl stuff!"
+ + +
Prize #6 – Who Does He Say You Are? Women Transformed by Christ in the Gospels, Jesus of Nazareth: The Story of His Life, Mary Help of Christians, The Sword in the Tree, The Enchanted Castle, The Costly Cookie Chronicles: A Young Heart Discovers the Face of Christ, A Child's Garden of Bible Stories, Nicholas: The Boy Who Became Santa DVD and Mary Untier of Knots Silver Medal sponsored by Sacred Heart Books and Gifts
(retail value $113.80)
I'm so excited to hear that they are staying open with new owners!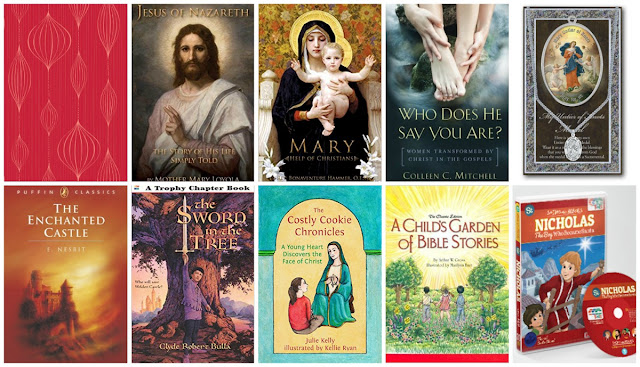 "I've not read the Highway to Heaven series, so the reissue is an exciting opportunity for my kids!"
+ + +
Prize #7 – $50 Gift Certificate for Custom Missal & Breviary Covers, Rosary/Pray Together Apron, and Catholic Cuisine Apron sponsored by MissalCovers.com (value $110.00)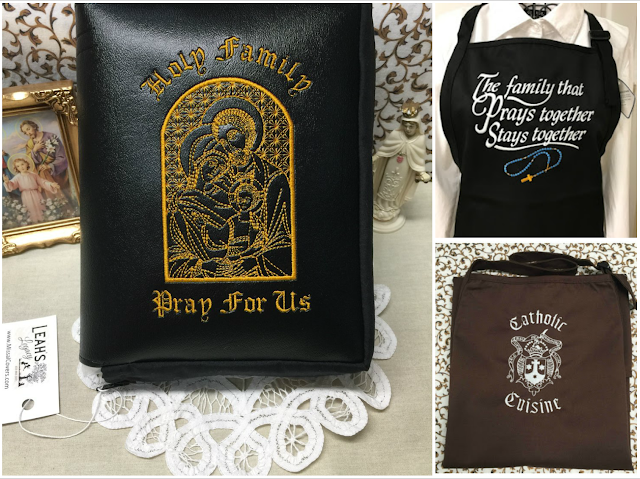 Congratulations, Monica Kinney!
"Thanks for all the great gift ideas! I'm looking into the Catholic t-shirt subscriptions! I love prizes: 7, 1, 4, 12, 18, 19, 28. So many fun choices!"
+ + +
Prize #8 – Lovely Pearls hairband with standard black elastic, Poinsettia u-pins, Poinsettia bobbies, an extra small Poinsettia flexi clip, and a medium Prancer flexi clip sponsored by Christine at Lilla Rose (value $98.00)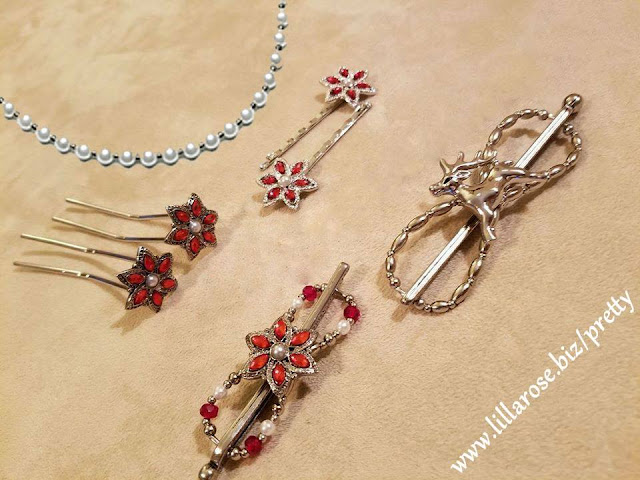 "You always have the best giveaways, Jessica! Thank you!"
+ + +
Prize #9 – Includes (1) 8×10 St. Teresa of Calcutta Print, (1) 8×10 Sacred Heart Print, (1) 8×10 St. Francis de Sales Watercolor Print, (1) St. John Paul II Phone Case – You choose your size, (1) Sheet of Be Not Afraid Temporary Tattoos written in St. John Paul II's ACTUAL handwriting, and (3) Fiat Car Magnets sponsored by Just Love Prints (value $89.00)

Enjoy 15% off when you spend $25 with code SHOWEROFROSES15.
Expires December 30, 2017
+ + +
Prize #10 – With friends & family on their minds Joseph & Leane at Prayer Pillowcases tucked 5 favorite designs inside a special Our Lady of Guadalupe tote bag for this Family Gift Pack. (value $80.00)
+ + +
Prize #11 – Includes (1) 8×10 You Are Beautiful Print, 8×10 St. Frances of Rome Print, (4) 5×7 Liturgical Year Prints, and 2018 Scripture Coloring Calendar sponsored by Someday Saints Designs (value $72.50)


+ + +
Prize #13 – Christmas Nativity Print Flutter Sleeve Dress with two additional layering pieces sponsored by Paradise Jewelry (value $65.00)
+ + +
Prize #14 – Our Lady of Guadalupe Book and Bow Gift Package sponsored by Hair Bows 4 Life (value $60.00)
+ + +
Prizes #15 – Scapular necklace and then my newest Catholic Prayers Digital Print Bundle (5 – 8×10 digital water color prints of Catholic Prayers) sponsored by Saong Jai (value $60.00)
+ + +
Prize #16 – Our Lady of Fatima The Graphic Novel, Coloring Book, 16 GB Our Lady of Fatima Flash Drive, and 8GB St. Joseph Flash Drive sponsored by The Deo Gratias Co. (value $59.96)
+ + +
+ + +
Prize #18 – Playmobil Nativity Set and Wisemen Set sponsored by Catholic Child (value $57.90)
+ + +
Prize #19 – Wooden Mass Kit sponsored by Almond Rod Toys (value $56.00)
+ + +
Prize #20 – Christmas Angel from Trendzilly (value $53.00 including s/h)
+ + +
Prize #21 – 8×10 Annunciation, 8×10 Santa Maria, and set of 4 "Our Lady" notecards sponsored by Sleightholm Folk Art (value $51.00)
+ + +
Prize #22 – 3 Month Subscription sponsored by Ani-Mail (value $50.00)
+ + +
Prize #23 and Prize #24 – $50 Gift Certificate sponsored by Regina Martyrum Productions (two winners, value $50.00 each)
"Anyone of us would be so blessed to win any of these gifts. Thank you for providing us the opportunity! God bless!!"
+ + +
Prize #25 – "I am Therese" Book, "She is Joan of Arc" Book, He is John Paul Book, and The Easiest Way to Jesus: Marian Consecration for Children Gift Pack sponsored by Dolls From Heaven (value $50.00)
+ + +
Prize #26 – Set of Three Vintage Holy Card Pendants sponsored by Art Angel Gallery (Includes: The Sacred Heart of Jesus and the Immaculate Heart of Mary, a yellow-tone Madonna and Child, and Our Lady Queen of Peace. value $50.00)
+ + +
Prize #27 – Jesse Tree Ornaments (or apply towards custom set of your choice) sponsored by Jesse Tree Treasures (value $42.95)
+ + +
Prize #28 – (1) Catholic Apron of Your Choice sponsored by my other blog Catholic Cuisine (value $29.99+s/h)
+ + +
BONUS! Each of the TWENTY-NINE winners will also receive: 2017 Advent Activity Pack sponsored by Saong Jai (value $5.00 each)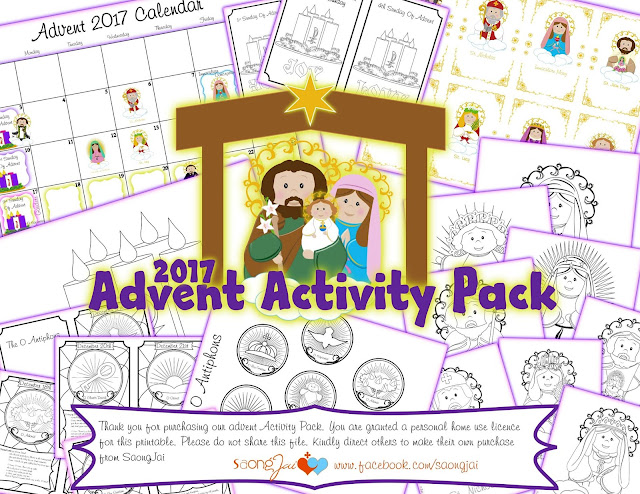 + + +
Please enter the giveaway using the Rafflecopter box below: