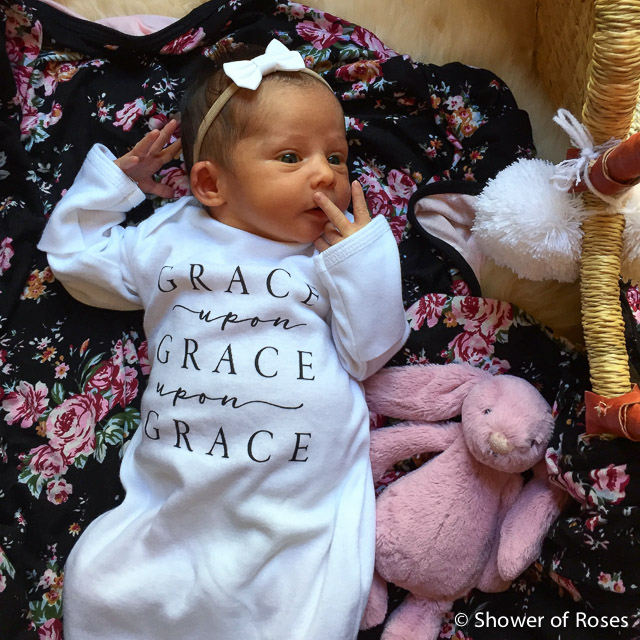 I am thankful…
We made it! Happy due date, little one! P.S. Don't let this picture fool you… It took running the vacuum cleaner to get her to calm down long enough for a few pictures of her awake! She still prefers Mama to hold her nearly 24/7. 💕
I am thinking…
We need to figure out how we are going to get this cute little baby baptized! Usually one of my husband's brothers comes out to baptize our babies in the Extraordinary Form. However, with the recent death and funeral of my father-in-law, none of them will be able to take any more time away from their parishes. I wish I was up to traveling… It looks like our best and quickest option might be one of the priests coming to town for the Sacred Liturgy Conference in a couple weeks.
Outside my window…
it is HOT! The baby and I have been spending the day inside, but the rest of the kids headed over to my brother and sister-in-law's home to swim with their cousins after going to confession this afternoon. It got up to around 107 degrees today, and will still be in the 100s tomorrow with thunderstorms too, but should drop back down on Monday.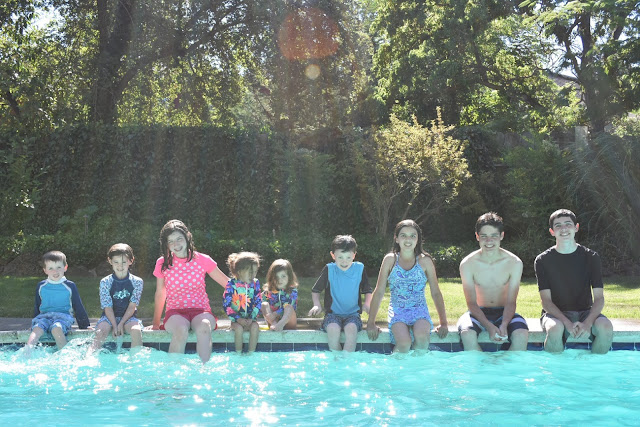 Learning all the time…
With all the pregnancy challenges, the school year didn't go quite as I originally envisioned for our youngest two students who still need a lot of one-on-one time with mom… We will pick up where we left off soon. In the meantime we've had a couple little review lessons while updating the letter board.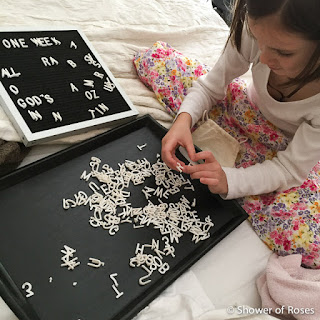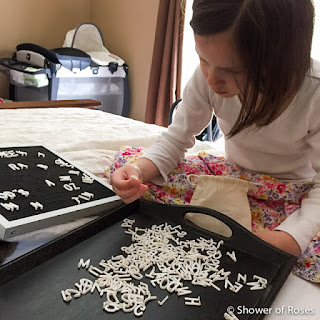 Celebrating the liturgical year…
O God, Who hast made this day worthy of honor by the birth of blessed John: grant to Thy people the grace of spiritual joys, and direct the minds of all the faithful into the way of eternal salvation.
There is so much to celebrate today! It's the solemnity of the nativity of St. John the Baptist, it's the day I was due (once again) to deliver a sweet baby (so glad she is already safely here in my arms), and it's also the birthday of one of my dearest friends. Happy birthday, Charlotte! I haven't been able to get down to the post office to mail your gift, but here is a little peek! Wish I could deliver it in person, but it will be on its way soon.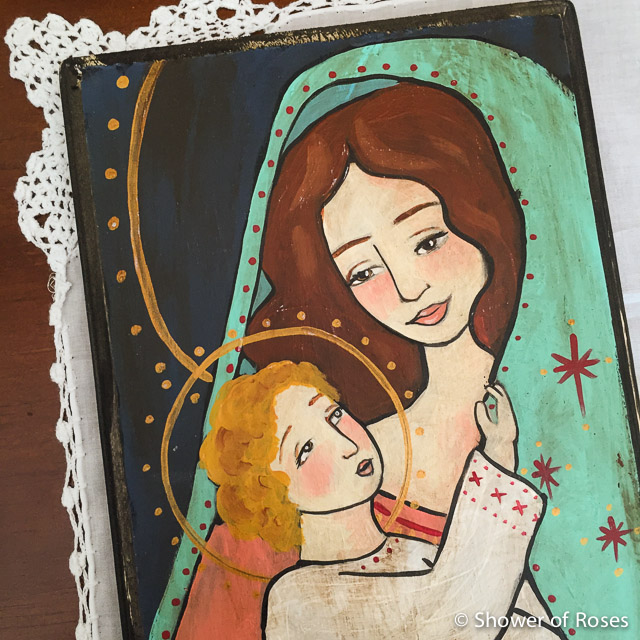 From the kitchen…
With help from the older girls, I was somehow able to pull together a baseball themed party, including (a very simple) dinner for twenty-five, this past Wednesday as we celebrated a 10th birthday. I didn't plan to have that many people over, it just sort of happened at the last minute, but the birthday boy had a ball. I'm hoping to have a chance to share the pictures soon! #whatnottodo #twoweekspostpartum
I am working…
We had a really great day last Tuesday and we even managed to get down to the office to catch up on some billing and other paperwork… It had me thinking (for half a day) that I might be able to keep up with everything after all! She didn't stay in her car seat for long, but was content while being worn in the Moby wrap while I worked. She made up for it that night though and I was a mess when I saw the pediatrician the next morning for her two week check-up. He was happy to see her weight climbing back up (6 lbs 8 oz) but concerned about me as I sat there in tears. He wanted to know if I needed him to intervene and make sure I'm getting the rest I need to recover, especially with all the stress from this past month. Who should he talk to? Umm… That would be me. I'm the one who always seems to set unrealistic goals and expectations for myself, including the birthday party later that day! This upcoming week I'll be working from home again resting as much as possible.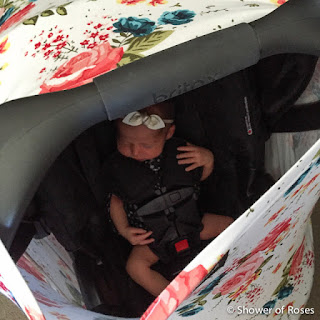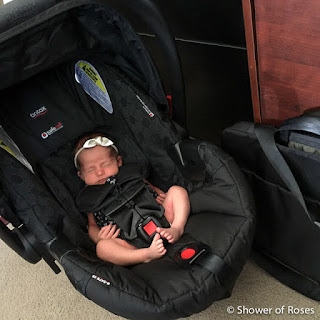 I am creating…
thank you notes for all the thoughtful and generous gifts our baby girl has been given.
I am going…
to buy a baby bath soon. In the meantime she is still so tiny that she fits in our little bathroom sink!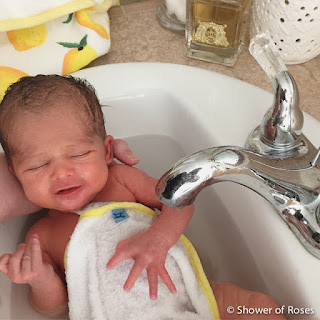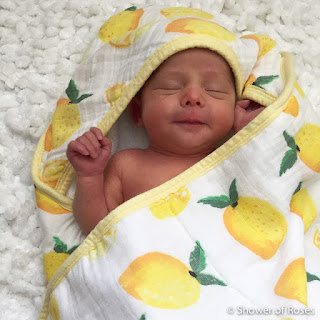 I am hoping…
Facebook and Instagram keep blocking all the links to my blog posts, deleting any posts or pictures that include the url, whether they were posted by me or shared by someone else… I spent some time updating the blog settings and making a few changes, hoping that would solve the problem. We'll see!
I am praying…
for the soul of my dear father-in-law. Maybe it is because I wasn't able to go to his funeral, but it just doesn't seem real to me that he is gone… He will be missed so very much!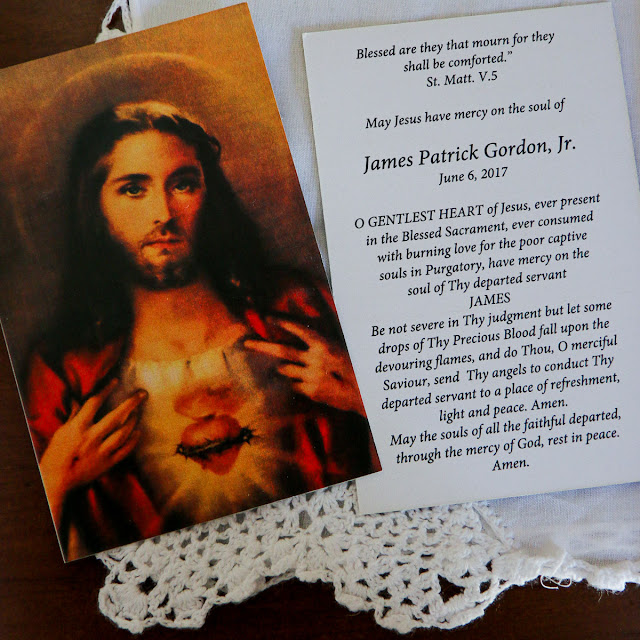 Pondering these words…
from St. Rose of Lima:
"If only mortals would learn how great it is to possess divine grace, how beautiful, how noble, how precious. How many riches it hides within itself, how many joys and delights! No one would complain about his cross or about troubles that may happen to him, if he would come to know the scales on which they are weighed when they are distributed to men."
I am listening…
to My Kind of Girl from Michael Buble's Nobody But Me CD. Our oldest son sent me the link to the song after I sent him a couple pictures of his brand new baby sister while they were down in Arizona.
Baby I'm hooked After just one look
Around the house…
A NEW BABY! My husband and I are still kind of in shock that we have another little one. It was such a hard pregnancy and recovery is going to take a little while, but we are so grateful for this unexpected blessing. We truly thought our 5 year old would be our last, especially after miscarrying again 3 years ago, but God had this beautiful little surprise in store for us!
One of my favorite things…
I had a moses basket with our last two babies that I loved and used all the time so I knew I really wanted another one for this baby. This basket from Plum+Sparrow was a splurge for sure, but my husband let me order it for Mother's Day and I love it! We also ordered a sheepskin baby blanket to line the inside. It fits perfectly and looks so cozy!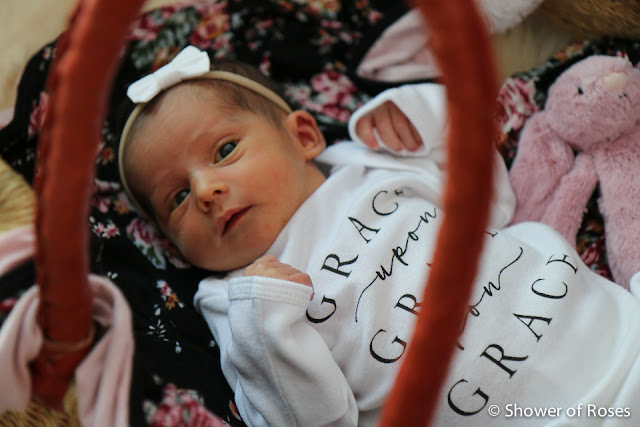 This week's plans…
The baby and I will continue spending as much time as possible at home recovering and enjoying this special time together. The rest of the kids will be volunteering (older kids) and attending (younger kids) another week of golf camp!
A little peek at my day…