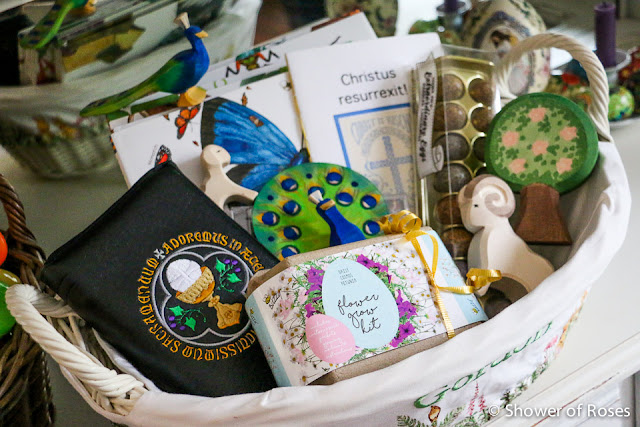 I always look forward to filling our children's Easter baskets each year with books and gifts that incorporate our beautiful Catholic faith! I also love incorporating the various Easter Symbols and filling a basket with various gifts for the whole family to enjoy. You can read more about the various Easter Symbols here and find many gift ideas here. Easter Sunday has already passed this year, but perhaps this post will give you some gift ideas for upcoming sacraments, birthdays, or even next Easter!
.: This Year's Easter Symbols Basket for the Family :.
Cross: Wooden Apple Tree
Lamb: Wooden Ram and Lamb
Lily:
A Seed is Sleepy
and Flower Grow Kit (a prize I won at a recent baby shower)
Peacock: Wooden Peacocks
I didn't put much thought or planning into this basket ahead of time this year but it still managed to come together. Some of the gifts were a bit of a stretch (for example the wooden tree for "cross"), but it was a fun little scavenger hunt for the children to figure out which gift(s) represented which symbol!
All of the wooden animals and figures came from The Wooden Wagon. Like all hand carved wooden toys, they aren't cheap, but I did get a discount on them using a promo code they sent out in January. We started our children's collection last year on their birthdays and Christmas and look forward to adding to it little by little over time. Our five year old plays with all of his wooden animals on a daily basis. Wish I would have started collecting these years ago to go along with the rest of our wooden blocks and saint dolls!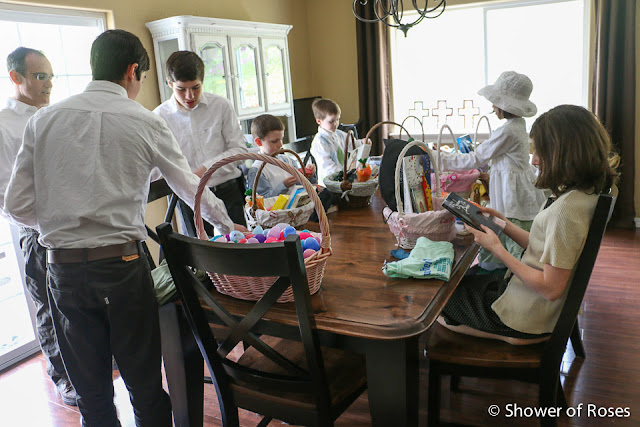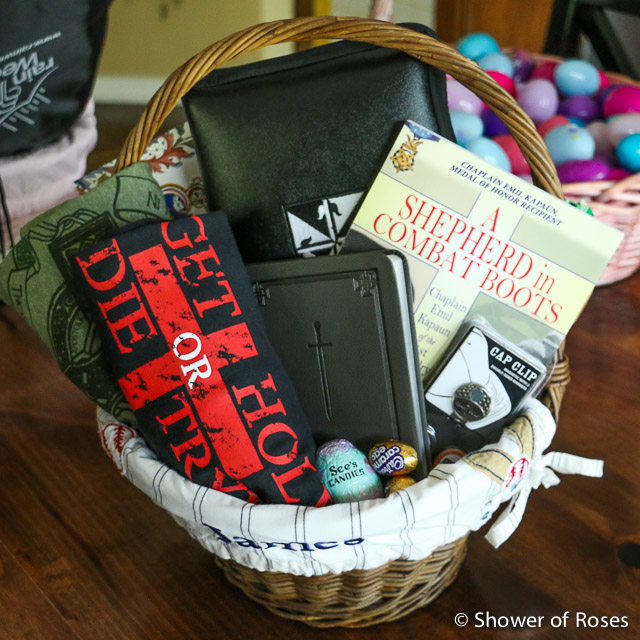 This year, in addition to their books, all of our older children were excited to receive Catholic and/or Pro-Life T-shirts which we had ordered from a couple different online websites along with new missal or bible covers from MissalCovers.com purchased with that credit I mentioned in yesterday's post. I don't think a day has passed when I haven't seen at least one of the t-shirts on one of our children. The older boys had gotten a couple Catholic T-shirts last year as well, along with some fun t-shirts for Christmas, so I knew they'd love them. They are also really enjoying their subscription to the Catholic T-Shirt Club!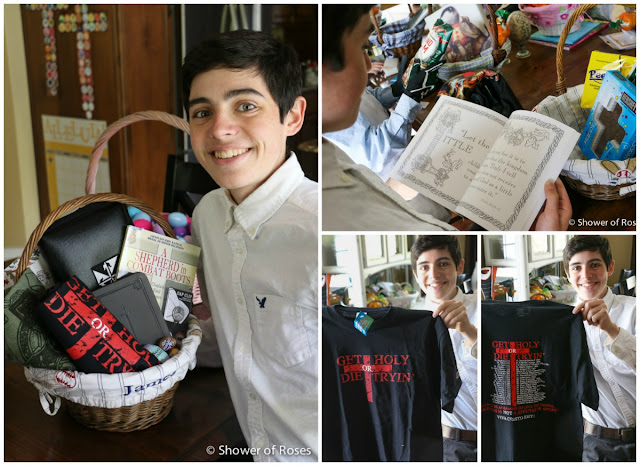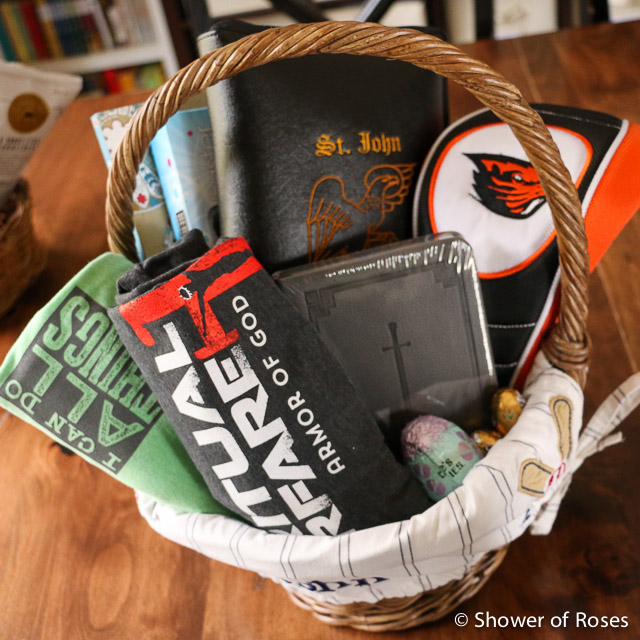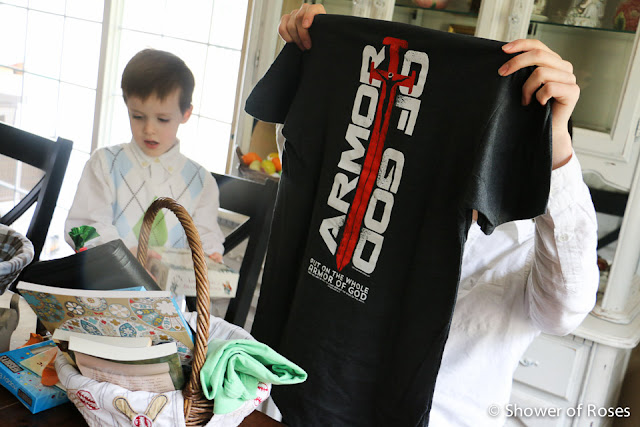 .: Twinkle Toes – Age 13 :.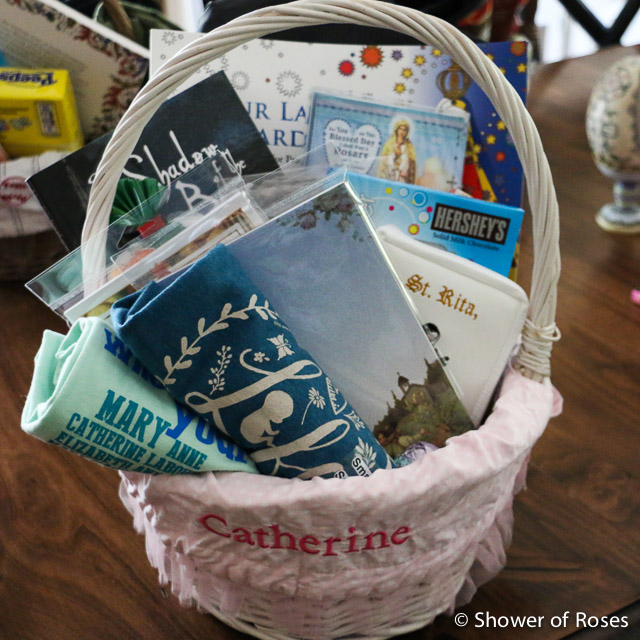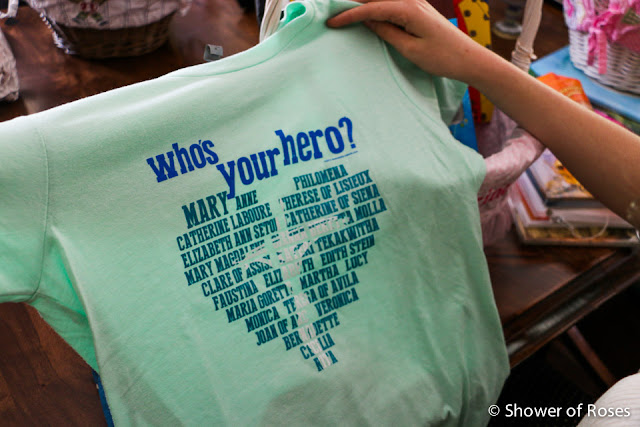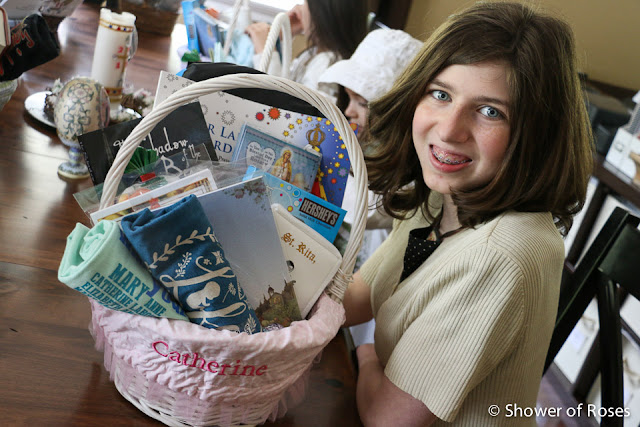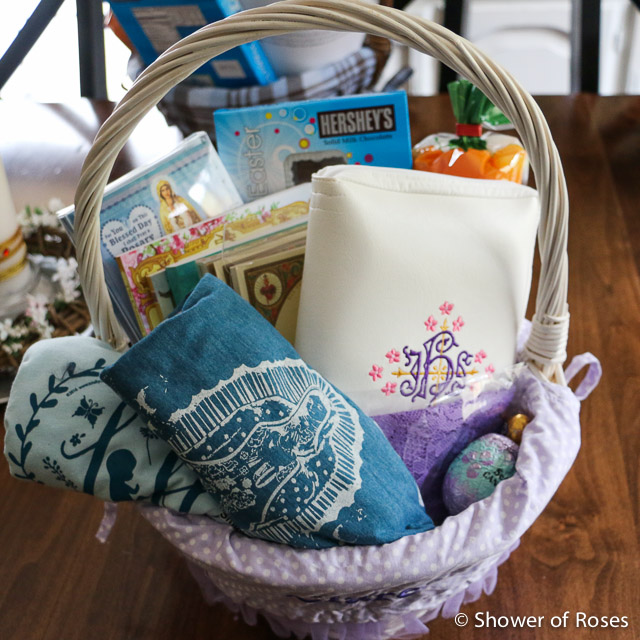 Note: She loved all four of her books and had read them by the end of the week following Easter Sunday… Her comment after reading 32 Days: A Story of Faith and Courage? "It was SOOOOO good, but I wept BUCKETS!" ❤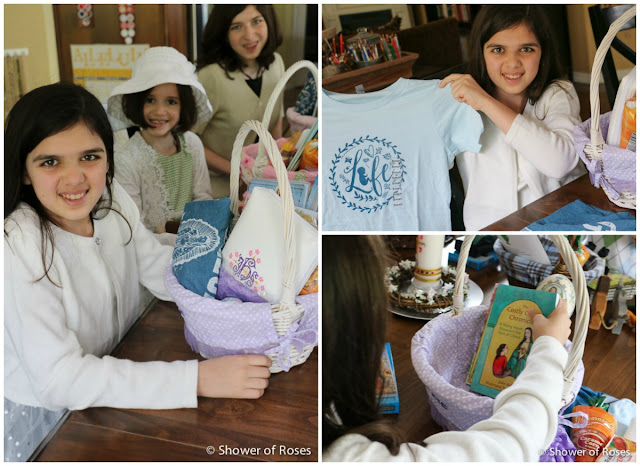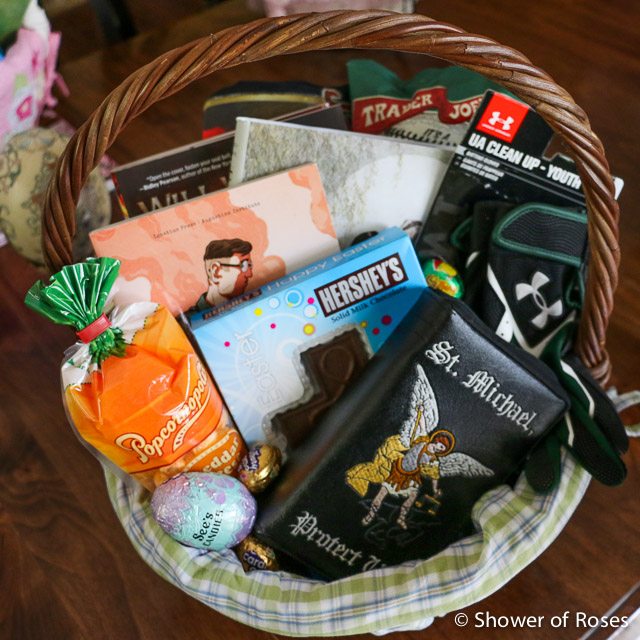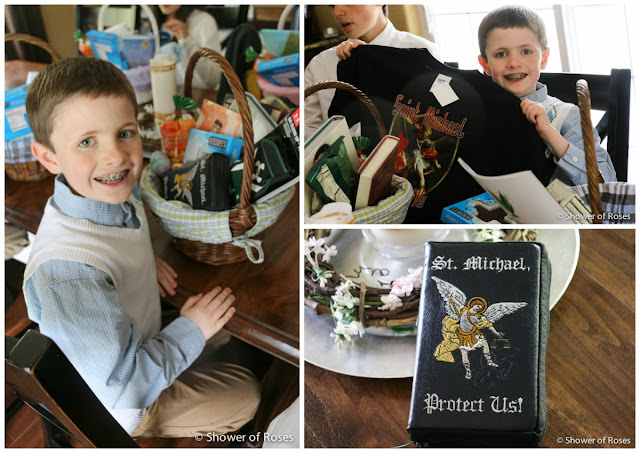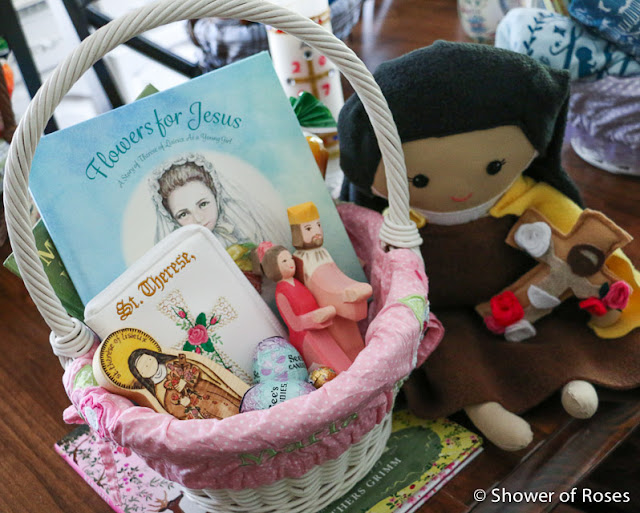 Rose's St. Therese Themed Easter Basket: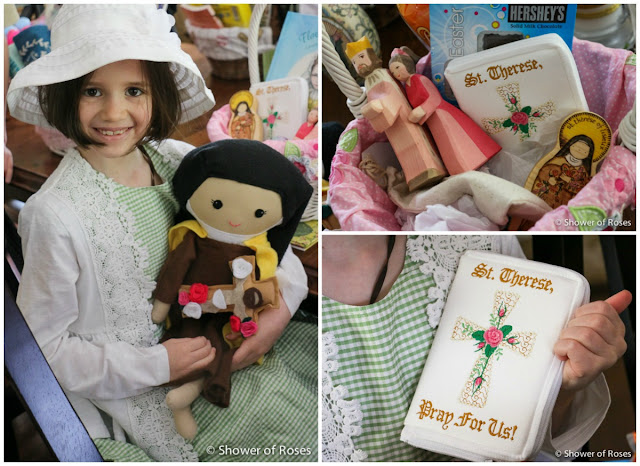 The beautiful handmade fabric St. Therese Doll was from
The Little Rose Shop
. I
originally ordered three
including
St. Catherine of Alexandria
and
St. Lucia
for Rose's older sisters. They received theirs this past year and I meant to give this one to Rose last October or December, but I completely forgot… I didn't want to wait until the feast of St. Therese this upcoming October, so she was sitting next to Rose's Easter basket on Easter Sunday. She was so excited and has been carrying her around every morning since!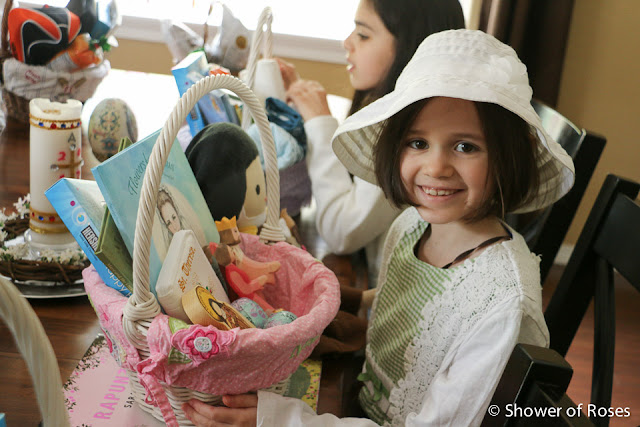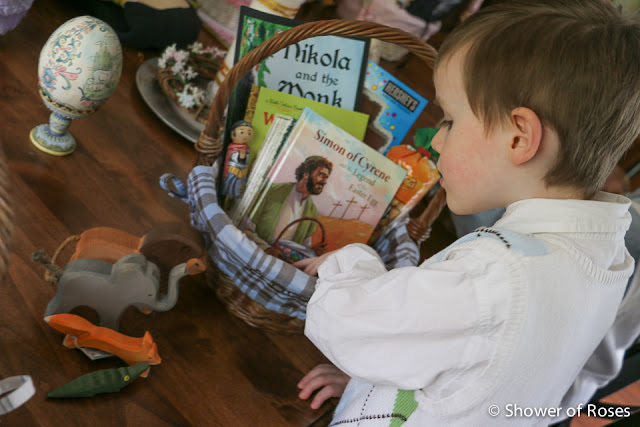 Last year (March 2016) I had ordered four (two sets of two) Miniature Birettas from Michele Quigley to go along with all his wooden saint dolls. I kept forgetting to give them to him but they finally made it into this year's Easter basket! He placed on on St. Florian but then decided he needed a more appropriate saint (St. Florian was a soldier, not a priest) and so he ran over to get St. John Paul II.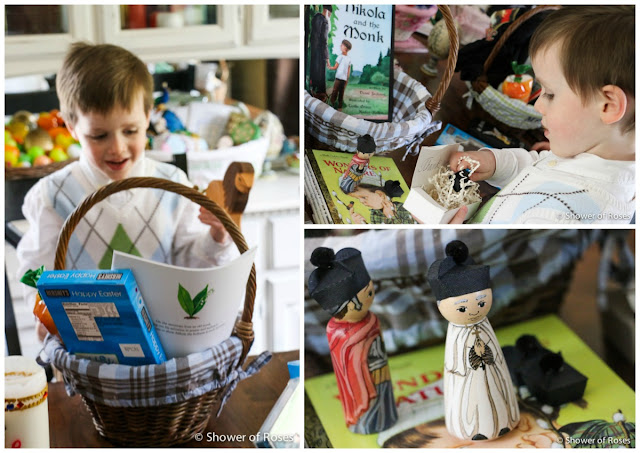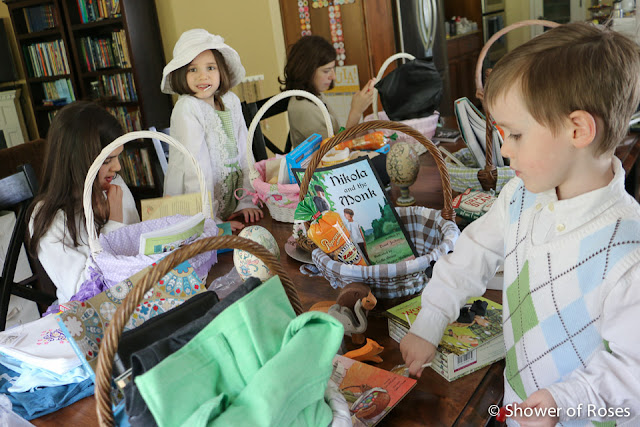 Alleluia! He is Risen!