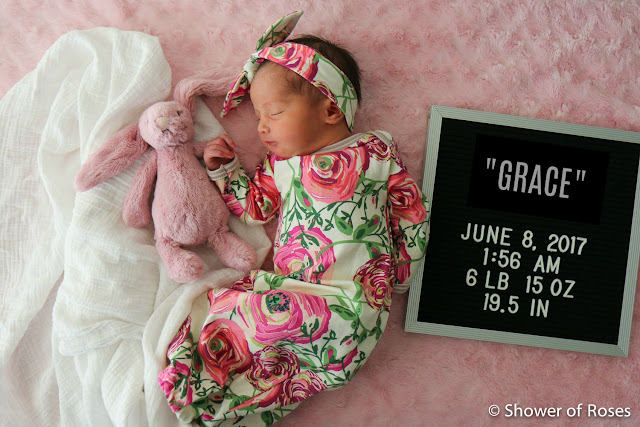 I know it was all the prayers and extra graces from God that got me through the past nine months and this challenging pregnancy… It's so fitting that she was born on June 8th, on the traditional feast of Mary, Mediatrix of all Graces. I think we'll nickname her "Grace" here on the blog.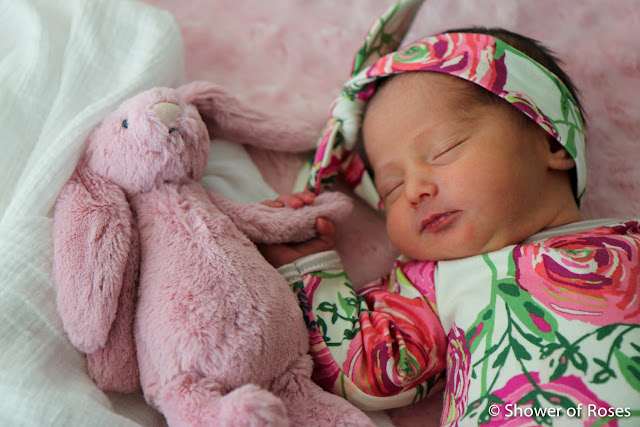 With her birth just two days after the death of my father-in-law, my husband's brother (Father D. Gordon) pointed out that the name we choose happens to mean Resurrection. A friend also shared the morning prayer (Divine Office) for June 8th with us, which is also so beautifully fitting:
"I will turn their mourning into joy,
I will console and gladden them after their sorrows."
♥ ♥ ♥
Weight: 6 pounds 15 ounces
♥ ♥ ♥
Congratulations to her oldest brother, who not only was the person who told me that I was pregnant before I had even considered it a possibility – ("Mom, are you sure you aren't pregnant? This is not your usual sick… this is your pregnant sick!") – but was also the person to win the baby hunch online pool for guessing the closest (date, time, length, coloring, etc) before she was born! (Charlotte and my sister-in-law Meagan were so close to winning too!)
I'm enjoying having another baby girl so very much! Before we were discharged from the hospital this afternoon, I had a little fun dressing her up to bring home, in her new rose covered gown, and taking a few pictures with the letter board the girls and I had started filling out before her birth (just needed a couple changes) and the cute little bunny her cousin gave her at the hospital yesterday!
My sister-in-law picked us up from the hospital and brought us home. It's so quite here at home with just the baby, while most of the family on their way to Arizona for my father-in-law's funeral and our other two little ones are staying one more night with my parents. Last night was the first time they had ever spent the night at their grandparent's home and they are enjoying the treat! Please continue to keep our family in your prayers.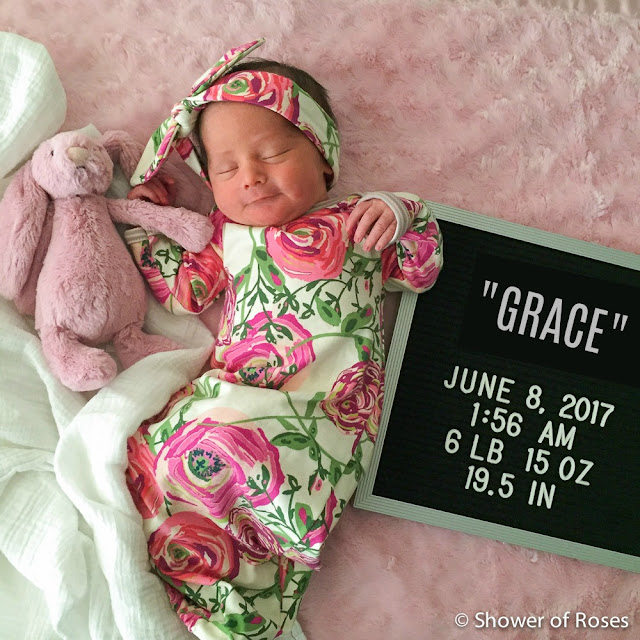 I'll probably take down this picture after a little while (or update with her blog name), but wanted to share her name with all my dear visitors here at Shower of Roses. Her patron saints tie in to her pregnancy in little ways. All her siblings found out she was going to be a girl on Christmas Eve… There is also a little nod to St. Therese who I'm sure had something to do with her unlikely conception at the beginning of October. God is good!
Mary, Mediatrix of All Graces, pray for us!
St. Thérèse of Lisieux, pray for us!