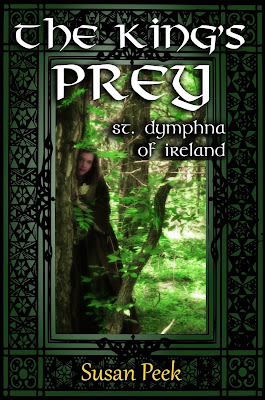 Happy Feast of St. Dymphna!
To celebrate her feast this year I wanted to introduce you all to the brand new book that has just been written and released by author Susan Peek about this holy saint and give away a copy to one of my visitors!
During our correspondence the author shared:
"I really, really feel Saint Dymphna needs to be known in this day and age of such widespread depression and stress. She is the patron saint of so many things: mental illness, emotional disorders, depression, nervous ailments, autism, intellectually handicapped, runaways, victims of family and sexual violence, the list goes on and on. So I would love to spread devotion to her in my own little way. I timed the book to release in time for her feast day, so now I just have to get the word out there!"
Let's help her spread the word and increase devotion to this little-known Irish princess saint!
This new addition to the God's Forgotten Friends series recently received the following endorsement from The National Shrine of St. Dymphna in Ohio:
"I work at the Shrine of St Dymphna. The King's Prey is great. A very good story. True to the facts, with excitement to thrill the young. I am looking forward to selling it at our gift shop."
An insane king. His fleeing daughter. Estranged brothers, with a scarred past, risking everything to save her from a fate worse than death. Toss in a holy priest and a lovable wolfhound, and get ready for a wild race across Ireland. Will Dymphna escape her deranged father and his sinful desires?

For the first time ever, the story of Saint Dymphna is brought to life in this dramatic novel for older teens. With raw adventure, gripping action, and even humor in the midst of dark mental turmoil, Susan Peek's newest novel will introduce you to a saint you will love forever! Teenage girls will see that Dymphna was just like them, a real girl, while young men will thrill at the heart-stopping danger and meet heroes they can easily relate to. If ever a Heavenly friend was needed in these times of widespread depression and emotional instability, this forgotten Irish saint is it!
(Ages 16 and up for mature themes.)
I have really enjoyed reading some of the other titles in the series and am looking forward to reading The King's Prey: Saint Dymphna of Ireland this summer, learning more about Saint Dymphna, and possibly sharing it with our teens once they are a little older and ready for the mature themes.
In addition to The King's Prey: Saint Dymphna of Ireland, Susan Peek has also written Saint Magnus, The Last Viking (the first volume in her series God's Forgotten Friends: Lives of Little-known Saints, which was awarded the Catholic Writers' Guild Seal of Approval in June 2015!), A Soldier Surrenders: The Conversion of Saint Camillus de Lellis (recommend for ages 15 and up), and Crusader King: A Novel of Baldwin IV and the Crusades (which made it onto the list of the Top 50 Most Popular Homeschooling Books in 2013).
She has also written a number of great Catholic books for children including Animals of God Volume 1 and Volume 2 as well as the titles in her God's Forgotten Friends: Little-known Saints for Children series: Small for the Glory of God: Saint John the Dwarf, The Man God Kept Surprising: Saint William of Bourges, and The Forgotten Christmas Saint: Saint Anastasia.
Please enter the giveaway using the Rafflecopter Box below:
Good Saint Dymphna, great wonder-worker in every affliction of mind and body, I humbly implore your powerful intercession with Jesus through Mary, the Health of the Sick, in my present need. (Mention it.) Saint Dymphna, martyr of purity, patroness of those who suffer with nervous and mental afflictions, beloved child of Jesus and Mary, pray to Them for me and obtain my request.
(Pray one Our Father, one Hail Mary and one Glory Be.)
Saint Dymphna, Virgin and Martyr, pray for us.