It's time for another quarterly update on all my amazing sponsors here at Shower of Roses. I have so many great updates, coupon codes, and new sponsors to introduce to you this quarter! We have some awesome giveaways planned for the next four weekends, in preparation for Christmas next month. Be sure to keep all these wonderful Catholic businesses in mind as you prepare for Christmas and any gift giving this year and scroll to the bottom of this post for a chance to win your choice of two lovely picture books perfect for upcoming feast days!
+ + +
Ever since our oldest children were toddlers our family has loved the products we have purchased from Catholic Child. They have inspired many beautiful traditions in our home – the Domestic Church. Catholic Child was also one of my very first sponsors here at Shower of Roses when I started offering advertising space a number of years ago and they have sponsored many giveaways over the years. Please join me in thanking Joseph and Leane Ambrosio for everything they have done for Catholic families over the years… May God reward you both! Welcome to the new owners, Michael and Laurel MacKinnon! We look forward to continuing to support and promote Catholic Child!
Catholic Child founders Joseph and Leane Ambrosio write:
Dearest Customers,
It has been our deepest pleasure to work with you the past 21 years. In that time we've cherished the relationships as we provided Catholic resources and gifts to grow the faith of your loved ones.
As seasons change, we too are changing and passing the company to a younger Catholic family. This goodbye is hard. But on the other side of that is joy that Catholic Child will continue. We look forward to watching new owners Michael and Laurel MacKinnon nurture and grow Catholic Child, and we encourage your commitment to them as they work to improve Catholic Child's ability to serve Catholic children and families everywhere.
With gratitude,
Joseph and Leane, and the Ambrosio Family
+ + +
Our Lady of Fatima Graphic Novel
In this 100th-Year Anniversary of Our Lady of Fatima, we are honored to release the Graphic Novel based on the Apparitions of Our Lady of Fatima.
We are currently taking pre-orders with an expected ship date between November 15 and December 1, 2017 – in plenty of time for Christmas! Hurry to get the FREE companion coloring book, offered only to our Pre-Order customers.
Our Lady of Fatima Graphic Novel is packed with attractive full color pages of the miraculous events. The reader will take a trip back in time with Jacinta, Francisco and Lucia to re-discover the events that took place when Our Lady appeared to them in Fatima, Portugal in 1917.
This commemorative, hardbound book helps the reader to not only visualize the heavenly apparitions, but challenges them to apply the messages of Our Lady in this day in age. Let us take to heart the call of Our Lady to repentance and reparation, for we know that the message of Fatima is "relevant now more than ever" (Pope St. John Paul II, May 13, 1982).
+ + +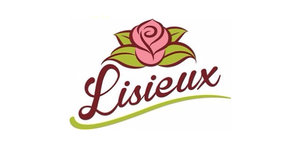 Lisieux
Lisieux Nail Polish is a young Catholic company with a passion for sacred scripture, church traditions and the New Evangelization. We love our Catholic faith and decided to bottle some of it up so women could always have a holy reminder with them and a new and fun way to share the Catholic faith with others. We chose nail polish because it is the only cosmetic you can enjoy without looking in a mirror. All of our nail polishes are named after Biblical events, saints or Catholic traditions. We also really enjoy celebrating the liturgical year and feast days so, in addition to our regularly stocked polishes, try to have special edition polishes around popular feast days.
+ + +
I am a homeschooling mommy of 6. I have created, used, and enjoyed all of my units with my own children at home. With our boxes you can have an entire unit shipped to your house ready to go. Our boxes are designed for elementary age children; however, they are perfect for families. Younger children can use our boxes for their entire unit study. Older siblings will find our activities a fun supplemental to what they are already studying! I personally love it when all my kids can study the same thing at the same time! Basic reading skills are strongly encouraged to get the most out of our boxes. The fun isn't just for homeschoolers though! Our boxes are also the perfect gift for your little animal lovers. They are packed with fun worksheets, hands on crafts, and activities. Your children will be learning without even realizing it. Everyone loves to see a package in the mail…. make it fun and educational. READ MORE HERE…
+ + +
"Regina Martyrum Productions produces the finest works of Catholic audio theatre. With emphasis on the lives of the Saints, these products are edifying, and entertaining."
Be sure to subscribe for emails or follow on Facebook, Twitter, YouTube, Google+, and Instagram for sales and updates.
+ + +
"Welcome to Sleightholm Folk Art, formerly known as Audrey Eclectic, a unique collection of American folk art created in the heart of the Oklahoma prairie. My inspiration comes from faith, folk lore, family and good books."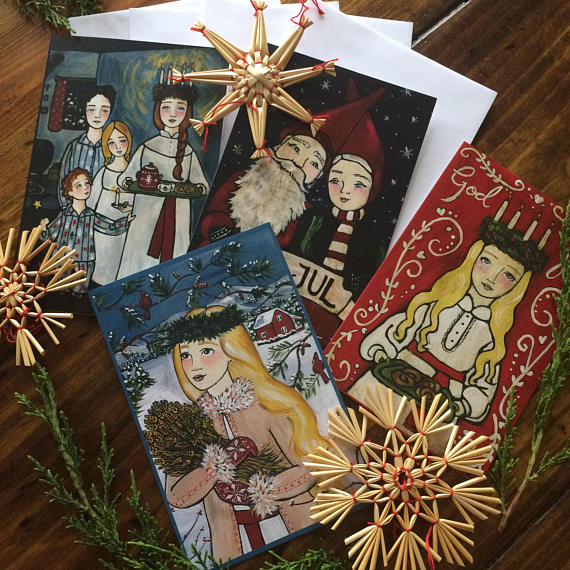 I have my eyes on the lovely Christmas Cards that are currently listed. My girls would love these!
+ + +
+ + +
My girls love their collection of beautiful little habits, saints and accessories from The Little Habit! Once again this year they dressed up all their dolls for the feast of All Saints and our annual All Hallows' Eve Party!
Pictured below is Ruthie dressed up as St. Katharine Drexel and Molly dressed up as St. Elizabeth of Hungary in "costumes" from The Little Habit!
+ + +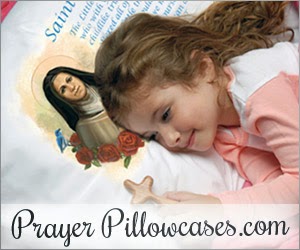 Owners Joseph and Leane Ambrosio enter a new season as they pass their 21 year-old, family-owned business Catholic Child to its new owners, Laurel and Michael MacKinnon. They are excited for the opportunity this brings to focus on expanding their line of original Prayer Pillowcases.
Be sure to check in at PrayerPillowcases.com to see the new designs headed your way just in time for Christmas gift-giving!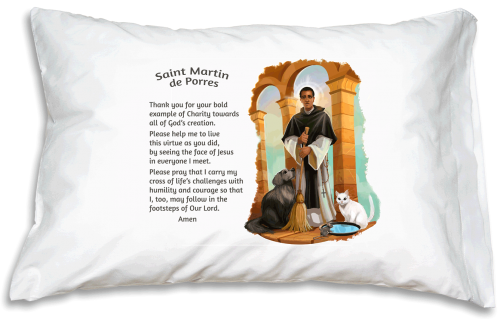 Saint Martin de Porres – Feast Day: November 3rd
+ + +
The Culture of Life Studies Program has partnered with the esteemed Institute for Excellence in Writing on a pro-life essay contest! Please encourage your children to enter! Contest ends on December 2 and is open to all students 18 and under. It's a great opportunity for students to practice their writing skills, articulate their pro-life beliefs and, of course, win some great prizes!
+ + +
Jesu, Joy of Man's Desiring: Christmas with The Dominican Sisters of Mary
2017 marks the 20th anniversary of the Dominican Sisters of Mary, Mother of the Eucharist! On February 9, 1997, the first seed of the community was established as their four foundresses made their vows. On October 13, 2017 the Sisters topped off their 20th Anniversary celebratory year with a glorious new Christmas album Jesu, Joy of Man's Desiring: Christmas with the Dominican Sisters of Mary. Recorded at the Ann Arbor Motherhouse chapel, Jesu Joy of Man's Desiring: Christmas with the Dominican Sisters of Mary is meant to share some of the Sisters' favorite carols. The selection ranges from the fun and festive Carol of the Bells to the sublime Christmas Proclamation and the harmonious Wake, Awake, For Night is Flying. As well on this special offering- are original compositions such as Snowflakes, which until now- have been heard only in the chapel each year at Christmas.
+ + +
Gail's Designs has been creating unique, elegant jewelry and cherished rosaries since 2009. Gail has been an artist for most of her life and is grateful for her faith and being able to make elegant jewelry and cherished rosaries for people of the Catholic faith.
+ + +
"Behold Publications, LLC is more than just a publisher! Family owned and operated since its founding in 1999, we have developed great Catholic clubs like the Little Flowers Girls' Club and Blue Knights Catholic Boys' Clubs for Catholic girls and boys ages 5 and up."
+ + +

Peanut Butter & Grace
The mission of Peanut Butter & Grace is to help Catholic parents raise children who know and love Christ and his Church. We do this by providing digital and print resources that assist parents in forming their children in the faith within the daily life of their family. All of our products are made for Catholic parents—either to use themselves, or to hand to their kids.
Gracewatch Media is putting out lots of great new products! Be sure to check out Mission Christian: December-January and Lectio Divina for Teens: Reading God's Messages to You
+ + +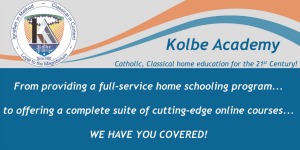 Kolbe Academy
All three of our high schoolers are currently enrolled with Kolbe Academy and working towards the Magna Cum Laude Diploma. In addition to all the benefits of enrolling, I really love the flexibility that Kolbe offers and that we can continue tailoring our curriculum to our family's preferences and our children's needs.
+ + +
Specializing in high quality veils and mantillas for ladies and girls. Robin is a Catholic mother of 15 ( 7 with Our Lord ) who spends her days serving, loving, praying, and sewing. Robin started making veils for her daughters and wanted to share with others. She truly loves creating veils to serve Our Lord!
+ + +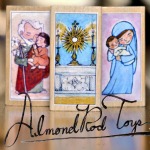 Almond Rod Toys

Almond Rod Toys makes Saint Blocks that are just the right size for little hands and can be used for imaginative play, building, stacking or collecting. The front has a print of original watercolor artwork. The back has a quote or a prayer chosen to inspire little ones and the one that cleans up behind them. The saint's name, feast day and patronage are also listed; just enough to be a reminder and an inspiration for further learning.


Visit Almond Roy Toys at Etsy and follow the Facebook page!
+ + +
"Et Corde means "open heart". I create rosaries, bracelets and necklaces using the hand wire wrap technique with beautiful antique reproduction medals. I hope that my pieces can be an heirloom that can be passed down in your family."
+ + +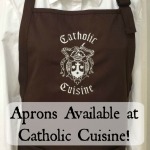 Catholic Cuisine Aprons
All of our aprons are embroidered, not screen printed, giving them a rich, elegant, look! Our durable 100% cotton-twill aprons, with soil-release finish for added stain protection, provide ultimate full length cover and comfort.

We have a couple new designs available, including a beautiful St. Therese Apron!