For a number of years now we've been giving our children Stacks of Books for Christmas or Epiphany. As our home library (and family size!) continues to grow the stacks for each child have started shrinking. Last year there were four books in each stack and this year we decided on three for each of our children, saving any extras for Easter which is going to come up so quick this year.
I always love sharing the books we've picked out so here is the list for this year: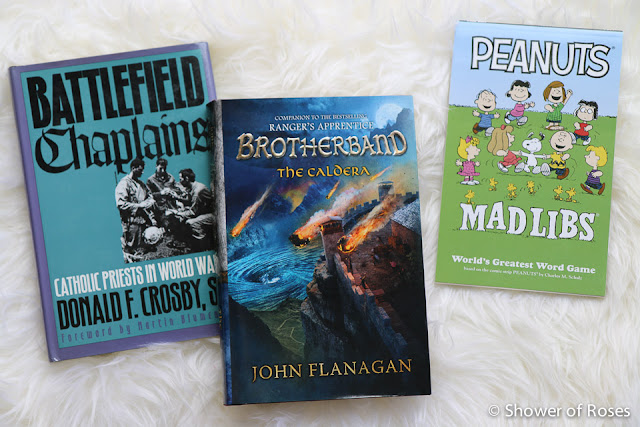 Captain (age 17) received Battlefield Chaplains, John Flanagan's newest release The Caldera from the Brotherband Series, and Peanuts Mad Libs.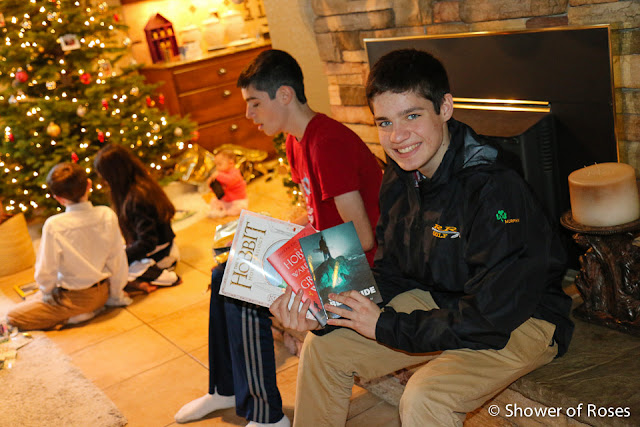 Ranger (age 15) received The Hobbit Movie Trilogy: Heroes & Villains Coloring Book, A Hobbit, a Wardrobe, and a Great War: How J.R.R. Tolkien and C.S. Lewis Rediscovered Faith, Friendship, and Heroism in the Cataclysm of 1914-191, and The Perfect Blindside.
Twinkle Toes (age 14) received Emily of New Moon, Emily Climbs, and Emily's Quest.
Chiquita (age 12) received The Chronicles of Narnia Pop Up, National Geographic Guide to the Night Sky: A Stargazer's Companion, and the (new and improved!) Spiritual Journal from Holy Heroes.
I had actually purchased The Chronicles of Narnia Pop Up (from Ebay I think) last spring for her 12th birthday to go along with the Chronicles of Narnia themed party but completely forgot to give it to her. Such a neat book!
Snuggles (age 10) received Picture That: Knights & Castles (Exploring History through Art), John Ronald's Dragons: The Story of J.R.R. Tolkien, and On the Edge of the Dark Sea of Darkness.
I've been catching this little guy wide awake in the middle of the night as he reads through The Lord of the Rings series… He is currently reading (and loving!) The Two Towers. (Hard to believe I was ever worried about his reading just a couple years ago!) He was so excited when he unwrapped this picture book about J.R.R. Tolkien and immediately read the whole thing, ignoring all the chaos around him.
Rose (age 8) received Beauty and the Beast, Sleeping Beauty, and Pride and Prejudice Seek and Find.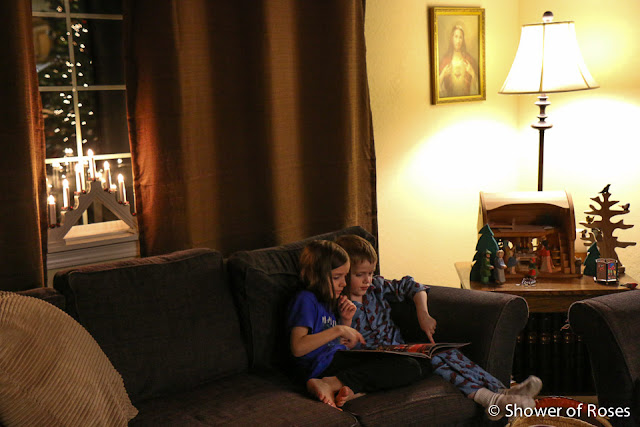 Still searching through the pictures!
Bud (age 6) received Winter is the Warmest Season, Mr. Ferris and His Wheel, and The Seven Silly Eaters. He loved all three, but Mr. Ferris and His Wheel (the story and all the gorgeous illustrations) was definitely the favorite.
Grace (7 months) received Jonah and the Big Fish, All Creatures Great and Small, and Love Is Patient, Love Is Kind.