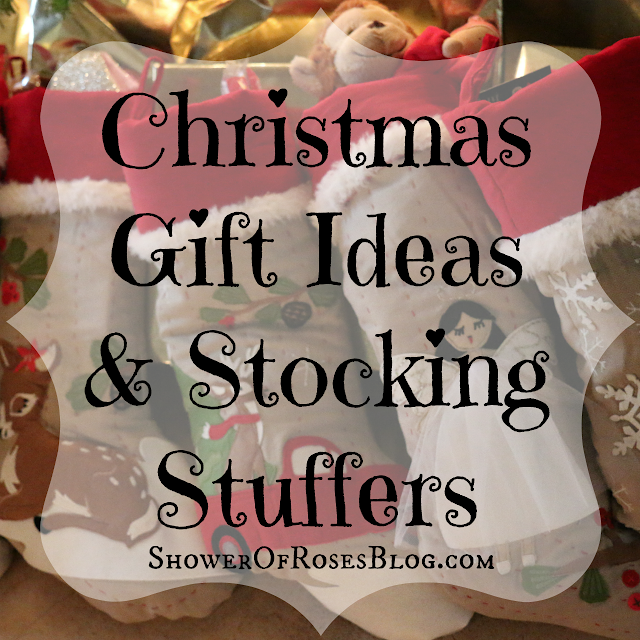 It's time for this year's list of "Christmas Gift Ideas" and another "Sleighful of Giveaways" from my amazing and generous sponsors! Despite our big move last month, I somehow managed to pull it together at the last minute with some help from my children!! Now I need to get back to unpacking and find the rest of our Advent boxes… We are all looking forward to Advent and Christmas in our new home and parish!

You can find the lists from the last three years here, here and here, as well as even more Catholic gift ideas listed in my past Easter posts as well: 100+ Easter Basket Stuffers & Catholic Gift Ideas and Easter Symbols: Catholic Gift Ideas. Some of the items below have been featured in the past but they are still favorites.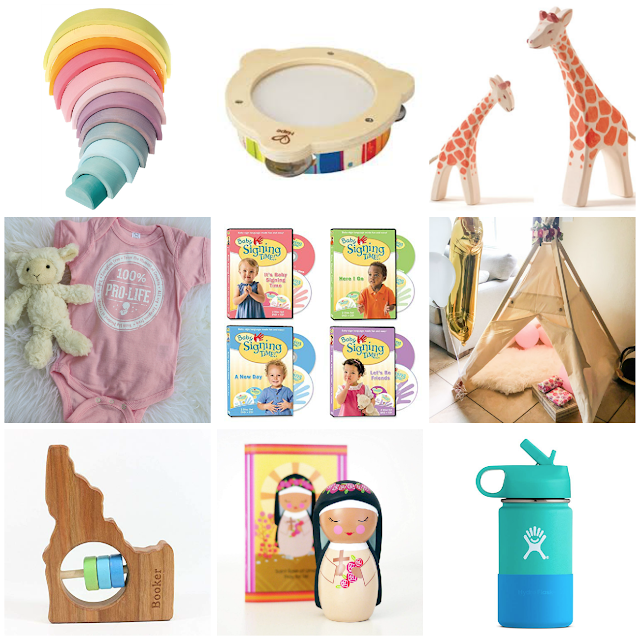 .: A Few of My Favorite Things :.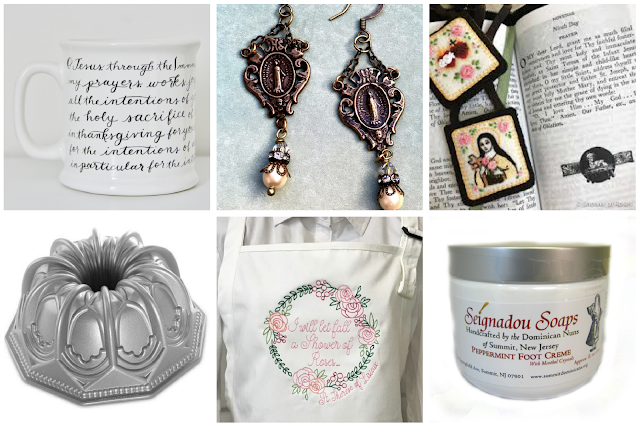 .: A Sleighful of Giveaways :.
There will be one winner for each of the following 25 PRIZES from many of my generous sponsors here at Shower of Roses with a COMBINED VALUE OF OVER $1,800!!!
+ + +
Prize #2 – $50 Gift Certificate for Custom Missal & Breviary Covers, Rosary/Pray Together Apron, and Catholic Cuisine Apron sponsored by MissalCovers.com (value $110.00)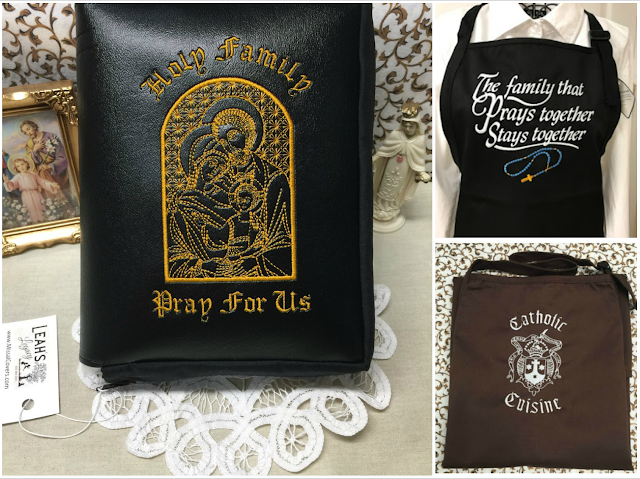 Congratulations, Rebecca B!
"I always love coming to your blog for ideas! Thank you! And I want an apron!! 🙂 "
+ + +
Prize #3 – Set of 8 Cookie Stamps with Recipe Booklet (Includes: #416 – Snow Star, #463 – Christmas Ornament, #020 – Frosty, #034-18 – Heralding Angels, #023 – Holly Sprig (1), #030 – Christmas Tree, # 368 – Nativity and #271 – Jolly Santa) sponsored by Rycraft Cookie Stamps (value $103.92)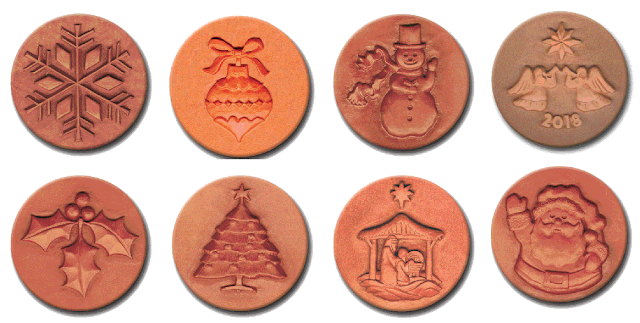 Congratulations, Nadine!
"Thank you so much for your hard work in compiling all of this! We would love prize #3,5,17."
+ + +
Prize #4 – Black Stone Cross Necklace, Pray More, Worry Less Artisan Jumbo Mug, Be Still & Know Navy Tshirt and Faith, Hope, Love Canvas Pillow sponsored by Grace & Grit Design Co. (value $100.00)
SAVE 15% off any product through Dec. 31, 2018
with coupon code: XMASROSE

Congratulations, Beth!
"Jessica, What lovely gifts! My favorites are the Grace & Grit set, st. therese rose earrings, almond rod blocks, sleightholm folk art, chews life rosary, cookie stamps, illuminated rosary book, and saintcards mega set. Thanks also for all the other great ideas selected by you and your children. Have a blessed advent!"
+ + +
Prize #5 – Set of Six Audiobook CD Sets Including A Christmas Carol, The Adventures of Buster Bear, Angel Food Series: For Heaven's Sake, Anne of Green Gables, Just Stories: The Kind That Never Grow Old and Tales Of King Arthur And The Round Table sponsored by St. Clare Audio (value $94.70)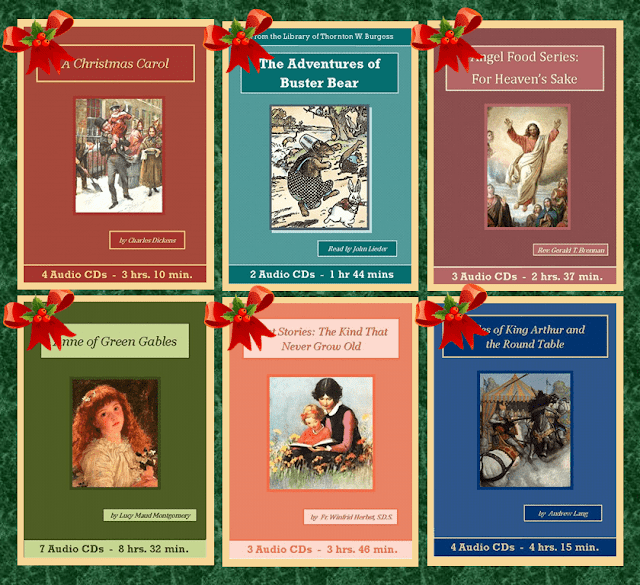 Congratulations, Laura!
"Love all of the Catholic resources, especially the ones for children and young adults (saint cards, catholic books and nursery rhymes/audiobooks, chews rosary, missal cover, Jesse tree ornaments, Rosary hardcover book, and the OLO Guadalupe doll). Love your blog and Instagram page. You are so resourceful and have so many great Catholic Tradition ideas to help sanctity each liturgy season and feast in the home. God bless you!"
+ + +
Prize #6 – The Complete Illuminated Rosary Hardcover Edition sponsored by Peanut Butter & Grace (value $83.95)

Congratulations, Elizabeth!
"I would absolutely love to win! Wonderful prizes!"
+ + +
Prize #7 – Floressa Complete Set including: Small Flexi Clip, Bobby Pins, Earrings and a Necklace sponsored by Christine at Lilla Rose (value $90.00)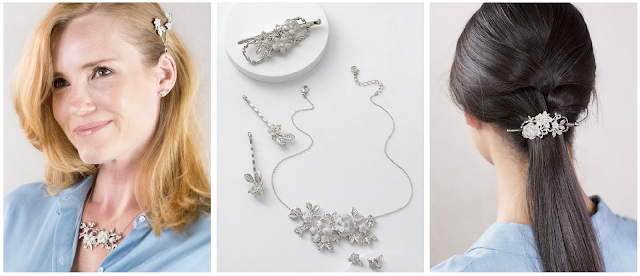 Congratulations, Genevieve!
"This is incredible!!! Everything is lovely! A favorite? The missal cover, or Lilla Rose, or the Heirloom seeds or…seriously! Thank you for the opportunity! Have a happy Advent!"
+ + +
Prizes #8 – Scapular Kit, Miraculous Medal Necklace, Rosary, Rosary Bracelet, and Hand Painted Rosary Box (these last three items are all one of a kind and can be found in shop when available) sponsored by Saong Jai (value $83.00)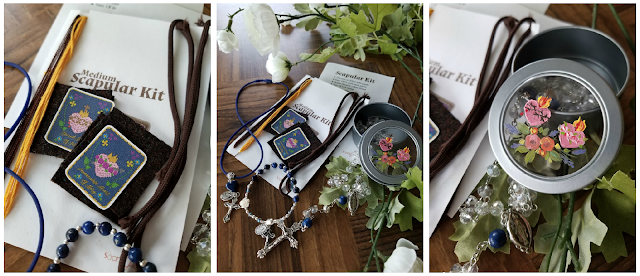 Congratulations, Mary!
"I absolutely love your blog and return to this happy place on a weekly basis just to get inspiration and ideas! I have four small boys and we homeschool here. Thank you for all of your work – sharing your world with us. And thank you to all of your sponsors who help keep your blog going!"
+ + +
Prize #9 –Large Family Heirloom Seed Collection
sponsored by St. Clare Heirloom Seeds
(value $79.99)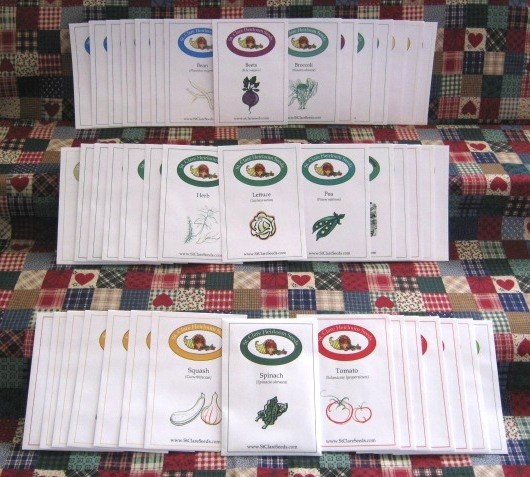 Congratulations, Josephine!
"Wonderful post! Such great gift ideas! My favorites are #2,8,9 & 11"
+ + +

Congratulations, Gian!
"I would be happy to win just about any of these but the books from St. Augustine Press and the almondrod wood block nativity prizes are a couple favorites."
+ + +
Prize #11 – 1 year subscription to The Wanderlust Catholic! Each month, your family will receive a hand-lettered and illustrated letter exploring a Catholic treasure!
(value $72.00)
Shower of Roses readers can always save 15% off the first 3 months of their subscription with coupon code: SHOWEROFROSES15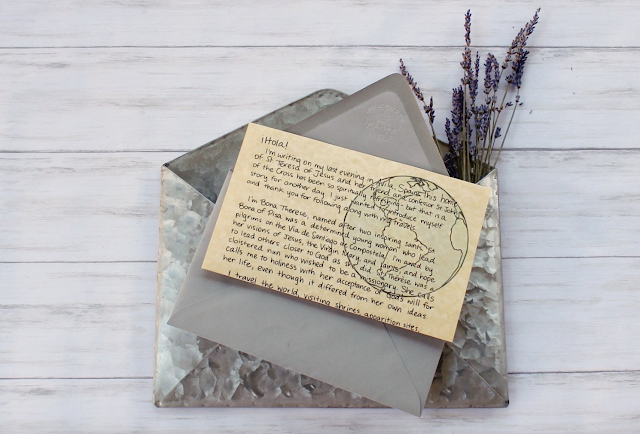 Congratulations, Katie!
"I'd love to find out more about #11 and we'd love the saint cards/#13.
Thanks for hosting this huge give-a-way!"
+ + +
Shower of Roses readers can always save 20% off their entire order using the code: ROSES20
Prize #13 – SaintCards: Mega Set (Base Set + Doctors Expansion + Holy Helpers Expansion)
sponsored by Saint Cards
(value $69.99)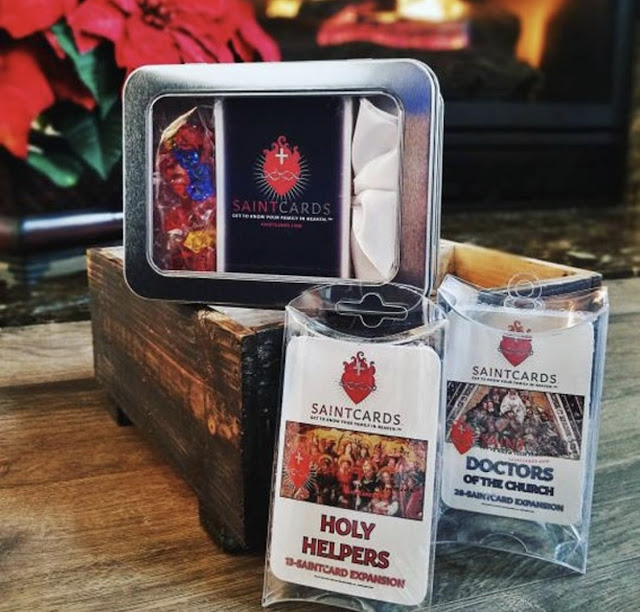 Congratulations, Sara M!
"I would love to win one of these prizes: Prize #4, Prize #13, Prize #7, Prize #16, Prize #24, Prize #25, Prize #17, Prizes #8, Prize #9"
+ + +
Prize #14 – Little Girls Christmas Nativity Print Cotton Raglan Top with Ruffle Capris sponsored by Paradise Jewelry and Natalie the Nativity Angel sponsored by Trendzilly (value $63.00)


Use Coupon Code: ROSES15 to save 15% at Paradise Jewelry

Congratulations, Mindy!
"So many favorites, difficult to choose any one or few. With my six children any of them would be so wonderful! Thank you for opportunity to enter this giveaway and for putting this together. I love reading your blog, keep it up. God bless you this Advent season."
+ + +
Prize #15 – Set of 5 December Saint Blocks and Nativity Blocks Started Set sponsored by Almond Rod Toys (value $60.00)

Congratulations, Sarah O!
"Always excited about AlmondRod Toys and seeing what new saints she's creating!"
+ + +
Prize #16 – Set of 4 Faith-filled teen novels including The Perfect Blindside, An Unexpected Role, Where You Lead and Secrets: Visible and Invisible from author Leslea Wahl (value $58.52)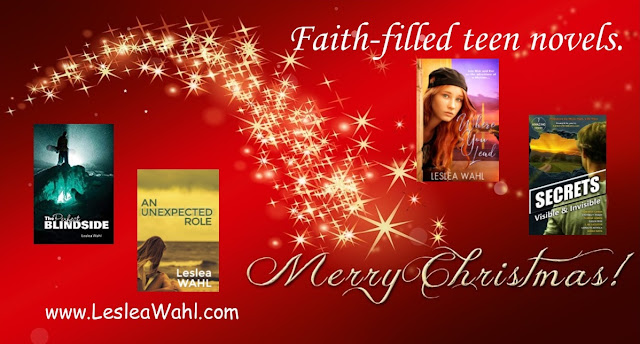 Congratulations, Jen!
"Prize #2 is definitely my favorite. Runners up are 16, 2, 19, 17, and 9. Thank you for all of the work you put in to put this list together! There are many great ideas here!"
+ + +

Congratulations, Jennifer F!
"Thank you for putting this together in the midst of your move. I know how hard moving can be, physically and emotionally. I love looking at these every year."
+ + +
Prize #18 –
4 Color-Me Prayer Pillowcase designs: Prince of Peace, Happy Birthday Jesus Nativity, The 3 Kings with Scripture & Prayer and Jesus is the Reason Nativity.
Your family can color their way through advent while keeping hearts set on the Reason for the Season! Use your favorite fabric pens or paint to complete these limited edition Christmas Prayer Pillowcases sponsored by Joseph & Leane at PrayerPillowcases.com
(value $55.00)
Free Personalization on any pillowcase now through December 5th, 2018 with coupon code: NameMe18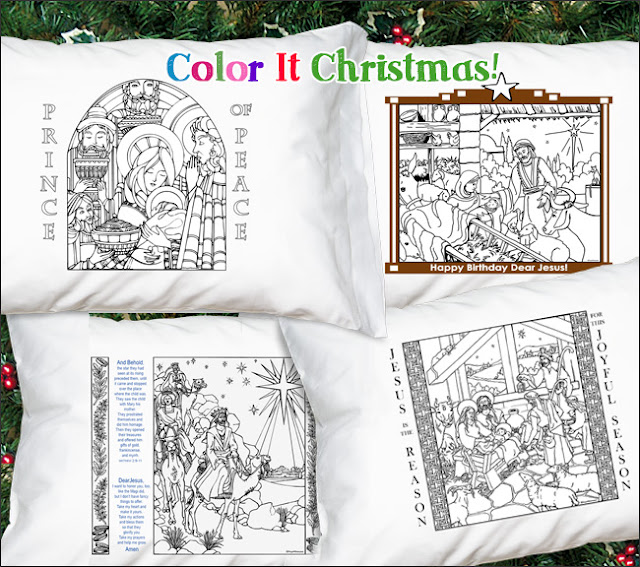 Congratulations, Lilyan!
"I would be so thrilled to win any of the prizes, but especially the missal cover, my dear hubby would love it!"
Prize #19 – A Visit from St. Nicholas, Forest Lucia and Woodland Madonna 8×10 prints sponsored by Sleightholm Folk Art (value $54.00)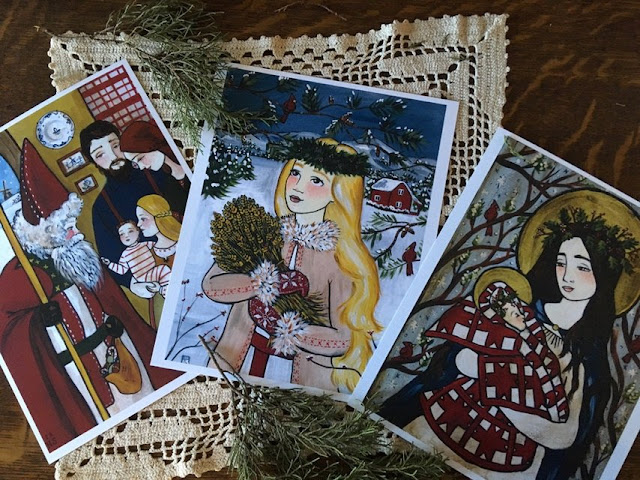 Congratulations, Martha!
"I love all of the gift picks by the kids. I must say that prize # 19 and prize #21 are my top picks of prizes mostly because I don't have any religious earrings and they are beautiful and also because I love folk art with a passion and love drawing my own."
+ + +

Congratulations, Christine!
"How generous! May God bless you!"
FREE SHIPPING through December 24, 2018
with coupon code: MARY18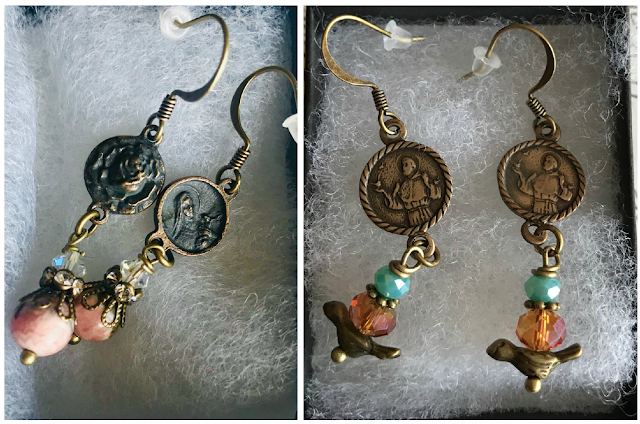 Congratulations, Izabela!
"Love reading you different blog posts, and we will miss you in Oregon! I'm loving the earrings :)"
+ + +
Prize #22 – Set of 5 Blessed Mother Bows: Our Lady of Guadalupe, Our Lady of Fatima, Our Lady of Knock, Our Lady of the Rosary, and Miraculous Medal
sponsored by Hair Bows 4 Life
(value $50.00)
Free Shipping and 20% off on any order over $15 using code: Roses2018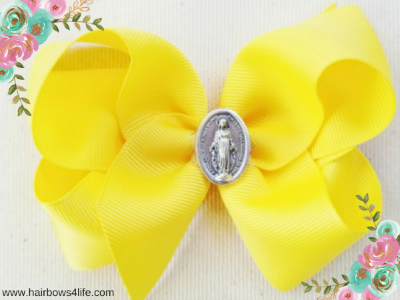 Congratulations, Holly!
"Would love the chance to win the almond rod saint blocks!"
+ + +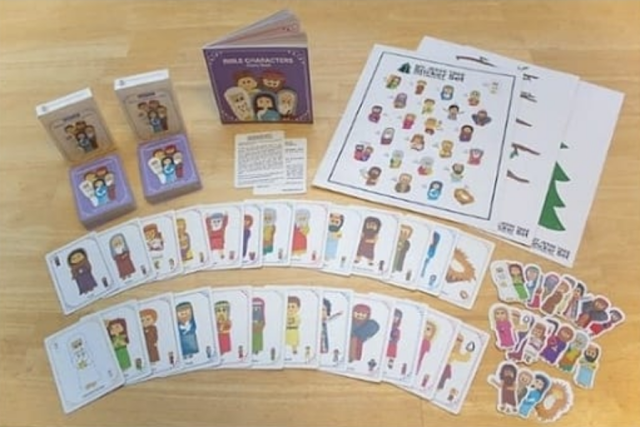 Congratulations, Nicole E!
"I love your list of ideas!!! Thank you so much for putting this together"
+ + +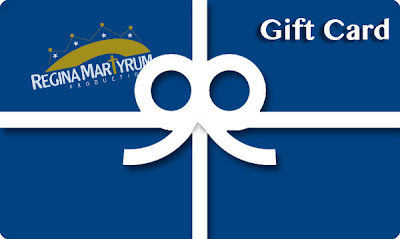 Congratulations, Rebecca M!
"Amazing giveaways! Always a fun time, and a blessing to see what you have going on each year."


Congratulations, Catherine B!
"Thank you for the lists! Many of my kids' genders and ages match with yours."
+ + +
Please enter the giveaway using the Rafflecopter box below: