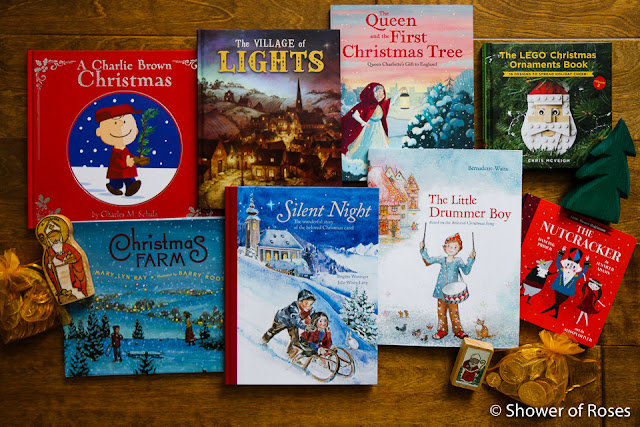 The feast of St. Nicholas is just a few weeks away! On December 6th our children always wake up to find that the letters they wrote to the Holy Child and/or St. Nicholas have been taken and their (sometimes new/replaced) slippers have been filled with little treats, oranges, chocolate gold coins, candy canes, and often times a note from St. Nicholas. Our children (and teens!) have always received a new Christmas book as well, which has helped us build an amazing collection over the years!
"A children's story that can only be enjoyed by children is not a good children's story in the slightest." – C.S. Lewis
I picked out some of this years books months ago, before life started getting really crazy with our out-of-state move, and last week I went hunting for bookstores near our new home to find a few last books to finish the list. I haven't wrapped them up yet but plan to once again use the brown paper, red ribbon and little St. Nicholas labels.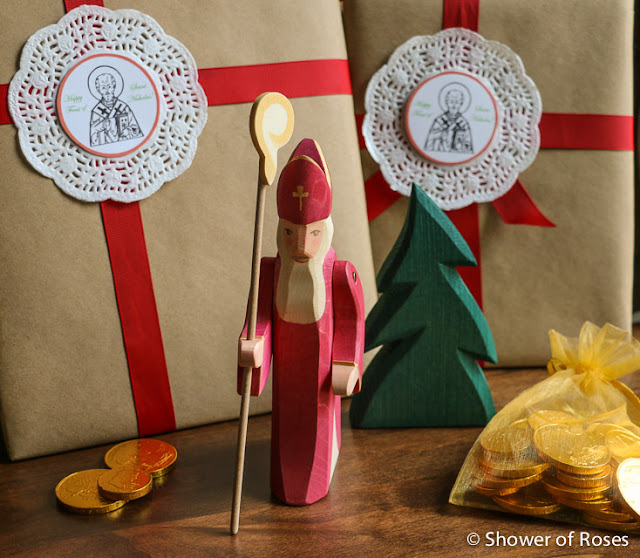 I'll be hosting four Advent and Christmas themed giveaways again this year – at least that is the plan! I had hoped to get them on the blog each weekend of November leading up to Advent but I'm running way behind with the move. Here is the first giveaway in preparation for the feast of St. Nicholas!
Prize #1 – Set of Five Cookie Stamps with Recipe Booklet
Prize #2 – A Brand New Picture Book by Susan Peek


– sponsored by author Susan Peek (value $11.95)
Congratulations, Elisse F!
Please enter the giveaway using the Rafflecopter box below: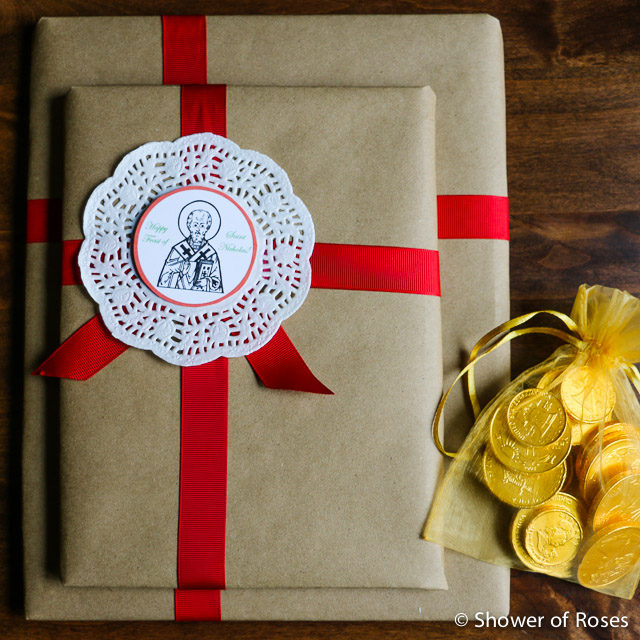 For additional Christmas book suggestions you can find some of our lists in the archives:

Saint Nicholas & the Nine Gold Coins {Beautiful book!}

Christmas Mosaic: A Review & Featured Book List

35 Favorite Christmas Picture Books for Children

Feasts & Seasons :: Advent & Christmas Collection
Our 2015 Advent Book Basket and Printable Labels
Our 2016 Advent Book Basket and Printable Labels
Our 2017 Advent Book Basket and Printable Labels {I'm planning to share our 2018 Basket and Labels soon!}

New Christmas Books for the Feast of St. Nicholas:
2009, 2010, 2011, 2012, 2013, 2014, 2015, 2016, 2017

Stacks of Books on Christmas Morning or Epiphany:
2013, 2014, 2015, 2016, 2017