The summer is flying by and the new school year is just around the corner… Our family is headed out of town to try and escape all the smoke, take the girls to summer camp, and also do some house hunting, but first here is an update on all my awesome sponsors here at Shower of Roses. Please remember them while preparing for the new school year or shopping for gifts!
The 8th annual blog hop I host here at Shower of Roses is a great place to sell your used books and it's coming up just as soon as we get back home. It will run from August 15-25th this year. Get your blog posts ready to link up!


Please welcome my new sponsor: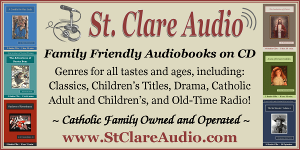 St. Clare Audio
Family Friendly Audiobooks on CD. Wholesome entertainment and education for all ages!
Sign up for our newsletter and receive a one time use 20% Off coupon!


Also be sure to visit St. Clare Heirloom Seeds specializing in Non-GMO, Non-Hybrid, Non-Treated Heirloom and Open Pollinated Vegetable, Flower, and Herb Garden Seeds
And welcome back to this returning sponsor: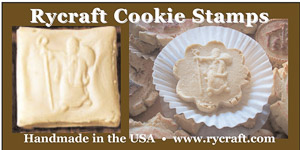 Rycraft Cookie Stamps
My favorite Rycraft product is the 2″ HEIRLOOM COLLECTION Terra Cotta Cookie Stamp! They are available in eater square or round, are available in colorful glazes in over 400 designs, and come with FREE recipes! The Rycraft Cookie Stamps are not just for cookies. Browse their website for more additional ideas as well!
A special THANK YOU to all my continuing sponsors!
Prayer Pillowcases
August is here and the Church dedicates this month to the Immaculate Heart of Mary. Visit our Marian Designs department to see our beautiful Immaculate Heart of Mary designs. They honor Our Lady and make it easy to nurture devotion to her, too. During the month of August we're happy to offer Shower of Roses friends 20% off their Prayer Pillowcase order! Simply use code: IHM20 when you order. And remember, you can personalize any design!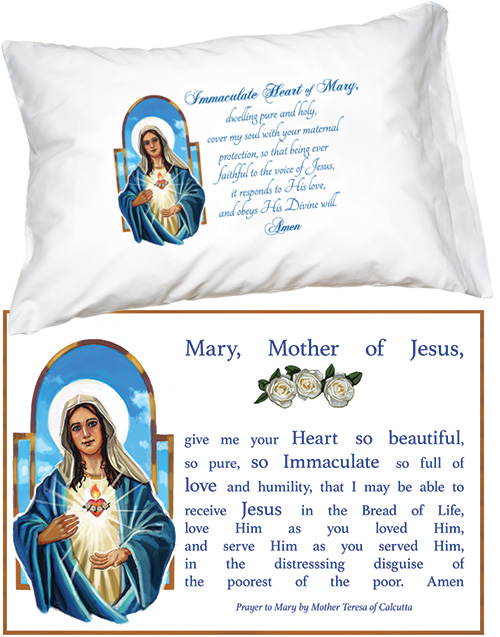 Send your loved one off to college in the company of the Jesus, Mary & the Saints with a pretty, practical Prayer Pillowcase! Choose their favorite saint or perhaps a new prayer to give them the encouragement they need for the challenges ahead. These popular Morning Offerings would be perfect!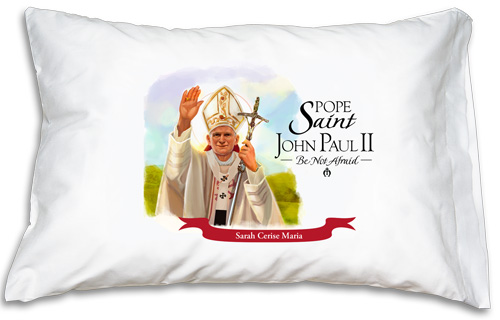 SAVE 20% off your entire order for the month of August with coupon code: IHM20
+ + +
Culture of Life Studies Program (CLSP)
Show your children the beauty and dignity of people with disabilities with our latest picture book unit study All Shapes and Sizes: Learning about the Beauty and Dignity of People with Disabilities and Other Challenges. Using classic picture books, crafts, and other activities, All Shapes and Sizes helps students understand that the value of every human being exists because we are all made in the image and likeness of God.

Shower of Roses readers can always save 20% off their entire order using the code: ROSES20
+ + +
Sacred Heart Books & Gifts
We are here to serve your needs for Catholic books, curriculum, and gifts. We offer most of our products at 15% off retail. If you are looking for something and can't find it on our site, please contact us and we will do our best to find it.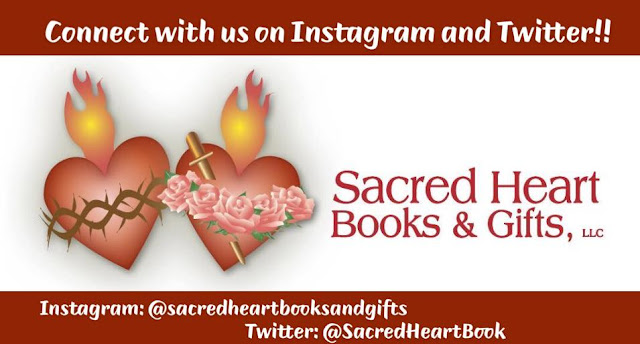 Gail's Designs
Gail's Designs has been creating unique, elegant jewelry and cherished rosaries since 2009. Gail has been an artist for most of her life and is grateful for her faith and being able to make elegant jewelry and cherished rosaries for people of the Catholic faith.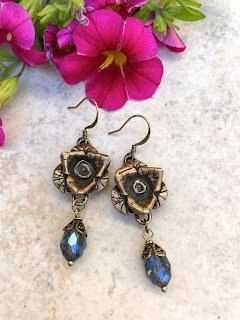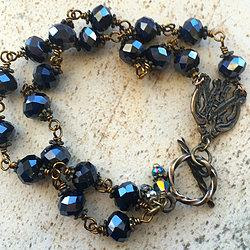 + + +
Behold Publications, LLC
"Behold Publications, LLC is more than just a publisher! Family owned and operated since its founding in 1999, we have developed great Catholic clubs like the Little Flowers Girls' Club and Blue Knights Catholic Boys' Clubs for Catholic girls and boys ages 5 and up."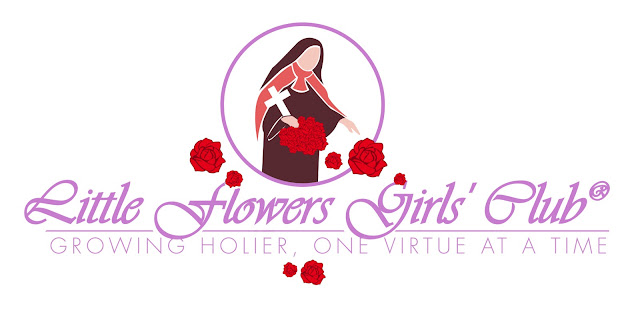 Starting a New Club? Don't forget to Register!
+ + +
Peanut Butter & Grace
The mission of Peanut Butter & Grace is to help Catholic parents raise children who know and love Christ and his Church. We do this by providing digital and print resources that assist parents in forming their children in the faith within the daily life of their family. All of our products are made for Catholic parents—either to use themselves, or to hand to their kids.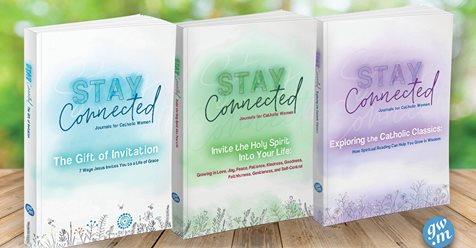 Engaging, inspirational, and designed to help busy women develop a deeper connection to Jesus…that's the new Stay Connected Journals for Catholic Women.
+ + +
With salvation as the ultimate goal, Kolbe Academy's educational programs allow you to tailor the formation of each child in the Catholic tradition, with a classical approach.


All three of our high schoolers are currently enrolled with Kolbe Academy and working towards the Magna Cum Laude Diploma. In addition to all the benefits of enrolling, I really love the flexibility that Kolbe offers and that we can continue tailoring our curriculum to our family's preferences and our children's needs.
+ + +
Lisieux Nail Polish
Lisieux Nail Polish is a young Catholic company with a passion for sacred scripture, church traditions and the New Evangelization. We love our Catholic faith and decided to bottle some of it up so women could always have a holy reminder with them and a new and fun way to share the Catholic faith with others. We chose nail polish because it is the only cosmetic you can enjoy without looking in a mirror. All of our nail polishes are named after Biblical events, saints or Catholic traditions. We also really enjoy celebrating the liturgical year and feast days so, in addition to our regularly stocked polishes, try to have special edition polishes around popular feast days.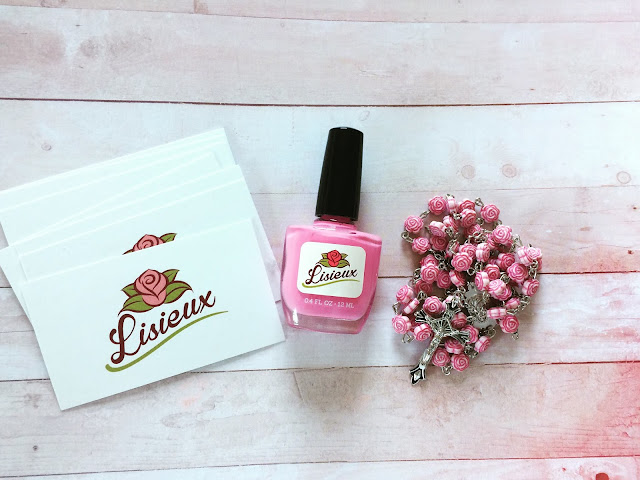 Right now you can SAVE 20% with coupon code ROSES
+ + +
Sleightholm Folk Art
"Welcome to Sleightholm Folk Art, formerly known as Audrey Eclectic, a unique collection of American folk art created in the heart of the Oklahoma prairie. My inspiration comes from faith, folk lore, family and good books." You can read more about Heather's work here.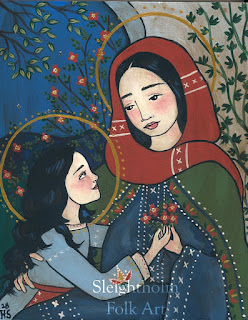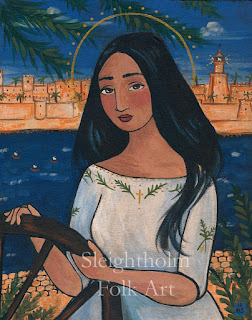 In addition to the Etsy Shop you can also find Sleightholm Folk Art on Facebook and Instagram!
+ + +
Bring unity to your homeschool by creating a Domestic Catholic Schoolhouse! To support you we have made the chapter art and science books available to you, as well as other resources as we are able. Catholic Schoolhouse goes beyond memory work–it is a comprehensive scope and sequence; a foundation to build a true one-room schoolhouse for your family.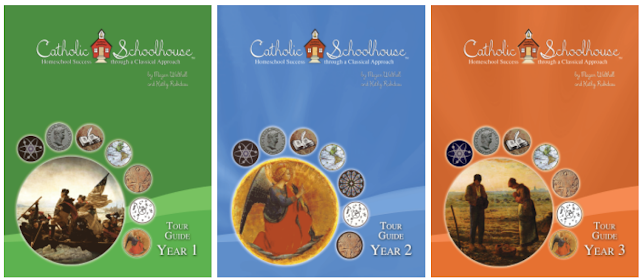 Catholic Schoolhouse is flexible . . . classical . . . accessible . . .you can do it!
+ + +
Almond Rod Toys
Almond Rod Toys makes Saint Blocks that are just the right size for little hands and can be used for imaginative play, building, stacking or collecting. The front has a print of original watercolor artwork. The back has a quote or a prayer chosen to inspire little ones and the one that cleans up behind them. The saint's name, feast day and patronage are also listed; just enough to be a reminder and an inspiration for further learning.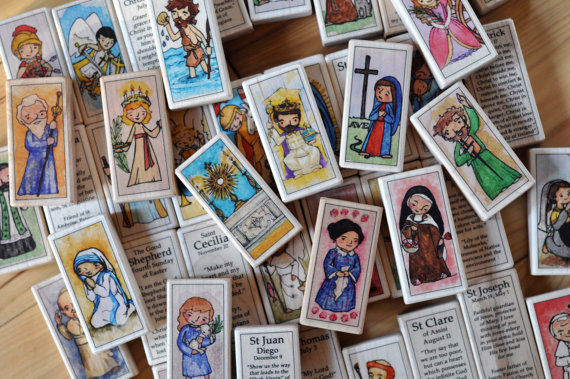 + + +
Shining Light Dolls
Saints are an amazing part of the Catholic faith; they show us what it means to live the life of Christ no matter who you are, what time in history it is, or where in the world you live. They are our role models!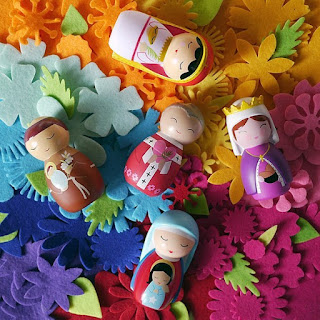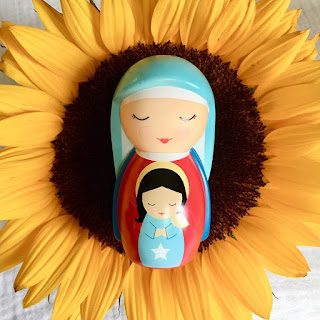 + + +
Thank you, from the bottom of my heart, to all of my sponsors and visitors for your support! May God bless you all!