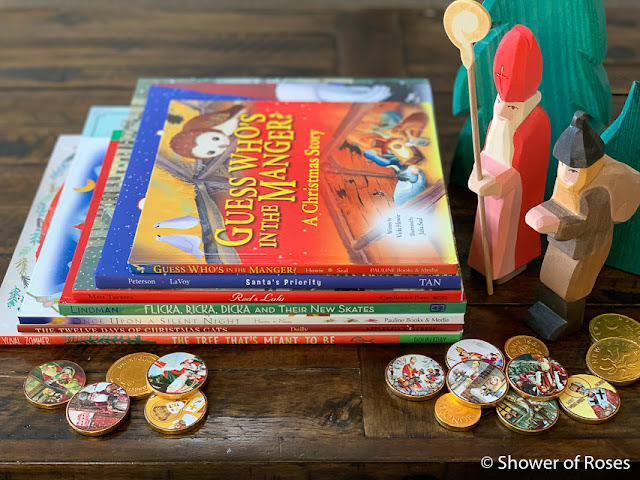 "The giver of every good and perfect gift has called upon us to mimic God's giving, by g
race, through faith, and this is not of ourselves."
– St. Nicholas of Myra
The feast of St. Nicholas is just three weeks from today! On December 6th our children always wake up to find that the letters they wrote to the Holy Child and/or St. Nicholas have been taken and their (sometimes new/replaced) slippers have been filled with little treats, oranges, chocolate gold coins, candy canes, and often times a note from St. Nicholas.
Our children (and teens!) have also always received a new Christmas book as well, which has helped us build an amazing collection over the last twenty years. It will be so great to pass each of their collections down to them when they eventually start families of their own.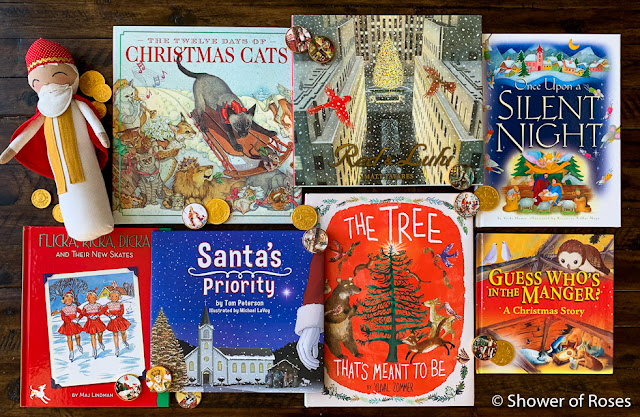 The darling wooden St. Nicholas toys in the above pictures are from
Marzipantz
and
Ostheimer Wooden Toys
. The kids haven't seen these yet, but they will be added to our collection this year.
Note: As an Amazon Associate I earn from qualifying purchases.
Once again this year I will be hosting FOUR Advent and Christmas themed giveaways! Here is the first giveaway in preparation for the feast of St. Nicholas:
Prize #1 – Set of Five Cookie Stamps with Recipe Booklet
Prize #2 – St. Nicholas Special Edition Box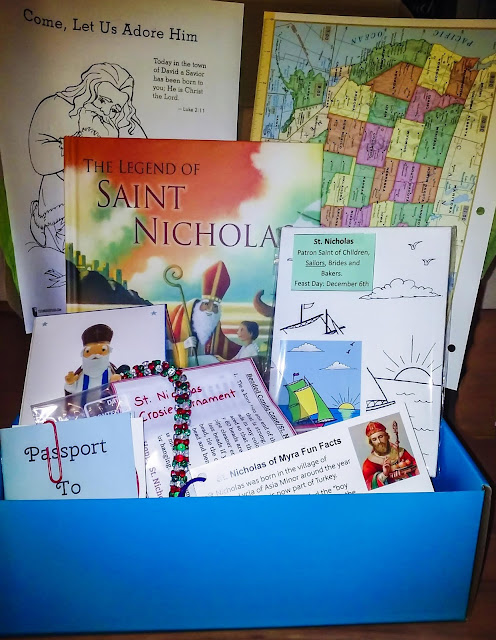 "This special edition box contains a beautifully designed canvas with paint and a wooden easel, my favorite story on St. Nicholas, a fun ornament craft, yummy recipe, a beautiful St. Nicholas statue and all of the materials needed to make a trip to Turkey, passport and map included!"
sponsored by Saints Around the World (value $55.00)
Congratulations, Kathryn!
"Thank you for the giveaway! St. Nicholas is on one my favorite saints and the patron of one of our children. "
Prize #3 – Advent & St. Nicholas Prize Package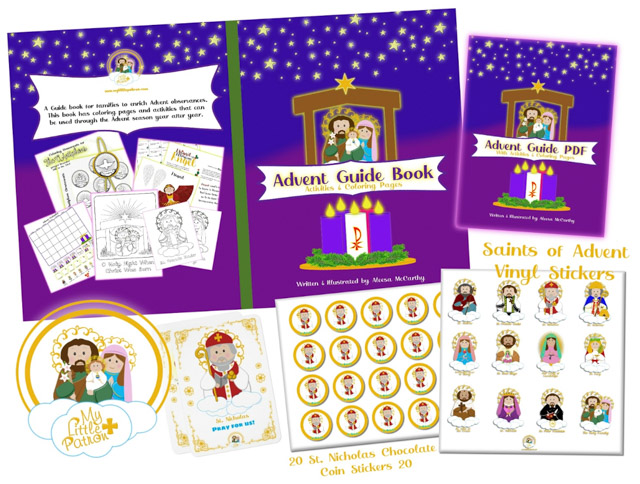 *Stickers are currently 50% off thru today only with code: LITTLETHINGS
Congratulations, Elizabeth!
"I'm so grateful for all your ideas and inspiration. God bless you and your beautiful family"
Please enter the giveaway using the Rafflecopter box below: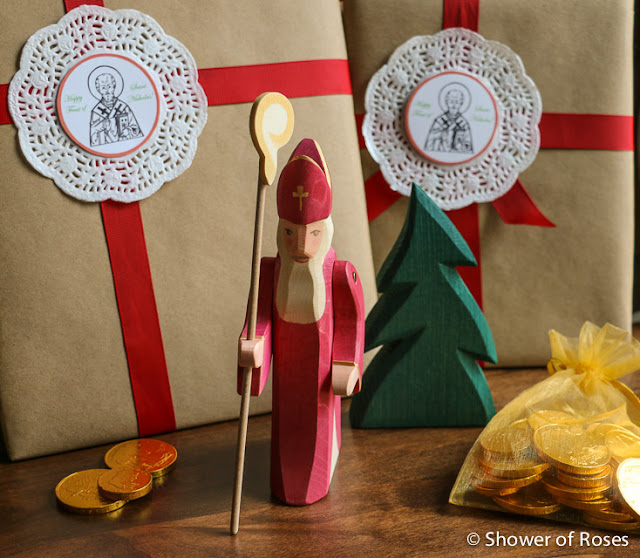 I also just made an updated printable for this year which I will try and share soon!)
For additional Christmas book suggestions you can find some of our lists in the archives:

Saint Nicholas & the Nine Gold Coins {Beautiful book!}

Christmas Mosaic: A Review & Featured Book List

35 Favorite Christmas Picture Books for Children

Feasts & Seasons :: Advent & Christmas Collection
Our 2015 Advent Book Basket and Printable Labels
Our 2016 Advent Book Basket and Printable Labels
Our 2017 Advent Book Basket and Printable Labels
Our 2018 Advent Book Basket and Printable Labels
{I'm planning to share our 2019 Basket and Labels soon!}

New Christmas Books for the Feast of St. Nicholas:
2009, 2010, 2011, 2012, 2013, 2014, 2015, 2016, 2017, 2018

Stacks of Books on Christmas Morning or Epiphany:
2013, 2014, 2015, 2016, 2017