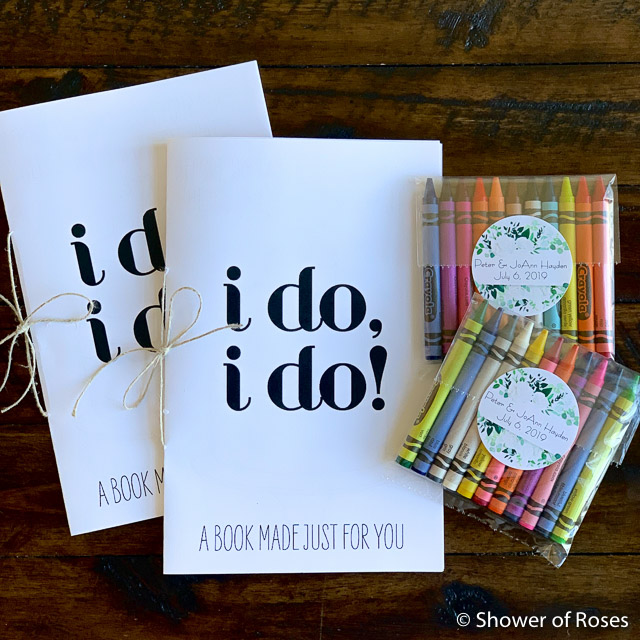 My little sister got married on Saturday!
Being one of the youngest in our large family, with no children of her own yet, I don't think she quite understands how hard it can be to get a family of ten ready for a road trip, especially at 33/34 weeks pregnant, without the help of the teens who all have summer jobs!
I had planned to spend last Wednesday getting my hair cut and highlighted and then packing and loading the cars
(with the 4th of July on Thursday and leaving by 5am on Friday)
but instead of packing two of my girls and I spent the afternoon and evening crafting…
Tuesday night the bride-to-be called and asked if I could come up with activities for the 40+ children that were going to be at the wedding reception…. Ummm, sure? I probably should have said no, but I already had to say no to both her Bachelorette Weekend in Tahoe and her Bridal Shower in Portland. Coming up with activities for kids at the last minute… Now THAT was something I could do!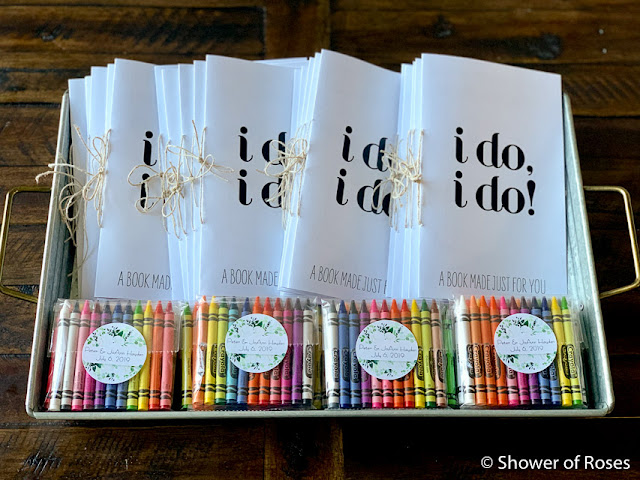 When our seven year old saw the books he cracked me up when he started
singing
:
"I do, I do, I do, do do do do do do doo
Yeah, I do, I do, I do, do do do do do do doo"
Wedding Activity Book for Children:
Printable Pages – 2 pages, front and back for each book (I used Costco's premium 24 weight 97 bright copy paper – nicer than plain copy paper, but also cheaper and easier to work with than card stock)
X-acto Knife (for punching holes in spine of book for the twine to thread through)
Twine (approx 16-18″ per book)
Scissors & Ruler
Personalized Crayon Packets:
I had almost everything I needed to make these already, we just had to buy crayons.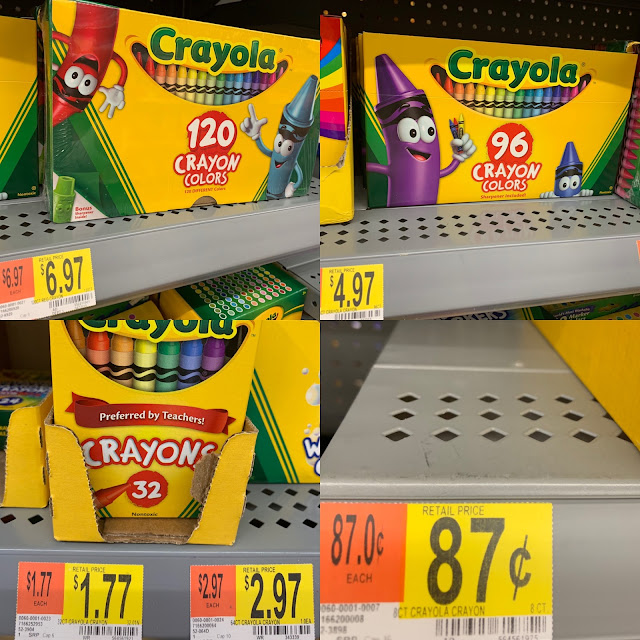 You'd think that the large packs of crayons would be the cheapest way to buy a lot of crayons (I needed around 400 crayons) but that wasn't the case, at least not at Walmart:
120 Crayola Colors = 5.8 cents each
96 Crayola Colors = 5.2 cents each
64 Crayola Colors = 4.6 cents each
32 Crayola Colors = 5.5 cents each
8 Crayola Colors = 10.9 cents each
Winner: 24 Crayola Colors @ $0.50 per box = only 2 cents each
(I spotted them hiding on the top shelf and I asked someone to help get them down for me.)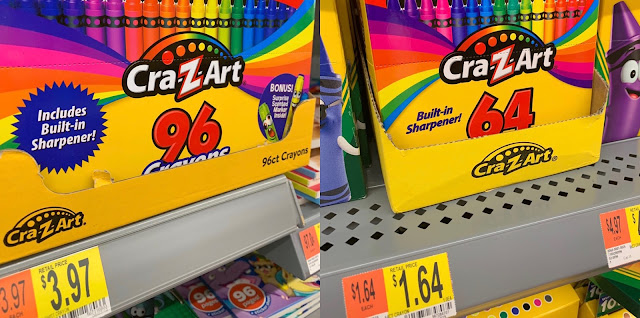 We price checked the Cra-Z-Art Crayons too:
96 Crayons = 4.1 cents per crayon
64 Crayons = 2.6 cents per crayon (getting better!)
But the 24 Packs (only had a few left) were just $0.33 per box or a mere 1.3 cents per crayon!
We ended up purchasing a mix of 24 Packs of Crayola Crayons (with the
new Bluetiful color
, perfect for a bride/wedding) and 24 packs of the Cra-z-art Crayons.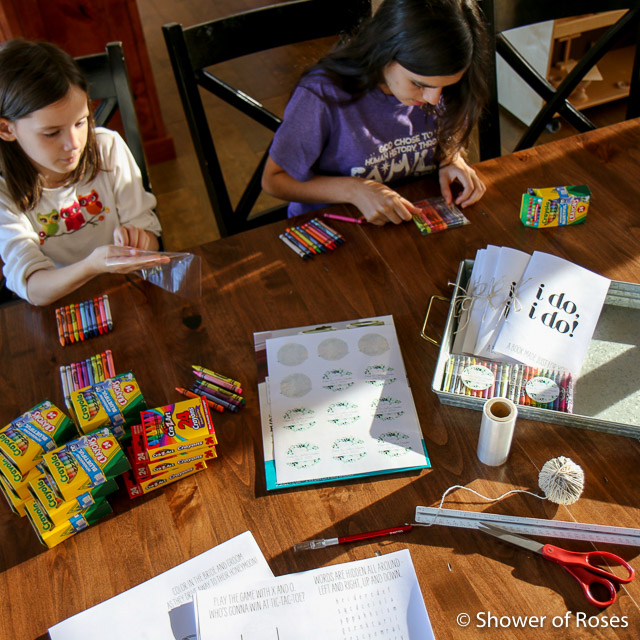 Two of my girls took care of packaging up all the crayons while I assembled the activity books!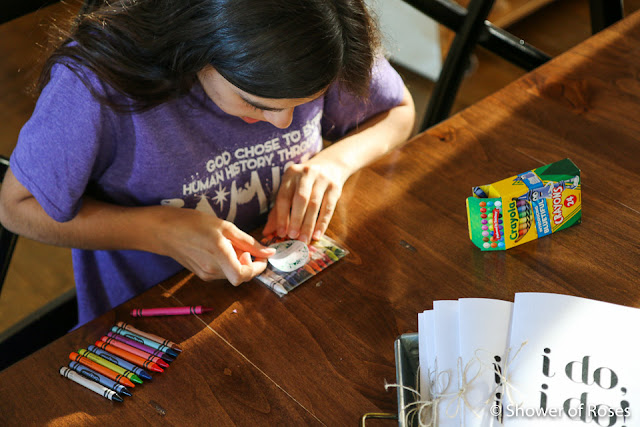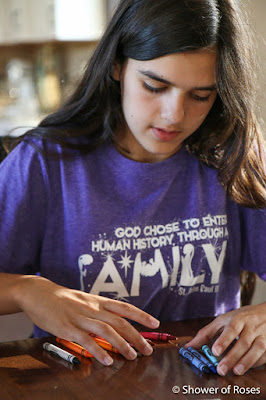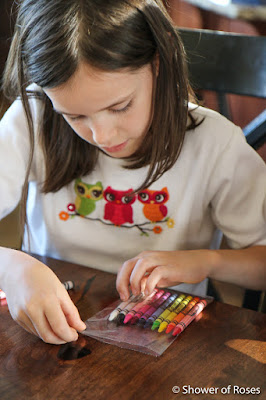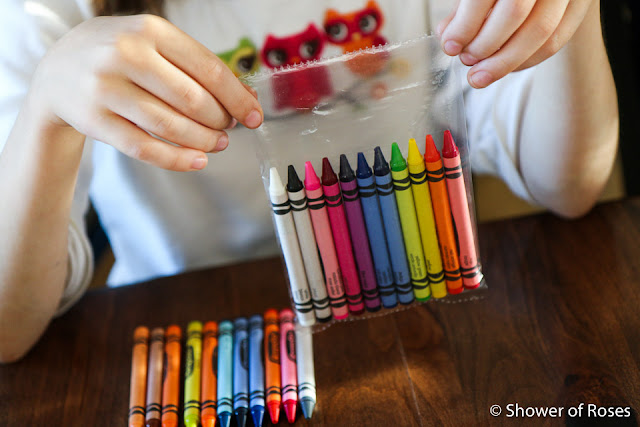 Each 4×6″ treat bag would hold 11 crayons, so they would pull out two crayons from each 24 count box (different colors each time to make additional mixed color sets) and then divide the rest between two bags.