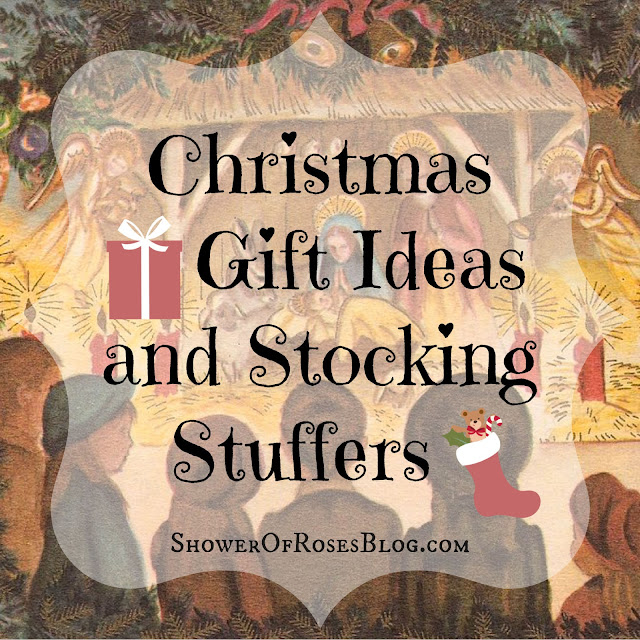 It's time for this year's list of "Christmas Gift Ideas" and another "Sleighful of Giveaways!" I actually got a jump start on it this year, and thought I'd actually might finish it early, but between our girls getting their wisdom teeth out on Tuesday, the boys flying home from college on Wednesday, and two of my brothers coming up for Thanksgiving and staying for the weekend, life has been extra full! I'm finally wrapping it up and it's ready to share. You can find the lists from the last five years here, here, here, here, and here, as well as even more Catholic gift ideas listed in my past Easter posts as well: 100+ Easter Basket Stuffers & Catholic Gift Ideas and Easter Symbols: Catholic Gift Ideas. Some of the items below have been featured in the past but they are still favorites. I've tried to only include links to things that are currently available, or were available at the time of this post, but I think a few items might be out of stock…
Be sure to scroll all the way to the bottom to enter the giveaway for a chance to win one of 20 PRIZES with a combined value of $2,150! Please keep these Catholic businesses and authors in mind when shopping for gifts this Christmas season!
Note: As an Amazon Associate I earn from qualifying purchases.

Links to St. Augustine Academy Press, Etsy, ChewsLife and Socks Religoius are affiliate links.
.: New Finds for Advent and Christmas :.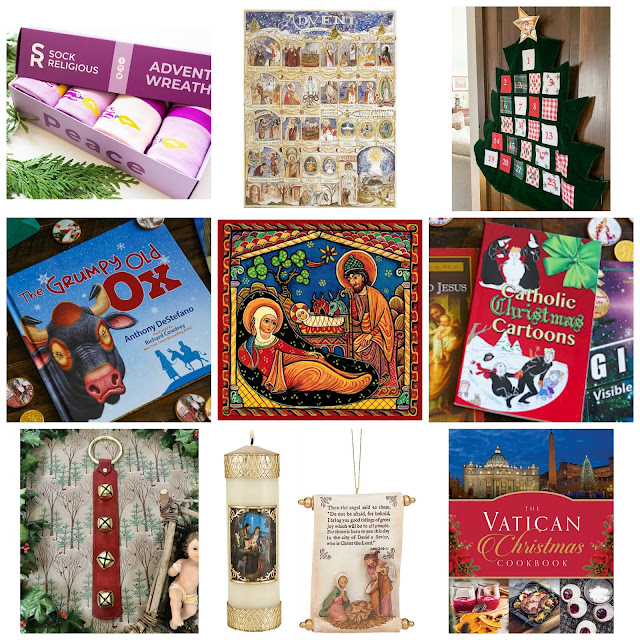 .: Rose's Picks – Age 10 :.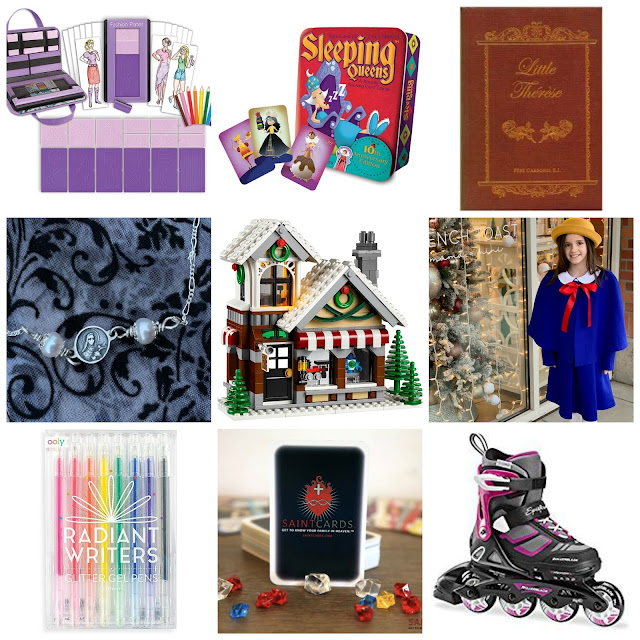 .: Bud's Picks – Age 8 :.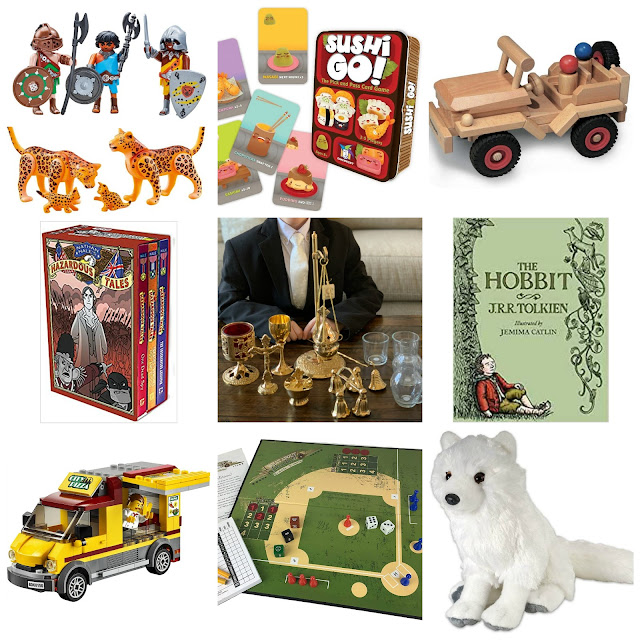 .: Grace's Picks – Age 3 :.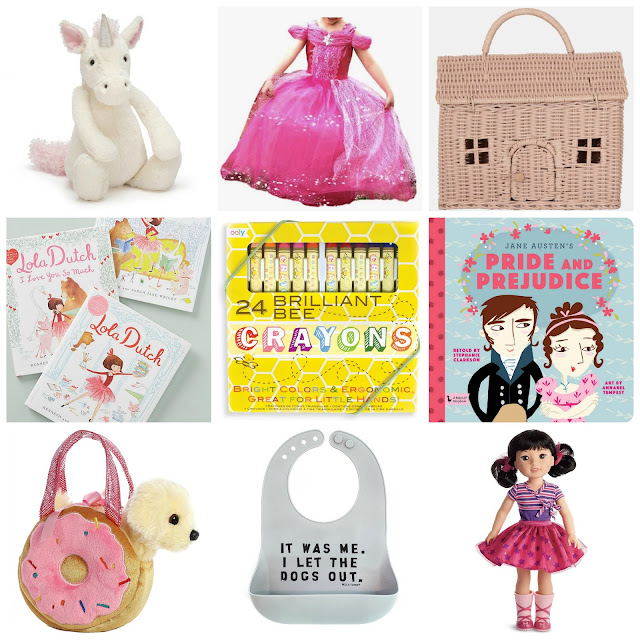 .: Gift Ideas for Catholic Women :.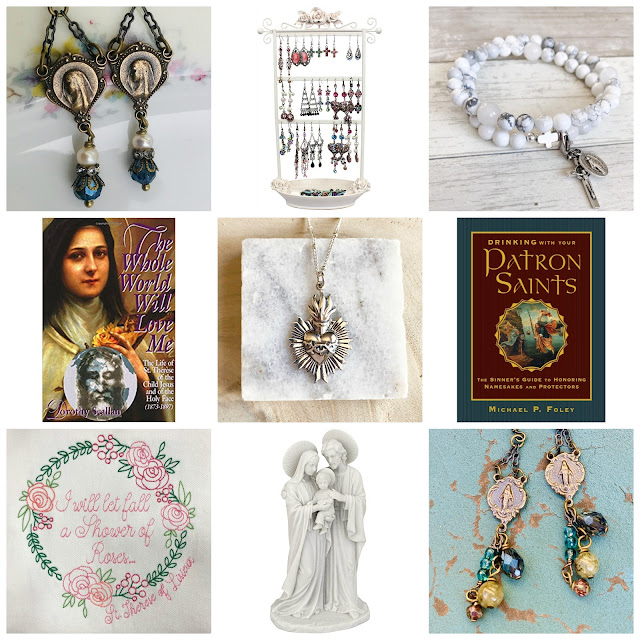 .: Gift Ideas for Catholic Men :.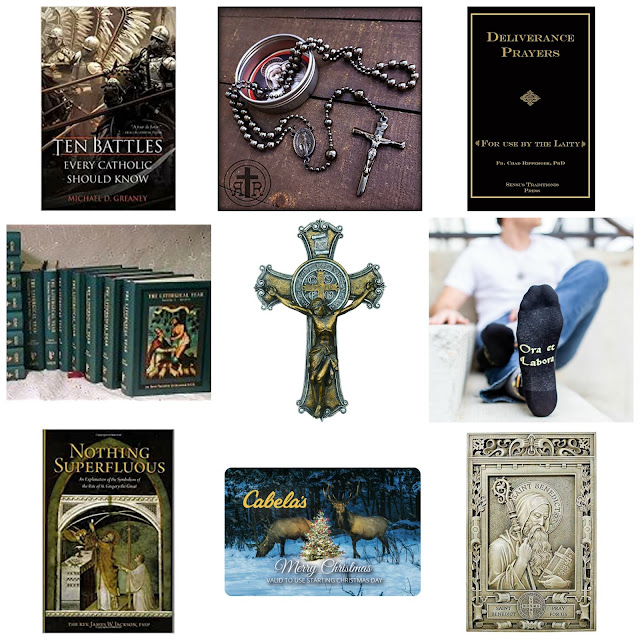 .: A Sleighful of Giveaways :.
There will be one winner for each of the following 20 PRIZES with a COMBINED VALUE OF $2,150!!!
+ + +
Prize #01 – The Annunciation – Merode Altarpiece (Large Size: 23.25″ x 23.43″) and The Presentation (Small Size: 5″x7″). The plaque mounted image makes for a unique gift, treasured for years to come due to its quality UV protection matte finish and washable surface. The wood plaque measures 3/8″ thick with beveled and finished edges. Sponsored by Cedar & Stars.
+ + +
Prize #02 –
Original illustration of St. Martha. Sumi ink and watercolor on cotton paper. Around her halo it reads "Sancta Martha ora pro nobis," and below it says "God lives among the pots and pans" by St. Teresa of Avila, calligraphed in a 9th C. style Uncial script. Sponsored by Pelican Printery House
(Red frame not included – value $200.00)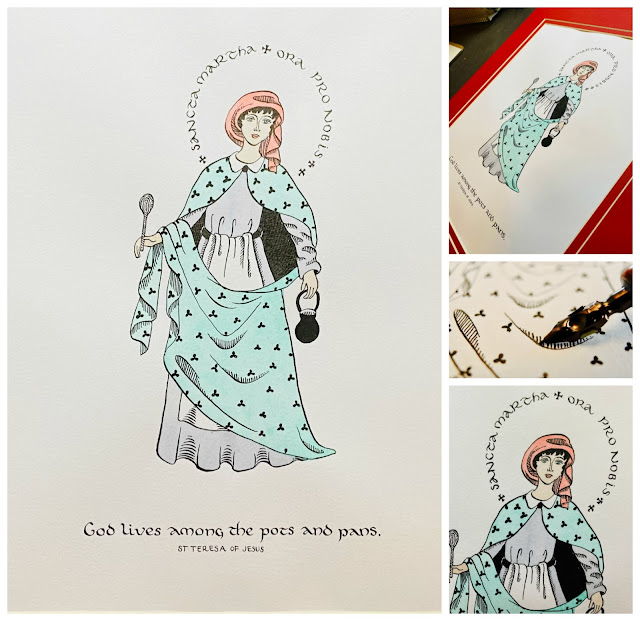 Congratulations Jennifer!
"Thank you again, Jessica. I cannot tell you how many purchases I've made as a direct result of your posts like this – most recently a large order to Rycraft. Thank you for your thoughtful posts and heart️."
+ + +
Bonus! Use code: ROSARY20 for 20% off + free shipping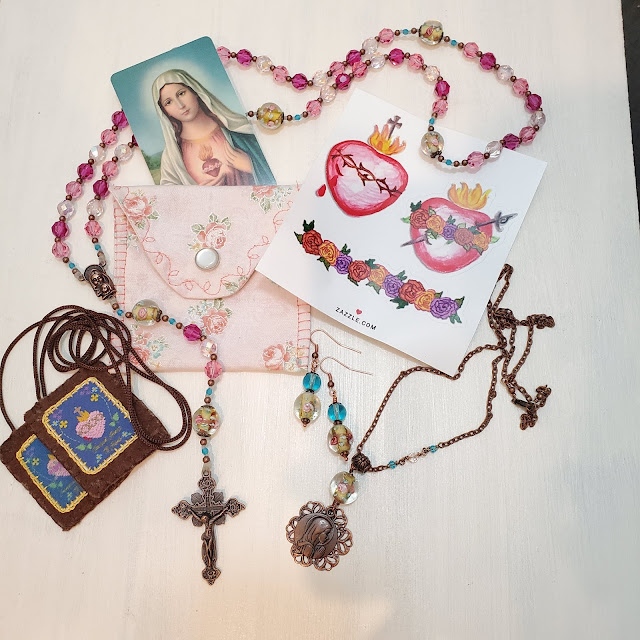 Congratulations Katie Hancheck!
"And your giveaways are amazing!! #4 #13 &#16 are my favs 😀
Thank You for doing this! Many Graces to you for your time and sacrifice!"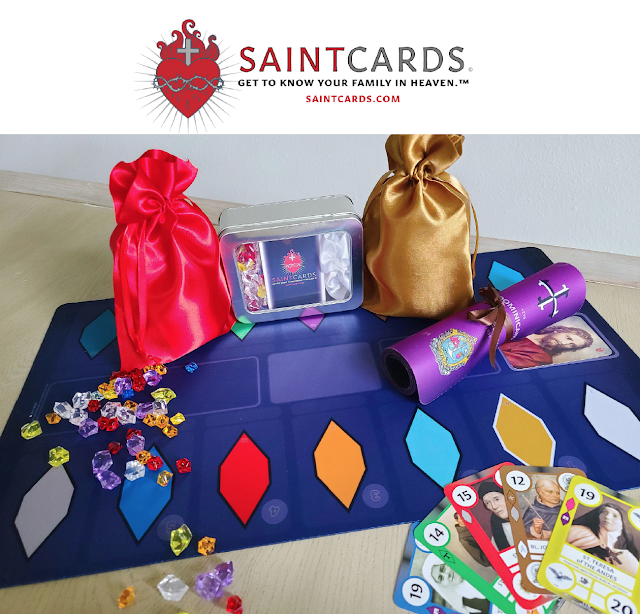 Enter Promo Code
SHOWEROFROSES
at beginning of checkout to
SAVE 10%
Congratulations Amanda Toca!
"I would love 5, 6, 10, or 3. Thank you!"
Prize #07 – One 2021 Quarterly Subscription Box sponsored by Telos Art Shop
(value $125.00)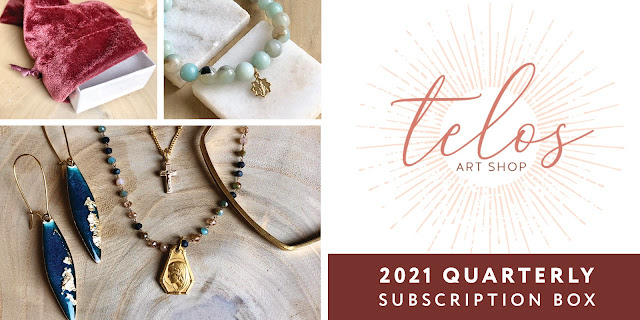 Congratulations Katie!
"This is always one of my favorite posts you do!! Prizes 3,4, and 7 were my favorites! Thanks so much for sharing all of these awesome Catholic companies!"
+ + +
Prize #09 – Set of 8 Cookie Stamps with Recipe Booklet (Includes: #416 – Snow Star, #463 – Christmas Ornament, #020 – Frosty, #034-18 – Heralding Angels, #023 – Holly Sprig (1), #030 – Christmas Tree, # 368 – Nativity and #271 – Jolly Santa) sponsored by Rycraft Cookie Stamps
(value $103.92)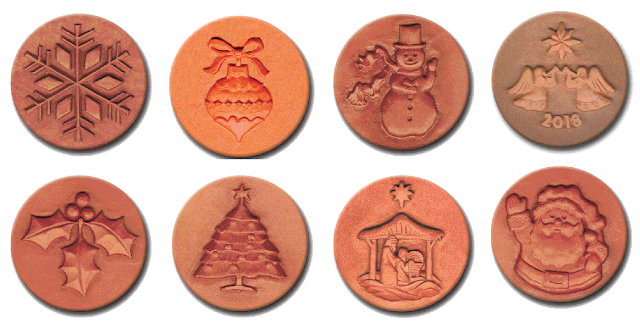 Congratulations Natalia!
"Great prizes! My favorites are 9, 11, 18 and 19."
+ + +
Congratulations Lori ZL!
"I'd love #10 or #20. Lots of great gift ideas."
+ + +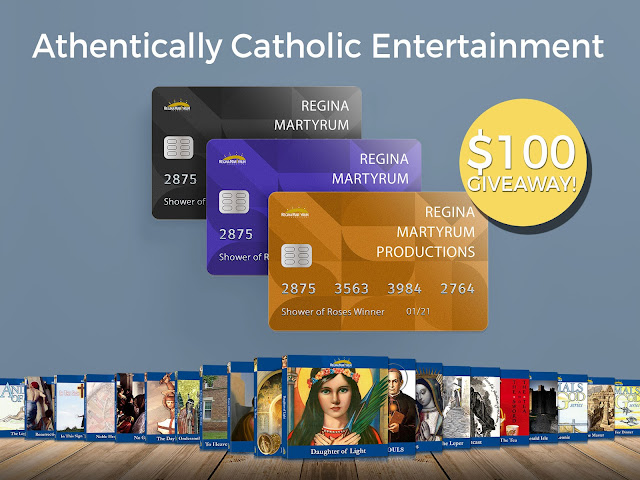 Congratulations Courtney Brandwein!
"Thank you for sharing your list. So many great ideas!!"
+ + +
Prize #12 – Surrounding our families with inspirational prayer and holy images helps create a foundation of comfort and beauty that will serve them throughout their lives. Prayer Pillowcases make this uniquely possible! To make it easy for you to shower your family with prayerful gifts this Christmas Prayer Pillowcases is giving away a Family Bundle of 4 organic cotton pillowcases! Includes the Sacred and Immaculate Hearts, St. Michael, St. Francis and Our Lady of Grace Hail Mary.
(value $99.80)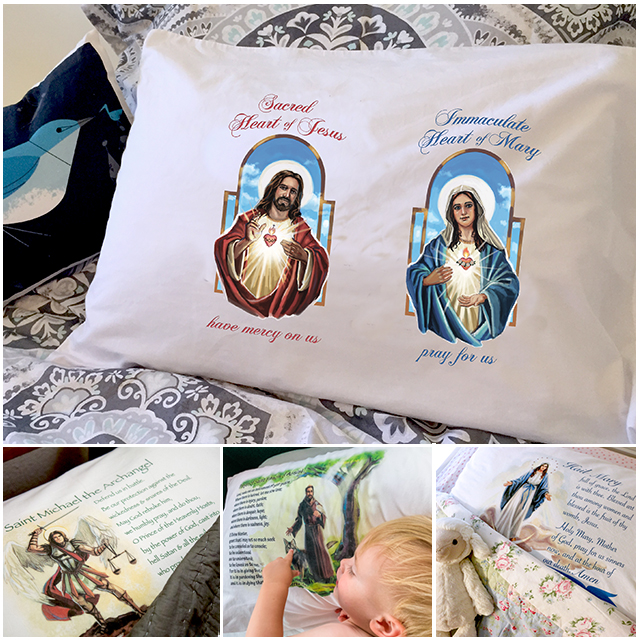 Pssst! Prayer Pillowcases is also offering a special promotion for my readers for 20% off!
(Coupon expires Dec. 5th.)
Congratulations Dee!
"They are all great prizes! My favorites are #4, #10, #12, #13, #19, and #20."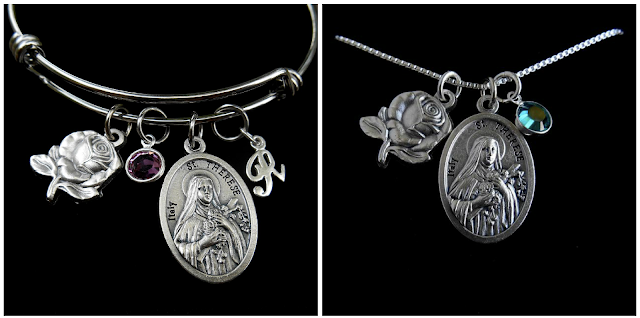 Congratulations Lisa C!
"Love all the suggestions! Especially for the older boys, as mine are about the same ages. As for the giveaway, my favorite prizes are #4, #13, #9 and #20. Thanks as always for the beautiful ideas. I have followed you for quite a few years now!"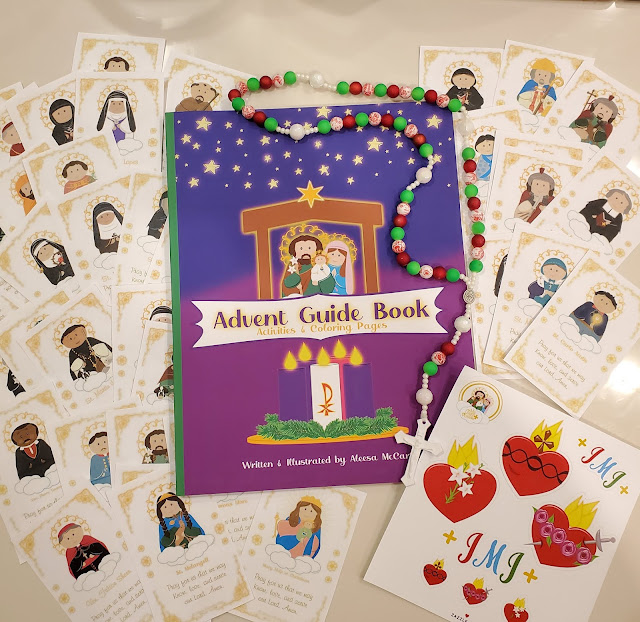 Congratulations Anna!
"Hi! Thank you so very much for hosting this very generous giveaway!! My favorites are #4, #14, #8, #5, and #13, May God and Our Blessed Mother bless you and your family during this holy Advent and always. Thanks again!!"
+ + +
Prize #15 – Gift Pack from author Leslea Wahl. This bundle offers all you need to make a fantastic gift for the book enthusiast in your family – whether it's a boy or a girl! Gift pack includes three signed books for teens – The Perfect Blindside, eXtreme Bindside, and Gifts: Visible and Invisible. Other items included: a journal with magnetic bookmarks, a Guardian Angel necklace, a Jerusalem Crusaders cross bracelet, a scripture verse magnet, and a scented handmade soap.
(value $60.00)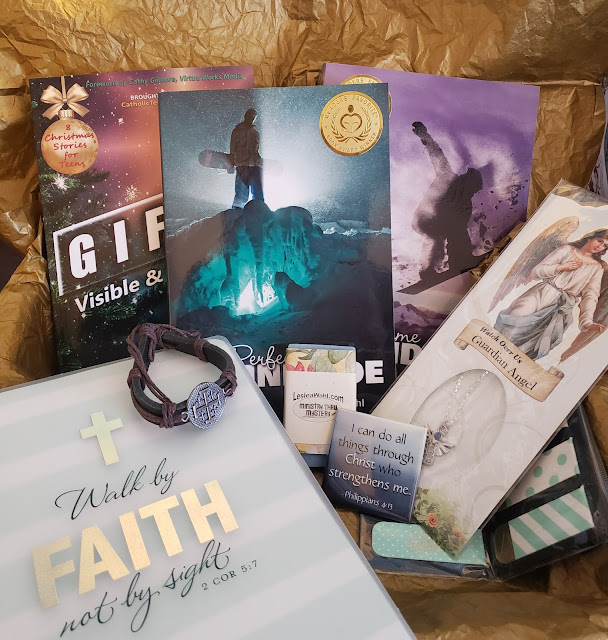 Congratulations Jodi!
"Thank you for hosting the giveaway, and thank you to the generous individuals and companies donating the wonderful prize packages! My favorites are #4, 7, 5, 3, 9, 15."
+ + +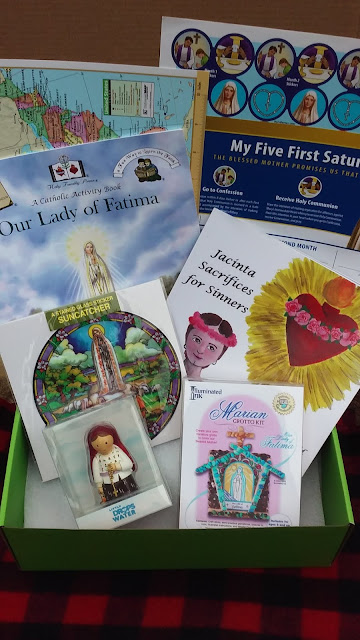 Congratulations Elizabeth!
"Your ideas are wonderful. Thank you for blessing our family with your creativity and generosity each year!"
Prize #17 –
Digital downloads of Learning the 10 Commandments with Billy the puppet, Folktales of Saint Nicholas with Billy the puppet, Saint Stories with Billy the puppet Set #1, and Preparing for your First Communion with Billy the puppet sponsored by Faith & Puppets
(value $52.00)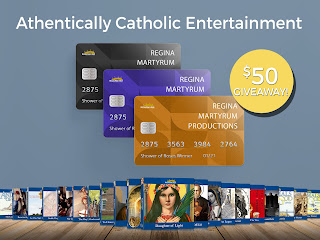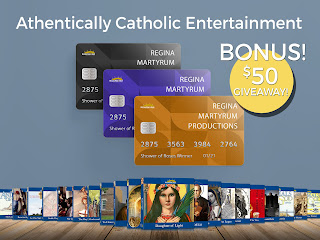 Congratulations Kelly!
"Love looking at your Christmas lists!"
Congratulations Molly!
"I love seeing your list each year! Thanks for putting this together!"
+ + +
Prize #19 –
Gift basket s
ponsored by author Sandralena Hanley
includes: "Copy of my book, Champion of Valdeor; Rafael's Mother and Child painting brought from Florence, Italy; holy water font of Crown of Thorns; Scenes from Heaven coloring book; The Other Wiseman illustrated picture book; and Celtic Fairy-tales."
(value $50.00)
Prize #20 – Pink Rose Rosary (Handmade Painted Ceramic 8mm) from The Rose Picker
(value $50.00)
Please enter the giveaway using the Rafflecopter box below:
(Lots of options for bonus entries can be earned by visiting the
sponsors!)
(Hoping to post an updated Advent post soon!)