It's been a couple years now since my last sponsor update. I had to discontinue my quarterly updates right around the time we moved, which was quickly followed by another surprise. Now that our sweet baby girl is almost a year old, and we are finally getting a little more sleep, I wanted to take a minute to share another sponsor update.
Here are some of my new sponsors! Please check out their websites when you have a minute or two:
"The inspiration for Devout Decals came about when, due to work, we were always moving and renting homes. We were looking for a way to decorate our children's bedrooms and discovered removable vinyl wall decals. There were many themes available. However, we were unable to find any decals of Saints or Devotions. We thought, how wonderful it would be to create something so people could surround themselves in their home, classroom, work space or wherever it may be with beautiful sacred images. Our hope is that while going about your busy day, being able to reflect on a sacred image and reciting a short prayer, it will help one to stay in prayer all day long."
"One single day of devotion is worth more than a thousand years of worldly life."
Save 10% with coupon code: DDROSES
In addition to visiting DevoutDecals.com, you can also follow them on Facebook and Instagram!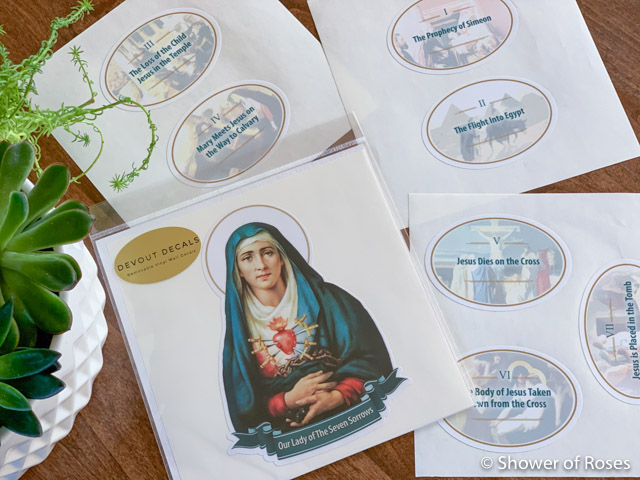 I'm currently giving away the Our Lady of Seven Sorrows Catholic Decal Set over at Instagram! Click over to enter.
+ + +
Mrs. L. is a veteran homeschool mother of four children who has used

IEW

with her own children and can testify to the effectiveness of this program. Her love of words and writing match perfectly with the IEW curriculum, and she particularly enjoys having fun with students as they learn to write eloquently and persuasively.
Mrs. L. is a certified instructor through the

Institute for Excellence in Writing

and also teaches for the company. She has taught classes at all levels for over twenty years and constantly witnesses students improve their writing skills with the tools taught in her classes through this writing process.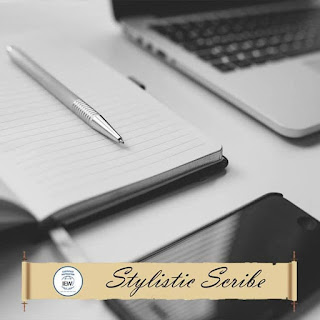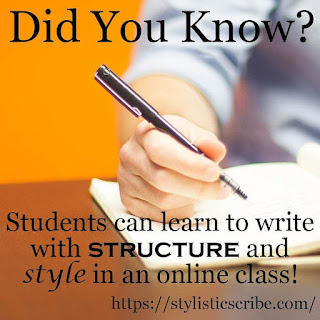 + + +
"We are a Catholic homeschooling family of 8. Our educational website currently offers an early reading program called Phonograms Fun. It is a collection of video lessons with accompanying printables and lesson plans and teaches children all the letter sounds as well as some of the multi-letter phonograms. We hope to publish subsequent online lessons in reading and grammar. We also plan to offer printable books and activities mostly in the areas of language and religious education."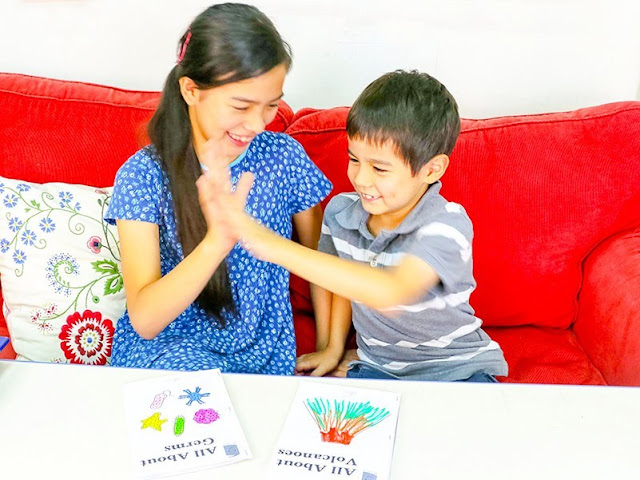 Make preparing for First Communion FUN with Billy the Puppet!
This is a fun way for your child to learn the catechism necessary to receive his/her First Communion. Based on the New St. Joseph First Communion Catechism that has been around for decades!
Through engaging conversations between Billy, Christine and your child, the faith is learned. Christine is a Catholic and a professional storyteller. Billy, well, is a puppet that is trying to learn his faith so he can receive his First Communion too.
Your child will have fun learning the First Communion Catechism (what we as Catholics need to know before receiving our First Communion) with Billy. During each lesson, Christine tells in "storytelling style" a Bible story or Saint story.
This program is geared for children ages four to seven years old. Though four and five year olds will still not be old enough to receive their First Communion at the end of this program, this is a fantastic way to introduce them to our wonderful Catholic faith. Six and seven year olds should be ready to receive their First Communion by the end of the video series, though you will still need to teach them their prayers. (Sign of the Cross, Our Father, Hail Mary, Glory Be, and Act of Contrition.)


This program costs only $5 a month for 9 months or a one time payment of $45. A new video link is emailed every Monday for 34 weeks. You can cancel any time if you are paying monthly.

+ + +
Offering handmade rosaries, rosary parts, jewelry and crocheted/knitted items.


A special THANK YOU to all my continuing sponsors!
Prayer Pillowcases
Prayer Pillowcases are more than just a pretty place to lay your head! They're a unique way to bring Catholic art and prayer into your home and a practical way to share the Faith with your family and friends. Our distinctive line combines original art and favorite Catholic prayers that appeal to all ages and transform pillows from the ordinary to the divine! Honor a special occasion or make any occasion special with the gift of a joyful, lasting (and personalizable) Prayer Pillowcase. We're always working on new designs and hope you'll visit again soon to see even more ways to help your loved ones begin and each day with a prayerful heart.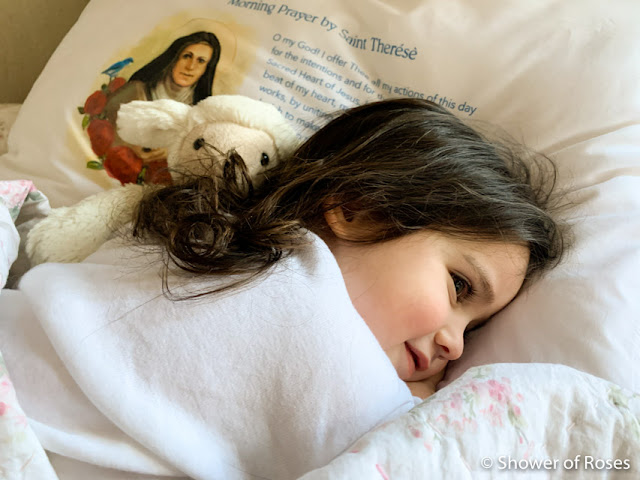 Personalize it for Summer Birthdays & Feast Days!
Free Shipping (4+ Pillowcases shipping within US)
+ + +
Saints Around the World
Featuring a different saint from a new country every two months, this subscription is a perfect way for me to easily incorporate a little more theology and geography for my younger ones with very little effort! Plus my older children were all more than happy to join in and help too.
With each box purchased, $4 is donated to the "Culture of Life Studies" program, another one of my favorite resources and current blog sponsors!
Here are a few pictures from one of the boxes we received earlier this year: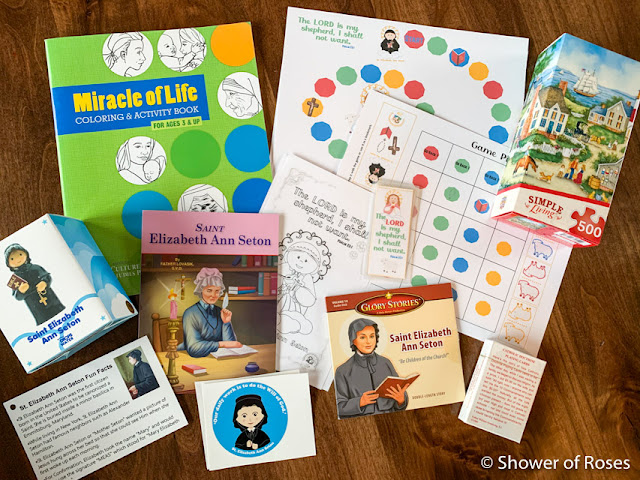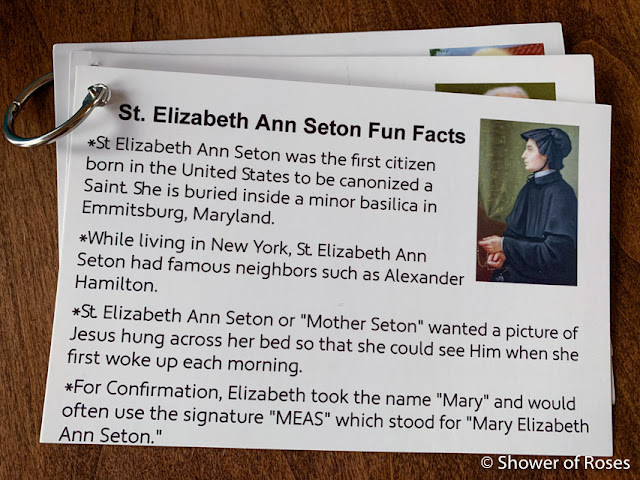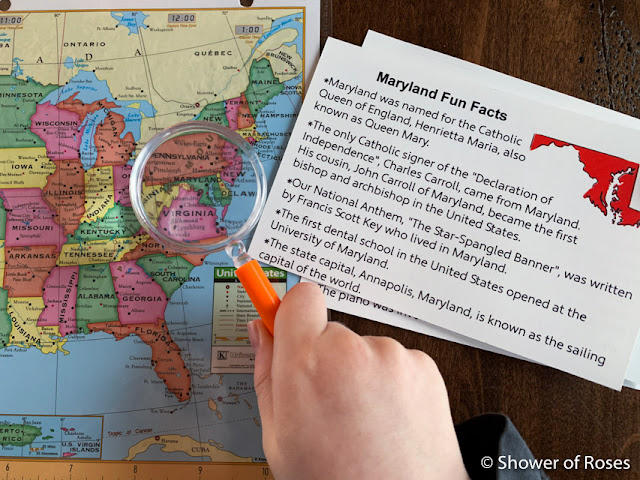 Two of our children got to visit the National Shine and home of St. Elizabeth Ann Seton, the first American born Saint, in Maryland earlier this month!
Start your family on this adventurous journey to Heaven, with the Saints as their guides! Click here.
+ + +
Culture of Life Studies Program (CLSP)
The Culture of Life Studies Program serves teachers and parents as they guide their students in building a culture that respects and protects the dignity of every human being regardless of age, appearance, or ability.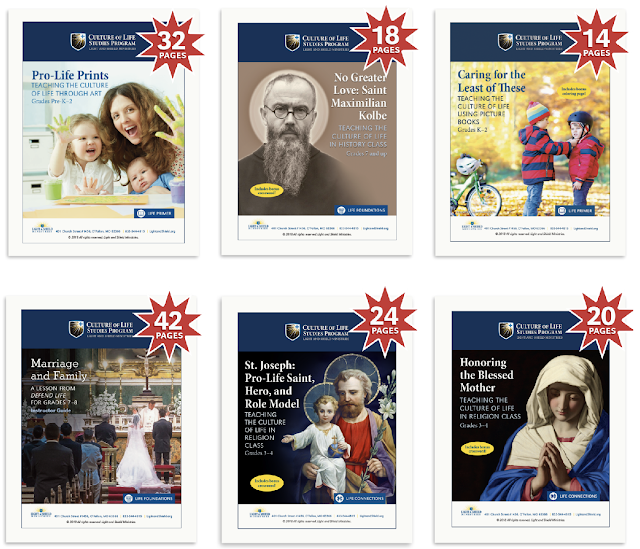 Shower of Roses readers can always save 20% off their entire order using the code: ROSES20
Lisieux Nail Polish
We are a young Catholic company with a passion for sacred scripture, Church traditions and the New Evangelization. There is so much beauty in our faith that we decided to bottle some of it up! Our goal is to equip women with a new, simple and fun way to express their faith and share it with others. We also wanted to create a way to have a holy reminder with you at all times.
We were inspired (and helped) by Saint Therese, the Little Flower of Lisieux and Saint John Paul II. Mother Angelica was also an inspiration for her wisdom regarding holy reminders.
It was really important for us to have quality nail polish so we are proud to say Lisieux is professional grade polish that we had our friends and family of various ages and vocations test out.

All of the polishes on our website have been handpicked for their color, ease of application and longevity.

+ + +
Catholic Schoolhouse is designed to help homeschool families enrich their educational experience through a flexible approach to learning inspired by classical elements. Family unity continues to be our goal as we roll out our
upper-level program,
giving for our dialectic and rhetoric students an enriching experience at chapter while their younger siblings are leaning the memory work.
You can also follow Catholic Schoolhouse on Facebook!
+ + +
Almond Rod Toys
Almond Rod Toys makes Saint Blocks that are just the right size for little hands and can be used for imaginative play, building, stacking or collecting. The front has a print of original watercolor artwork. The back has a quote or a prayer chosen to inspire little ones and the one that cleans up behind them. The saint's name, feast day and patronage are also listed; just enough to be a reminder and an inspiration for further learning.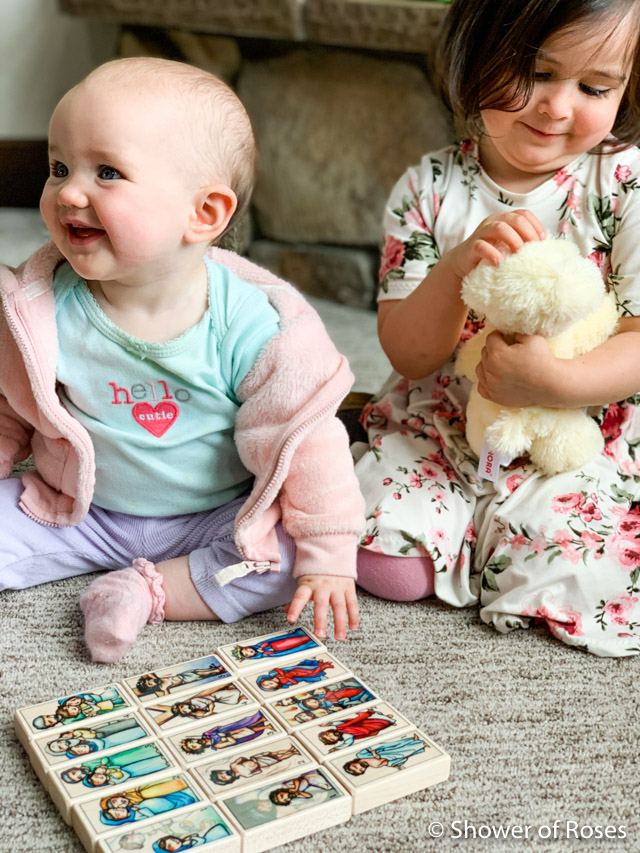 We really love the new Rosary Blocks!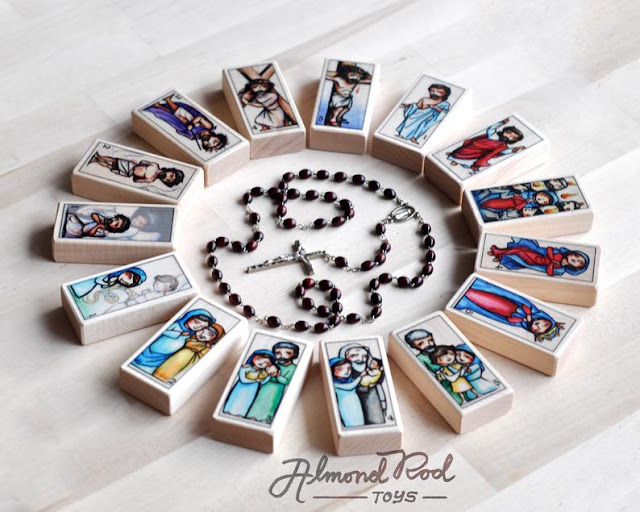 + + +
All of our aprons are embroidered, not screen printed, giving them a rich, elegant, look! Our durable 100% cotton-twill aprons, with soil-release finish for added stain protection, provide ultimate full length cover and comfort.
+ + +
My next advertising quarter runs from Aug 1st-Oct 31st and
I have a few ad spaces available
. Let me know if you have a Catholic business you'd like to promote and I can send you the details.
Thank you to all of my sponsors and visitors for your support!
May God bless you all!