If you've been reading along for awhile, you might remember the Tooth Trauma we had way back in 2012… Well, this past week, as we were getting started on the first experiments for Zoology 2 (the first time we've revisited the topic since 2012-2013… So ironic!) I joked with the children saying "Let's not break any teeth this time!" On Wednesday night, after I was tagged a couple times in a Christendom post featuring one of our boys, I also joked in a comment saying "Such good looking students!" 😉
Sigh… I know better than to joke around like that!
Thursday night, after soccer practice, I received a text message with the following photo…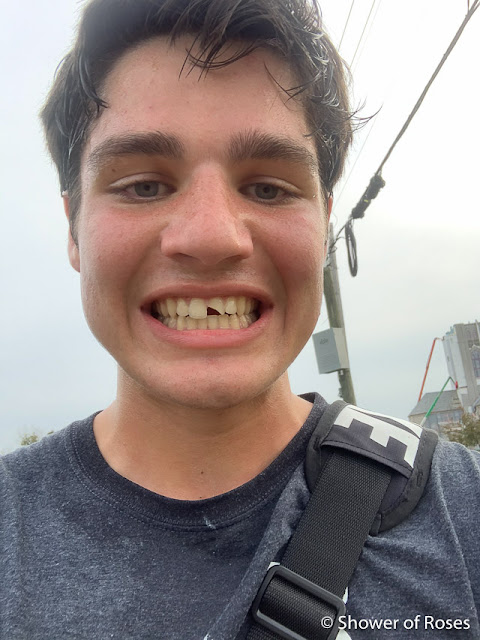 "Soccer practice"
It was bound to happen eventually… and honestly I'm glad it held together for 8 years and survived braces before breaking again… but it would have been nice if he wasn't 2500 miles away from home and our family dentist! He popped it in some milk, put it in the fridge and headed to his evening classes.
(Note: He did give me permission to share pictures with you all.)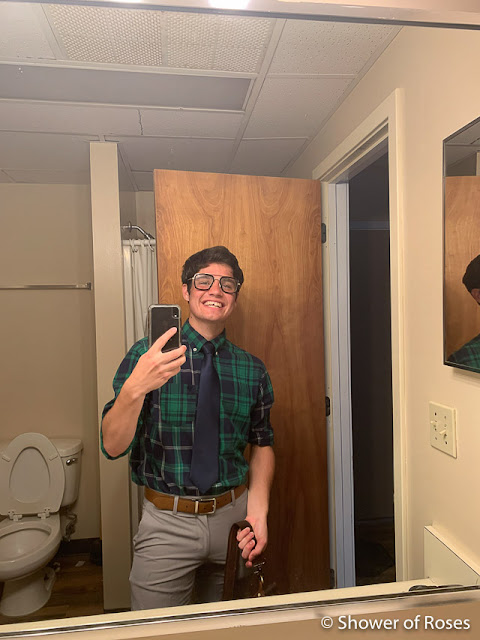 "A true Christendom intellectual"
So proud! Toilet seat and all… I think he was having way too much fun! He did have me laughing with the photos and stories of cheesy grins to friends in passing on his way to class.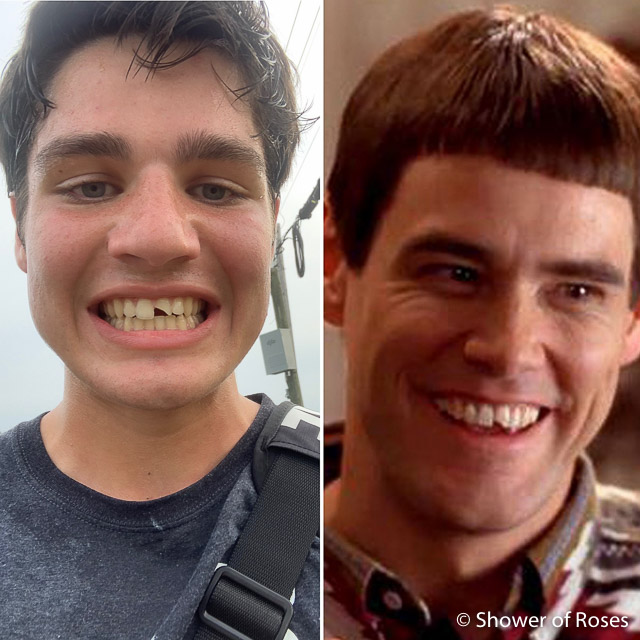 Meanwhile older brother was making plans for this year's Costume Dance…
Friday morning I started trying to find a dentist. I reached out to an online friend in Front Royal for recommendations, but all the dentists I called were either closed on Fridays, not accepting new patients, or didn't have the best reviews online. At 9:45 my time (which was 12:45 Eastern) I finally found a young dentist, a preferred provider with our insurance, who could see him. However, she was a little over an hour away and scheduled to close shortly at 1PM, but offered to wait for the boys to arrive. I had to have our oldest son skip his 1:00 literature class, but thankfully
they at least have a car with them this year
. Whew!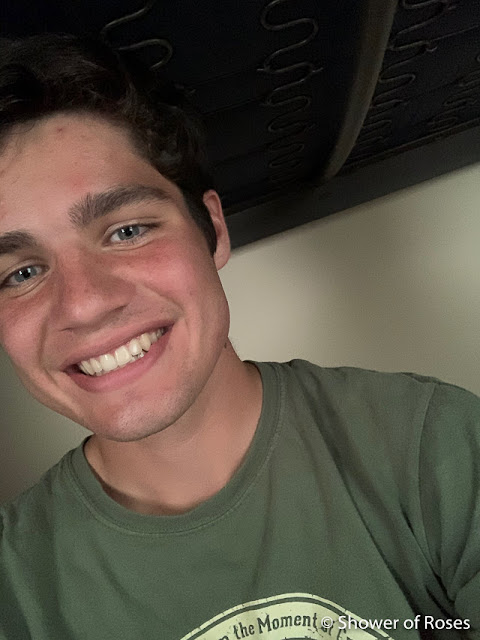 She did an amazing job putting the tooth back together! It actually looks better than it did before. Eventually he will need a crown, but hopefully this will hold for another 8 years…
And no more soccer without a mouth guard!