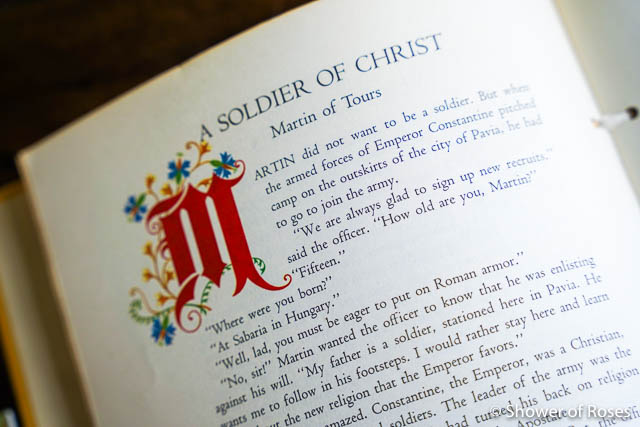 "Martin was a fine soldier. He learned to throw the javelin straight and true, to ride and use his sword expertly. Although he hated to shed blood, he was a brave warrior in battle. After three years, the young Hungarian was made leader of the calvary.
The Roman army marched into Gaul, today called France, and captured the city of Paris. Martin's division was sent from place to place to enforce the law. One day the troops were assigned to Amiens. It was bitter cold. As the infantry entered the city gates, they passed a miserable half-naked beggar crouched in the shelter of the wall.
"Pity a poor beggar!" he pleaded. "In God's name, help me!" The old man held out his cup to the soldiers, but they thought only of the food and fires in the inns of Amiens and passed him without a glance.
When all the infantrymen had passed through the gates, Martin came riding up on a fine horse. He was wearing armor, and over it a warm red cloak. The young officer's purse was empty, but he could not pass the pauper. He drew his cloak from his shoulders, and parted it in the middle with his sword. Half he wrapped around the beggar, the other half he fastened again to his collar.
That night Martin had a dream. He saw Christ, seated on His throne in heaven, wearing the other half of his mantle. The same voice that begged mercy outside the gates of Amiens filled his dark tent: "Inasmuch as you have done it to the least of these, you have done it unto me."
In the morning, with the dream still in his thoughts, Martin went to be baptized."
– excerpt from A Soldier of Christ: Martin of Tours in Crusade Magazine No. 27 circa 1956
Some of us are still fighting colds, so we weren't able to make it to Mass, but we woke up to snow falling for the first time this winter and had a cozy day at home. Happy Martinmas! 🕯